Celebrating the Dead in San Francisco
Dias De Los Muertos - Celebrating Death
Story by: Nicole Lee
Skulls and coffins adorned the heart of the Mission district the evening of Nov. 2. Among them were ghosts and goblins, skeletal figures with darkened eyes and whitened cheeks, and flamboyant, gory beasts. Surrounding the figures was an intense scent of sage and incense that permeated the air.
These revelers didn't forget Halloween was on Oct. 31. They were in a parade procession to celebrate Dia de los Muertos, otherwise known as the Day of the Dead.
The procession started at the corner of 24th and Bryant streets, and proceeded along to 25th, Mission, back to 24th, through Balmy Alley, and finally ended in Garfield Park with a public ritual.
It was the final day of the three-day Dia de Los Muertos celebration, a traditional Mexican festival that honors death and treats it as a continuation of life, rather than the end of it.
This is a ritual that indigenous peoples of Mexico, then known as Aztecs, practiced for at least 3,000 years. Unlike the Spaniards that conquered them, they believed one should embrace death instead of fearing it.
The San Francisco Day of the Dead Ritual Procession is a project of the Colectivo del Rescate Cultural, that was produced in collaboration with CELL Space and Reclaiming Collective, Spiritual and Cultural Workers, Community Educational & Artistic Organizations, the Mission Cultural Center, the Mexican Museum, Galeria De La Raza, the California Arts Council Folk Arts Program, and Independent Artists.
Most people take the opportunity during this celebration to pay homage to dead friends and relatives.
In rural Mexico, people visit the cemetery where their loved ones are buried, and decorate the gravesites. In the United States and in Mexico's larger cities, families build altars in their homes, dedicating them to the dead.
During the procession, the beating of drums and the ringing of bells echoed through the otherwise quiet evening. Several groups had their own drum procession, while individuals used old glasses as makeshift percussion instruments to join in the celebration.
"The sounds of the drums indicate happiness," said Javier Pinzon, one of a group of people who were carrying tall sticks adorned with colorful paper streamers. "The more sound there is, the happier the atmosphere is".
The tall sticks were part of this year's procession ritual theme, which honored the re-birth of Quetzalcoatl, an Aztec god who brought culture and enlightenment to the Aztecs. Several tall sticks of pink and purple streamers formed the tail of the god, whereas the head of the god was a huge cross adorned with different colored streamers. The center of the cross was a bright orange-yellow color.
People donned wooden skull masks called "calacas" and danced in honor of their deceased relatives. Assistants passed out yellow marigolds to the crowd. Dancers hopped and skipped along the darkened road, lit only by streetlights and candles carried by celebrants.
"The candles are to light the way home for the spirits," said Raquel Garcia. Garcia works part time as an artist who occasionally builds altars in museums, such as the San Francisco Museum of Modern Art.
"The incense is to attract the spirits by smell, and the yellow marigold [also called cempazuchitl] is the symbol of death," Garcia said. "The skeleton costumes and such are mostly for fun."
Garcia's grandmother died five years ago, so Garcia said she tries to attend this celebration every year in remembrance of her.
"This is a peaceful and joyful celebration," she said. "I believe that the spirits are still alive, and my grandmother is still around enjoying this."
Participant Joanna Moody was dressed up as a corpse; her face painted as a grey and black skull. She pushed her 2-year-old son in a blue stroller along in the parade. Moody has attended the Dia de los Muertos parade for many years, but this was her son's first.
"It's a family event, and kids can get involved," Moody said. "We get reunited with our beloved dead relatives, especially those that died the last year."
A truck drove up Bryant Street, and standing on it was Gerardo Salina as a towering Aztec priest dressed in a golden rooster outfit, with long flamboyant plumage and bells on his shoes. He stood on the truck, beating a huge drum. Behind him were several female dancers, dressed up in similar golden outfits. He led the colorful god formation through the parade.
A group of four people carried a coffin-shaped metal frame through the crowd. When looked at closely, shapes of flattened guns decorated the frame. The man who built it, John Ricker, the founder and executive director of Peaceful Streets, used about 30 guns to create his art.
"We want to get guns and turn them into art," Ricker said. "This is built out of donated guns. For every dollar a gun is worth, a book will be donated to a reading program. So, this gun showed on the side here was worth $200, therefore 200 books will be donated."
The organization has been around for three years. The goal is to get a gun for every person killed. For example, 68 people have been killed so far this year, so they hope to get 68 guns donated, according to Ricker.
The procession ended at Garfield Park. There were four different altars, symbolizing earth, fire, air and water, that various local artists helped build. Each altar was elaborately designed with candles, pictures and sculptures scattered around it. One had little pet statues and crosses, as well as paper drawings of children. People were invited to take a piece of paper and write a little note to a departed loved one, and then leave them on the ground in front of the altar. By the end of the night, the ground was littered with pieces of torn paper that carried personal messages to the deceased.
FROM: http://130.212.44.5/storys01.php?storyid=1959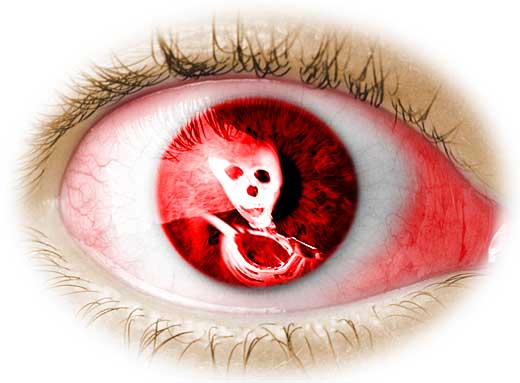 mal de ojo (the "evil eye")

a kind of personalistic illness in Latin America and parts of the Mediterranean Basin resulting from soul loss. The cause is traditionally thought to be a strong person staring at a weak individual. The eyes of the strong person drain the power and/or soul from the weak one. Proof that this has occurred to someone is that he or she cries inconsolably without a cause, has fitful sleep, diarrhea, vomiting, and/or a fever. It is thought that powerful people can cause this draining of the soul intentionally or unintentionally. In traditional Mexican and Central American culture, women, babies, and young children are thought of as being weak, while men as well as rich and politically powerful people of either gender are strong. People who believe in the existence of mal de ojo are likely to seek out a curandero to cure it.
curandero (female: curandera )
a Latin American folk curer. Cuanderos believe that they have received a divine calling to their profession, and they may have direct contact with the spirit world. They usually apprentice for years under an older curandero. In Mexico and Central America, there are curandero generalists and specialists. Yerberos are knowledgeable about herbs. Parteras are midwifes. Sabadoros are specialists in massaging patients. Curanderos may also specialize in particular kinds of illness--e.g., curandero de aire , etc.
Illegal Immigrant Death Rate Rises Sharply in Barren Areas
By EVELYN NIEVES
EL CENTRO, Calif. The dying season began early here this year, with four bloated bodies found floating in the All-American Canal on March 14. The victims, young men ages 19 and 20, had made their way from Chiapas, in southernmost Mexico, before drowning in the canal's churning currents just 35 yards from United States land.
For the Imperial County Sheriff's Department, it was an ominous sign. The dead usually start showing up in multiples in high summer, when the desert becomes an inferno and the canal, roiling beneath a calm veneer, lures migrants looking for a quick way across and relief from the killing sun. If bodies were washing up in groups in March, what would the summer be like?
The answer, so far, is grim. Even though deaths along the Mexican border have declined over all as the slumping American economy has attracted fewer migrants, the toll is reaching record rates in the most remote and dangerous outposts. To avoid the stepped-up border patrols in populated areas, the most desperate migrants cross in the more unguarded and desolate deserts of Arizona and eastern California. June was the deadliest month ever for the southwest border, with 67 migrants dying, mostly in the unrelenting heat of the United States Border Patrol's Tucson sector, a barely habitable land that covers most of southern Arizona.
Here in the mountainous El Centro sector, which includes the vast Imperial Desert, 52 migrants have died since Oct. 1. The sheriff's department believes the deaths could outpace last year's record of 95.
"It seems quiet, but we're finding more multiples bodies in threes, fours and fives," said Gary Hayes, a deputy coroner in the department. "They're really trying to avoid detection, so they're going to more and more remote areas."
The rising toll in these barren regions is the more remarkable because illegal immigration from Mexico has fallen 29 percent, largely because of the faltering United States economy and tighter security, and border deaths in general are down 20 percent.
Experts warn that the deadliest months are to come. August, traditionally, is the cruelest. They also note that the statistics do not include people who die in Mexico. (The Mexican government counted 22 migrants who died inside its border in June. It counts only Mexicans and not migrants who pass through from Central America or elsewhere.)
The deaths are full of suffering. People have suffocated in airless trucks, died in vehicle crashes, been struck by lightning or drowned. Most often, though, they are felled by heatstroke or dehydration. Some carry no identification and, in a tragic irony, end up where they wanted to be, in the United States but in anonymous pauper's graves. Other migrants, not counted by the Border Patrol, never make it across.
Migrant advocacy organizations blame the Border Patrol for the mounting deaths, saying that its decision to focus its policing on border cities has driven migrant traffic to the most severe terrain, with the most extreme climates, winter and summer. The policy, which began as Operation Gatekeeper in 1994, added officers, enhanced surveillance equipment and put up physical barriers like concrete walls, as well as introducing other measures, at the San Diego border. The strategy was then expanded to Arizona and Texas.
Since the operation began, about 2,000 migrants have died trying to cross into this country, according to the Mexican government, with an average of more than one a day in the last two years. The shift has also made expensive smugglers called coyotes indispensable. Possibly hundreds of migrants have died because they have been abandoned by these smugglers, or because they have been led by people who themselves could not manage a brutal landscape, their advocates say.
"Once the deaths started happening by the dozens in the mountains east of San Diego," the federal government "never rethought its strategy," said Claudia Smith, border project director for the California Rural Legal Assistance Foundation, in San Diego. "The Border Patrol, as planned, went on to push them into the deserts," she said, "where the risk increased exponentially."
The Border Patrol denies that its policies are responsible for the increase in deaths and has no plans to change its strategy. It counters that it is doing everything it can to deter migrants from passing through the desert, including adding medically trained search and trauma teams to rescue migrants, helicopter patrols in treacherous areas and several rescue beacons in the desert that send an electronic distress signal with the push of a button. It has also mounted a public service campaign in Mexico and Central America, using celebrities to do television and radio advertisements to warn would-be migrants of the dangers of trying an illegal border crossing.
"Our primary mission is to protect our nation's borders," said Mario Villarreal, a spokesman for the Border Patrol in Washington, D.C., adding that unscrupulous smugglers, charging between $1,000 and $2,000 a person or more, are to blame for persuading would-be border crossers to make the dangerous trek.
Crossing the border illegally has always come with risks. Before Operation Gatekeeper, most traffic entered via cities like San Diego and El Paso, where migrants became targets for muggers and the like.
A study released in July by the Public Policy Institute of California, a research organization in San Francisco, found that the Gatekeeper strategy, which costs more than $2 billion a year, has done little to significantly diminish illegal immigration. It actually increased after the border buildup. Economic opportunities in the United States and Mexico, the study found, have a stronger effect on migration than does the number of agents at the border.
Migrants risking their lives in the extremes of the desert tend to come from the poorest states in Mexico, like Chiapas and Oaxaca, where the economy is in collapse and whole villages have been vacated by working-age men, and, increasingly, women. At Casa Madre de Asunto in Tijuana, a safe house for migrant women that is run by a Catholic nun, a dozen or more women at a time have either migrated to the city from the south or have stopped by on their way to cross the border.
Recently, a 31-year-old woman from Oaxaca said she and her brother, a cousin and a friend, who were resting at a safe house for men next door, had driven for two days and two nights to make it to Tijuana and planned to make a two-day trek through mountains with a "coyote" who was taking them into Los Angeles, charging them $1,500 each.
"That's $1,000 less than he charges others," she said, "because he knows us." She had tried to make the trek months before, she said, but lost her nerve after feeling faint and dehydrated and turned back after a day.
She said she hoped to become a maid or work in a store and make some money to send to her mother. "I'm coming for a better life for all of us," she said.
Days later, a woman at the safe house said she assumed the group had made it across; they had not heard from the Oaxaca woman.
When smugglers are caught, said Mr. Villarreal of the Border Patrol, efforts are made to prosecute them. In a recent incident in Dallas, where two men were found dead in a stifling 54-foot-long truck that had transported 40 illegal immigrants from El Paso, a nine-hour trip, two truckers have been charged with murder.
"This is good work' but we're not done," Mr. Villarreal said. "The main message we still want to get out is that it is dangerous to try to cross along the southwest border."
Here in the El Centro sector, five suspected illegal immigrants died of heat exposure in mid-July in an area of the Imperial Desert that resembles a moonscape. "It's almost totally devoid of plant life," Mr. Hayes, the deputy coroner, said.
Spotted by a military aircraft, the bodies could not retrieved for a day because of the terrain. Mr. Hayes said satellite equipment was needed to mark the positions of the bodies.
FROM: http://threehegemons.tripod.com/threehegemonsblog/id152.html
Mexico: Returns, Politics, Death Row
In February 2004, Mexico and the US agreed that Mexicans apprehended in the US just inside the border could volunteer to be returned to their communities of origin rather than be simply bussed back to the border. The intent is to discourage migrants from making repeated attempts to enter the US. Asa Hutchinson, US undersecretary of border and transportation security, said "If we can move migrants back into the interior, closer to their homes, we can achieve our goal to break the cycle of smuggling."

The US is trying to persuade Mexico to see border control as a humanitarian issue, arguing that if Mexico helped to discourage illegal entries, the lives of migrants who now perish in the desert could be saved. Some say that the test will come in summer 2004. If Mexico helps to reduce illegal entries, the stage may be set for the Bush administration to argue that Mexico-US cooperation can make broader immigration reform work.

In September 2003, the US spent $1.3 million to fly 5,600 Mexicans apprehended in Arizona to Texas border cities and walked them across the border. The Mexican government protested, saying that it wanted "a bilateral agreement on how to discourage illegal migration" rather than unilateral US policy initiatives.

Mexico in March 2004 arrested 44 persons for smuggling, including 32 former officials of the National Immigration Institute, Mexico's border enforcement agency. Those arrested were charged with smuggling Brazilians, Cubans, Central Americans and Asians through Mexico into the United States.

Jaripo, Michoacan, six hours northwest of Mexico City, is a city of nurseries and nursing homes that survives from remittances and the return of migrants from Lathrop, near Stockton, every December-January. A reporter concluded: "Emigration to the United States encourages more people to emigrate, while stunting the region's ability to develop its own economy" because wage expectations are formed by what relatives earn in the US. Jaripo children tend to drop out of school at 15 and head for the US.

Politics. Homemade videos of Mexico City officials stuffing bribes in brief-cases prompted Mexico City Mayor Andres Manuel Lopez Obrador, a leading presidential contender for 2006, to assert that "The fundamental problem of our country -- corruption -- hasn't been solved. . . . As long as there is corruption, we can't get ahead." Millions of Mexicans refuse to pay income and property taxes because of a widespread belief that the money will end up in an official's pocket.

In the aftermath of the bribery videos, Mexico's political parties agreed to reform the financing of parties and elections: Mexico spends $1.2 billion on elections, the most in Latin America, and more than it spends on public safety. Under the proposed reforms, the amount of money given to parties and spent on elections would fall, and Mexicans abroad would gain the right to vote.

President Fox in March 2004 proposed major reforms of the criminal justice system, including the presumption of innocence, public trials with oral evidence, and introducing plea bargaining. The five federal police forces would be combined into one national entity, and police would be given new investigative powers. Under current procedures, people are sometimes arrested on dubious suspicions for minor crimes and held for months without charges; an estimated 80 percent of crimes are not reported because Mexicans have so little faith in the police.

Vienna Convention. Mexico challenged the death sentences of 51 Mexican citizens in eight US states for crimes committed in the US. On the ground that the rights of the Mexicans were not protected under the Vienna Convention on Consular Relations. That treaty requires arresting officers to allow foreigners to contact their diplomatic representatives. The US became a party to the Convention in 1969; there are 164 signatories.

The International Court of Justice in The Hague agreed with Mexico that, because state and local police and prosecutors did not provide consular access to the Mexicans, those on death row should have the opportunity to reopen and reargue their cases. Mexican lawyers told the court that in the cases when consular protection was provided, life sentences were more likely than death sentences.

In January 2004, there were 122 foreign citizens from 31 countries on death row in the United States. The US government says that it has distributed pocket cards to 700,000 law enforcement officials in 18,000 state and local jurisdictions informing them of suspects' rights to consular access.

Guatemala Border. In 2003, Mexico deported 147,000 illegal immigrants, about 20 percent more than in 2002, with 90 percent from Honduras, Guatemala and Nicaragua. Many gather in Tecum Uman, and cross the Suchiate river into Mexico from Guatemala.

Many migrants try to board so-called trains of death that travel from the Mexico border city of Tapachula 1,000 miles to Texas-Mexican border. Corrupt police and criminals prey on the migrants; the Mexican Grupo Beta agents try to protect the migrants and warn them of the dangers of riding the trains north.

Hugh Dellios, "Seeking the train of death," Chicago Tribune, March 12, 2004. Sam Quinones, "Emigration brings dollars home but leaves Mexican town behind," San Francisco Chronicle, February 9, 2004. "Mexico's immigration problem" The Economist, January 29, 2004.
FROM: http://migration.ucdavis.edu/mn/more.php?id=2997_0_2_0
NAFTA Equals Death, Say Peasant Farmers
MEXICO CITY, Dec 3 (IPS) - More than 2,000 peasant farmers from throughout Mexico staged a protest Tuesday in the capital to demand a freeze on the agricultural provisions of the North American Free Trade Agreement (NAFTA), which they blame for most of their economic and social woes.
But their demands do not appear to have much chance of winning the desired response from the government.
''I have nothing. I am here out of desperation because I am poorer than I have ever been,'' said Francisco Martmnez, an elderly farmer who took part in Tuesday's march in Mexico City, carrying a sign that read ''NAFTA Equals Death''.
Under the slogan ''the countryside can endure no more'', farmers from 24 of Mexico's 32 states marched in Mexico City to the Congress building to present their demands and later staged protests outside the U.S. and French embassies.
UNORCA, the national union of some 30 regional peasant groups, organized the demonstrations with the aim of preventing the agricultural trade liberalization measures -- agreed under NAFTA, which comprises Canada, Mexico and the United States -- from taking effect in January.
The new phase of liberalization entails the complete elimination of tariffs on 21 farm products, including potatoes, wheat, apples, onions, coffee, chicken and veal.
The NAFTA mechanism, which UNORCA describes as ''toxic to the Mexican countryside,'' establishes three steps towards liberalizing the farm and livestock sector. The first occurred in 1994 when the three-nation treaty entered into force, the second is slated for January, and the third in 2008.
In 1993, when NAFTA was still being negotiated, the government of Carlos Salinas, then president of Mexico (1988-1994), agreed to the process of a gradual elimination of agricultural tariffs with the support of the country's leading farm organizations.
Now, nearly a decade later, they are all complaining.
Recognizing the difficulties that Mexican farmers face with the deepening of trade liberalization, President Vicente Fox announced in November that the government would provide support for rural producers to the tune of 10 billion dollars in 2003, or 7.7 percent more aid than this year.
Fox stated last month that he is very concerned about how the trade liberalization process is unfolding, ''in light of the U.S. subsidies to its agricultural production.''
He said he would take up the matter with the George W. Bush administration, but there has not been any indication of action so far.
The Mexican president's aim would be to press the United States to eliminate its farm subsidies, which total 19 billion dollars a year, nearly double what Mexico has budgeted for its farmers in 2003.
But Washington announced that it will not alter its farm subsidy policies and that the situation of the Mexican farmers does not justify annulment of the agricultural chapter of NAFTA.
Mexico would not ask for a suspension of the trade agreement's farm provisions anyway, say Fox administration sources, because doing so would mean revoking the country's recognition of the treaty itself.
Since NAFTA took effect, Mexico's overall exports shot up from 60.9 billion dollars in 1994 to 158.4 billion dollars in 2001. In that same period, imports jumped from 79.3 billion dollars to 168.4 billion dollars annually.
More than 85 percent of Mexican trade is currently concentrated in exchange with the United States.
But for Mexico's rural areas, where 75 percent of the population living in extreme poverty is concentrated, the three- country treaty has meant the loss of more than 10 million hectares of cultivated land.
And the decline of the rural sector has pushed 15 million peasants -- and mostly young people -- to move to the cities, either in Mexico or in the United States, according to a study by the Autonomous National University of Mexico (UNAM).
Over the last 10 years, the participation of the farming sector in Mexico's gross domestic product (GDP) has fallen from 7.3 percent to less than 5.0 percent.
The protests Tuesday echoed similar demonstrations in November, including the blockade of a main federal highway by farmers in the state of Morelos, neighboring the Mexico City federal district, and protests by peasants from the southern states of Oaxaca and Guerrero outside government offices in the capital.
The common denominator of all of these events is the rural producers' rejection of NAFTA.
''The farmers are walking towards death because they are up against the 'disloyal' trade competition from the United States and the Mexican government's desertion of the countryside,'' says Alberto Gsmez, UNORCA executive coordinator.
Without exception, Mexico's farmer organizations believe the new phase of NAFTA-stipulated farm trade liberalization will generate more poverty and prompt more people to leave rural areas.
They also reckon that the financial support Fox has promised will not be nearly enough.
Mariano Ruiz, an analyst with the Mexico City-based Grupo de Economistas y Asociados, says the worst blow for the Mexican farmers will come in 2008 when the agricultural tariffs on products like maize and beans are lifted.
An estimated 2.8 million Mexican farm families make their livelihood from these commodities.
''The countryside is a time-bomb that could explode very soon,'' commented Rosario Robles, chairwoman of the leftist Democratic Revolutionary Party (PRD), the country's third political force.
The elderly farmer Martmnez, who joined his colleagues for the Mexico City march Tuesday, does not believe in anything that the Fox government is offering.
''I have heard many things in the two years since he took office. The one thing for certain is that I am getting poorer and poorer,'' he said.
FROM: http://www.globalexchange.org/campaigns/ftaa/487.html
| | |
| --- | --- |
| Bull World Health Organ. 1999;77(5):375-80. | |


Seasonal diarrhoeal mortality among Mexican children.

Villa S, Guiscafre H, Martinez H, Munoz O, Gutierrez G.

Mexican Social Security Institute, Secretariat for Health, Mexico City, Mexico.

The study investigated the effects on diarrhoeal deaths among under-5-year-old Mexican children of the following variables: season (summer or winter), region (north versus south), age group, and place of death. Examination of death certificates indicated that the distribution of deaths in 1989-90 was bimodal, with one peak during the winter and a more pronounced one during the summer. In 1993-94, however, the winter peak was higher than that in the summer (odds ratio (OR) = 2.04). These findings were due mostly to deaths among children aged 1-23 months (OR = 1.86). Diarrhoeal mortality was highest among children aged 6-11 months (OR = 2.23). During the winter, there was a significant increase in the number of deaths that occurred in medical care units and among children who had been seen by a physician before they died, but deaths occurring at home showed no seasonal variation. In the northern states, the reduction in diarrhoeal mortality was less in winter than in summer (OR = 2.62). In the southern states, the proportional reduction during the winter was similar to that in the summer.

PIP: In this study, the influence of season, region, age group, and place of occurrence of death on diarrheal mortality among under-five Mexican children was examined. Data on diarrheal deaths from 1989 to 1995 were collected from the National Institute of Statistics, Geography and Information, Mexico City. All diarrheal deaths among under-fives were identified by month to determine whether there was any seasonal pattern. Results showed that the distribution of death in 1989-90 was bimodal, with one peak during the winter and a more pronounced one during the summer. However, in 1993-94, the winter peak was higher than that in summer [odds ratio (OR) = 2.04]. This was caused mostly by deaths among children aged 1-23 months (OR = 1.86). Diarrheal mortality was highest among children aged 6-11 months (OR = 2.23). A significant increase in the number of deaths occurred during winter in medical care units, but deaths occurring at home showed no seasonal variation. The reduction in diarrheal mortality in northern states was less pronounced in winter than in summer (OR = 2.62); however, in the southern states, the proportional reduction in winter was similar to that in summer.

FROM: http://www.ncbi.nlm.nih.gov/entrez/query.fcgi?cmd=Retrieve&db=PubMed&list_uids=10361753&dopt=
Abstract
Wednesday, December 11, 2002



U.S. hospitals along Mexican border say illegal immigrants are costing them big money
By Lynn Brezcsky
Associated Press Writer

BROWNSVILLE, Texas -- Ambulances regularly race across the bridges of the Rio Grande, bringing some of Mexico's sickest to the nearest U.S. emergency room.

Obligated by federal law, the hospitals provide the care and worry later about whether the billing addresses patients give them are accurate. Often the addresses are false -- and the hospitals get stuck with the bill.

Immigrant patients have inflated medical expenses for insurance companies, Medicaid and paying customers, officials say, and are overwhelming already busy hospitals in one of nation's fastest-growing regions.

One recent study by the U.S.-Mexico Border Counties Coalition, an American lobbying group, found U.S. border hospitals provided at least $200 million a year in uncompensated emergency care to illegal immigrants, $74 million of that in Texas.

''Shh, don't tell Iowa farmers that part of their taxes are paying for trauma that occurs south of the border,'' Dr. Lorenzo Pelly, a south Texas doctor, told state lawmakers at a recent hearing.

Republican state Sen. Chris Harris said he was shocked by what he called the ''dumping'' of Mexicans on U.S. hospitals.

Policymakers are just being to assess the size of the problem.

Brownsville Medical Center estimates losses averaging at least $500,000 per month. At Thomason Hospital in El Paso, officials said their first attempt to estimate the cost found $1 million over just three months.

Thomason Hospital responded by retaining a Mexican lawyer and requiring patients to sign ''pagares,'' or promissory notes, that carry weight under Mexican law. It also signed on with a firm that specializes in collecting past due accounts in Mexico.

Even without the influx from Mexico, U.S. border hospitals are straining to meet the region's growing medical needs. Some have resorted to importing doctors and offering nurses tuition grants and signing bonuses.

But the load really jumped as Mexicans looking for work stream to factories along the border. The North American Free Trade Agreement has stimulated business on both sides of the border, but hospitals have not kept up.

NAFTA ''lacks the social economic infrastructure and capacity'' to address the growth, said Eva Moya of the Mexico Border Health Commission, made up of U.S. and Mexican officials.

For the sick or injured on the Mexican side of the border, the choice in a life-or-death situation can be a three-hour journey inland to Monterrey, Mexico, or a minutes-long trip to Brownsville, Laredo or El Paso.

The issue drew attention in September, when 4-year-old Larissa Guajardo, a U.S. citizen, died of heart problems after crossing the Hidalgo-Reynosa international bridge on the way to a hospital. Family members blamed a delay caused by immigration officials, who would not let the mother enter the country. The mother lacked paperwork and had crossed the border illegally before.

The Immigration and Naturalization Service said the inspection process took only a few minutes and that inspectors did not know the girl's illness was critical. Once the seriousness was discovered, the mother was allowed to enter on humanitarian grounds, the INS said.

The Sept. 11 attacks have also complicated the situation along the border, with some authorities worrying about what the ambulances might be holding.

''It is a security threat if they are going across the border unchallenged, but at the same time, we don't want to interfere with an emergency procedure,'' said Carl Rusnok of the INS in Dallas.

The B&M International Bridge, which links Brownsville with Matamoros, Mexico, has emergency crossings down to a science, said Joe Galvan, president of the company that runs it. The company has its own security guards staffing both sides of the crossing, and in medical emergencies a call goes out for the U.S. side to clear a lane for fast passage.

Under a 1986 federal law, U.S. hospitals must treat anyone who seeks emergency care, without regard to immigration status or ability to pay. The government gives hospitals extra funding to help poorer regions absorb the costs of unreimbursed care, but hospitals say it is not enough.

''This becomes a particular philosophical question that these doctors are having,'' said Dominic Dominguez, an administrator at Brownsville Medical Center. ''Part of my signing to serve in this community is, I'll cover this emergency room. But I didn't sign on to cover Mexico.''

• • •

On the Net:

Border health commission: http://www.borderhealth.gov

Border counties coalition: http://www.bordercounties.org
STATISTICS IN MEXICO
60.2% of people living with AIDS in Mexico don't have access to Social Security services, from these, only 3.5% gets attention at private institutions. Source: "Costs and expenses of AIDS medical attention in Mexico" by Jorge Saavedra, M.D. and Carlos Magis, M. D.
"Also, through informative campaigns and with the support of health workers, we have started prevention programs of new diseases affecting society, like the sad and dramatic case of AIDS. It is encouraging to confirm that the AIDS campaign, with great social support, has allowed to break down the growth rate of this terrible illness, in particular during these last three years. Nevertheless, we must say, the problem still remains serious for the amount of infected people who don't even know they are. That's why, I reiterate, that not only we'll mantain but we'll also reinforce the AIDS campaign, because prevention keeps being the only realistic alternative that we have against what is known as the "Disease of the Century" and, of course, we'll keep doing the best possible effort to assist to whom sadly are already suffering the cruel illness, the compromise of the Government of the Republic with the health of all mexicans and specially our young ones, who are in major risk of infection, it's unrefusable and it doesn't admit backing outs." Dr. Ernesto Zedillo. President of Mexico. Fragment of the speach in the Day of the Doctor, october 23rd.
The Conjoint Program of the United Nations on HIV/AIDS (UNAIDS) has decided, along with its sponsors and associates, to center the 1998 World Campaign Against AIDS on young people. Among the main reasons of this decision are the following: More than 50% of the new HIV infections, the virus which causes AIDS, are actually produced in young people in the age group from 10 to 24 years. Young people are specially vulnerable to HIV infection and are resulting seriously affected by the epidemic. Young people hav the ability to modify the course of the epidemic. This population group is not only infected and affected by HIV/AIDS, but it's the key resource to mobilize a wide and efficient response. UNAIDS.
In Mexico, the poorest 20% of population gathers only 4.2% of the total income of the country, while the wealthiest 20% has 55% of the national income. In 1995, the fortune of the wealthiest mexican citizen was equivalent to the income of 17 million of the poorest mexicans all together. Dr. Peter Piot, Executive Director of UNAIDS.
"In Latinamerica, we estimate that in 1997, 160 thousand people were infected by HIV, which is equivalent to approximately to the number of people that got infected in the same year in Europe and Northamerica together." Dr. Peter Piot, Executive Director of UNAIDS.
"Everyday, 16 thousand people get infected by HIV in the world. 75% of new AIDS cases are by sexual relations. Seven thousand are young people between the ages of 10 and 24, which means that every minute 5 youngsters get infected." Sally Cowel, UNAIDS Foreign Relations Secretary.
By year 2000, we'll all know someone with AIDS, it can be a friend, a work or school partner, a relative or maybe ourselves. World Health Organization.
"AIDS is the most complex public health program of the country." Dr. Juan Ramón de la Fuente, Health Secretary.
Drug approvals are faster every time, yet not fast enough.
This year's slogan of the AIDS Campaign will be:
"It's in the man's hands to change the course of the AIDS epidemic."
"I reiterate that the government of the Republic will not back off in the presence of any kind of pressure against public campaigns of family planification and AIDS prevention." Dr. Ernesto Zedillo, former President of Mexico.
In 1988, in the age group from 25 to 34, AIDS was the 18th cause of death, while in 1992 it already had taken the 5th place. Among men, AIDS as a cause of death went from the 11th to the 4th place in 1991. In 1998 AIDS didn't appear within the first 20 causes of death in the women's group, but in 1992 it already had the 12th place. "Public Health in Mexico" - "Salud Pública de México" publication, from march/april of 1996, page 143. J. A. Izazola, M. García Valdez, H. J. Sánchez P., C. del Rio Chiriboga.
In Mexico, AIDS is the third cause of death at a national level among men in the ages from 25 to 24, and the sixth among women in that same age. General Office of Statistics and Computing of the Health Sector.
Every day, 16 thousand people contract HIV, from which, 7 thousand are in the age range from 10 to 24, which means that each minute 5 youngsters get infected. To date, 30 million 600 thousand have gotten infected. 90% of the AIDS cases are in third world countries. UNAIDS.
It is estimated that up to december 1997, the number of infected people worldwide is of 30.6 million of people, which almost doubles the estimated by experts a few years ago. During 1997 in all the world, more than 590 thousand children acquired the virus and it is estimated that from here to year 2010 there will be 42 million orphan children because of AIDS. UNAIDS.
According to the prevailing cases of AIDS, not the number, Mexico takes the 69th place worldwide and the 29th in Latinamerica and the Caribbean. CONASIDA.
According to a publication in the Reforma newspaper, in Mexico City everyday are committed 12 sexual crimes, 90% on women and 10% in men.
In public hospitals of the Federal District, every year are given 29 million of doctor appointments, including the Mexican Institute of Social Security, the Institute of Social Security to the Service of Government Workers, Armed Forces, Mexican Oil, health centers and Hospitals of the Federal District Department, from which 21 million are given to health benificiaries and the rest to the open public, according to data given by the director of the Health Institute of the Federal District. Manuel Ruiz de Chávez.
During 1996, a health budget for $10 thousand 641 million pesos was exercised. The budget for 1997 was of $18 thousand 421 million pesos.
Budget programmed for the branch 23 during 1996 was of $31 thousand 499 million pesos, from which only $6 thousand 640 million of pesos was exercised. For 1997 the budget was of $38 thousand 339 million pesos, more than the double of what was destined for health. Data published by the Reforma newspaper on November 13th, 1997.
In the project of Budget of the Federation for 1998, a health expense for $80 thousand million pesos is considered. This proyect calculates to incorporate 600 thousand additional people to the Wide Covering Program "PAC", indicating that it will attend 6 million 600 thousand mexicans in total with the Basic Packet of Health Services. PAC will cover in 1998 to two thirds of the population that in 1994 didn't have health services and lives in 600 of the poorest municipalities of the country.
There are 56 etnias in our country; this indigenous towns are formed by approximately 10 million of people, according to data from the Government Office.
In the actuality, there are 94.7 million of habitants in Mexico, if the expected population goals are met, for the year 2000 there will be 100 million, for the year 2010 there will be 112 million and for the year 2030 there will be 131 million. The national average age in which a woman gets married is at 20. In the middle and high classes, the woman dedicates 10.5 years to the raising of her children, which is the time that occurs from the birth of her first child until the last one grows to be 6 years old; in the poor class this period is of 25 years. Every year the population grows in 1 million 400 thousand habitants, and there are needed 1 million of new jobs. It is calculated that each year between 100 thousand and 150 thousand abortions are practiced. Source: National Council for Population - CONAPO.
In the last 20 years, birth rate in Mexico has decreased to 50%, on the other hand, pregnancy among teenagers under 20 doubled, giving the fifth part of births per year, which is equivalent to 450 thousand pregnancies. 67% of pregnant minors were born from teenager moms; only 17% of young couples use contraceptive methods. According to UNICEF numbers, published in the Reforma newspaper on March 15th, 1998, page 30.
In Mexico, 150 thousand women abort annually, according to data from the National Council of Population - CONAPO. But Non-Governmental Organizations, such as GIRE, estimate that they are 850 thousand.
INEGI informs that the gross domestic product from january to september, 1997, rised up to 396 billion 222.5 million dollars, which is equal to 4 thousand 182.70 per habitant.
According to information given by the SECOFI, from january to august, 1997, foreign investment was of $5,543 millions of dollars, mainly from the United States of America.
Data published by the La Jornada newspaper, shows that 40 million of mexicans live in poverty, 17 million in extreme poverty. One of each five families doesn't get enough income to buy the food required for the nutrition of its members. One of each two mexicans in the field and one of each nine in the city live in extreme poverty. In the Federal District there are 20 thousand street kids (13 thousand, according to the Human Rights Commission of the Federal District), 13 thousand homeless adults attending 424 shelters, 446 thousand indigenous people who earn less than minimum wage and 590 thousand elders who live from charity.
40 million of mexicans show malnutrition problems; of these 17.7 million live in urban zones and 22.3 million live in rural zones. Information given by Foodfirst Information and Action Network on the World Feeding Day.
According to the annual report "World state of childhood" of the United Nations Fund for the Children - UNICEF, in rural zones of Mexico, 58% of children under the age of 5 show physical and mental deficiencies due to malnutrition. The normal intelectual coefficient of 100, sees itself diminished by 10% and stature by 5 inches. According to a study conducted by Securities Action Capital, published in the newspaper La Jornada last december 9th, the delay index of commerce debtors in our country, went from 13.1% of the total credit portfolio in december of 1994, to 45.4% in 1995, to 49% in 1996 and to 53.1% in september 1997.
The Human Development Report of 1998, made by the United Nations, and spreaded by its Development Program of the United Nations - PNUD, on september 9th of 1998, considers that 14.9% of mexicans survive with a dollar a day.
Mexico has a human poverty index - IPX - of 10.7%, which means that this percentage of population is excluded in base of three essential elements: longevity, knowledge and quality of life.
This index, in which Mexico takes the 49th place worldwide, considers life expectancy, access to education and the real income level.
8% of mexicans won't live to be 40, 17% of population don't have access to drinkable water, 7% don't have any kind of health services and 28% don't have sanitation services.
Only 66% of population between the ages of 6 and 23 has access to education. In 1980 this percentage of 68%, in other words, the number has decreased against what was expected. Up to here the report of PNUD.
In our country, there are 9 million of people with some kind of disability.
Programs of banking rescue will channel fiscal funds way over 77 thousand, 400 million pesos ending 1977; while the following portfolio sales to the Bank Fund for the Savings Protection "FOBAPROA" got to 236 thousand 220.6 million pesos to the end of the first semester, equivalent to 28 thousand million one hundred and twenty one thousand five hundred dollars.
It is estimated that at the end of december of 1997 there are about 13,500 people living with AIDS, from which 50% don't have access to social security, and their individual treatment cost would go up to 84 thousand pesos a year at least, equivalent to 10 thousand dollars, for a total of 6,750 people of $ 67 million 500 thousand dollars, which is what FONSIDA expects to raise.
According to studies published by two of the most important diaries in Germany and reproduced by the Reforma newspaper, referring to the problems what the new government of the city of Mexico will have to face, say that "the indifferent and inefficient attitude of the police, that only gets to solve 2% of the total of reported crime, against 20% in New York, 30% in London and up to 60% in some german cities".
In the United States of America, 74 million of people have used some kind of illegal drug at a specific moment in their lives. There are 13 millon of frequent consumers of illegal subtances in this country. Main illegal drugs being consumed are: marihuana, cocaine, crack, LSD and heroine. A great number of americans begin cosuming drugs at the age of 12. According to data from the National Office for Drug Control of the White House of the United States of America, AIDS is an illness frequentl associated with illegal drug consuming in the United States of America.
"Halt on the development of an AIDS vaccine, violates all the ethic principles and human rights". Jonathan M. Mann.
Predictions say that there will be 100 million of people living with HIV/AIDS for the year 2007. UNAIDS.
Governments from each country should consider fight against AIDS as the main priority in the national agenda. Mrs. Ruth Cardoso. First lady of Brasil.
In Mexico, there are 60 million of people living in poverty, from which, 20 million are in extreme poverty, surviving with less than $2.00 dollars a day. Report from the World Bank.
In our country, there are 9 million people with some kind of disability.
A border incident
FROM LEBANON TO MEXICO??
Terence Jeffrey (back to web version)

June 25, 2003
When Border Patrol officials in San Diego learned last June about circumstances surrounding a dead body deposited at the county medical examiner's office, they sent over an agent with a radiation detector.
"It was an out-of-the-ordinary situation, where you had an individual from the Middle East who was found along our border," said Raleigh Leonard, spokesman for the Border Patrol's San Diego sector. The man had been dropped off at a local hospital, Leonard told me, "by people who said that he had crossed illegally into the United States and was subsequently found . . . throwing up blood."
He was 21-year-old Youseff Balaghi. He had come from faraway Lebanon to the border near Tijuana.
"He was suffering from some very serious illness that no one at that particular time could identify," said Leonard. "He died. He was turned over to the San Diego County Medical Examiner's office. They called us."
"We did not perform an autopsy," said Dr. Jonathan Lucas, deputy medical examiner for San Diego County. The man's family, Lucas told me, refused consent for the procedure on religious grounds, but blood and urine samples were drawn for standard toxicology tests. These showed nothing particularly unusual, and the cause of death was listed as "undetermined."
By the time the Border Patrol arrived with its radiation detector, the body was gone but the blood and urine samples remained.
"At that time," said Leonard, "many of us were looking into information regarding dirty bombs.
"We had been studying and attending classes ever since September 11th in regards to terrorist-related activity so we are very keen on terrorist-type weapons, tactics, dirty bombs, different behavioral patterns, but also some of the sicknesses that are attributed to radiation poisoning," he said.
Fortunately, the detector showed Balaghi was clean.
That's the good news.
The bad news: Balaghi wasn't the only Middle Eastern illegal who slipped across our Mexican border.
Salim Boughader-Mucharrafille, a Tijuana restaurateur, conducted a regular business running Middle Easterners into California.
Last December, U.S. Attorney Carol C. Lam of San Diego unsealed an indictment charging Boughader, a Mexican citizen, and two other Mexicans, Patricia Serrano-Valdez and Jose Alvarez Duenas, with alien smuggling.
An affidavit filed in federal court by Senior Border Patrol Agent John R. Korkin said an investigation "positively identified at least 80 Lebanese nationals that have been, or were in the process of being, smuggled into the U.S. from November 19, 1999 to the present by a smuggling organization of affiliated individuals headed and coordinated by Boughader."
Boughader, Serrano and Duenas all cut plea bargains. Assistant U.S. Attorney Mike Skerlos, who prosecuted the case, said Serrano ran a safe house for Boughader in San Diego and Duenas was a "coyote" who guided aliens across the border. Boughader, Skerlos said, admitted in court to smuggling more than 100 people. Neither Serrano nor Duenas, he said, were involved in the incident that resulted in the death of Balaghi, but Boughader pleaded guilty in Balaghi's case to smuggling an alien "resulting in death."
I asked Skerlos whether any of the Middle Easterners smuggled by Boughader had ties to terrorist organizations. "No comment," he said.
Boughader's organization, said Korkin's affidavit, "employs several individuals and co-conspirators in various countries including Lebanon."
As a result of his plea bargain, Boughader will serve only one year and one day in prison. Hopefully, he has been induced to help investigators track his clients.
Since December, the San Diego Union-Tribune has run two reports revealing that Balaghi's remains were tested for radiation.
I asked Leonard how often the Border Patrol in his sector intercepts Middle Eastern illegals. "It happens," he said. "It's not by any means unusual. But it isn't every day."
"Radiation detectors," he also told me, "are being issued out to the Border Patrol agents. We are in the process of putting together a standard operations procedure packet, telling agents how to operate them . . . how they will be used, where they will be used. As soon as that is completed the devices will be issued out to the agents, absolutely.
"Just one more thing," said Leonard. "We're out there securing and protecting our nation's borders, and we take these terrorist and terrorist-related threats very seriously, and we're working hard to protect and secure our nation's borders."
That's a certainty. Law enforcement in San Diego -- from the Border Patrol, to the federal prosecutors to the county medical examiner -- are doing their best. But as long as Middle Eastern aliens keep sneaking in from Mexico, it is an equal certainty these officers are not getting all the support they need from policymakers in Washington.
FROM; http://www.townhall.com/columnists/terencejeffrey/printtj20030625.shtml

TRUCK TRAILER BECOMES A COFFIN

Source: PAULINE ARRILLAGA Associated Press
DALLAS --- It was midafternoon by the time the big rig rolled into Love's truck stop off I-20 in Dallas. As soon as the drivers climbed out, they heard fists pounding on the inside of the trailer walls.Jason Sprague lifted the latch. The cargo doors flew wide.More than 40 illegal immigrants --- packed into the unventilated cargo compartment 12 hours earlier --- came tumbling out.A woman, sobbing, hurled her fists at Sprague's co-driver, Troy Dock. Others, unable to move,

Published on May 25, 2004, Page A1, Columbus Ledger-Enquirer (GA)

Mexico call over migrant deaths

Mexico says the deaths of 18 suspected illegal immigrants who suffocated inside a trailer in Texas shows the need to legalise the migration of workers across the US border.

A Mexican foreign ministry statement condemned what it called "this lamentable incident" and promised co-operation with the US in tackling immigrant trafficking.

The grim discovery of the bodies at a rest stop in Texas was one of the worst cases of people smuggling in the border area in recent years.

Survivors have been speaking of their desperation as they struggled to escape from the back of the tractor-trailer where it is believed up to 100 people were crammed.

One person inside the sweltering container used a mobile phone to make an emergency call, pleading in Spanish for help as people suffocated.

But the call could not be traced.

Police eventually found the trailer at a truck rest stop near the city of Victoria, about 370 kilometres (230 miles) from the Mexican border early on Wednesday.

The victims - many of them Mexicans but some from Central America - appeared to have died from suffocation and heat exhaustion, US officials said.

Desperation

Some of the 39 survivors in US custody have told Mexican consular officials that smugglers loaded them onto the trailer on Tuesday and the air conditioning inside at first worked well.

But when the driver unhooked his cab and abandoned the trailer some hours later, it soon became airless.

"In desperation, the people said they broke out the truck's taillights to try and attract someone's attention and perhaps get some air," Marco Nunez of the Mexican consul's office in Houston told AP.

Some of the victims were said to have torn off their clothes because of the heat.

Police have arrested the trailer's registered owner and are were still looking for two other people, US officials said.

The authorities also believe 40 illegal immigrants who tumbled out of the vehicle alive when it was opened managed to escape.

The Mexican Government has long pressed Washington to make it easier for Mexicans to come to the US legally.

Every year thousands of Latin Americans make the hazardous journey and are often at the mercy of smuggling gangs.

"This lamentable incident shows the need for and importance of achieving safe conditions on the border for migrants and the need for safe, legal and orderly migration," the foreign ministry statement read.

"The Mexican Government reiterates its commitment to fight gangs of immigrant traffickers and those who seek to profit at the expense of undocumented migrants."

DOORS TO DEATH: PART 1

Source: Associated Press
CHAPARRAL, N.M. --- The 18-wheeler pulled off the desert highway and rumbled down a pockmarked clay road, its headlights raking a desolate hamlet of double-wides. The big rig, making an unscheduled detour at the start of a midnight run from El Paso to Dallas, slowed as it approached a dingy mobile home. Then the headlights snapped off. It turned through a gap in a chain-link fence and backed in close to the house. Jason Sprague climbed down from the cab and swung open the trailer's

Published on May 24, 2004, Page A1, Columbus Ledger-Enquirer (GA)

~~~~~~~~~~~~~~~~~~~~~~~~

MIGRANT FOES

Source: Associated Press
FRESNO, Calif. --- President Bush's plan to give undocumented workers temporary legal status brings back painful memories for Florentino Lararios, who spent 14 grueling years in a similar World War II-era program. Lararios, a 77-year-old with large, rough hands that never mastered a pencil, recalls the back-breaking work picking cotton in the South, the slapped-together communal housing, the cold meals eaten in the fields, and the unwelcome prospect of going back to Mexico without a

Published on January 14, 2004, Page C7, Columbus Ledger-Enquirer (GA)

~~~~~~~~~~~~~~~~~~~~~~~~~~~

BUSH PLANS TO HELP ILLEGALS

Source: Associated Press
WASHINGTON --- Promoting a plan that could brighten his election-year prospects with Hispanic voters, President Bush on Wednesday proposed legal status --- at least temporarily --- for millions of illegal immigrants working in the United States. But the sweeping policy overhaul, offered with few specifics, also angered many in the president's conservative Republican base of support and drew criticism from advocacy groups who questioned whether it would do much to help

Published on January 8, 2004, Page A1, Columbus Ledger-Enquirer (GA)
- Jose Latour's Port of Entry Daily Column -
Guys, today's article is based on some research that Cynthia, "my shiny, brilliant new assistant," dug up on MSNBC. The information is a little grim, it is very compelling and, I'm afraid, it is indicative of where our national immigration policy seems to be headed.
Let's start off with a sobering fact: according to the statistics kept by the Mexican government, here's a look at the fatalities of Mexicans on the border for the past five years:
1997 - 129 deaths
1998 - 297 deaths
1999 - 358 deaths
2000 - 455 deaths
2001 (through Sept. of that year, the latest statistics available) - 303 deaths
While the 2001 statistic indicates a comparative reduction in border deaths when contrasted with the prior year, the overall pattern is clear: more Mexicans are dying on the border. Why?
According to MSNBC and various other sources we've researched, human rights groups are blaming increased enforcement by the U.S. Border Patrol as a primary reason. But how exactly does a nation's protection of its own border cause the deaths of those seeking to unlawfully enter the country? Moreover, does a nation's sovereign right to control entry onto its own soil carry with it extraordinary responsibilities designed to ensure that, in their desperation, the would-be illegal migrants do not risk life and limb to circumvent the deterrents to their entry?
In 1994, the U.S. Border Patrol launched Operation "Gate Keeper" at the border near San Diego, where the majority of illegal Mexican entries into the United States occur. The operation has resulted in increased manpower, expanded fencing, intensified lighting, and amplified monitoring via underground sensors designed to sense the movement of individuals across the ground. These enforcement tools have resulted in the migrants seeking to cross more difficult terrain to enter the United States. Accordingly, by crossing through more difficult parts of the desert and by the traversing of the Rio Grande, the major causes of death among would-be migrants are drowning and heatstroke according to the California Rural Assistance Foundation.
Now, I have to be careful how I ask this question, but I must ask it:
How can human rights groups blame the U.S. government for the deaths of these individuals when the only thing that the U.S. government has done is increase enforcement, completely appropriate with national sovereignty laws?
In other words, if the U.S. government has a responsibility to leave open easy routes for illegal migration into the United States, we are essentially asking the federal government to give up its sovereign right. By blaming the federal government for these deaths, human rights groups are essentially placing the responsibility for the motivation of illegal migration on the U.S. government, and I respectfully submit to you that is not fair. A cause and effect explanation of the deaths, yes, absolutely! But to blame the U.S. Border Patrol is simply unconscionable.
No sir, the fault for these tragic deaths in the desert and through drowning lies squarely on the groups of cowardly "coyotes," the weasel alien smugglers who take the big bucks to violate our federal laws. They are the primary parties responsible for these tragic deaths.
Secondly, as politically incorrect as it is, the second most responsible parties are the individuals themselves who embark upon these journeys to make an illegal entry. (Yes, I see the tomatoes flying. I understand that these individuals are desperate and seeking new lives in the United States. I further understand that they come from impoverished countries and are seeking better lives, but I also understand that these individuals are consciously making the decision to enter illegally into another country in defiance of that country's laws and, as adult human beings, are making calculated decisions in doing so. For human rights organizations to blame the Border Patrol for the death of an individual who has made such a decision is simply to place blame on the wrong party. Free will exists in these situations.)
Okay, enough with the tomatoes.
In the MSNBC report much is made of the fact that Mr. Bush was courting Mexico's President Fox with vague promises of some sort of amnesty to resolve the status of the estimated three million illegal Mexicans residing in the United States. After September 11, the notion of amnesty for illegal aliens seems as elusive as peace in the Middle East. But consider these numbers and you will understand the nature of the issue:
From 1901 - 1970, approximately 1.5 million Mexicans immigrated legally to the United States.

From 1981 - 1990, less than nine years, more than 1.6 million Mexicans did the same thing.

From 1991 - 1998, 1.9 million immigrated legally.
It is evident that the number of Mexicans immigrating legally to the United States is certainly not decreasing. The number immigrating illegally is equally on the rise.
In fiscal year 2000, from October 1, 2000 until September 30, 2001, the U.S. Border Patrol apprehended 1,643,679 illegal aliens along the border. The largest increase, according to MSNBC, has been in Arizona while there was a decline along the California border, historically the busiest entry point for illegal aliens into the U.S.
What does all this mean for the rest of us who are not from Mexico but who are concerned about immigration policy? It's hard to tell right now, but these are the questions that must be answered in the coming months and years:
How will the U.S. formulate an immigration policy that gives Mexico the special treatment she deserves as our southern neighbor with very unique immigration needs?

How will the U.S. formulate an ongoing evolution of trade policy addressing the reality that Mexico's illegal immigration stems almost solely from economic need, not cultural preference?
FROM: http://66.102.7.104/search?q=cache:tLXlFs4TmLEJ:www.usvisanews.com/memo1727.html+illegal+mexicans+
deaths&hl=en
Summary
About 5.0 million undocumented immigrants were residing in the United States in October 1996, with a range of about 4.6 to 5.4 million
. The population was estimated to be growing by about 275,000 each year, which is about 25,000 lower than the annual level of growth estimated by the INS in 1994.
California is the leading state of residence, with 2.0 million, or 40 percent of the undocumented population. The 7 states with the largest estimated numbers of undocumented immigrants--California (2.0 million), Texas (700,000), New York (540,000), Florida (350,000), Illinois (290,000), New Jersey (135,000), and Arizona (115,000)--accounted for 83 percent of the total population in October 1996.
The 5.0 million undocumented immigrants made up about 1.9 percent of the total U.S. population, with the highest percentages in California, the District of Columbia, and Texas. In the majority of states, undocumented residents comprise less than 1 percent of the population.
Mexico is the leading country of origin, with 2.7 million, or 54 percent, of the population. The Mexican undocumented population has grown at an average annual level of just over 150,000 since 1988. The 15 countries with 50,000 or more undocumented immigrants in 1996 accounted for 82 percent of the total population. The large majority, over 80 percent, of all undocumented immigrants are from countries in the Western Hemisphere.
About 2.1 million, or 41 percent, of the total undocumented population in 1996 are nonimmigrant overstays. That is, they entered legally on a temporary basis and failed to depart. The proportion of the undocumented population who are overstays varies considerably by country of origin. About 16 percent of the Mexican undocumented population are nonimmigrant overstays, compared to 26 percent of those from Central America, and 91 percent from all other countries.
Background
In 1994 the INS released detailed estimates of the undocumented immigrant population residing in the United States as of October 1992. Those estimates were useful for a variety of purposes, including planning and policy development at the national and state level, evaluating the effects of proposed legislation, and assessing the fiscal impacts of undocumented immigration.
Over the past 2 years, the INS has revised those estimates and updated them to October 1996. The estimates presented here incorporate new data on the foreign-born population collected by the Census Bureau, improvements in the methodology recommended by the General Accounting Office (GAO), suggestions provided by outside reviewers, and further analyses of INS' data sources and estimation procedures. Revised and updated estimates of the undocumented population have been computed for each state of residence and for nearly 100 countries of origin.
Methodology
The estimates were constructed by combining detailed statistics, by year of entry, for each component of change that contributes to the undocumented immigrant population residing in the United States. For most countries of the world, the typical way of entering the undocumented population in the United States is to arrive as a nonimmigrant and stay beyond the specified period of admission. This segment of the population, referred to here as "nonimmigrant overstays", constitutes roughly 40 percent of the undocumented immigrant population residing in the United States. The rest of the population, more widely publicized, enter surreptitiously across land borders, usually between official ports of entry. This part of the population, often referred to as EWIs (entry without inspection), includes persons from nearly every country, but a large majority of them are from Mexico; most of the rest are natives of Central American countries.
Primary Sets of Data
The figures presented here were constructed from five primary sets of data. Each set of data was compiled separately for 99 countries and each continent of origin.
1) Entered before 1982--estimates (as of October 1988) of the undocumented immigrant population who established residence in the United States before 1982 and did not legalize under the Immigration Reform and Control Act (IRCA) of 1986. The assumption used to estimate this part of the population is based on estimates developed by the Census Bureau using data from the June 1988 Current Population Survey (CPS).
2) Net overstays--estimates for 1982 to 1996 of the net number of nonimmigrant overstays, for 99 countries of origin, derived from INS data bases. Estimates were derived by: a) matching INS I-94 arrival/departure records; b) adjusting for the incomplete collection of departure forms; and c) subtracting the number of nonimmigrant overstays who subsequently either departed or adjusted to legal resident status.
3) Net EWIs--estimates of the number from each country who entered without inspection (EWI) and established residence here between 1982 and 1996. A very large majority of all EWIs are from Mexico. Average annual estimates of Mexican EWIs were derived by: a) adjusting the CPS count of the Mexican-born population for underenumeration; b) subtracting the estimated legally resident population counted in the CPS; and c) subtracting the estimated number of net overstays.
4) Mortality--estimates of the annual number of deaths to the resident undocumented immigrant population. The estimates were derived using an annual crude death rate of 3.9 per 1,000, which was computed using a modified age distribution of IRCA applicants and age-specific death rates of the foreign-born population.
5) Emigration--estimates of the number of undocumented immigrants who resided here at the beginning of a period (either October 1988 or October 1992), and who emigrated from the United States in the following 4-year period. Estimates of emigration are based on statistics published by the Census Bureau in Technical Paper No. 9.
Construction of the Estimates
Estimates of the undocumented immigrant population were derived for October 1988, October 1992, and October 1996 for 99 individual countries and for each continent of origin. The calculations were carried out separately for overstays and EWIs.
Estimates by State of Residence
In the earlier estimates for October 1992, the state distribution of the undocumented population was based on the U.S. residence pattern of each country's applicants for legalization under IRCA; the results were summed to obtain state totals. This assumed that, for each country of origin, undocumented immigrants who resided in the United States in October 1992 had the same U.S. residence pattern as IRCA applicants from that country. The revised and updated estimates presented here incorporate the same assumption for the October 1988 undocumented population. However, it was necessary to develop new methods of deriving state estimates for October 1992 and 1996 that would reflect more recent patterns of geographic settlement.
As noted, the estimates of the undocumented population were constructed separately for overstays and EWIs. This permitted the distribution of the overstay and EWI populations to states using data most appropriate for the type of population. For overstays, the cohorts that arrived in the 1988-92 and 1992-96 periods were distributed to state of residence based on annual estimates of overstays by state of destination for 1986 to 1989. For EWIs who entered during these periods, the totals were distributed to state of residence using INS statistics for the early 1990s on the destination of the beneficiaries of aliens who legalized under IRCA.
Limitations
Estimating the size of a hidden population is inherently difficult. Overall, the figures presented here generally reflect the size, origin, and geographic distribution of the undocumented immigrant population residing in the United States during the mid-1990s. The estimates probably reduce the range of error for the total population to a few hundred thousand rather than a few million, which was the error range during the late 1970s and into the 1980s. The estimates for most countries should be fairly precise because they were constructed primarily from data on nonimmigrant arrivals, departures, and adjustments of status that have relatively small margins of error.
Although the estimates are based on the most reliable information available, they clearly have limitations. For example, the estimates make no allowance for students or other long-term nonimmigrants, and the estimates for some countries could be underestimated because of special circumstances (e.g., Dominicans entering illegally via Puerto Rico; ships arriving undetected from China).
The figures for some countries overstate the actual undocumented population. In general, the net nonimmigrant overstay figures are more likely to be overestimates than underestimates because the collection of departure forms for long-term overstays who depart probably is less complete than for those who depart within the first year.
The estimates include a large number of persons who have not been admitted for lawful permanent residence but are permitted to remain in the United States pending the determination of their status or until conditions improve in their country of origin. This category includes many of the undocumented immigrants from El Salvador, aliens from other countries in a status referred to as "deferred enforced departure", and IRCA applicants whose cases have not been finally resolved.
In a few cases, the estimates appear to be too high, but we have no basis for making downward adjustments. For example, the estimates for the Bahamas appear to be much too large because they imply that a relatively large proportion of the population is residing illegally in the United States, whereas large-scale undocumented immigration from the Bahamas has not been observed previously. In addition, undocumented immigration from Dominica is considerably higher than would be expected based on the number of IRCA applicants from Dominica. This overstatement could have occurred because of processing problems with I-94 arrival/departure documents, with the result that overstays from Dominica are overestimated and those from the Dominican Republic underestimated.
The number of EWIs is the most difficult component to estimate with precision, and errors in this component have the largest effect on the estimated undocumented population from Mexico. In particular, the shortage of information about two components--emigration of legally resident immigrants and undercount in the CPS--makes it difficult to derive acceptable residual estimates of the number of undocumented immigrants counted in the CPS.
The estimates presented here are based on the most extensive array of figures ever compiled for the purpose; nevertheless, they should be used with caution because of the inherent limitations in the data available for estimating the undocumented immigrant population. This uncertainty was addressed by using alternative assumptions to produce "high" and "low" population estimates for October 1996. In the following discussion of the estimates, the mid-range population figures are used for simplicity of presentation.
Results
National Estimates
The total number of undocumented immigrants residing in the United States in October 1996 is estimated to be 5.0 million , with a range of about 4.6 to 5.4 million. The estimate for October 1996 is about 1.1 million higher than the revised estimate of 3.9 million for October 1992; this implies that the population grew by about 275,000 annually during the 1992-96 period, about the same as the annual growth of 281,000 estimated for the previous period. The original INS estimates for October 1992 and October 1988, released in 1994, showed average annual growth of 300,000.
The undocumented population grows at varying levels from year to year, but the data available to make these estimates do not permit the derivation of annual figures to measure year-to-year changes. However, the similar levels of growth for the 1988-92 and 1992-96 periods, 281,000 and 275,000, respectively, suggest that the overall level of growth has been fairly constant over the past decade. This also indicates that the rate of growth of the undocumented resident population has declined since 1988.
State of Residence
The estimates for states reflect the well-established pattern of geographic concentration of undocumented immigrants in the United States. As expected, California was the leading state of residence, with 2.0 million, or 40 percent, of the total number of undocumented residents in October 1996. Seven states--California (2.0 million), Texas (700,000), New York (540,000), Florida (350,000), Illinois (290,000), New Jersey (135,000), and Arizona (115,000)--accounted for 83 percent of the population in October 1996.
The estimated undocumented population of California has grown by an average of about 100,000 annually since the end of the IRCA legalization program in 1988. More than 83 percent of total growth of the undocumented population since 1988 has occurred in the top seven states. With the exception of Massachusetts (6,000), none of the remaining 43 states grew by more than 3,000 undocumented residents annually. In 27 states, the undocumented population grew by an average of 1,000 or less each year.
Country of Origin
Mexico is the leading source country of undocumented immigration to the United States. In October 1996 an estimated 2.7 million undocumented immigrants from Mexico had established residence here . Mexican undocumented immigrants constituted about 54 percent of the total undocumented population. The estimated population from Mexico increased by just over 150,000 annually in both the 1988-92 and 1992-96 periods.
The estimated number of Mexican undocumented immigrants who arrived between 1990 and 1996 is based on data on country of birth and year of immigration collected by the Census Bureau in the March 1994, 1995, and 1996 Current Population Surveys (CPS) Demographic analysis of the CPS data indicates that approximately 230,000 undocumented Mexican immigrants established residence annually between 1990 and 1996. This is the net annual addition of undocumented Mexicans who arrived during the period. Note, however, that it does not reflect the average annual growth of the Mexican undocumented population. To compute average annual growth it is necessary to subtract the number of undocumented Mexicans who lived here in January 1990 and who emigrated, died, or adjusted to legal permanent resident status during the 1990-96 period. This last step produces the estimate cited above of just over 150,000 annual growth of the Mexican undocumented population since 1988.
In October 1996, 15 countries were each the source of 50,000 or more undocumented immigrants. The top five countries are geographically close to the United states--Mexico, El Salvador, Guatemala, Canada, and Haiti. Of the top 15 countries, only the Philippines and Poland are outside the Western Hemisphere. The estimated undocumented population from Poland has declined by more than 25 percent, from 95,000 to 70,000, since 1988, possibly reflecting changed conditions in that country over the last several years.
Although undocumented immigrants come to the United States from all countries the world, relatively few countries add substantially to the population. The annual growth of the undocumented population can be grouped into four disparate categories: 1) Mexico, with more than half of the annual growth, adds just over 150,000 undocumented residents each year; 2) six countries--El Salvador, Guatemala, Canada, Haiti, Honduras, and the Bahamas--each add between 6,000 and 12,000 annually; 3) thirteen countries each add about 2,000 to 4,000 annually; and 4) the remaining approximately 200 other countries add a total of about 30,000 undocumented residents each year . A large majority of the additions each year, more than 80 percent, are from countries in the Western Hemisphere.
FROM: http://uscis.gov/graphics/shared/aboutus/statistics/illegalalien/
Silver Lake Gang War
Homeboys and hipsters struggle to claim Silver Lake by Christine Pelisek
Oct 10-16, 2003
On a recent afternoon a Latino woman and her son wearily shuffle past a makeshift shrine in front of a shabby apartment complex on the 700 block of Vendome Street. The shrine, nearly obscured by a discarded mattress and other litter, is dedicated to Valentin Rangel, a member of the Silver Lake 13 gang. He died there in a hail of bullets over Labor Day weekend, two months shy of his 26th birthday. A half-dozen Mexican religious candles, a few still burning, decorate the scene. A photo of a smiling Rangel is propped up next to them. Scattered alongside the photo are personal mementos . two skateboarding magazines, a pair of black sunglasses and a Holy Bible. .RIP Val. is spray-painted on the street in front of the memorial. Across the street, on the corner of Vendome and Marathon, a small bouquet of wildflowers and one Mexican candle mark the spot where Rangel.s brother Mario was gunned down 13 years earlier by rival gang members and where Valentin himself was shot before stumbling across the street to his apartment complex.
A deep fly ball from there, the type of urban hipsters who have earned Silver Lake its bonhomie-boho image obliviously sip caf con leches at the Tropical Caf and discuss Tsar.s latest show at Spaceland. The two scenes illuminate the stubborn contrast between Silver Lake.s chic main drag and the neighborhood south of Sunset Boulevard. In the streets abutting Vendome and Marathon, a spate of gang violence that started on Labor Day weekend has been responsible for several drive-bys, a car bombing, two deaths, and the rattled nerves of longtime residents and more recent arrivals who hoped the checkered neighborhood had made the transition from barrio to bourgeois.
Though gang activity has long been a part of the landscape in Silver Lake, particularly south of Sunset, residents say the recent violence, which has sent at least 40 gunshots echoing through the neighborhood, is unprecedented. On August 29, the first six shots took the life of Rangel. Another gang-related shooting . possibly tied to Rangel.s murder . only a week later and just blocks away on Bellevue left an Angelino Heights gang member injured and his friend, 28-year-old Juan Monsivais, dead. More recently, members of La Mirada gang unloaded a hail of bullets across a busy park at an SUV they believed to be carrying enemy gang members.
The level of gang violence occurring in this area, while far from the city.s worst, is happening at the same time property values have gone up 33 percent this year alone and .bargain. homes are selling for more than a half-million dollars just north of Sunset. The unexpected rash of violence here illustrates a gangs-versus-gentrification drama that.s likely to play out in other neighborhoods across the city as the overheated housing market pushes prospective new homeowners deeper into the fringes of long-held gang turf.
"I think that people thought the property values would automatically help with a problem like gangs, and I guess that.s not necessarily the case. They can still come into the neighborhood and do what they want," said Linda Froiland, who moved here three years ago from Minnesota and who is co-president of the Silver Lake Improvement Association.
Police are unsure how or even if the recent violence is connected. Locals, though, point to a heated graffiti-tagging war between rival gangs in the area, one headed by Rangel, as the spark.
By all accounts, and judging from the audacious way he.d sign his name to his tags, Rangel was the main provocateur in the graffiti battle that at first presented locals with more of a nuisance than a threat when it flared up six months ago. His signature tag, .SL13Val,. sprayed on the cars, homes and businesses in streets around Vendome and Marathon became a common sight in the neighborhood. It was often scrawled over 18th Street gang graffiti. A former gang member familiar with the area says Rangel was asserting control of the area for .recruiting, to sell drugs and claim the street."
The gang member, who asked not to be identified, believes that four gangs are currently vying for the drug trade that has been going on in the area since the 1970s, when the 18th Street gang ruled the streets. At one time, a dealer could make $800 a night selling dope on the corner of Vendome and Marathon with little threat of being arrested. Recently, the Aztlan member, who dealt out of his apartment on Vendome.
The back-and-forth tagging showed clearly, though, that the main beef was between Rangel.s Silver Lake 13 and the 18th Street gangs. Residents and observers speculate that police efforts to clear gangs from MacArthur Park . where 18th Street had a stranglehold on the Bonnie Brae drug traffic and was known to tax street vendors . as well as a successful court injunction that made it illegal for 18th Street gang members to congregate near their former stronghold in the Pico-Union area, pushed them west in search of new turf.
"It is the supply-and-demand thing," said Froiland. "There had been an illegal business operating here for 20 years. When we got rid of the people, it became open territory for other gangs to come in and sell drugs there."
Rangel, apparently, didn.t put out the welcome mat.
"They [18th Street] don't belong in this area," said a longtime friend of Rangel.s who asked to remain anonymous. .Those guys want to take over everywhere. Before, they stuck to MacArthur Park. They have a shitty-ass town where they live. They get anyone in and they kill their own people. They want to corrupt this side of town. Nobody wants to see someone come to their house and start their own business there."
.It is a matter of pride,. said Senior Lead Officer Al Polehonki of the LAPD.s Northeast Division. .You aren.t going to let someone from another gang spray in your area. If you are in a gang and another gang comes by, it is like a challenge to you..
What started as a nuisance became more threatening when a Molotov cocktail was thrown into a parked SUV just after midnight in July, weeks before Rangel was gunned down. The firebomb smashed through the driver.s window of the SUV, engulfing the vehicle in flames within seconds. Residents, afraid the vehicle would explode, put out the fire long before firemen arrived on the scene about a half-hour later.
Fears that animosities were heating up in the neighborhood were confirmed on Friday, August 29, with the late-summer skies just faded to black. The streets, where young children on scooters are a common sight, were mostly bare at 8:55 p.m. except for Rangel, who was standing on the northwest corner of Vendome and Marathon when a white Toyota minivan pulled up alongside him. Two male Latinos jumped out of the car and walked toward Rangel. They started to argue, and one of the suspects, who was described as a male Latino between the ages of 18 and 25, took out a handgun and shot Rangel, who staggered down the street, before he fell less than a block from his home. The suspects then jumped back into the van and sped off, colliding with two other parked cars before leaving the scene. When Rampart patrol officers arrived, Rangel was lying on the sidewalk, dead from six gunshot wounds to the head, chest and leg. The minivan, found five blocks away, was reported stolen.
.That poor family has lost two sons,. said Froiland. .Both of whom were in gangs..
Anti-gang officers say they became aware of Rangel after he was arrested six months earlier for tagging anarchist symbols in the area and for carrying a gun in his backpack. .He was more crazy than he was active,. said Rampart anti-gang Officer Brandon Purece. .Ever since his brother died, he kinda lost it.. At the time, the Silver Lake 13 barely registered on the cops. radar. .They aren.t one of the most violent gangs in the area,. said Rick Ramos, detective supervisor of Rampart.s Gang Impact Team. .They have been involved in assaults and robberies. But it is sporadic. It is not a consistent problem..
Sources say that Rangel took over the reins of the 20-plus-member Silver Lake 13 gang as the shot caller or main head sometime last year when a fellow gang member was arrested in the shooting death of a rival gangbanger on South Redondo Boulevard. When the 18th Street gang started showing up in the area, Rangel seemed to find an outlet for his angst.
.They started to ride around in the area,. says Rangel.s friend. .He [Rangel] was crossing out the tags. Unfortunately, he had to go out like that. Nobody deserves that..
Rangel.s friend describes someone whose death was tinged with inevitability as he sank deeper into depression and violence after his girlfriend and son moved out of their one-bedroom apartment on Vendome. .Everything fell apart after his girlfriend split. He was more out of control. He was doing weed, drugs, beer. The people he was hanging out with, they were bad,. the friend said. .I didn.t want to hang out the way he wanted to hang out..
What effect the neighborhood.s rapid gentrification had on Rangel, who worked as a bicycle messenger and whose co-workers describe him as outgoing and friendly, is open to speculation. But residents say Rangel.s increasingly antisocial behavior, including allegedly threatening a woman with a screwdriver, paralleled the steep rise in local property values and the influx of new homeowners.
.He had so much anger in him,. said Sandra Ruiz, a 19-year resident and newly elected neighborhood council member. Ruiz, a mother of eight, says she keeps her kids inside most of the time, or walks them to and from friends. and relatives. homes. .My daughter was approached by a girl to get in a gang. I think it was Aztlan. I told her to say she has a family that loves her."
A week after Rangel.s murder, three 18th Street gang members were arrested for burglary in Silver Lake. Residents thought that might be the end of the violence, but three weeks later, on September 23 at 6:15 p.m., a time when neighbors often walk their dogs in the famous Laurel and Hardy park, two passengers jumped out of a silver pickup truck and shot more than 15 bullets into a passing SUV as it drove past the park. The two passengers in the targeted vehicle, one a soldier who had just returned from Iraq and lived in the neighborhood, plowed into two parked vehicles, narrowly escaping injury. The shooters fled the scene. That same evening, the police arrested a member of La Mirada gang in connection with the shooting. The other three remain at large. Residents suspect the shooting is connected with the car bombing that had occurred at the same spot.
The day after the Laurel and Hardy park shooting, the Silver Lake Improvement Association held its monthly meeting at Councilman Eric Garcetti.s field office. The main topic of discussion: the escalation of the gang crime in the area. It was a relatively new topic for the neighborhood group, which was formed to fight graffiti and promote activities like the Sunset Junction Street Festival and the Silver Lake Film Festival, not contend with drive-bys. Their conclusion: more police.
.Because we are so aggressive at painting out graffiti, a lot of people didn.t realize the extent of what was going on. We do take the situation seriously. It goes back to the broken-window attitude: If you let the stuff fester, it is going to get worse,. said Rusty Millar, a longtime resident and recently elected neighborhood council member for region four, who is active in cleaning up local graffiti. .We have talked to the cops about this. People know they can get drugs there. It will only become a priority when someone politically thinks it is a priority."
Cops say help is on the way and that in reality Rampart Division.s killings are down from 150 10 years ago to 32 so far this year. Even so, that might not translate into immediate relief for Millar, Ruiz and others. LAPD.s Rampart Division is more organized today than in the days when former Officer Rafael Perez shook down local gang members. Its CRASH unit has been disbanded and renamed the Gang Impact Team, and its officers, mostly new to the division, are divvied up into three units: the special-enforcement unit, the gun-apprehension team and the gang-reality-narcotic-enforcement detail. Plus, officers, they say, are increasing patrols to tackle the 30 gangs that call the Rampart area home.
Even so, some say that, with all this reorganizing, gang intelligence has been thin and has not translated into street-wise policing, at least not here. Anti-gang officers say that it is very difficult to get to the bottom of gang killings. Relatives and neighbors fear reprisal if they talk, especially in an area like this one where Chicano, Latino and Latin American immigrants, generally distrustful of police, make up the largest ethnic group at 43 percent of the population.
Until the gang war is resolved, residents around Marathon and Vendome fear that they will be at the wrong place at the wrong time when bullets start flying. And that the violence that erupted over the Labor Day weekend is far from being over. Rangel.s friend agrees. .It is going to escalate,. he said.
Residents, though, especially relatively recent homeowners, say they will continue to improve the area. .People are investing in this area,. said Froiland. .People enjoy living here. They will do what they can to continue to make it the place they would like it to be. They are proud of what they have and what they have done..
FROM: http://www.streetgangs.com/topics/2003/10010103.html
The jobs that lure Mexican workers to the United States are killing...
Associated Press
The jobs that lure Mexican workers to the United States are killing them in a worsening epidemic that is now claiming a victim a day, an Associated Press investigation has found.
Though Mexicans often take the most hazardous jobs, they are more likely than others to be killed even when doing similarly risky work.
The death rates are greatest in several Southern and Western states, where a Mexican worker is four times more likely to die than the average U.S.-born worker. Death rates in the Midwest are lower. In Minnesota, six Mexican-born workers died from 1996 through 2002, the latest year federal statistics are available.
These accidental deaths are almost always preventable and often gruesome: Workers are impaled, shredded in machinery, buried alive. Some are 15 years old.
For the first such study of Mexican worker deaths in the United States, The AP talked with scores of workers, employers and government officials and analyzed years of federal safety and population statistics.
Among the findings:
- Mexican death rates are rising even as the U.S. workplace grows safer overall. In the mid-1990s, Mexicans were about 30 percent more likely to die than native-born workers; now they are about 80 percent more likely.
- Deaths among Mexicans in the United States increased faster than their population. As the number of Mexican workers grew by about half, from 4 million to 6 million, the number of deaths rose by about two-thirds, from 241 to 387. Deaths peaked at 420 in 2001.
- Though their odds of dying in the Southeast and parts of the West are far greater than the U.S. average, fatalities occur everywhere: Mexicans died cutting North Carolina tobacco and Nebraska beef, felling trees in Colorado and welding a balcony in Florida, trimming grass at a Las Vegas golf course and falling from scaffolding in Georgia.
- Even compared to other immigrants, what's happening to Mexicans is exceptional in scope and scale. Mexicans are nearly twice as likely as the rest of the immigrant population to die at work.
Why is all this happening?
Public safety officials and workers themselves say the answer comes down to this: Mexicans are hired to work cheap, the fewer questions the better.
They may be thrown into jobs without training or safety equipment. Their objections may be silent if they speak no English or are here illegally. And their work culture and Third World safety expectations don't discourage risk-taking.
Federal and state safety agencies have started to recognize the problem. But they have limited resources - only a few Spanish-speaking investigators work in regions with hundreds of thousands of recent arrivals - and often can't reach the most vulnerable Mexican workers.
President Bush's recent proposal to grant illegal immigrants temporary legal protections energized the national immigration debate. Yet in these discussions, job safety has been an afterthought. Meanwhile, Mexicans continue to die on the job.
---
Eighteen-year-old Carlos Huerta fell to his death as he built federal low-income housing in North Carolina.
His bosses ignored basic work safety rules, according to state inspectors, when they put him in a trash container that wasn't secured to the raised prongs of a forklift. It soon toppled.
In 2002, the year Huerta was killed, more Mexicans died in construction than any other industry - and more died from fatal falls than any other accident.
A year ago in South Carolina, brothers Rigouerto and Moses Xaca Sandoval died building a suburban high school that, at 15 and 16, they might have attended. They were buried in a trench when the walls of sandy soil collapsed.
The United States offered these three teens wages 10 times higher than in Mexico. They offered their employers cheap, pliant labor. For safety violations that led to these deaths, the federal Occupational Safety and Health Administration has fined employers $50,475.
Accidents like these suggest that employers assign Mexicans to the most glaringly perilous tasks, says Susan Feldmann, who fields calls from Spanish-speaking workers for an institute within the federal Centers for Disease Control.
"They're considered disposable," she says.
But employers are not always at fault, some safety officials say.
Though he was trained and wearing required safety gear, Jesus Soto Carbajal severed his jugular vein with a carving knife in a Nebraska meatpacking plant. The blade punctured his chest just above the protective metal mesh.
Federal safety officials didn't fine the employer, though they did recommend fundamental changes in the work routine. A plant spokesman says that since the accident in 2000, workers wear larger protective tunics.
Mexican worker deaths were also concentrated in agriculture.
When Urbano Ramirez suffered a nose bleed picking North Carolina tobacco, his supervisor prescribed shade rest. Ramirez's body was found 10 days later. A medical examiner said he died of unknown natural causes, the body too decomposed for a definitive finding. His brother suspects heat stroke.
Like Ramirez, many deceased workers came with little more than a grade-school education - and often left behind large families.
Criminal charges are rare, fines more typical. One exception is a California dairyman who faces involuntary manslaughter charges after two of his workers drowned in liquid cow manure.
Jose Alatorre was overcome by fumes from the fetid stew as he tried to fix a pump at the bottom of a 30-foot concrete shaft. His partner died trying to save him.
Both men were full-time workers but, according to prosecutors, were given no safety training and no safety equipment to deal with the predictably hazardous air.
The deaths received a burst of attention in early 2001, but 18 months later in the same small town, a third Mexican-born worker died in the same way at another dairy.
---
The AP's investigation focused on 1996 through 2002, the most recent set of worker death data from the U.S. Bureau of Labor Statistics. Those were years when the economic boom coaxed about 1 million Mexicans beyond the border states, according to government estimates.
During those years, the analysis showed, Mexicans were increasingly more likely to die on the job than U.S. workers of any race.
The annual death rate for Mexicans increased to the point that about 1 in 16,000 workers died. Meanwhile, for the average U.S.-born worker, the rate steadily decreased to about 1 in 28,000.
Mexicans now represent about 1 in 24 workers in the United States, but about 1 in 14 workplace deaths.
Workplace fatalities had distinct regional patterns:
CALIFORNIA AND TEXAS: These states, where generations of Mexicans have developed strong support networks, still rank atop the annual number of Mexican worker deaths - but their numbers have steadied or fallen recently. Though low relative to other states, the death rate for Mexican workers in California is still greater than the average for U.S.-born workers.
SOUTH: In the bloc of states from Louisiana to Maryland, the Mexican death rate averaged about 1 in 6,200 workers - four times that of native-born workers. Total deaths more than tripled from 27 in 1996 to 94 in 2002 in the South (excluding Texas), where some states saw Mexican populations triple to more than 100,000 workers.
WEST: Outside California, deaths in Western states increased from 41 to 58, and death rates hovered above the national average. Colorado and Washington stood out with consistently high rates.
MIDWEST: The number of Mexicans killed annually doubled between 1996 and 2002, from 19 to 38; death rates were slightly above the national average for Mexicans. Federal estimates of the Mexican-born population in Minnesota are too low to calculate reliable death rates.
NORTHEAST: The region has the fewest Mexicans, but death rates still far exceeded American worker averages. Total annual deaths rose from eight to 17.
Construction was the deadliest industry. Across the nation, about 1 in 3,100 Mexican construction laborers died at work, a rate notably greater than native-born white and black construction laborers, though in line with the rate for native-born Hispanics.
---
Federal and state safety officials are starting to grapple with the problem.
OSHA Director John Henshaw points to Spanish-language materials the agency has put on its Web site, as well as the agency's Hispanic Taskforce, which coordinates outreach.
The greatest frustration is that so many deaths are avoidable.
"Ninety-five to 99 percent of the time, there's going to be noncompliance with a standard that could have prevented the fatality," says Joe Reina, the No. 2 OSHA official for Texas and neighboring states and a leader of the Hispanic Taskforce.
Still, Reina holds workers partly responsible.
"They just don't know that they have rights and responsibilities," Reina says, including the ability to complain against employers.
Explaining those rights is one thing, enforcing them another. Some of OSHA's own officials say their resources are insufficient and note the agency's own policies generally provide for punitive action only after an accident. It's unclear what President Bush's guest worker program, if approved, would do for worker safety.
As OSHA works to improve safety, language remains a barrier. By the agency's own count, there are no Spanish-speaking inspectors or accident investigators in the half of Georgia that includes immigrant-rich Atlanta. Some other Southern cities do have Spanish-fluent enforcement officials.
In its eight-state Southeastern region, OSHA has a single Spanish-speaking outreach worker. Marilyn Velez encourages workers and employers to avoid unsafe practices.
It's not easy. Some wary workers see Velez as a police officer; others, having survived abject poverty in rural Mexico and dangerous border crossing, feel they don't need her.
"They are looking at you like, 'Are you crazy? I have done worse things,'" Velez says. "It's just the way they see risk."
Sometimes the lessons do register. But America's Mexican labor force is constantly in flux. Workers graduate to safer jobs, or perhaps they move back home. Their replacements may be the next victims.
FROM: http://www.semcosh.org/pritchard_mexican_workers.htm
U$/Mexico border
Over 2000 people have died crossing the border -- most of exposure -- since Operation Gatekeeper started in 1994. (
New York Times. 6 August 2002.)

2003 DATA: From June 28 to July 1, 2003, eight migrants were found to have died in southern Arizona after crossing the border from Mexico, bringing to 63 the known death toll in the Border Patrol's deadly Tucson sector since the federal government's fiscal year began last Oct.

Zita Islas Uribe, 29, of Hidalgo, Mexico, died of heat exposure on June 28 near Naco; an unidentified woman died the same day after falling from a railroad bridge near Naco; two more migrants died near Gila Bend in a June 29 pickup truck crash that left three others injured; and the body of a man was found June 29 on the Tohono O'odham Indian Reservation. The body of another unidentified man was found June 30 near the border, east of the San Pedro River, in Cochise County; he appeared to have been dead for about a week. On June 1, near Ajo, Border Patrol agents found a Mexican man who apparently died from the heat. Another unidentified man was found dead near Naco on June 1; he appeared to have been dead for 2-3 days. (Arizona Daily Star (Tucson) 6/30/03, 7/2/03, 7/3/03)

On May 14, 19 immigrants from Mexico and Central America died of suffocation in a tractor trailer left in the Texas desert. See MIM Notes 285, Aug 2003 for the full story.

2002 DATA: It is estimated that about 1 Mexican dies every day trying to cross the border. From October 2001 to October 2002 there have been 323 confirmed deaths. The environmental threats are being exacerbated by both increased police control of the border and a reported rise in vigilante groups that are suspected in at least 2 deaths in Arizona this year. (Washington Post. 30 Oct 2002.)
In the first half of the year, 117 Mexicans died trying to cross the border, down from 210 in the first half of last year and 283 in 2000. This decrease follows increased border restrictions and a slower economy. Mexico's foreign ministry said in a statement that 50 migrants from other parts of Latin America also died. Hundreds of thousands of people try each year to cross the 1,987 mile border. (New York Times. 5 July 2002.)

Despite a decrease in illegal immigration across the border of 29%, deaths have increased in less inhabitable areas as increased militarization forces migrants to cross at the most deadly/uninhabited points. According to the NY Times, "June was the deadliest month ever for the southwest border, with 67 migrants dying, mostly in the unrelenting heat of the United States Border Patrol's Tucson sector, a barely habitable land that covers most of southern Arizona." (New York Times. 6 August 2002.)

1999-2000: From October 1999 to September 2000, 106 people died in Arizona alone.(Associated Press, 24 May 2001.)

Meanwhile researchers at the university of Houston have established the link between border policies and deaths in a detailed study.

Emerging Infectious Diseases - HOW BIRD FLU PASSES TO HUMANS

Vol. 4, No. 3, July/September 1998

The influenza virus continues to evolve, and new antigenic variants (drift strains) emerge constantly, giving rise to yearly epidemics. In
addition, strains to which most humans have no immunity appear suddenly, and the resulting pandemics vary from serious to catastrophic.

Influenza viruses are unique among respiratory tract viruses in that they undergo considerable antigenic variation. Both surface antigens of the influenza A viruses undergo two types of variation: drift and shift (1). Antigenic drift involves minor changes in the hemagglutinin (HA) and neuraminidase (NA), whereas antigenic shift involves major changes in these molecules resulting from replacement of the gene segment.

The Reservoirs of Influenza A Viruses

Aquatic birds are the reservoirs of all 15 subtypes of influenza A viruses. In wild ducks, influenza viruses replicate preferentially in the
cells lining the intestinal tract, cause no disease signs, and are excreted in high concentrations in the feces (up to 10 8.7 50% egg infectious doses/g) (2). Avian influenza viruses have been isolated from freshly deposited fecal material and from unconcentrated lake water, which indicates that waterfowl have a very efficient way to transmit viruses, i.e., by fecal material in the water supply.

Since a large number of susceptible young ducks are hatched each year throughout the world, many birds are infected by virus shed into water. This would explain the high incidence of virus infection in Canadian ducks, particularly juveniles, when up to 30% can shed virus before fall migration. Transmission by feces also provides a way for wild ducks as they migrate through an area to spread their viruses to other domestic and feral birds (3).

The avirulent nature of avian influenza infection in ducks and wading birds may result from virus adaptation to this host over many
centuries, which created a reservoir that ensures perpetuation of the virus; therefore, ducks and wading birds may be occupying an important position in the natural history of influenza viruses. Influenza viruses of avian origin have been implicated in outbreaks of influenza in mammals, such as seals (4), whales (5), and pigs (6), as well as in domestic poultry (7).

Evolutionary Pathways for Influenza Viruses

Studies on the ecology of influenza viruses have led to the hypothesis that all mammalian influenza viruses derive from the avian influenza reservoir. Support for this theory comes from phylogenetic analyses of nucleic acid sequences of influenza A viruses from a variety of hosts, geographic regions, and virus subtypes. Analyses of the nucleoprotein (NP) gene show that avian influenza viruses have evolved into five host-Influenza:

An Emerging Disease
Robert G. Webster
St. Jude Children's Research
Hospital, Memphis, Tennessee, USA

Address for correspondence:
Robert G. Webster, St. Jude Children's Research Hospital,
332 North Lauderdale St.,
Memphis TN 38105-2794, USA;
fax: 901-523-2622; e-mail:

robert.webster@stjude.org.


Because all known influenza A subtypes exist in the aquatic bird reservoir, influenza is not an eradicable disease; prevention and control are the only realistic goals. If people, pigs, and aquatic birds are the principal variables associated with interspecies transfer of influenza virus and the emergence of new human pandemic strains, influenza surveillance in these species is indicated. Live-bird markets housing a wide variety of avian species together (chickens, ducks, geese, pigeon, turkeys, pheasants, guinea fowl), occasionally with pigs, for sale directly to the public provide outstanding conditions for genetic mixing and spreading of influenza viruses; therefore, these birds should be monitored for influenza viruses. Moreover, if pigs are the mixing vessel for influenza viruses, surveillance in this population may also provide an early warning system for humans.

specific lineages:

ancient equine, which has not been isolated in over 15 years; recent equine; gull; swine; and human. The human and classic swine viruses have a genetic 'sister group' relationship, which shows that they evolved from a common origin. The ancestor of the human and classic swine virus appears to have been an intact avian virus that, like the influenza virus currently circulating in pigs in Europe, derived all its genes from avian sources (8,9).

Studies on the NP and other gene lineages in avian species show separate sublineages of influenza in Eurasia and the Americas, indicating that migratory birds moving between these continents (latitudinal migration) have little or no role in the transmission of influenza, while birds that migrate longitudinally appear to play a key role in the continuing process of virus evolution.

Phylogenetic analyses of amino acid changes show that avian influenza viruses, unlike mammalian strains, have low evolutionary rates
(8). In fact, influenza viruses in aquatic birds appear to be in evolutionary stasis, with no evidence of net evolution over the past 60 years.

Nucleotide changes have continued at a similar rate in avian and mammalian influenza viruses; however, these changes no longer result in amino acid changes in the avian viruses, whereas all eight mammalian influenza gene segments continue to accumulate changes in amino acids.

The high level of genetic conservation suggests that avian viruses are approaching or have reached optimum, wherein nucleotide changes provide no selective advantage. It also means that the source of genes for pandemic influenza viruses exists phenotypically unchanged in the aquatic bird reservoir. The most important implication of phylogenetic studies is that the ancestral viruses that caused the Spanish flu in 1918, as well as the viruses that provided gene segments for the Asian/1957 and Hong Kong/1968 pandemics, are still circulating in wild birds, with few or no mutational changes.

Emergence and Reemergence of 'New' Influenza A Virus in Humans

Over the past two and a half centuries, 10 to 20 human influenza pandemics have swept the globe; the most devastating, the so-called Spanish flu of 1918 to 1919, caused more than 20 million deaths and affected more than 200 million people. Both pandemics probably originated from aquatic birds. Since the first human influenza virus was isolated in 1933, new subtypes of human type A influenza viruses have occurred: H2N2 (Asian influenza) replaced H1N1 in 1957, Hong Kong (H3N2) virus appeared in 1968, and H1N1 virus reappeared in 1977. Each of these new subtypes first appeared in China, and anecdotal records suggest that previous epidemics also had their origin in China. Serologic and virologic evidence suggests that since 1889 there have been six instances of the introduction of a virus bearing an HA subtype that had been absent from the human population for some time.

Three human subtypes of HA have appeared cyclically" H2 viruses in 1889, H3 in 1900, H1 in 1918, H2 again in 1957, H3 again in 1968, and H1 again in 1977. Phylogenetic evidence indicates that a totally new H1N1 virus of avian origin (not a reassortant) could have appeared in humans or swine before the 1918 influenza and replaced the previous human virus strains. Whether the virus was first introduced into humans and then transmitted to pigs, or vice versa, remains unknown. The reappearance of the H1N1 Russian 1977 influenza virus remains a mystery.

How Are Influenza Viruses Spread?

Avian influenza viruses in wild aquatic birds are spread by fecal-oral transmission through the water supply (10); initial transmission of avian influenza viruses to mammals, including pigs and horses, probably also occurs by fecal contamination of water. Scholtissek has postulated that the use of fecal material from ducks for fish farming in Asia may contribute to transmission of avian influenza viruses to pigs (11). Another direct method of transfer is by feeding pigs untreated garbage or the carcasses of dead birds. Raising pigs under chicken houses and feeding them dead avian carcasses has been observed on rare occasions in the United States; H5N2 influenza virus was isolated from pigs living under chicken houses in Pennsylvania during the outbreak in 1982. Both pigs and poultry are commonly raised on the same commercial farms. From the perspective of the control of interspecies transmission of influenza, this is undesirable, for it may facilitate interspecies transmission of influenza viruses. After transmission to pigs, horses, or humans, the method of spread of influenza is mainly respiratory.

Emergence of H5N2 Influenza Viruses in North America

In 1983 an H5N2 influenza virus infected chickens and turkeys in Pennsylvania and became highly pathogenic for poultry. Virologic
and serologic studies provided no evidence of transmission to humans (12). The virus was eventually eradicated by quarantine and extermination of more than 17 million birds at a direct cost of more than US$60 million and an indirect cost to the industry of more than US$250 million.

More recently, a highly pathogenic H5N2 influenza virus emerged in domestic chickens in Mexico (7). In October 1993, egg production decreased and deaths increased among Mexican chickens in association with serologic evidence of an H5N2 influenza virus. H5N2 virus was isolated in May 1994. By the end of 1994, the virus had mutated to contain a highly cleavable HA, but remained only mildly pathogenic in chickens. Within months, however, it had become lethal in poultry. Phylogenetic analysis of the HA of H5 avian influenza viruses, including the Mexican isolates, indicated that the epidemic virus had originated from the introduction of a single virus of the North American lineage into Mexican chickens. This virus was eradicated from chickens by quarantine and use of inactivated vaccine.

Live Bird Markets and the Epidemiology of Influenza

The chicken/Pennsylvania (H5N2) influenza outbreak in 1983 to 1984 demonstrated that live bird markets play an important part in the spread of influenza viruses in avian species. In 1992, Senne et al. (13) described live bird markets as the missing link in the epidemiology of avian influenza, for H5N2 viruses had been isolated from live birds until 1986. These H5N2 viruses caused subclinical infection in chickens in the markets, as did H5N1 viruses in live bird markets in Hong Kong in 1997. Moreover, ducks in the markets in the United States were infected with many different subtypes of influenza A viruses, including H2N2 viruses related antigenically to the Asian/57 (H2N2) viruses that have disappeared from humans.

The live bird markets in the United States continue to harbor many influenza viruses. The ancestor of the H5N2 influenza virus that caused the epidemic in Mexico in 1993 to 1995 was isolated from market birds, and H7NX subtypes are still found in live bird markets. These viruses are potentially pathogenic for chickens and are of Molecular changes associated with emergence of a highly pathogenic H5N2 influenza virus in chickens in Mexico. In 1994, a nonpathogenic H5N2 influenza virus in Mexican chickens was related to an H5N2 virus isolated from shorebirds (ruddy turnstones) in Delaware Bay, United States, in 1991. The 1994 H5N2 isolates from chickens replicated mainly in the respiratory tract, spread rapidly among chickens, and were not highly pathogenic. Over the next year the virus became highly pathogenic, and the hemagglutinin acquired an insert of two basic amino acids (Arg-Lys), possibly by classic recombination and a mutation of Glu to Lys at position 3 from the cleavage site of HA1/HA2.

The emergence of H5N1 influenza in Hong Kong. It is postulated that a nonpathogenic H5N1 influenza spread from migrating shorebirds to ducks by fecal contamination of water. The virus was transmitted to chickens and became established in live bird markets in Hong Kong. During transmission between different species, the virus became highly pathogenic for chickens and occasionally was transmitted to humans from chickens in the markets. Despite high pathogenicity for chickens (and humans), H5N1 were nonpathogenic for ducks and geese. This was of great concern to chicken farmers in the northeastern United States.

The depopulation of live bird markets and farms in the New Territories of Hong Kong (December 29, 1997) stopped the spread of H5N1 influenza viruses. An important lesson can be learned from this action in Hong Kong. Live bird markets are potential breeding grounds for both avian and mammalian influenza viruses. Serologic monitoring of the chickens in Hong Kong markets for H5N1 influenza virus was an important first step in stopping the spread of the viruses. An even more important step would be to reduce the opportunity for interspecies transmission by marketing chickens separately from other avian species.

The Index Case of H5N1 in Humans in Hong Kong

On May 21, 1997, a 3-year-old boy from Hong Kong died in an intensive care unit in Hong Kong on the fifth day of his hospitalization, with a final diagnosis of Reye syndrome, acute influenza pneumonia, and respiratory distress syndrome (14). He had no indications of other underlying disease, including immunodeficiency or cardiopulmonary disease. From a tracheal aspirate, we isolated an influenza virus in MDCK cells but were unable to grow any pathogenic bacteria from respiratory specimens. In hemagglutination inhibition assays, the virus did not react with ferret antisera to recent isolates of human and swine subtypes.

Hemagglutination inhibition assays using antisera to 14 H subtypes showed that the isolate was an H5 influenza A virus. Neuraminidase inhibition tests, using antisera to nine N subtypes, indicated that the neuraminidase was of the N1 subtype. Nucleotide sequence analyses of parts of the HA and NA genes of the virus allowed a phylogenetic comparison with other influenza viruses. Our analyses confirmed that the virus was of the H5N1 subtypes. Each of the eight RNA segments was of avian origin, and the virus was highly pathogenic for chickens. The contribution of the influenza A H5N1 virus infection to the child's disease, eventually leading to death, was complicated by the child's treatment with aspirin.

The virus identification is important because it is the first documented isolation of an influenza A virus of this subtype from humans (15).

Characterization of the Human and Chicken H5N1 Viruses from Hong Kong

Avian influenza outbreaks occurred in Hong Kong from late March to early May of 1997. Three chicken farms were separately affected; the death rate for the total of 6,800 chickens exceeded 70%. A comparison between the nucleotide sequences of the H5 genes from both the human virus A/Hong Kong/156/97 (H5N1) (HK97) and a representative of the chicken viruses from the March outbreak, A/chicken/Hong Kong/258/97 (CkHK97), showed a high degree of homology in their respective H5 HA1 sequences. Only three amino-acid differences were observed in the HA1 of the HA, confirming the close phylogenetic relationship between these viruses, belonging to the Eurasian lineage of the subtype H5 viruses.

Sequence analyses of the HA of multiple human and chicken H5N1 isolates show that they form two subgroups with close linkage between chicken and human isolates. An analysis of the amino acids expected to be involved in the assembly of the receptor binding site showed no differences could be observed between the human isolate and avian H5 viruses. Therefore, the H5 HA of HK97 had probably not acquired mutations that favor binding to sialic acids with 2,6 linkage to the galactoside over the 2,3 linked sialic acid receptor preferred by human and avian viruses respectively. However, the loss of a potential N- linked glycosylation site at amino acid 156 Asn, close to the receptor binding site, could affect binding to the cellular receptor.

The amino acid sequence motif at the cleavage site of the HA molecule has been associated with high virulence of avian influenza viruses. Experimental infection of chickens with HK97 showed that even after passaging in mammalian cells (once in the child and twice in MDCK cells), the virus remained highly pathogenic for chickens: all eight chickens inoculated intratracheally with MDCK-grown HK97 died within 3 days after infection. A comparison of the reactivity of a panel of 17 monoclonal antibodies (MAb) directed against A/chicken/Pennsylvania/83 (H5N2) with HK97 and CkHK97 in a hemagglutination inhibition assay showed similar antigenic reactivities with all but one MAb, indicating antigenic cross-reactivity between these viruses and the usefulness of these antibodies for diagnosis.

The fetuin-cleaving activity of the NA proved to be inhibited by anti-NA antiserum.

Reverse transcriptase polymerase chain reaction using primer sets that amplified the 5' end of the NA gene segments showed that this gene was of the N1 genotype. Nucleotide sequence analysis and comparison to published NA sequences confirmed this finding genetically. The NA sequences unequivocally showed a close molecular relationship between HK97 and CkHK97, as a unique 57-nucleotide deletion was observed in the stalk region of the N1 gene of both viruses. Each of the eight gene segments showed close genetic homology between the HK97 and Ck/ HK97 viruses, the lowest being 98.2% for the nucleoprotein; the remaining genes varied from 98.8% to 100% homology (16).

Can the Emergence of Pandemic Strains Be Prevented?

Because all known influenza A virus subtypes are found in aquatic wild birds in nature, agricultural authorities have recommended avoiding direct or indirect contact between domestic poultry and wild birds. A classic mistake made by chicken and turkey farmers is to raise a few domestic ducks on a pond near poultry barns; these birds attract wild ducks. The highly pathogenic outbreaks of H5N2 avian influenza in chickens and turkeys in Pennsylvania and surrounding states in 1983 to 1984 (12) and the H5N2 in Mexico in 1993 (7) could probably have been prevented if domestic poultry had been raised in ecologically controlled houses with a high standard of security and limited access.

If we assume that people, pigs, and aquatic birds are the principal variables associated with the emergence of new human pandemic stains, human pandemics of influenza may be prevented. The principles applied to preventing outbreaks of influenza in domestic animals should apply equally here. Pandemic strains of human influenza emerge only rarely; however, interspecies transmission of influenza viruses may not be so rare, for up to 10% of persons with occupational exposure to pigs develop antibodies to swine influenza virus (17). Most transfers of influenza viruses from pigs to humans are dead-end transfers (they do not spread efficiently from human to human). As indicated above, we do not know the frequency of virus transfer between the suspect species in southern China. If there is an epicenter for pandemic influenza and a detectable frequency of transfer between people, pigs, and ducks and if we understand the ecologic and agricultural features involved in the transfer, pandemics may be preventable. If pigs are the major mixing vessel for influenza viruses, changes in the agricultural practices that separate pigs from people and ducks could prevent future pandemics. Most importantly, we may influence the appearance of pandemics by changing the methods of live bird marketing by separating chickens from other species, especially from aquatic birds.

This work was supported by Public Health Service grants AI-29680 and AI-08831 from the National Institute of Allergy and Infectious Diseases, by Cancer Center Support (CORE) grant CA-21765, and by the American Lebanese Syrian Associated Charities.

Dr. Webster holds the Rose Marie Thomas Chair in the Department of Virology and Molecular Biology at St. Jude Children's Research Hospital, Memphis, Tennessee. In addition, he is director of the World Health Organization Collaborating Center for Ecology of Influenza Viruses in Lower Animals and Birds. He has devoted his life to the understanding of the emergence of pandemic influenza viruses, the structure and function of the viral proteins, and methods for developing new and improved antiviral drugs and vaccines.

References: See: http://216.239.57.104/search?q=cache:8-BASckXYKsJ:www.ucbcidp.org/courses/
flu_webster.pdf+mexican+disease+death+-heart+-famine+-reagan&hl=en


Epidemics
Killer diseases are on the attack worldwide.

By IVONNE ROVIRA
For The Courier-Journal

The disease starts as a high fever, sometimes with headaches and body aches. After two to seven days, victims develop a dry cough and have trouble breathing. Most people get better — but 3.5 percent of the people who come down with the malady die.
It's called severe acute respiratory syndrome (SARS for short). With 4,500 reported cases worldwide, it has a lot of people scared.

But calm down. There have been relatively few cases in the United States. We have had much worse outbreaks of disease. And epidemics are a problem that people have had to deal with throughout history.

An epidemic is an outbreak of a contagious disease that spreads rapidly and widely. The 4,100 cases last year of West Nile virus, which is spread by mosquitoes, were considered an epidemic.

"In four years, it had gone from one side of the United States to another," said Dr. Sue Billings, veterinarian and medical epidemiologist with the Kentucky Department of Public Health.

Nobody knew about SARS until it broke out in an apartment complex in Guangdong province in southern China last November. The respiratory disease is thought to be a new form of the same kind of virus that causes the common cold.

People are frightened. Some in Asia are wearing facemasks out of fear of SARS, and authorities are urging people not to travel to China, Singapore; Hanoi, Vietnam; or Toronto, Canada.

"If you lived in one of those countries, your risk would be much greater," Billings says.

Still, some Americans are panicking "because it's on the news and they hear about these cases on every newscast and they read it in the paper or they hear it on the radio, but we are still at greater risk from influenza," Billings explained.

An average of about 36,000 people per year in the United States die from influenza, also called the flu, and 114,000 per year have to be admitted to the hospital as a result of the disease, according to the National Centers for Disease Control.

Just because a disease makes the newspaper headlines doesn't mean it is especially dangerous. Other diseases that you seldom hear about may be much more widespread. For example, it was big news last year when Kentucky experienced five reported deaths and 75 cases of West Nile virus. But at the same time, Kentucky had 400 cases of salmonella, a diarrhea-causing disease.

West Nile virus "was considered an epidemic because that was the first time we had it in Kentucky," Billings said.

There have been other scares in recent history. The ebola virus, first recognized in the Congo in 1976; dengue fever, which had nearly disappeared, made a comeback in the 1970s; and hantavirus, discovered in New Mexico in 1993 — all have sparked big scares in the United States.

"There are more people and we can travel from one part of the world to the other side in a day," says Billings. "We will have emerging diseases…. We have to be aware of new problems."

A PLAGUE ON YOUR HOUSE?
It may be tempting to use the term "plague" but doctors now reserve that term for the scariest of all pandemics, the bubonic plague, cautions Billings.

"Plague is an illness," she says. "We don't use the word plague as a variety of different things (anymore)."

Whether a disease outbreak is an epidemic depends on how many more cases than expected the medical community sees, Billings explained.

"Actually, a pandemic is an infection that involves more than one continent usually…," Billings said. She believes AIDS is the only possible current pandemic. The previous pandemic was the 1918 flu outbreak that killed between 20 million and 40 million.

People have reported epidemics for at least 3,000 years. Fortunately, vaccinations can prevent traditional killers like smallpox and measles and better hygiene has virtually wiped out malaria and cholera, two other killer diseases.
SMALLPOX
... In that year, a devastating disease called "smallpox" was introduced into Stó:lo
territory from Mexico through an extensive network of Aboriginal trade routes ...
www.greatdreams.com/smallpox.htm
Company in Hepatitis Case Violated Rules
FROM: http://janis7hepc.com/hepatitis_c_research33.htm

Dec 5, 7:01 PM (ET)

By OLGA R. RODRIGUEZ

MONTERREY, Mexico (AP) - U.S. inspectors visiting green-onion producers in northwestern Mexico found that one of the four companies linked to a deadly U.S. hepatitis outbreak failed to meet hygiene standards, Mexican officials said Friday.

Javier Trujillo, undersecretary for food safety and quality in Mexico's Ministry of Agriculture, said Dos M Sales de Mexico, a company located near the border city of Mexicali, in Baja California state, was washing its scallions with water from a nearby reservoir, rather than with purified drinking water, as required.

"The deficiencies where found at the company's packing operation but that is not conclusive proof that this was the origin of the hepatitis outbreak in the United States," Trujillo said.

The other three companies linked to the outbreak that killed three people and sickened more than 600 in Pennsylvania are Agricola La Laguna, a.k.a. Sun Fresh, of Ensenada; Tecnoagro International in San Luis Rio Colorado and Ensenada, and Agro Industrias Vigor in Tijuana, Ojos Negros and San Quintin, Baja California.

The probe by three inspectors from the U.S. Food and Drug Administration and one from U.S. Centers for Disease Control and Prevention - accompanied by Mexican officials - started Monday, and will continue next week when
inspectors will visit scallion-exporting companies not linked to the hepatitis A outbreak, Trujillo said.

But Trujillo said the FDA rushed to judgment by publicly identifying suspected companies before completing an investigation that followed the green-onions through the supply chain.

"The hypothesis that the outbreak could have originated in Mexico is one, but there is also the likelihood of contamination in the transportation, or at the restaurant," Trujillo said. "It's really surprising that the FDA would only emphasize the hypothesis of contamination at the point of origin."

Ellen Morrison, director of the Office of Crisis Management for the FDA, said the FDA has been very careful with the investigation and sent the inspection team to Mexico only after not finding sources of contamination at the different restaurants.

She said it's premature to speak of the inspectors' findings while the investigation is in progress.

The hepatitis strains found in the rash of illnesses among customers at a Chi-Chi's restaurant at the Beaver Valley Mall northwest of Pittsburgh are very similar to those found in smaller outbreaks that occurred in Tennessee and Georgia in September. Those earlier outbreaks were traced to three companies known to have supplied Mexican green onions in those states. It is unclear whether they are the same companies currently being investigated.

About hepatitis C

Hepatitis C virus causes inflammation of the liver and degradation of liver function. Hepatitis C infection is currently the most common chronic blood-borne infection in the United States. Approximately 2.7 million people in the United States are chronically infected with the hepatitis C virus, and it causes 10,000 to 12,000 deaths a year in the United States. The Centers for Disease Control and Prevention, or CDC, estimates the annual mortality rate in the United States could increase to 38,000 by the year 2010, surpassing the number of deaths attributed annually to HIV/AIDS. The hepatitis C virus is transmitted primarily through significant or repeated exposures to infected blood. In the United States, intravenous drug use and sexual contact with infected persons account for the majority of new hepatitis C infections. Approximately two thirds of new infections progress to chronic infection. Chronic HCV infection may also progress to more serious complications such as cirrhosis of the liver, liver cancer and death

~~~~~~~~~~~~~~~

The largest hepatitis A outbreak ever recorded in the United States happened last year when at least 660 people who ate contaminated green onions at a Chi-Chi's restaurant in Pittsburgh got sick. Four people have died from liver failure as a result (see news stories here and here).

Hundreds of others got sick from contaminated green onions at other restaurants in Georgia, North Carolina, and Tennessee. The green onions came from four Mexican farms, which have since been shut down (news story here).

Hepatitis A is fairly common in the United States; about a third of all Americans have been infected at some point. Contaminated food is a major source of hepatitis A, which is largely associated with fecal-oral transmission (see CDC fact sheet). Household contact and oral-anal sex (rimming) can also transmit hepatitis A.

Hepatitis A can cause jaundice, fatigue, nausea, fever, diarrhea, loss of appetite, and abdominal pain. Between 11% and 22% of adults who get hepatitis A need to be hospitalized. Hepatitis A is very rarely fatal -- less than 1% of all cases overall, but more likely in people over 40.

There's no specific treatment for hepatitis A, though sometimes immune globulin (a batch of antibodies to hepatitis A) is given for recent (<2 weeks) exposures, where it is at least 85% in preventing hepatitis A. Alternately, some evidence supports the use of hepatitis A vaccine (see below) following exposure, and vaccination is sometimes used to control outbreaks (with or without immune globulin). Various medications can be used to manage symptoms.

Everyone ultimately clears hepatitis A infection, typically after a few weeks or, in some cases, several months. But during acute infection, the virus becomes detectable in feces and in blood before any symptoms or clinical signs of infection. This period is when hepatitis A is transmissible. One study found that the hepatitis A virus remains present at detectable levels in the blood for an average of about three months (full text; PDF), though periods exceeding a year have been reported (abstract).

Several outbreaks of clustered cases among networks of IDUs have been documented, but it's not clear how much of hepatitis A transmission among IDUs occurs directly through needle and injection equipment sharing. Using contaminated sources of water (for instance, from toilets) to prepare drugs for injecting could also be a source of infection. Other environmental factors could also increase transmission through poor hygiene in shooting galleries, shelters and jails, crowded apartments, etc.

FROM: http://hepcproject.typepad.com/hep_c_project/testing_vaccination/

~~~~~~~~~~~~~~~

Carroll M. Leevy
Professor & Scientific Director at the University of Medicine and Dentistry of New Jersey
Statement on Hepatitis C

I am Dr. Carroll Leevy, Distinguished Professor of Medicine at the University of Medicine and Dentistry of New Jersey and Director of the Sammy David, Jr. Liver Institute. I am pleased to have the opportunity to participate in this hearing to bring public attention to the serious health threats posed by the hepatitis C virus and to consider the response of Federal health agencies to the increased incidence of hepatitis C infection.

Let me begin by applauding you, Chairman Shays, and the members of this Subcommittee for holding this important hearing. As you know, nearly four million Americans are infected with hepatitis C, and it is expected that the death rate for the disease will triple over the next twenty years. Nevertheless, the public remains largely unaware of the virus or the illness and death that it causes. I hope and expect that this hearing will bring focussed attention to the need for research, prevention strategies, and efforts to educate and inform the general public. I would also like to recognize Representative Towns for the role that he has played in educating the public about hepatitis C and its particular impact on minorities. As you may know, while the virus infects 1.5% of non-Hispanic whites, over 3% of African Americans are infected as are 2.1% of Mexican Americans. I had the pleasure of joining Mr. Towns at a public meeting at the Pratt Institute in Brooklyn last fall, and I know how committed he is to identifying better methods for preventing and treating hepatitis C across all segments of our society. Further, Representative Towns joined Representatives Payne and Stokes in contacting the Director of the National Institutes of Health about the need for additional research on hepatitis C. I will focus the remainder of my statement on these two essential tools in our effort to conquer hepatitis C: the critical need for prevention initiatives, including efforts to identify and treat hepatitis C particularly among under-served populations; and, the imperative for expanded research on HCV infection.

FROM: http://www.epidemic.org/theForum/testimony/leevyTestimonyA.html

THEORIES THAT AIDS IS A GOVERNMENT CONSPIRACY TO DESTROY UNDESIRABLE POPULATIONS MAY MAKE POLITICAL SENSE, BUT ARE THEY SUPPORTED BY FACTS?
AIDS has an uncanny knack for attacking people the dominant society considers "undesirables": gays, injection drug users (IDUs), prisoners, and people of color. The commonly cited US statistic that African Americans have twice the AIDS rate as white Americans understates the problem because it is based on the total number of cases since 1981. While white gay men constituted the large majority of cases in the early days, by the early 1990s the rate of new cases among Latinos was 2.5 times higher than among whites, and the black/ white ratio was even starker at 5-1 for men and 15-1 for women. By 1993, AIDS had become the leading cause of death among African Americans between the ages of 25 and 44. Internationally, the racial disparity is even worse: About 80 percent of the world's 9 million AIDS deaths through 1995 have occurred in Africa, where 2 million children have already been orphaned.
The correlation between AIDS and social and economic oppression is clear and powerful. What is more, the pattern meshes neatly with an extensive history of chemical and biological warfare (CBW) and medical experiments which have targeted people of color, Third World populations, prisoners, and other unsuspecting individuals. In the first North American example of CBW, early European settlers used smallpox infected blankets as a weapon of genocide against Native Americans. A few centuries later, the US Army conducted hundreds of tests that released "harmless" bacteria, viruses, and other agents in populated areas; one was to determine how a fungal agent thought mainly to affect black people would spread. Washington also subsidized the pre marketing tests of birth control pills before a safe dosage was determined on Puerto Rican and Haitian women who were not warned of the potentially severe side effects. Since the 1940s, the US has conducted 154 tests on 9,000 people, soldiers, mental patients, prisoners many of whom had no idea of the risks involved. On another level, the drug plague in the ghettos and barrios whether by intent or not has the effect of chemical warfare against these communities.
Mexico is located between the United States of America and Central America. The total area of the country is slightly less than three times the size of Texas. According to the 1995 census, the total population is 91,158,290 million, of whom 37% are between the ages of 15 and 34 years. Mexico has significant international migration, both from Central America into Mexico and from Mexico into the United States. Although estimations regarding the number of Mexican migrants to the USA are often in dispute, current estimates place the number of Mexican illegal workers in the USA at 2,700,000 or 54% of all illegal immigrants in the US.
During the last decades Mexico has experienced some of the most severe economic crises ever suffered by a developing country (Per capita GDP was 1,800 US in 1998 down from $3,500 US in 1994) and, although the country is currently enjoying enough economic growth to allow the Federal Government to have increased the health sector budget by around 30% for fiscal year 1997, investment in research is still quite minimal (less than 1% of GDP of which about 30% is health-related research). The number of investigators in the country is also critically low and training opportunities for new investigators are limited. With only 33,296 active investigators -9 per every 10,000 members of the economically active population- there is clearly a great need in Mexico to enhance research efforts and train investigators.
The HIV/AIDS Epidemic in Mexico
The first cases of AIDS in Mexico were diagnosed in 1983. From that time through January 1st, 1998 a total of 33,632 cases of AIDS cases have been reported to the Secretary of Health of Mexico. These figures, however, are likely to be underreported. The AIDS surveillance system in Mexico faces complex hurdles with serious problems relating to a lack of diagnosis, delayed diagnoses, and a changing case definition. It is possible that the number of cumulative AIDS cases is actually closer to 53,000 with as many as 200,000 persons infected with HIV. HIV infection is frequently diagnosed quite late in the course of disease in Mexico. At Anonymous /Confidential AIDS Testing Centers close to 60% of new HIV diagnoses are made when CD4+ T-cell counts are <200 cells/ml with less than 20% of patients being diagnosed with a CD4 cell count >500 cells/ml.
AIDS mortality is increasing among the general population in Mexico with the most dramatic increase found among men who are between the ages of 25 and 442. AIDS is now the fourth leading cause of death nationally for men in this age group; in many states it is the third leading cause of death. In 1996 a total of 4,373 AIDS related deaths were reported in Mexico, a rate of 4.7 per 100,000. No significant drop in AIDS mortality has been seen in Mexico as it has in the United States and other developed countries. This is probably due to the relatively limited availability and use of highly active antiretroviral therapy (HAART) in the general population of infected people.
Trends in HIV incidence and prevalence in Mexico
The history of HIV in Mexico is one of slow growth (1983 - 1986) followed by an exponential increase (1987-1990), and then a gradual leveling off in the hardest hit areas (1991 - present). Doubling periods are now at 16 months in the Federal District of Mexico City (30.3% of total cases), the state of Mexico, and the state of Jalisco. These three districts cumulatively represent 55.3% of total Mexican cases. In other states the duplication period is much shorter, about eight months. This range clearly suggests that the AIDS epidemic in Mexico is not one epidemic but a sum of multiple epidemics with very different growth rates.
Trends in Transmission in Mexico
Sexual Transmission
Sexual contact accounts for 89.9% of AIDS cases among men and 51.2% of cases among women. Among men with AIDS, 65.7% of the total are ascribed to men who have sex with men (MSM). This figure may be artificially low as intensive follow up of heterosexual cases among men by staff of the National AIDS Registry eventually reclassifies over 50% as attributable to homosexual or bisexual men.
Intravenous Drug Use (IVDU)
The number of AIDS cases where IVDU is the reported risk factor for transmission has remained low in Mexico. Through June 1996, there have been only 378 (1.4%) cases of AIDS attributed to injection drug use. After Jalisco (66 cases), the two states with the largest number of cases among IVDU's both share a border with the United States: Baja California (60) and Sonora (33). The fact that the proportion of total cases attributable to IVDU (15.9% in Baja California, compared to 1.4% nationally in Mexico) is similar to that found in the United States suggests that Baja California, and possibly other border states, have epidemics which are more similar to the United States epidemic than the Mexican one.
Transfusion-associated transmission
The proportion of transfusion-associated AIDS cases have markedly decreased in Mexico over the last few years as testing of donors became widespread. In 1989 transfusion-associated transmissions represented 17% of all AIDS cases in Mexico, a figure which decreased to 3% of cases in 1997. In absolute numbers, this decrease has been most dramatic among women.
Pediatric AIDS
A total of 716 cases of pediatric AIDS cases have been reported since the beginning of the epidemic. A shift has been observed in the transmission risk factors for pediatric HIV with a decrease in the number of transfusion-associated cases (43% in 1990 and 27.5% in 1995) along with a parallel increase in perinatal cases (55% in 1990 and 60.5% in 1995). The National Health Program for 1994-2000 mentions the prevention of perinatal transmission of HIV, with a target of a 50% decrease in cases of perinatally acquired HIV by the year 2000 as a specific goal.
Surveillance
Data from over 40,000 name-linked sentinel surveillance studies done by CONASIDA throughout Mexico since 1985 reveals seroprevalences from 0.02% (among pregnant women) to 15.6% (among men who have sex with men). Comparisons of seroprevalence data for different risk groups over two five-year permods (1985-1990 and 1991-1995) reveals that HIV incidence in some groups has remained low (eg: female commercial sex workers where seroprevalences range from 0.04% to 2.6%) or even decreased (eg: blood donors where seroprevalence is now 0.01-0.04%) while it has increased in others (eg: injectible drug users where limited data from two studies done in Baja California in 1990 and 1995 documented an increase from 1.92% to 9%).
In conclusion, HIV/AIDS is an important health problem in Mexico. The impact of HIV stems both from the total number of infections (5 per 10,000 population) and the fact that it primarily affects those in the most economically productive age group. Mexico has made tremendous strides in controlling the transmission of HIV though blood and blood products but has been far less effective in lowering rates of sexual transmission. New trends in the epidemic that are of particular concern are the increasing number of infections among intravenous drug users and those in rural communities among migrants or sex partners of migrants.
Instituto Nacional de Salud Pública
(National Institute of Public Health in Mexico)
FROM: http://www.sph.emory.edu/AITRP/mexico.html
Tropical Diseases to Avoid Like the Plague The of the many hazards of travel to Central American countries like Mexico is the possibility of exposure to one or more of the many tropical diseases endemic to this region. Most U.S. citizens have had little contact with these diseases so that they are more vulnerable to an unfortunate exposure than natives might be.
Fortunately, by taking some sensible precautions the Mexico traveler should be able to enjoy this country without having to bed down for days on end, seeking out medical care or having to suffer with the consequences for many months after the trip has ended.
Traveler's Diarrhea
The most frequently reported illness by travelers to Mexico is more formally called traveler's diarrhea. Some may remember the international gravity of Jimmy Carter's faux pas, and it truly it was a slight to the sensibilities of the Mexican people, when he called it by the colloquialism, "Montezuma's revenge." Traveler's diarrhea can be caused by viruses, bacteria, or parasites which are found at large throughout the region. Transmission occurs most often through contaminated food or water. Infections can cause anything from minor discomfort to severe cases of diarrhea and vomiting. Be warned, however: it can also result in liver damage or muscle paralysis!
To avoid traveler's diarrhea, eat only thoroughly cooked foods and peel your own fruit. Drink only boiled water, bottled carbonated water or bottled carbonated soft drinks... although one may also indulge in margaritas, of course (but watch the ice for creepy crawlies...and you don't usually see them!).
Dengue Fever
Dengue Fever is transmitted by mosquito bites and is usually a danger in areas of human habitation, like cities. The mosquitoes are usually most active at dusk and at dawn, but may bite at any time during the day. The illness results in flu-like symptoms with a sudden onset, rash, severe headache, high fever, and joint and muscle pain. The rash will appear three or four days after the onset of the fever, which is the first symptom. (One might assume that this is not quite what you had in mind when you embarked on your journey.) Fortunately, the risk of exposure for the traveler is quite small, except during periods of epidemic.
Of course, there are other mosquito-linked diseases in Mexico as well. Malaria is caused by the bite of the mosquito...although these particular bugs usually fly and bite at night, from dusk until dawn. They are found in rural areas primarily, especially in the states of Oaxaca, Chiapas, Tabasco, Colima, Nayarit, Guerrero, Campeche, Sinaloa, Michoacan and Quintana Roo. (It is recommended that you take chloroquine for one week prior to entering a malarial area, once a week while there and four weeks after leaving.) Yellow fever is also caused by the mosquito, but cases are rare in Mexico. And try to avoid flea bites: they carry the plague! (But this is rare as well.)
To decrease the probability of exposure to insect bites, the traveler should wear clothing which covers most of the body, use a mosquito net and stay in well screened areas. Use an insect repellent on any exposed areas of your skin. The most effective repellent is DEET, which is found in most insect repellents, but it is important to avoid using the higher concentration (above 35%) products directly on the skin. Also avoid putting it on your hands if they can come into contact with the mouth and eyes. It is also helpful to buy a spray for flying insects to use in sleeping areas in the evening. While one might object highly to using all these toxins, just remember that it is not something that you will be doing for a prolonged period of time...and it is much less damaging than the alternative.
Cholera
An epidemic of cholera has recently swept through Central America, including Mexico, although the risk to travelers is usually quite low. This disease is caused by a bacterium and results in an acute intestinal infection. The symptoms include massive watery diarrhea, vomiting, dehydration and muscle cramps. There is a vaccine available, although it is only 50% effective in reducing the symptoms of the illness. One would want to follow the recommendations previously described for traveler's diarrhea with reference to food and water.
Despite the dangers, and they are a reality, taking a sensible approach during your journey should greatly reduce, if not eliminate, any dangers these tropical diseases may pose. Travel wisely and enjoy! R.S.
DISEASE-PREVENTION RECOMMENDATIONS
The Centers for Disease Control recommends the following precautions for traveling to Mexico and other areas of Central America:
1.) If malaria may be a problem, take chloroquine or mefloquine.
2.) Take the precautions described on this page for preventing insect bites.
3.) Pay attention to the dangers associated with drinking water and food and take appropriate measures to avoid contamination.
4.) Take a dose of immune serum globulin (formerly called gamma globulin) to protect against hepatitis A.
5.) Consider having a booster dose of tetanus.
6.) Depending on where you may be traveling and what activities you may engage in, consider a vaccine for hepatitis B, yellow fever, typhoid, pre-exposure rabies, and cholera.
7.) Make sure your normal "childhood" vaccines are up to date: measles, mumps, rubella, diptheria, and pertussis (DTP vaccine).
FROM: http://www.mexicofile.com/disease.htm
Migrant's bid to reach husband ends in desert death
| | |
| --- | --- |
| | Deaths, apprehensions along the N.M. border |
Leslie Hoffman
Associated Press
Jun. 28, 2004
COLUMBUS, N.M. - He had been holding her head in his hand for several minutes now, watching as the woman struggled to breathe, like a fish gasping for air on the parched desert floor, a dark-colored fluid oozing from her mouth.

His hand was pressed up against her hot, dry neck, waiting for the next shallow beat of her ever-weakening heart.

Help was coming. But as he knelt beside her, the Border Patrol agent worried that he was watching life quickly slip from the 32-year-old mother from Veracruz, Mexico.

Soon the ambulance was crossing the old farm field on the outskirts of this border town. But as it pulled up, just feet away, the agent suddenly noticed the slight beat under his fingers had disappeared and the breath, which just moments ago struggled to pass across the woman's lips, was gone.

She was pronounced dead an hour later at a hospital 30 miles away.

Her name was Eunice Avila Hernandez - headed north toward Colorado, she had said, in hopes of reuniting with her husband.

Her death May 14 marked the first documented migrant death of the year in New Mexico - the beginning of a deadly season during which those seeking illegal passage north from Mexico set out, often unprepared, into the scorching Southwest desert.

This month, three more deaths have been recorded - more heat-related migrant deaths in New Mexico than in all of 2002 or 2003. In each of those years, there were two
.
The latest came Monday when Border Patrol officials said 20-year-old Isidoro Badillo Barrientos collapsed and died after more than a day of walking in the desert northwest of here with a group of fellow immigrants from near Mexico City.

Last week, authorities found a decomposed body they believe is that of a Mexican woman in her 20s. On June 4, Victor Hugo de Jesus Montalvo, 17, of Puebla, Mexico, died as he and two brothers traveled with a group.

The deaths have New Mexico authorities troubled about the prospect of more hot months ahead - a concern compounded by the fact that the number of illegal immigrants apprehended along this stretch of the U.S.-Mexico border continues to climb. The Deming and Lordsburg Border Patrol stations, which are responsible for most of New Mexico's border, have seen a combined 35 percent increase in apprehensions this year compared to last.

"Unfortunately, we're going to see more of this," said Border Patrol agent Michael Holt, who cradled Hernandez as she struggled to hang onto life.

New Mexico is still a far cry from the problems in neighboring Arizona, where 81 exposure-related migrant deaths were recorded last year in the Border Patrol's Tucson sector alone.

Even so, Socorro Cordova, of the Mexican Consulate in El Paso, warns that New Mexico's vast, rugged desert is especially treacherous given its size and lack of development.

"This desert in particular is tremendous," Cordova said in Spanish.

U.S. Customs and Border Protection Commissioner Robert Bonner last month launched a campaign to bulk up border safety, which includes public service announcements warning migrants about the risks of crossing. Cordova said the Mexican government has done the same, launching its own series of radio spots this month.

Deming Border Patrol officials are working with their Mexican counterparts to address the recent deaths in New Mexico. Last month, the station also unveiled a 1992 Ford Excursion, equipped with oversized tires, a back board and first-aid equipment, designed to get into remote areas to recover migrants so they can be brought to an ambulance waiting in a more accessible area. It adds to the equipment agents already use to conduct daily rescues.
Even so, immigrant rights advocates say it's not enough and point to a deeper problem.

"Yes, it's important that they have that kind of equipment," said Marcela Diaz, director of the Santa Fe-based Somos Un Pueblo Unido. "... We also need to step back and ask, 'Why are they using these routes as opposed to other routes, and what kind of policies can we implement to address the problem rather than hoping that we can get to them before they die?' "

On May 14, the mother from Veracruz began her journey in Palomas, a Mexican town butting up against the border south of here - a hub for illegal immigrants and the smugglers looking to move them north.

A criminal compliant filed in U.S. District Court details the group's journey on that warm May evening. According to accounts from various immigrants mentioned in the complaint:

The journey began with a smuggler named Yolanda at a Palomas hotel. Prices varied depending on a person's destination - $1,300 for one man headed to Albuquerque, $1,500 each for a man his nephew headed to Las Vegas. They said they were driven by pickup truck east from Palomas along the border and dropped off.

Two brothers, 27-year-old Humberto and 26-year-old Baldomero Chavira Ordonez, allegedly told the group before they all scampered across the fence into the United States to say they were all traveling together if nabbed by Border Patrol.

It had only been an hour or so of walking when Hernandez started to have trouble and couldn't keep up.

Back at the Border Patrol trailer in Columbus, Holt was finishing up some work when a call came from a rancher reporting a man trying to get help for a woman dying in the desert.

Holt knew the area and hopped into his patrol unit. Within minutes, he pulled up to a man waving him down who said his name was Baldomero Chavira Ordonez. The two set out to find Hernandez.

"En este camino?" This road? the agent remembered asking. "Yes .... stop, stop! I think she's out there," he said Chavira told him in Spanish, guiding him to the barren farm field. Ordonez would later say he tried to get help for Hernandez at a nearby house but no one was home.

The woman, alone in the field and awkwardly lying on her side, was resting her head on a water bottle. It looked like she had vomited, a mix of what appeared to be saliva and blood coming from her mouth.

Holt approached: "Estas bien? Estas OK?" Are you all right? Are you OK?" he remembers asking while shaking the woman.

Soon he was flanked by a fellow agent, Ruben Gonzalez, and Columbus Police Chief Clare May.

"Agent Holt is doing about everything he can," May remembered. "He was holding her, had turned her on her side. Her eyes were already rolled, and I've seen heat stroke full blown and, at that point, there's not much you can do."

Guided by paramedics on May's cell phone, the men tried everything to keep her cool, taking off a black sweater wrapped around her waist, dousing her chest with warm water from a water bottle that had been sitting in May's patrol car all day.

She was motionless.

"Everybody is doing everything they could," May said.

Then the men caught sight of the ambulance.

"Literally, she's breathing on her own. Her breathing is slow," May said. "I'm guiding the ambulance to follow my tracks. And, as the ambulance turns from (the county road just yards away) and heads across the field, she takes her last breath that I saw."

Paramedics put a manual respirator to her mouth. May said he did several chest compressions - but he didn't feel a response. The chief said he knew then it was over.
For Holt, a 31-year-old native Hawaiian with a linebacker's build and a soft-spoken nature, it was a moment he has yet to forget.

"Right when they came, they put her on the gurney and it was kind of like a rush of humanity," he said in a halting voice, his hands in front of him showing how he had been cradling the woman. "And I just kind of stayed there, kneeling down."

Despite paramedics' efforts, Hernandez died en route to a Deming hospital.

Holt felt a swell of what "was almost like anger" about the woman left alone in the field and set out to track the rest of the group. With help from a Border Patrol helicopter, agents found the 13 others about three-quarters of a mile away. May said among them were two children under the age of 8 and three youngsters who appeared to be between the ages of 11 and 14.

The Ordonez brothers, of Chihuahua, Mexico, were indicted June 3 on charges of transporting illegal immigrants, conspiracy and aiding and abetting, according to the U.S. District Court clerk's office. They have pleaded not guilty.
Paramedics later told May that among the items found tucked away in a hidden pouch on Hernandez was a photo of her holding a baby.

For Holt, who has spent more than three years patrolling the southern New Mexico landscape for people like Eunice Avila Hernandez, the woman's death delivered a powerful message.

Driving home that night, it hit him.

"I think it was more of a realization of what happened.... Something big had happened. Something not just trivial," he said, his voice trailing off. "It's hard to put into words."

"When something like this happens, you go home and hug your kids. You're just happy that you're going home, and you're grateful for the time you have."
---
'Minutemen' plan to patrol Arizona border
Volunteers want to stop illegal immigrants entering U.S.
Monday, February 21, 2005
U.S. Customs and Border Protection Commissioner Robert C. Bonner is keeping a close eye on Minutemen plans
WASHINGTON (AP) -- Intent on securing the vulnerable Arizona border from illegal immigrant crossings, U.S. officials are bracing for what they call a potential new threat this spring: the Minutemen.
Nearly 500 volunteers have already joined the Minuteman Project, anointing themselves civilian border patrol agents. They plan to patrol a 40-mile stretch of the southeast Arizona border throughout April when the tide of immigrants crossing the U.S.-Mexico border peaks.
"I felt the only way to get something done was to do it yourself," said Jim Gilchrist, a retired accountant and decorated Vietnam War veteran who is helping recruit Minutemen across the country.
"We've been repeatedly accused of being people who are taking the law into our own hands," said Gilchrist, 56, of Aliso Viejo, California "That is an outright bogus statement. We are going down there to assist law enforcement."
Officials concede the 370-mile Arizona border is the most porous stretch on the U.S.-Mexico line. Moreover, recent intelligence indicates that al Qaeda terrorists are likely to enter the country through the Mexican border, James Loy, the deputy secretary of the Homeland Security Department, said last week.
"Several al Qaeda leaders believe operatives can pay their way into the country through Mexico, and also believe illegal entry is more advantageous than legal entry for operational security reasons," Loy said in written testimony to the Senate Intelligence Committee.
Of the 1.1 million illegal immigrants caught by the U.S. Border Patrol last year, 51 percent crossed into the country at the Arizona border. The agency increased the number of agents in the Tucson sector, which has its largest staff, from 1,700 to 2,100 over the last 18 months.
But that number is going to grow to try to plug the remaining holes, said Customs and Border Protection Commissioner Robert C. Bonner. About 10,000 federal agents now patrol the 2,000-mile southern border, he said.
Officials fear the Minuteman patrols could cause more trouble than they prevent. At least some of the volunteers plan to arm themselves during the 24-hour desert patrols. Many are untrained and have little or no experience in confronting illegal border crossings.
"Any time there are firearms and you're out in the middle of no-man's land in difficult terrain, it's a dangerous setting," said Bonner, whose agency is keeping a close eye on the Minutemen plans.
"The Border Patrol does this every day, and they are qualified and very well-trained to handle the situation," he said. "Ordinary Americans are not. So there's a danger that not just illegal migrants might get hurt, but that American citizens might get hurt in this situation."
Civilian patrols are nothing new along the southern border, where crossing the international line is sometimes as easy as stepping over a few rusty strands of barbed wire. But they usually are limited to small, informal groups, leaving organizers to believe the Minuteman Project is the largest of its kind on the southern border.
It may also prove to be a magnet for what Glenn Spencer, president of the private American Border Patrol, described as camouflage-wearing, weapons-toting hard-liners who might get a little carried away with their assignments.
"How are they going to keep the nut cases out of there? They can't control that," said Spencer, whose 40-volunteer group, based in Hereford, Arizona, has used unmanned aerial vehicles and other high-tech equipment to track and report the number of border crossings for more than two years.
"There's a storm gathering here on the border, and there are conditions ripe for some difficulty," he said.
The border agents agree.
The Minutemen "clearly have every reason to be upset with the federal government for abandoning them," said National Border Patrol Council president T.J. Bonner, no relation to the commissioner.
But "if anything goes wrong, God forbid, someone does injure an agent, this government is going to be turning both barrels on them and come after them with a vengeance," he said.
Gilchrist said the Minutemen are under strict orders to merely identify and follow illegal border crossers and alert federal agents. They should not interact with the immigrants except to offer food, water or medical care. If there's a couple of "bad apples" who turn up in the group, Gilchrist said, they will face prosecution if they step outside the law.
Something dramatic needed to be done to curb the years of crime, property damage and trash dumping caused by the border crossings, Gilchrist said.
"Things are out of control" he said. "And they've been out of control for decades."
---
Copyright 2005 The Associated Press
---
A national emergency

---
Posted: August 29, 2005

© 2005 Creators Syndicate Inc.

On Aug. 12, New Mexico Gov. Bill Richardson declared a state of emergency "due to a chaotic situation involving illegal alien smuggling and illegal drug shipments" on his southern border. Three days later, Gov. Janet Napolitano followed suit in Arizona.

Reason: the crisis on the border. The ally-ally-in-free immigration policy of George Bush and Vicente Fox, beloved of corporate America, has created a hell on our southern border.

Those Southwestern states are being inundated by illegal aliens trashing ranches, killing cattle, committing crimes and eating up tax dollars. The traffic in narcotics and human beings from Mexico is a national scandal and a human-rights disgrace.

What is true of New Mexico and Arizona is true of our nation, which is now home to an estimated 10 million to 15 million aliens who have broken our laws and broken into our country. It is a mark of the cowardice of our leaders that they are so terrified of being called "bigots" they tolerate this criminality. The moral rot of political correctness runs deep today in both national parties.

A president like Teddy Roosevelt would have led the Army to the border years ago. And if Fox did not cooperate, T.R. would have gone on to Mexico City. Nor would Ike, who deported all illegal aliens in 1953, have stood still for this being done to the country he had defended in war.

What are these Bush Republicans afraid of? Dirty looks from the help at the country club?

The question of whether America is going to remain one nation, or whether our Southwest will wind up as a giant Kosovo – separated by language and loyalty from the rest of America – is on the table.

Where is Bush? All wrapped up in the issue of whether women in Najaf will have the same rights in divorce and custody cases as women in Nebraska. His legislative agenda for the fall includes a blanket amnesty for illegals, so they can be exploited by businesses who want to hold wages down as they dump the social costs for their employees – health care, schools, courts, cops, prisons – onto taxpayers.

Not only have Richardson and Napolitano awakened – they are on the front lines – so, too, has Hillary Clinton, who has spoken out against illegal immigration with a forthrightness that makes Bush sound like a talking head for La Raza.

Why is a Republican Congress permitting this president to persist in the dereliction of his sworn duty?

George Bush is chief executive of the United States. It is his duty to enforce the laws. Can anyone fairly say he is enforcing the immigration laws? Those laws are clear. People who break in are to be sent back. Yet, more than 10 million have broken in with impunity. Another million attempt to break in every year. Half a million succeed. Border security is homeland security. How, then, can the Department of Homeland Security say America is secure?

Who can guarantee that, of the untold millions of illegals here, and the scores of thousands ordered deported for crimes who have disappeared into our midst, none is a terrorist waiting for orders to blow up a subway or mall and massacre American citizens?

Most of these illegals come to work to send money back to their families. They are not bad people. But because they are predominantly young and male, they commit a disproportionate share of violent crimes.

Why should U.S. citizens be assaulted, robbed, raped and murdered, and have their children molested, because their government will not enforce its own laws?

Is this not an indictment of democracy itself? What dictatorial regime would put up with this?

The Republican Party claims to be a conservative party. But what kind of conservative is it who, to cut a few costs or make a few bucks, will turn his family's home into a neighborhood flop house?

In a recent poll, 40 percent of Mexicans – 40 million people – said they would like to come to the United States, and 20 percent expressed a willingness to break in. Time to cut the babble about how NAFTA is going to solve the problem. This is a national emergency.

Twice, George Bush has taken an oath to "preserve, protect and defend the Constitution of the United States." Article IV, Section 4 of that Constitution reads, "The United States shall guarantee to every State in this Union a Republican Form of Government, and shall protect each of them against invasion."

Well, we are being invaded, and the president of the United States is not doing his duty to protect the states against that invasion. Some courageous Republican, to get the attention of this White House, should drop into the hopper a bill of impeachment, charging George W. Bush with a conscious refusal to uphold his oath and defend the states of the Union against "invasion."

It may be the only way left to get his attention, before the border vanishes and our beloved country dissolves into MexAmerica, what T.R. called a "polyglot boarding house for the world."

Related offers on illegal immigration:

Illegal aliens invading U.S.: Book puts you on the border

Invasion of 'America's Palestinians': Video exposes radical movement in Mexico to retake southwestern U.S.

'Invasion' – Autographed copies now available! Michelle Malkin reveals feds still welcoming terrorists, criminals to America

FROM: http://worldnetdaily.com/news/article.asp?ARTICLE_ID=46019



---
Pat Buchanan's newest book, "Where the Right Went Wrong," reveals why America is being led to disaster ... and how to save our country.
"Death of the West" warns of cataclysmic shifts in world power.
If you'd rather order by phone, call WND's toll-free customer service line at 1-800-4WND-COM (1-800-496-3266).
---
Pat Buchanan was twice a candidate for the Republican presidential nomination and the Reform Party's candidate in 2000. He is also a founder and editor of The American Conservative. Now a political analyst for MSNBC and a syndicated columnist, he served three presidents in the White House, was a founding panelist of three national TV shows, and is the author of seven books.
OTHER PAGES ABOUT MEXICO OR MEXICANS ON THIS SITE
1999 - WHITEHORSE CROP CIRCLE
... the New Jerusalem Plan which Joe wrote about here: http://www.greatdreams.com/plpath6.htm. ... The
symbol in Figure 3 is the same as the Mexican symbol from Figure ...
www.greatdreams.com/crop/99whthrs.htm
The number 26, The Mayan Tzolkin, and the Grid Crop Circle
... (complete article on Joe Mason's Crop Circle Analysis Page at: http://www.greatdreams.com/crpcirc.htm}.
The Mexican UFO wave, says Geoff Stray, started on the ...
www.greatdreams.com/tumi.htm
COLIMA, MEXICO - EARTHQUAKE - 1-22-2003
COLIMA, MEXICO. EARTHQUAKE. DEATH TOLL RISES TO 29. QUAKES MOVING NORTH??? 1-22-2003. ... 22Jan2003
19:41:51.6 21.1N 103.2W 0 mb=5.7 M*MAD JALISCO, MEXICO 2116. ...
www.greatdreams.com/colima.htm
PABLO SALAZAR - MEXICO - THE FIGHT FOR FREEDOM GOES ON
... Many Christians in Mexico are denied full religious liberty, according to the secretary
general of the Latin American Bishops' Council, Bishop Carlos Aguilar ...
www.greatdreams.com/pablo.htm
MAYAN PROPHECY
... The quetzal bird, native to the western area of Guatemala and Mexico, was regarded
as the most beautiful bird and called Quetzaltotolin, meaning "most precious ...
www.greatdreams.com/mynproph.htm
Sylvester the Cat and Speedy Gonzales - May 5, 2003
... brother of Emperor Franz Josef of Austria and a member of the Hapsburg dynasty,
was crowned Emperor of Mexico. ... http://www.greatdreams.com/eleven/num11.htm. ...
www.greatdreams.com/sylvester.htm
STRANGE ATTRACTOR CROP FORMATION AND THE END OF TIME
... The Mexican UFO wave, says Geoff, started on the day of the solar eclipse in July
1991, complete with "corn-on-the-cob ... http://www.greatdreams.com/trinity.htm. ...
www.greatdreams.com/strng.htm
THE MARS/MOON/ANCIENT SITES CONNECTIONS
... Joe Mason's Crop Circle Analysis Page at: http://www.greatdreams.com/crpcirc.htm ... The
ape is the calendar symbol in ancient Mexican cultures, lending its name ...
www.greatdreams.com/mars.htm
THE CODE OF CARL MUNCK, AND ANCIENT GEMATRIAN NUMBERS - PART SIX
... happens when we curiously ask if the azimuth of The Avenue Of The Dead (Mexican
pyramid complex ... The URL of this page is: http://www.greatdreams.com/gem6.htm. ...
www.greatdreams.com/gem6.htm
ALL ABOUT 2012
... Timestar Earth : Crop circles and their link to the Mayan calendar plus the 1991
Mexican UFO wave; accurate earth change predictions claimed - however, they ...
www.greatdreams.com/2012.htm
The Pleiades and the Seventh Ray on the Seventh Day
... I asked if they were Mexican or Native American. They said, "Native American." ... The
URL of this page is: http://www.greatdreams.com/sisters.htm. ...
www.greatdreams.com/sisters.htm
THE OPENING EYES - THE APERTURE - CROP CIRCLES OF JULY, 2000
... They had light hair and skin, but then transformed into dark hair and dark skin.
I asked if they were Mexican or Native American. They said, "Native American." ...
www.greatdreams.com/openeye.htm
A LITTLE ICE AGE - THE BROKEN TREE OF LIFE
... Someone scratched off a bit of ice and there was a date revealed 01-02-2022.
I continued to do the laundry. I was working with the Mexican children. ...
www.greatdreams.com/iceage_and_tree.htm
1999 HURRICANE SEASON BEGINS
... MEXICO CITY (AP) -- Hilary, the sixth hurricane of the season, made its debut Sunday
off the Pacific coast of the southwestern Mexican state of Baja California ...
www.greatdreams.com/hurr1.htm

Populations of Native American Tribes
... Canadian Indian, 3,209, 0.2. Central American Indian, 1,668, 0.1. Mexican American
Indian, 9,974, 0.5. South American Indian, 3,133, 0.2. Spanish American Indian, 3,435,
0.2. ...
www.greatdreams.com/Populations_Native.htm
DEES DREAMS AND VISIONS - JUNE AND JULY, 1988
... We were going to church and I was pulled along behind the good car. A police
car passed me and arrested some Mexican man who were speeding. ...
www.greatdreams.com/88long.htm
DREAMS AND VISIONS OF ATTICS
... The Mexican room with its hand-made pottery almost glowed from the yellow,
orange, and green pots and vases on its numerous shelves. ...
www.greatdreams.com/attics.htm
An Apache Medicine Dance - 1898
... This quieted her somewhat as she sat upright but staring just like a drunk.
Sotli then handed her the medicine pipe filled with 'Mexican' tobacco. ...
www.greatdreams.com/apache/Apache-Medicine-Dance.htm
DEES DREAMS AND VISIONS - SEPTEMBER, 1993
... He was Indianish looking, more so than usual (he was half Indian-half Mexican) His
hair was long and pulled into a man's type pony tail hanging down his back. ...
www.greatdreams.com/sept93.htm
UFO SIGHTINGS
... BEACH, NORTH DAKOTA. JIM DEARDORFF SIGHTINGS. MEXICO MOVIE CLIPS. MEXICAN QUICKTIME
MOVIE. SIGHTINGS AT NUCLEAR POWER PLANTS. SIGHTINGS BY STATE - GREAT INFO. ...
www.greatdreams.com/ufstngs.htm
Mexican Fiestas and Holidays Celebrated
DREAMS OF THE GREAT EARTHCHANGES - MAIN INDEX