Joe also recalled that in the Pink Floyd Movie, "The Wall", there is a scene in which hammers are shown marching like soldiers to a thunderous tone.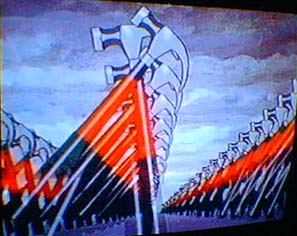 We also then remembered that we had watched the movie not long ago, "Erin Brockovich" with Julia Roberts, which was about water which was poisoned in the state of California were sickened and died and there was a big court case over it. (See news articles following)
That led to further discussion about President Bush and the 'arsenic in water' fiasco that is going on", the President Bush 'fluoride in water' fiasco that is also going on and in both cases, people are going to be sickened without being aware that it is happening because they trust the government. Unwittingly, I might add.
Thursday June 28, 2001
Environmental Group Sues EPA Over Arsenic in Water
WASHINGTON (Reuters) - A major U.S. environmental group, backed by six Democratic senators, on Thursday filed a lawsuit challenging the Bush administration's decision to suspend stricter limits for arsenic in drinking water.
The Natural Resources Defense Council accused the U.S. Environmental Protection Agency (news - web sites) of unlawfully reversing its position on tighter arsenic rules and ignoring a June 22 deadline set by Congress for new standards.
Sen. Barbara Boxer, a California Democrat, said she would file documents in support of the lawsuit at the U.S. Court of Appeals in Washington, D.C.
Also signing the friend-of-the-court document were Democratic senators Harry Reid of Nevada, Charles Schumer of New York, Jon Corzine of New Jersey, Paul Wellstone of Minnesota, and Hillary Clinton -- whose husband's administration issued a stricter rule for arsenic just before leaving office.
Arsenic, which has been linked to cancer, naturally occurs in groundwater as a result of minerals dissolving over time from rocks and soil.
The Clinton administration issued a plan in January to cut the maximum amount of arsenic allowed in drinking water from the current 50 parts per billion (ppb) to 10 ppb. The 10 ppb standard is the same used by the World Health Organization and the European Union .
Under President Bush , the EPA announced it would halt the stricter standards to allow more time for studying the issue. A sharply lower limit for arsenic in drinking water is opposed by some small communities, who claim it would be too costly and produce only limited health benefits.
The EPA, which spent some 20 years considering arsenic levels in drinking water, faced a June 22, 2001 deadline set by Congress for new standards.
``The Bush EPA's suspension of the arsenic is a distressing, unscientific, and illegal threat to the health of millions of Americans,'' said Erik D. Olson, an attorney with the environmental group. ``There is no excuse for delaying or weakening the standard just finalized in January of this year.''
The EPA previously said it would issue a new rule by early next year that would take effect in 2006, the same deadline included in the January rule. The Bush administration rule will sharply reduce the amount of arsenic allowed in water, but will base it on the outcome of a National Academy of Sciences study, according to the EPA.
Last year, the U.S. Geological Survey found that arsenic concentrations in ground water generally were highest in the West and in some parts of the Midwest and Northeast.
~~~~~~~~~~~~~~~~~~~~~~~~~~
SOURCE: NYS Coalition Opposed to Fluoridation
Dentists Unknowingly Endorse Arsenic and Lead Into Our Drinking Water
NEW YORK, June 21, 2001 /PRNewswire/ -- Without residents' consent, dentists in little towns, big cities and some states convince trusting legislators to add fluoride, claimed to reduce tooth decay, into water supplies. However, the fluoride treatment chemicals used are contaminated with lead, arsenic and other toxic industrial by-products.
According to the National Sanitation Foundation (NSF), the only three chemicals certified for fluoridation are: Hydrofluosilicic or Fluosilicic acid, Sodium Fluoride, and Sodium Silicofluoride (1)
``...the most common contaminant detected in these products is Arsenic...,'' reports NSF. ``The other significant contaminant found...is Lead,'' they report.
``All of the fluoride chemicals used in the U.S. for water fluoridation, sodium fluoride, sodium fluorosilicate, and fluorosilicic acid, are byproducts of the phosphate fertilizer industry'' wrote Tom Reeves, National Fluoridation Engineer, U.S. Centers for Disease Control CDC). ``Arsenic...had an average of 0.43... parts per billion (ppb) in the drinking water attributable to the fluoride chemical,'' he reports.(2)
Also, CDC's ``Water Fluoridation A Manual for Engineers and Technicians,'' (Reprinted 1991) reads, ``sodium silicofluoride is widely used as a chemical for water fluoridation. As with most silicofluorides, it is generally obtained as a by product from the manufacture of phosphorus fertilizers.'' (page 15)
But dentists don't seem to know or admit this. In a newspaper interview, American Dental Association fluoridation spokesman, Michael Easley, DDS, who promotes fluoridation via his National Center for Fluoridation Policy and Research website at the University of Buffalo, NY, was quoted as saying, ``... there are the contrived arguments that claim fluoride ... is a chemical pollutant, a toxic byproduct... There is no scientific basis for any of these claims.'' (3)
``It's shameful for dentists to endanger the public and mislead the media,'' says lawyer, Paul Beeber, President, New York State Coalition Opposed to Fluoridation.
The American Water Works Association is worried about arsenic-contaminated fluoride chemicals. If arsenic's maximum contaminant level is reduced to 5 ppb, ``90 percent of the arsenic that would be contributed by treatment chemicals is attributable to fluoride addition,'' according to their journal, ``Opflow.''
``We understand the considerable expense it takes for communities to remove naturally occurring arsenic from water supplies; but it is unconscionable that water engineers are allowed to purposely add lead- and arsenic- contaminated fluoride into water supplies without consumers' knowledge or informed consent, at the urging of misinformed dentists,'' says Beeber.
Arsenic in drinking water causes bladder, lung and skin cancer, and may cause kidney and liver cancer. Lead poisoning can cause learning disabilities, behavioral problems, and at high levels, seizures, coma and even death.
Some experts say safe levels for arsenic or lead don't exist.
Arsenic levels as high as 1.66 ppb have been found in hydrofluosilicic treated drinking water (1), which, according to the National Academy of Sciences, is a cancer risk (4).
1) http://www.fluoridealert.org/NSF-letter.pdf
2) http://www.fluoridealert.org/ifin-230.htm
3) http://www.buffalo.edu/reporter/vol30/vol30n17/n5.html
4) http://www.nrdc.org/water/drinking/arsenic/chap1.asp
SOURCE: NYS Coalition Opposed to Fluoridation
~~~~~~~~~~~~~~~~~~~~~~
There is also a big power struggle going on within the southwest United States, and particularly California over water rights, because there is a BIG shortage of water that people don't really realize.
Salmon pitted against drinking water in California
Monday, June 19, 2000
By John H. Orr, The Business Press, Ontario, California
In December, a group of federal biologists decided the run of young salmon in California's Sacramento River was more important than a stable supply of drinking water for the Inland Empire.
They diverted the southward flow of water to the Sacramento-San Joaquin Delta to restore the habitat of the spring-run chinook.
The action could have sapped vital Inland Empire reserves and boosted prices for a booming economy, said Dick Heil, spokesman for the Eastern Municipal Water District, which relies on northern imports for 75 percent of its supplies.
"It was a near thing," Heil said. "There was great concern."
Reservoirs were replenished in time to avert a shortage, but the incident, among others, left urban and agricultural customers howling, and threatened to cripple the joint power consortium known as CALFED, the agency in charge of allotting water resources among users.
Now Inland Empire water officials are hailing a breakthrough CALFED proposal outlined June 9 to balance the interests of builders, growers and environmentalists.
"We're very encouraged by the agreement," Heil said. "It's a very long-term project, but we believe it's very positive."
"The CALFED plan is a magnificent step in the right direction to answer many long-term water issues in California," said Joseph Grindstaff, general manager of the Santa Ana Watershed Project Authority, an alliance of water users protecting local water supplies.
"We'll effectively be drought-proofing the region as we develop high-quality water, enhance natural storage facilities and remedy environmental conditions that have jeopardized our watershed system," Grindstaff said in a June 9 release.
The CALFED Bay-Delta Program calls for spending more than $1 billion over the next seven years on dams, reservoirs and levees as well as facilities for improving both the quality and quantity of water shipped south.
"Don't underplay the importance of water quality," Heil said. Local purveyors mix clean Delta imports with saline water from the Colorado River and local aquifers to comply with state quality standards.
Wetter and better The CALFED plan, among other goals, is designed to:
Increase groundwater storage by 500,000 to 1 million acre-feet*.
Restore the reliability and flexibility of exports eroded by recent protective fishery measures.
Allow a reliable water transfer market to function.
Expand reservoirs and other sites to store an additional 950,000 acre-feet and provide environmentally sensitive groundwater storage for an additional 500,000 to 1 million acre-feet.
* An acre-foot can supply an average family for two years.
Copyright 2000, The Business Press
---
I also then recalled that the Chinese and North Vietnam used the dripping water torture on P.O.W.s to make them talk about things that they were trying to keep to themselves.
Chinese water torture (where water is dripped on the head for hours until it feels like one's head is exploding) Chinese water torture" is used in espionage is where a drop of water is set to drop on your head and into your eyes continually for 24, 36, or even 48 or more hours...and in some cases literally drives the person almost go crazy