John 14 (King James Version)
John 14
1Let not your heart be troubled: ye believe in God, believe also in me.
2In my Father's house are many mansions: if it were not so, I would have told you. I go to prepare a place for you.
3And if I go and prepare a place for you, I will come again, and receive you unto myself; that where I am, there ye may be also.
4And whither I go ye know, and the way ye know.
5Thomas saith unto him, Lord, we know not whither thou goest; and how can we know the way?
6Jesus saith unto him, I am the way, the truth, and the life: no man cometh unto the Father, but by me.
7If ye had known me, ye should have known my Father also: and from henceforth ye know him, and have seen him.
8Philip saith unto him, Lord, show us the Father, and it sufficeth us.
9Jesus saith unto him, Have I been so long time with you, and yet hast thou not known me, Philip? he that hath seen me hath seen the Father; and how sayest thou then, Show us the Father?
10Believest thou not that I am in the Father, and the Father in me? the words that I speak unto you I speak not of myself: but the Father that dwelleth in me, he doeth the works.
11Believe me that I am in the Father, and the Father in me: or else believe me for the very works' sake.
12Verily, verily, I say unto you, He that believeth on me, the works that I do shall he do also; and greater works than these shall he do; because I go unto my Father.
13And whatsoever ye shall ask in my name, that will I do, that the Father may be glorified in the Son.
14If ye shall ask any thing in my name, I will do it.
15If ye love me, keep my commandments.
16And I will pray the Father, and he shall give you another Comforter, that he may abide with you for ever;
17Even the Spirit of truth; whom the world cannot receive, because it seeth him not, neither knoweth him: but ye know him; for he dwelleth with you, and shall be in you.
18I will not leave you comfortless: I will come to you.
19Yet a little while, and the world seeth me no more; but ye see me: because I live, ye shall live also.
20At that day ye shall know that I am in my Father, and ye in me, and I in you.
21He that hath my commandments, and keepeth them, he it is that loveth me: and he that loveth me shall be loved of my Father, and I will love him, and will manifest myself to him.
22Judas saith unto him, not Iscariot, Lord, how is it that thou wilt manifest thyself unto us, and not unto the world?
23Jesus answered and said unto him, If a man love me, he will keep my words: and my Father will love him, and we will come unto him, and make our abode with him.
24He that loveth me not keepeth not my sayings: and the word which ye hear is not mine, but the Father's which sent me.
25These things have I spoken unto you, being yet present with you.
26But the Comforter, which is the Holy Ghost, whom the Father will send in my name, he shall teach you all things, and bring all things to your remembrance, whatsoever I have said unto you.
27Peace I leave with you, my peace I give unto you: not as the world giveth, give I unto you. Let not your heart be troubled, neither let it be afraid.
28Ye have heard how I said unto you, I go away, and come again unto you. If ye loved me, ye would rejoice, because I said, I go unto the Father: for my Father is greater than I.
29And now I have told you before it come to pass, that, when it is come to pass, ye might believe.
30Hereafter I will not talk much with you: for the prince of this world cometh, and hath nothing in me.
31But that the world may know that I love the Father; and as the Father gave me commandment, even so I do. Arise, let us go hence.
PELICAN GRASSHOPPER
Rains in western Queensland spark grasshopper plague
IN a remote corner of western Queensland, floods have drained away to leave a landscape teeming with new life, including a grasshopper plague.
Outback plains, deluged by floodwaters only a few months ago, are now awash with insects and birds, thriving in the aftermath of the great wet.
Pictures show the vivid circle of life that is playing out in the state's west as birth becomes plague and new life tempts early death.
In the Mitchell grass plains millions of grasshoppers swarm across the landscape, attracting great birds of prey, while a vast colony of pelicans has commandeered a waterhole to hatch and rear its young.
Hidden more than 40km from the nearest homesite, the pelican nesting grounds make an unforgettable site.
More than 100,000 birds have joined the colony, covering 750,000 square metres, with an egg laying density close to 300,000.
Wildlife cinematographer John Young took The Courier Mail over rough country to reveal the vast colony, the biggest he has ever seen.
The astonishing black and white ocean of birdlife is thought to be just one of the pelican rookeries established close to remote expanses of water across to South Australia's steadily filling Lake Eyre.
"You just cannot imagine how many tonnes of fish and other marine life are needed every day to feed such a vast population of birds," Mr. Young said. "It's amazing." After walking around the nesting sites, Young calculated the combined area was 1.5km long and 250m wide and growing.
After three days of observations, he said mating was still taking place, with more nests being built on the outer edges of the nesting areas.
Chicken-sized younger pelicans are snow white and starting to walk about, while younger ones carry a fine covering of down. Hatchlings emerge from the egg totally pink skinned and about the size of a lorikeet.
"The nests are less than a metre apart," he said. "What's really unusual is that clutches of four eggs are quite common. It means there's plenty of food about." But so much fragile new life is a gift for hungry prey.
When distracted pelicans expose their eggs and young, there's a legion of predators and scavengers waiting to swoop.
"There are about 300-400 silver gulls, 300 ravens, a pair of marsh harriers, two pairs of whistling kites and 50 black kites living off this rookery," Mr. Young said.
"The gulls are preying on eggs which the ravens have smashed and the black kites appear to just be taking scraps. They are not killing chicks. Also, a few sand monitor lizards are thieving a few eggs."
The plagues of grasshoppers swarming across the grass plains are also a tempting feast.
Waves of the 9cm-long insects stream over the landscape in clouds so thick, they almost obliterate views of distant mesas.
"For more than three hours, the locusts just kept flying past and the birds were picking them out of the air and eating them on the wing," Mr. Young said.
"Four of Australia's six falcons – the black, brown, little falcon and kestrel – were all taking insects.
Whistling kites and black kites were also harvesting the insects."
At sunset, they had settled in the deep, fresh expanses of Mitchell grass and it was their turn to enjoy the green left behind by the wet.
EMILY UNDER REPROACH
Come, weep with me;—past hope, past cure, past help!
Romeo and Juliet
Valancourt, meanwhile, suffered the tortures of remorse and despair. The sight of Emily had renewed all the ardour, with which he first loved her, and which had suffered a temporary abatement from absence and the passing scenes of busy life. When, on the receipt of her letter, he set out for Languedoc, he then knew, that his own folly had involved him in ruin, and it was no part of his design to conceal this from her. But he lamented only the delay which his ill-conduct must give to their marriage, and did not foresee, that the information could induce her to break their connection forever. While the prospect of this separation overwhelmed his mind, before stung with self-reproach, he awaited their second interview, in a state little short of distraction, yet was still inclined to hope, that his pleadings might prevail upon her not to exact it. In the morning, he sent to know at what hour she would see him; and his note arrived, when she was with the Count, who had sought an opportunity of again conversing with her of Valancourt; for he perceived the extreme distress of her mind, and feared, more than ever, that her fortitude would desert her. Emily having dismissed the messenger, the Count returned to the subject of their late conversation, urging his fear of Valancourt's entreaties, and again pointing out to her the lengthened misery, that must ensue, if she should refuse to encounter some present uneasiness. His repeated arguments could, indeed, alone have protected her from the affection she still felt for Valancourt, and she resolved to be governed by them.
The hour of interview, at length, arrived. Emily went to it, at least, with composure of manner, but Valancourt was so much agitated, that he could not speak, for several minutes, and his first words were alternately those of lamentation, entreaty, and self-reproach. Afterward, he said, 'Emily, I have loved you—I do love you, better than my life; but I am ruined by my own conduct. Yet I would seek to entangle you in a connection, that must be miserable for you, rather than subject myself to the punishment, which is my due, the loss of you. I am a wretch, but I will be a villain no longer.—I will not endeavour to shake your resolution by the pleadings of a selfish passion. I resign you, Emily, and will endeavour to find consolation in considering, that, though I am miserable, you, at least, may be happy. The merit of the sacrifice is, indeed, not my own, for I should never have attained strength of mind to surrender you, if your prudence had not demanded it.'
He paused a moment, while Emily attempted to conceal the tears, which came to her eyes. She would have said, 'You speak now, as you were wont to do,' but she checked herself.—'Forgive me, Emily,' said he, 'all the sufferings I have occasioned you, and, sometimes, when you think of the wretched Valancourt, remember, that his only consolation would be to believe, that you are no longer unhappy by his folly.' The tears now fell fast upon her cheek, and he was relapsing into the frenzy of despair, when Emily endeavoured to recall her fortitude and to terminate an interview, which only seemed to increase the distress of both. Perceiving her tears and that she was rising to go, Valancourt struggled, once more, to overcome his own feelings and to sooth hers. 'The remembrance of this sorrow,' said he, 'shall in future be my protection. O! never again will example, or temptation have power to seduce me to evil, exalted as I shall be by the recollection of your grief for me.'
Emily was somewhat comforted by this assurance. 'We are now parting for ever,' said she; 'but, if my happiness is dear to you, you will always remember, that nothing can contribute to it more, than to believe, that you have recovered your own esteem.' Valancourt took her hand;—his eyes were covered with tears, and the farewell he would have spoken was lost in sighs. After a few moments, Emily said, with difficulty and emotion, 'Farewell, Valancourt, may you be happy!' She repeated her 'farewell,' and attempted to withdraw her hand, but he still held it and bathed it with his tears. 'Why prolong these moments?' said Emily, in a voice scarcely audible, 'they are too painful to us both.' 'This is too—too much,' exclaimed Valancourt, resigning her hand and throwing himself into a chair, where he covered his face with his hands and was overcome, for some moments, by convulsive sighs. After a long pause, during which Emily wept in silence, and Valancourt seemed struggling with his grief, she again rose to take leave of him. Then, endeavouring to recover his composure, 'I am again afflicting you,' said he, 'but let the anguish I suffer plead for me.' He then added, in a solemn voice, which frequently trembled with the agitation of his heart, 'Farewell, Emily, you will always be the only object of my tenderness. Sometimes you will think of the unhappy Valancourt, and it will be with pity, though it may not be with esteem. O! what is the whole world to me, without you—without your esteem!' He checked himself—'I am falling again into the error I have just lamented. I must not intrude longer upon your patience, or I shall relapse into despair.'
He once more bade Emily adieu, pressed her hand to his lips, looked at her, for the last time, and hurried out of the room.
Emily remained in the chair, where he had left her, oppressed with a pain at her heart, which scarcely permitted her to breathe, and listening to his departing steps, sinking fainter and fainter, as he crossed the hall. She was, at length, roused by the voice of the Countess in the garden, and, her attention being then awakened, the first object, which struck her sight, was the vacant chair, where Valancourt had sat. The tears, which had been, for some time, repressed by the kind of astonishment, that followed his departure, now came to her relief, and she was, at length, sufficiently composed to return to her own room.
FROM: http://en.wikisource.org/wiki/The_Mysteries_of_Udolpho/Volume_IV/Chapter_II
************************
MOLLY & ME
7-27-09 - DREAM - This was a really long dream - seemed to take all night. It was very sentimental and lovely.
I was in a church where young boys were singing and off on the side - older men echoed their song.
I participated in a wedding procession - being the third person in front of the bride.
I sat on a chair commiserating with another woman describing in detail how much I loved the boots I was wearing, and how much I loved the black boots I had worn before that. There was a young man listening to what I was saying, but I didn't turn to look directly at him, but I wondered what he was thinking, listening to me talking about my boots.
After I woke up, I was laying there, thinking about the details of the dream, when a loud bell rang in my left ear, and after I asked the message, I went back into the dream, and a young man was explaining to me how much he had loved Molly - who perhaps was no longer with us - or at least was gone from him.
I then started to go through a postal type box an old one, full of old cards and letters. One was from Don Copp and ne was from David Roeder from Texas. It was typed in small letters on a large size dark green post card and difficult to read because I didn't want the man who was in the room with me to see what I was reading.
I then went over to a sink where I was washing knick knacks that had been on a shelf near a bed and the bed was right next to the sink, and the man laying in the bed kept trying to pull the blankets up over his head and sleep, and kept moving the knick knacks I was trying to lay on the bed. My favorite things I washed was a collection of black boots. They were so pretty after the dust was washed off of them.
It was very sentimental.
http://en.wikipedia.org/wiki/Molly_and_Me
*******************
7-27-09 - NAP DREAM - I evidently lived in the country or a small town with other relatives. My niece or granddaughter was getting ready to move to her own apartment and was out shopping with her fiancé - purchasing furniture to put in it. Every so often I saw her walk by the window with small size chairs - low to the ground for short people for a small apartment. It was rather quaint to see that.
We had a female visitor - whether it was a relative or friend or neighbor I'm not sure. She was standing behind my left shoulder where I couldn't see her, but our granddaughter's daughter was standing next to me on the left and telling the woman that her grandpa was going to take a basket and go get her some eggs.
I knew that grandpa was going to take her with him to gather the eggs so she could have the experience of finding them under the hens herself.
As I woke up I was counting eggs - and there were many of them - I wasn't actually counting by number, but observing the great many eggs that there were.
******************
7-28-09 - CLEANING UP AFTER THE HIEROPHANTS
This was two separate dreams - separated by a trip to the bathroom in real life.
both dreams took place in a large carpeted room. In the beginning, there were paint cans on the floor and the hierophants never cleaned up after themselves, so Erica Cain (from All My Children) and I were cleaning up after them. Erica and I agreed that we were very much alike in not liking to clean up after the men when they could do it for themselves.
Outside, there were multiple cats and frogs sitting around in my garden. I was able to chase the cats off, but none of the frogs budged. The frogs came in all sizes and all colors and they wouldn't move for anything.
A few minutes later, I was back in the house, in the kitchen cooking multiple chickens in the oven. (I hope they weren't really the frogs) When I came in, I determined that the chickens should be done and I was looking for a fork to test the meat with.
After the bathroom break, I was in the same place, still cleaning up after the men who were now moving furniture in and out of the room. There were more women in the room now- also moving things in and out. These were older women and telling the men what to do.
I was sitting on the floor tuning a television set which had a fuzzy picture. I told my husband to turn on the old tube-type television that I had brought with me because it got the same stations. He turned it on and the picture came in with brilliant color - but it didn't last long and that television went back to fuzz as well. I thought perhaps the frequencies were messed up and it really wasn't the television's fault at all.
Joe's ex-wife Debbie said she was going on a trip to Muskego, and I told her that was only less than a mile down at the end of road from where I lived in Wisconsin. That was a big coincidence, I thought.
********************
7-29-09 - DREAM - 3:35 a.m. - I was looking at a stage on which there were three announcements of activities that were to occur and the audience got to choose which one it was. Each one was about cats and an activity that a cat would do to another cat, but I couldn't remember what they were.
VISION - I saw three crop circles and each one was a circle with a cat's tail either inside or outside of it.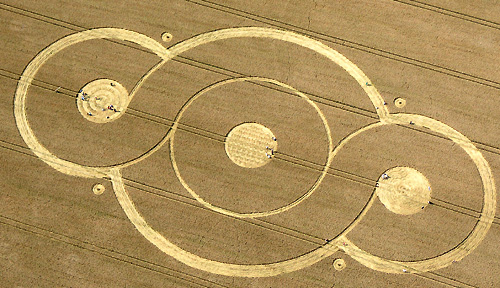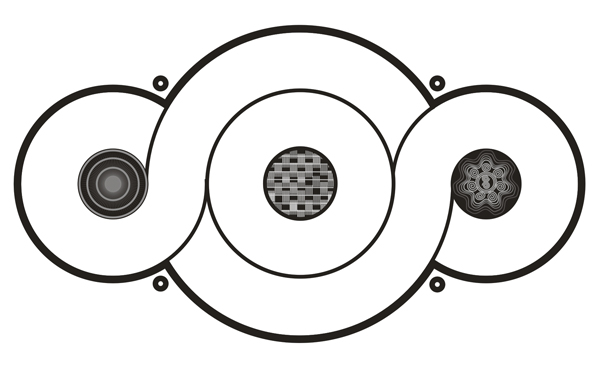 VISION A small magazine - like Reader's Digest size hidden inside another magazine and on the front cover it said:
____________
ALSO
KNOWN
AS
___________
I couldn't read what the two other words were either.
*********************
7-30-09 - ANOTHER THREE DREAM
I was looking at three circular objects - colored pink and yellow blended together a bit. I was trying to interpret what these objects were and what they meant. A voice from behind me said, "I don't know what good that is going to do you!"
I don't either, but maybe someday I will.
**********************
7-30-09 - DREAM - I was in my house doing some cleaning. I had to do the laundry - mostly towels and sheets, and the washing machine was in the kitchen. It looked like a small kid size toilet, which I knew couldn't hold even one towel, much less multiple towels and sheets.
There was a woman there who wasn't very nice to me. I asked her where the washing machine tub attachment was, and she said it was in the hallway in a corner. I asked her if she could help me put it together, and she said, "No! You can do that yourself!" and walked away.
I noticed then that the refrigerator needed cleaning too, but I couldn't do everything at the same time, so chose to clean the refrigerator because it was easier to do.
I don't know if this is another dream or the same one -
I noticed a bunch of people gathered outside across the street. The crowd was standing at the intersection of another road that came into the main road from the other direction.
Evidently there was a body in the road and lots of these people were reporters with cameras, and when they saw me standing across the street, the turned and started taking my picture, probably thinking I was a possible witness.
One of the people came over, a pretty woman who really didn't want to be there because, as she said, "Nobody wants to look at a maggoty body." She had beautiful blonde hair which I admired because it was slightly curled and voluminous around her face. I heard her say, "It's not like I'm a doctor in training or anything - because I'm not" and she walked over to my side of the road.
I heard her say that and said, "My sister-in-law found a maggoty body once too, and it wasn't pleasant".
Because of her admission that she wasn't a doctor, I mentioned to her other studies that had importance. I said, "Some people are experts in healing, with color or sound, but my husband and I have a big website about dreams and we are expert dream interpreters. Our website is called greatdreams.com
By then she was closer to me and I could see she wasn't as young and pretty as I thought she was. She had wrinkles on her face and looked tired.
Her boyfriend was with her, and he was listening, but never said a word.
The crowd across the street started to leave, and as soon as they did, another crowd came, all with bottles of bear, large soda bottles, wine bottles, all prepared to have a party.
They were looking for who was holding the party and didn't see anyone, so I said to them, "Come on in and have your party, I don't care!" and they all came into my garage to have their party.
Even though I was in the garage, there was a King or Queen size bed there, and a large refrigerator with tiny, empty wine bottles or juice bottles, and I started making room for their wine and beer. There was also a tub of water, which I put my finger into the test the temperature, and it sizzled. (I have no idea what that meant), so I did it again with a male witness, and he didn't understand why the water sizzled either.
I woke up then while they started partying.
**********************
7-31-09 - 5 RINGS IN REVERSE ORDER
DREAM - I was looking at a piece of paper with a wedding contract on it. It was written in columns, and each column was its own contract.. There were five columns on the paper.
Somehow, I was able to take the letters off the contract, column by column, and put them into an envelope.
VISION - I had the wedding contracts on the paper, in an envelope, and I took 5 silver rings and put them into the envelope.
VISION - I had the rough material to make the rings and put them into an envelope.
VISION - I cried out, OH MY GOD! when I opened the oven and saw that I had put the 30 pound turkey for the wedding into the oven with the plastic wrap still on it, and I scrambled to take the plastic wrap off the bird while it was in the oven.
CROP CIRCLE - JULY 23, 2009
WE DIDN'T FIND OUT ABOUT IT UNTIL AUGUST 1, 2009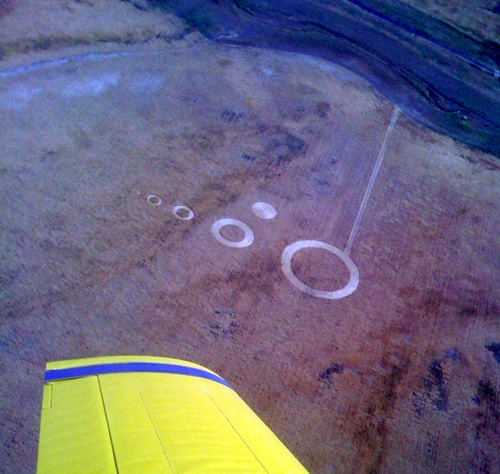 Thanks to the keen eye of Gwen Bray who notified the ICCRA of this report, the first geometric crop circle formation in the USA this year has been reported near the small town of Wilbur, Lincoln County, Washington.
The crop circle formation was first spotted on Thursday. July 23, 2009 by the farmer, Craig Haden as he was riding past the field on his motorcycle. The formation is in wheat, and consists of five rings laid out in a straight line and one offset circle (the straight path to the edge of the field was apparently made by the farmer so that visitors wouldn't destroy more of the field):
Crop circles re-appear near Wilbur
Posted: July 28, 2009 02:56 PM PST
WILBUR, Wash. - Farmers west of Spokane are used to growing grain, but now they're part of a growing mystery in the wheat fields of one farm.
Someone, or something, has created six circles in a grain field near Wilbur, 65 miles west of Spokane.
Craig Haden noticed the circles last Thursday while riding a motorcycle in the area.
"I didn't know what to think," he said.
Haden called his son and farmhand to check out the damage.
"I think it's wild," said Trey Coffman, a farmhand who works for Haden.
Coffman, Haden and Haden's son Braidy searched the circles for shoe prints or evidence that could lead them to who, or what, was responsible. All they found was crushed wheat.
Haden said the circles caused about $400 in damages to his farm. He says he won't be able to harvest the crop that was smashed to make the circles.
"If you have them popping up all over that's a lot of loss for farmers," he said.
This is the second time that crop circles have appeared in the Lincoln County area. A farm on the other side of Wilbur reported crop circles in their field two years ago.
That crop was greener, according to Haden who said it was still harvested.
The circles were found about 300 yards south of the Highway, hidden from passing traffic.
Haden says it would have been a significant hike into the area to make the crop circles but admits it would be possible.
"It sure took a lot of time, whoever did this," he said.
Haden said he plans to ask for $400 in damage to his crops if he ever finds out who is responsible.++
*********************
7-31-09 - NAP DREAM - I was counting wedding guests - they were 20 white pearls.
(the rest of the dream escaped me because the telephone rang right next to me ear)
DREAMS OF THE GREAT EARTHCHANGES - MAIN INDEX