Posted: Fri Jul 08, 2005 1:49 am
Post subject: Coincidental Numbers
---
Very interesting Lu.
Quote:
My first impression after the events in London, 4 circles, four bombs, the center circle being the bus, the three surrounding, the subways.
just a thought. [end quote]
"Coincidentally," I wrote an e-mail to Michael on 5 July 2005, in which I mentioned the number 484, in reference to the Hundred Acres formation. It turns out that the terrorist attacks in London on 7 July 2005 happened 484 (inclusive) days after the attacks in Madrid on 3-11-2004.
After the Madrid attacks it was reported that the days between (non inclusive) those attacks and the 11 September 2001 attacks came to a "coincidental" 911 days.
There is a program on-line for calculating dates:
http://www.timeanddate.com/date/duration.html
If one "reduces" the year 2005 to 7, then we have a 7-7-7. That has yet another coincidental connection to crop circles and the 9-11 attacks. Up to 11 September 2001, 777 NYC firemen were killed in the line of duty. On that day, 343 were killed, which is 7 x 7 x 7. See:
http://www.greatdreams.com/Events/9_11_01/Amertrag.htm
The Mega Glyph crop circle formation seemed to be related via the 409 circles (360 + 49). It had 13 large circles in each of the six arms, for a total of 78, like the Tarot deck. Check this against the G8 Conference, as G=7 in English alphanumerics. The Mega Glyph had 55 small circles in each arm. See the 48400 = 176 x (5 x 55) calculation below.
This may all be just coincidences, but I wouldn't be too sure.
My e-mail to Michael is pasted below.
xxxxxxxxxxxxxxxxxxxxxxxxxxxxxxxxxxxxxxx
Quote:
Subj: Re: Mountain Light News / Crop Circles
Date: 7/5/2005 4:39:24 AM Pacific Standard Time
From: Joseph E. Mason
To: Michael
In a message dated 7/4/2005 7:29:33 PM Pacific Standard Time, Michael writes:
<< Subj: Mountain Light News / Crop Circles >> (snip)
<< But that's not the reason I'm writing. I thought you would be interested in knowing that the first Crop Circle in the USA for 2005 appeared just north of us, in Yancy County, on June 12th. It was 176 ft. in diameter. >>
http://www.rense.com/general66/fst.htm
http://www.rense.com/general66/cropcc.htm
~~~~~~~~~~~~~~~~~~~~~
Hello Michael.
This years crop formations seem to be speaking of world unity in various ways:
This appeared around 3 July 2005:
Double Boxes, 3 July 2005, Hundred Acres (East Field), Alton Priors, Wiltshire
http://www.cropcircleconnector.com/2005/hundredacres/hundredacres2005a.html
I had a few things to say about it:
Hundred Acres Formation - The Breath of Creation, Golden Bowl & Key/Lock 444
http://www.cropcircleconnector.com/forum/viewtopic.php?p=19755#19755
And others:
Possible Important Meaning of the Horton Formation (Sun/Son projection)
I continue to add information to my article:
The Interrelated 2005 Crop Circle Formations
http://www.greatdreams.com/crop/2005ccs/2005ccs.htm
Note the 444 connection in the Hundred Acres formation. Interestingly, 176 is a related ancient number, as it is one-tenth of a mile in yards, and one of those "11" type numbers. 4 x 44 = 176, or 11 x 16. The "birth" year of the USA is 888 x 2 = 1776, or 4 x 444.
The name of the location, "Hundred Acres," is also suggestive of the ancient numbering system:
Acre = 4840 square yards
= 11 x 440
= 22 x 220
= 44 x 110 The numbers on the right are "A" notes in cps of the musical scale.
484 / 4 = 121 = 11 x 11 One Hundred acres = 48400
= 176 x 275
= 176 x (5 x 55)
You may know that the ancients associated the number 888 with Jesus. Six miles in feet (6 x 5280 = 31680) is the sub-lunar distance around the New JerUSAlem, and one-tenth of that number (3168) was "Lord Jesus Christ" in Greek Gematria. See:
DNA & The Apocalypse
http://dgleahy.com/dgl/p18.html
The new crop formation at Lurkley Hill suggests the New Jerusalem plan: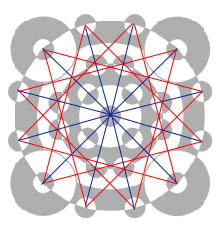 Also see:
Code of the Ancients
http://www.greatdreams.com/gem1.htm
A ball of light appeared at the first flight of the Concord airliner. I saw this in a crop circle video about 14 years ago. I looked up the word "concord," to find that it means "together hearts." This fit well with one of my "coincidental" symbols, the Unity of Hearts:

Regards,
Joseph E. (Joe) Mason
http://www.greatdreams.com/crpcirc.htm
http://www.greatdreams.com/