9-14-07 - DREAM - In this dream, I was at my Father's lake cottage with my sister. We went over to the resort where there was a dance-hall. A man was sitting at a desk and teaching square dancers how to do a 'new' movement that had never been done before by these dancers. He told them to hook their left arms into each other in a circle and then dance backwards in a counter-clockwise motion.
Meanwhile - three couple lay on the floor (off the dance floor) and I noticed that the women were wearing pink shoes.
Since I didn't have a partner to dance with, I signed up at the square dance caller's desk for the next time and they would find a partner for me.
I then went back to the cabin and went on the internet where I started studying alternative health protocols that I was going to teach in Milwaukee once I got back home.
When I finished that, I went out to the driveway and since my husband hadn't come to the cabin, I was going to drive home in my sister's car.
My sister seemed over anxious to have me leave and go home and she made me promise not to take Highway 41 home which would be fastest, but a main freeway with a lot of traffic, but she made me promise to turn left at Germantown and take Highway 45 which was a narrower and slower, but safer.
I told her I wasn't ready to go home yet, but I was just getting ready.
I pulled out a map then and the map was only of Northern Canada that showed the north pole. The north pole had shifted south into Hudson Bay right near the northern edge of Canada.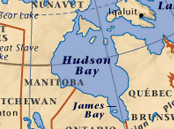 Here is a map of the magnetic North Pole and the Path of Movement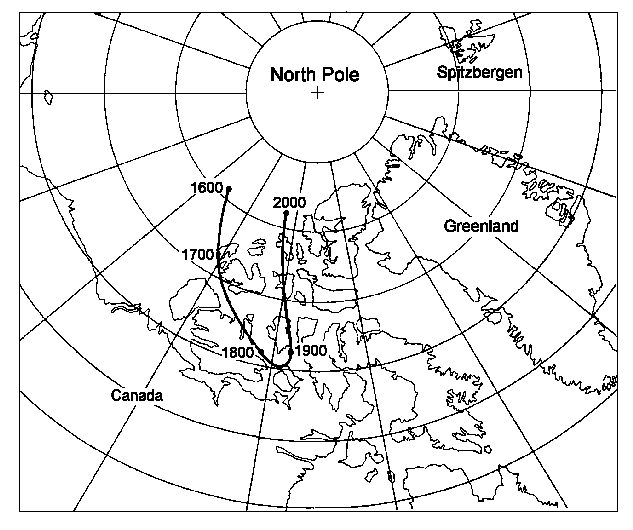 Later, I had a vision where I saw the sun, colored very pale yellow and next to it where the letters FOIA which was indicating I should do a Freedom of Information Act search about the sun. That information is below:
Later - while meditating on the sun on the sofa in the afternoon, I saw five Mayan words to the right of it, along with the word tsunami. Right after that I saw the word 'tsunami' again. That doesn't seem to make any sense to me, but we'll see what happens.
In a dream following the vision, I was going across the street to a school, and I forgot to take the mail with me.
Inside the school was a set of stairways like the school was built around the Temple of Palenque.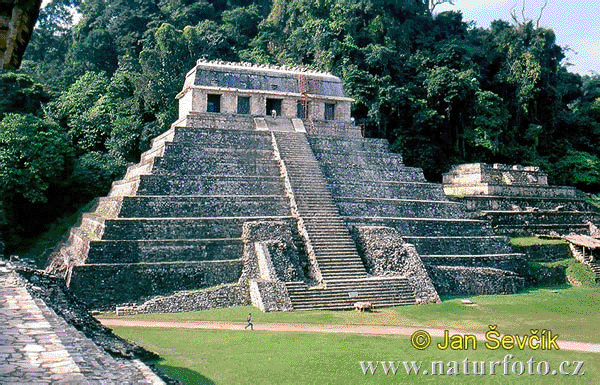 I got to the top of the steps and was standing on the top platform and I wanted to go down the center stairs, but it was too steep for me, so I went down a stairway on the right side that wasn't quite so steep and it had a green iron hand railing on the right side. (There was a matching stairway on the left)
I got down to the front door and stood at the curb, waiting to cross the street, but there was a big fire truck parked at the curb on the other side of the street. A little girl came running out of the house across the street and just then two more fire trucks came screaming down the street with their horns blowing and stopped behind the other fire truck.
~~~~~~
9-16-07 - DREAM - I was in a school made of stone. The students were all adults.
There was a special group of stones set in a pillar-like pattern. Some of these stones were dated Dec. 7 and some were dated Dec. 9.
There were deep grooves carved into these stones within and when something was activated, an energy would spiral through these stones and great upheavals would occur.
We weren't told in advance when this energy would begin and that we shouldn't mess with these stones unless we knew all about the energy.
We were in awe of what the teacher said, but just then the energy started and it was too late to learn about the energy. The stones were already starting to split.
~~~~~~
9-16-07 - VISION 2 - I was standing in an area of buildings made of stone. The ground began to tremble and shake and loose stones began to fall off the buildings more and more and littered the ground in every direction.
VISION 2 - I was standing in front of a tall pillar made of dark stone. At the top of the pillar kneeled a young blonde man, wearing a bright yellow long-sleeved shirt and bright green pants.
I heard a voice say, "He's not going to stop the stones from falling down!"