.
Regulatory Crackdown:
Even before the FDA was given broad new powers to regulate food in the recent Food Safety Modernization Act, small farms were being
raided and regulated
out of business. Now, the new food bill essentially puts food safety under the direction of the
Department of Homeland Security
where the food
cartel
uses the government to further consolidate their control over the industry. Militant
police action
is taken against farmers suspected of falling short on quality regulations. It is the power to intimidate innocent small farmers out of the business.
5.
Rising oil prices:
In 2008, record oil prices that topped $147 per barrel drove food prices to new highs.
Rice tripled in 6 months
during the surge of oil prices, along with other food commodities. The price of oil affects food on multiple levels; from plowing fields, fertilizers and pesticides, to harvesting and hauling. Flash forward to 2011: many experts are predicting that oil may reach upwards of
$150-$200 per barrel
in the months ahead. As oil closed out 2010 at its 2-year highs of $95/bbl, it is likely on pace to continue climbing. Again, a weakening dollar will also play its part in driving oil prices, and consequently, food prices to crisis levels.
6.
Increased Soil Pollution:
Geo-engineering
has been taking place on a grand scale in the United States for decades now. Previously known in conspiracy circles as 'chemtrailing,' the government has now admitted to these experiments claiming they are
plan "B" to combat global warming
. The patents involved in this spraying are heavy in aluminum. This mass aluminum contamination is killing plants and trees and making the soil sterile to most crops. In an astonishing coincidence, GMO companies have patented
aluminum-resistant seeds
to save the day.
7.
GMO Giants:
Because of growing awareness of the health affects of GM foods, several countries have rejected planting them. Therefore, they would seem to
need
a food crisis to be seen as the savior in countries currently opposed to their products. A leaked
WikiLeaks cable confirms
that this is indeed the strategy for GMO giants, where trade secretaries reportedly "noted that commodity price hikes might spur greater liberalization on biotech imports." Since GMO giants already control much of the food supply, it seems they can also easily manipulate prices to achieve complete global control of food.
The equation is actually quite simple: food is a relatively inelastic commodity in terms of demand. In other words, people need to eat no matter how bad the economy gets. Thus, demand can be basically measured by the size of the population. Therefore, as demand remains steady while the 7 supply pressures outlined above continue to worsen, food prices will have only one place to go -- up, up, and up.
As international agencies scramble to find "solutions," their energy may be just as well spent on questioning if this famine scenario is being purposely manipulated for profits. Regardless, the average person would be very wise to stock up on food staples as an investment, and frankly to survive the worsening food crisis.
RELATED ARTICLES:
5 Collapse-Proof Investments With Tangible Fundamentals
5 Simple Ways to Prepare For The Coming Food Crisis

GROW YOUR OWN FOOD:
How to Grow Your Own Food. For all of human history, people have managed to feed themselves, either by fishing, hunting, gathering and/or subsistence farming. Now ...

www.wikihow.com/Grow-Your-Own-Food

-

More results from wikihow.com »

Overcoming Consumerism website This page is about: Learning how and why to grow your some of your own organic food and the reasons why that is important for you, your ...

verdant.net/food.htm



Grow and store your own food. ... Use our handy search engine to help you find what you need to know.

www.

daycreek.com

/dc/html/DC_ss_

ggrowandstore.htm -


This is an article to give you ideas on how to raise and/or grow your own food. This might be good if you expect less income and don't want to buy food at the store ...

www.

ehow.com

/how_2181340_raisegrow-

own

-

food--economic... -
More results from ehow.com »/a>

Congress is about to make it illegal to grow your own food, or for "any farm" not to purchase and use government mandated chemicals, additives, and ...

fdralloveragain.blogspot.com

/2009/

...grow-your-own-food..html -


A practical guide to growing your own food. Grow your own veg, herbs and soft fruit to become self-sufficient

www.

self-sufficiency-guide.com

/

Grow.html - Cached


My goal this spring is to grow some food. Not a ton of food, but some. I invite all of you to join me and share your experiences! We talk a lot about the benefits of ...

eatdrinkbetter.com

/2011/03/17/

grow

-

your

-

own-food.... -


» Grow your own food to save money,Backyard Gardening Blog ,

www.

gardeningblog.net

/2008/05/21/

grow

-

your-own-food--to... -


Want to taste really fresh food that's good for you and the planet? Get into gardening in your own backyard.

www.

gosford.nsw.gov.au

/.../garden/

grow

-

your-own -


Many people think that the American food supply is the best in the world. So why are so many people going to the trouble of growing their own food, or seeking it from ...

www.motherearthnews.com/Real-Food/...To-Grow-Own-Food.aspx -

Kids' Gardening Workshop. A fun way to learn about growing your own food! In this workshop Sarah Adams from Innermost Gardens will give kids the tools and tips to get ...
www.
capitale.org.nz
/whats_on/
Grow%20Your%20Own%20Food.htm -

Grow-your-own fruit and veg is rapidly gaining popularity. And for good reason. Growing food at home means you know exactly what you're eating.
plantconcierge.com
/
Grow
_
your
_
own
_
food
-
Vegetable gardens are back. Growing your own garden makes economical cents. Here's how to do it! Lettuce, tomatoes, and other vegetables from the
www.
care2.com
/greenliving/
grow
-
your
-
own
-
food.html -
More results from care2.com »
You may pride yourself on eating only locally grown food. But your food can get even more localized. It is possible to grow some food in the comfort of your own home.
planetgreen.discovery.com
/
food
-health/
grow-food-indoors.html -

Gardening isn't just for people with lots of land. You can raise your own tasty crops in the smallest and oddest of containers. If you have access to some sun, plus ...
green.yahoo.com
/blog/greenpicks/251/
grow-your-own-food... -

[Mar 26, 2009] Tear up
your
front lawn and plant a garden. In the long-term, it will be a lot cheaper than shopping at the supermarket. And you can share
your
harvest with
your
...
( 26 Comments )
www.huffingtonpost.com/...to-grow-your-own-f_b_168735.html -
More results from huffingtonpost.com »
How to grow your own food, fruit and vegetables, salad and herbs with recipes, websites, advice in Little Green book Home grown harvest from foodloversbritain.com
www.
foodloversbritain.com
/.../How-to-
Grow-Your-Own-Food -

Growing Your Own Food. The cost of most things these days seems to be rising and in response to this, most of us are changing our behavior, tightening up and reducing ...
www.
okanaganfood.com
/
grow
-
your
-
own
-
food
-
Would you like to eat fresh food that's good for you and the planet? Get into gardening in your own backyard.
sustainability.stirling.wa.gov.au
/
garden/grow-your-own-food -

Wildflower Phenology - The Dawes Arboretum East (Newark, Ohio http://www.dawesarb.org/phenwww2.htm Oklahoma Wildflowers by Charles S. Lewallen Table of Contents ...

greatdreams.com/garden.htm -

DREAMS AND VISIONS OF THE GARDEN AND HARVEST TO COME. 11-15-89 - DREAM - I was riding in a caravan of white cars back towards home in New Berlin.
www.
greatdreams.com
/harvest.htm -
It would be wise to garden this year even if you never did before. Even a little garden patch will help. Those who grow zucchini will laugh ...

www.

greatdreams.com

/spirit_

message11.htm
put fresh coat of cow manure on garden every year if chicken manure - use very lightly horse manure okay sheep manure stinks real bad farm land ...
www.greatdreams.com/crop.htm
You maybe walking in the park or watering the garden and you will realise all of a sudden the air smells like the fragrance of sweet candle incense burning. What ever ...

www.

greatdreams.com

/blog-2012/dee-

blog103.html - Cached


... to enjoy life, and to love whatever he does, whether that's play in the ocean, play in the garden, plant seeds, it doesn't matter. Life ...

www.greatdreams.com/blog/dee-blog94.html
Operation Cable Splicer and Garden Plot are the two sub programs which will be implemented once the Rex 84 program is initiated for its proper purpose.
www.greatdreams.com/blog/dee-blog96.html
COMPOST ALL CUT GRASS AND LEAVES AND GARDEN WASTE If you have any questions, comments, or would like to add to this site, please e-mail Dee777@aol.com.
www.greatdreams.com/kitchen.htm
Setting up and running a school garden
---
A MANUAL FOR TEACHERS, PARENTS AND COMMUNITIES
Disclaimer
The designations employed and the presentation of material in this information product do not imply the expression of any opinion whatsoever on the part of the Food and Agriculture Organization of the United Nations concerning the legal or development status of any country, territory, city or area or of its authorities, or concerning the delimitation of its frontiers or boundaries.
The conclusions given in this report are considered appropriate at the time of its preparation. They may be modified in the light of further knowledge gained at subsequent stages of the project.
ISBN 92-5-105408-8
All rights reserved. Reproduction and dissemination of material in this information product for educational or other non-commercial purposes are authorized without any prior written permission from the copyright holders provided the source is fully acknowledged. Reproduction of material in this information product for resale or other commercial purposes is prohibited without written permission of the copyright holders.
Applications for such permission should be addressed to the Chief, Publishing Management Service, Information Division, Food and Agriculture Organization of the United Nations, Viale delle Terme di Caracalla, 00100 Rome, Italy or by email to copyright@fao.org
Front cover:
School children in China: R. Faidutti.
School garden in Panama: Jesús Bulux, Instituto de Nutrición de Centro América
y Panamá and Pan American Health Organization.
Vegetables and fruit: Mel Futter.
Back cover:
Ethiopian children: R. Faidutti.
Illustration: Mel Futter.
Design:
J. Morgante/R. Magini.
Foreword
The keys to the development of children and their future livelihoods are adequate nutrition and education. These priorities are reflected in the first and second Millennium Development Goals. The reality facing millions of children, however, is that these goals are far from being met.
Children who go to school hungry cannot learn well. They have decreased physical activity, diminished cognitive abilities, and reduced resistance to infections. Their school performance is often poor and they may drop out of school early. In the long term, chronic malnutrition decreases individual potential and has adverse affects on productivity, incomes and national development. Thus, a country's future hinges on its children and youth.
Investments in nutrition and in education are essential to break the cycle of poverty and malnutrition. FAO believes that schools can make an important contribution to countries' efforts to overcome hunger and malnutrition, and that school gardens can help to improve the nutrition and education of children and their families in both rural and urban areas. In this regard, it is important to stress that school gardens are a platform for learning. They should not be regarded as bulk sources of food or income, but rather as a way to better nutrition and education.
FAO encourages schools to create learning gardens of moderate size, which can be easily managed by students, teachers and parents, but which include a variety of nutritious vegetables and fruits, as well as occasionally some small-scale livestock such as chickens or rabbits. Production methods are kept simple so that they can be easily replicated by students and parents at their homes.
Food systems are the unifying concept. "From plot to pot", students learn how to grow, tend, harvest and prepare nutritious seasonal produce, in the educational settings of the classroom, the garden, the kitchen, the school cafeteria and the home. The experience promotes the environmental, social and physical well being of the school community and fosters a better understanding of how the natural world sustains us. Links with home gardens reinforce the concept and open the way for the exchange of knowledge and experience between the school and the community.
Such food-based strategies have the merit of sustainability: they create long-term dietary habits and put food choices into the hands of the consumer. A strong education component ensures that the effects go beyond the immediate time and place, to children's families and future families.
Nutrition concerns also link the developed and the developing worlds, which share many dietary problems. For example, the need to change perceptions of fruits and vegetables and to learn how they are best grown, prepared and eaten is common to many communities, rich and poor, and may be critical in building community health in both. This makes for meaningful joint efforts and exchanges of experience, ideas and teaching materials.
FAO has prepared this Manual to assist school teachers, parents and communities. It draws on experiences and best practices of running school gardens all over the world. Classroom lessons are linked with practical learning in the garden about nature and the environment, food production and marketing, food processing and preparation and making healthy food choices.
We hope that the Manual will be a useful tool for all those who wish to start or improve a school garden with the aim of helping school children to grow in both mind and body.
Kraisid Tontisirin,
Director,
Food and Nutrition Division
Mahmoud Solh
Director,
Plant Production and Protection Division
Acknoweledgments
The Manual and accompanying materials were prepared by the Nutrition Programmes Service of the Food and Nutrition Division in consultation with the Crop and Grassland Service of the Plant Production and Protection Division in FAO.
Ellen Muehlhoff of the Food and Nutrition Division had overall responsibility for developing and guiding the preparation of this publication. She also served as technical editor. Alison Hodder of the Plant Production and Protection Division advised on the horticultural sections. Special thanks are due to Jane Sherman, who is the main author of this text. Her expertise in education and experiential learning and her writing skills are highly appreciated. Chris Landon-Lane's broad experience in horticulture and practical approach to small-scale gardening enriched the horticulture sections and fact sheets.
Substantial technical contributions were provided by Jennifer Heney of the Agricultural Support Systems Division in FAO. Valuable comments and contributions were also received from: Fiorella Cerruti of the School Feeding Service, World Food Programme (WFP); Lavinia Gasperini of the Research, Extension and Training Division; Corinna Bothe, Fintan Scanlan and Alberta Mascaretti of the Field Operations Division; and Hitomi Sato of the Plant Production and Protection Division.
We would also like to express our very special appreciation to all the head masters and mistresses, school teachers and educators in different parts of the world who made this publication possible, in particular:
Buzz Bezuidenhout, BMW SEED (School Environmental Education Development) Programme, South Africa
Asha Choday, head teacher, Maranda School, Kenya
Jackie Greenhouse, head teacher and Linda Carr, garden manager, Manorbier School, Wales
Patrick Lloyd-Lister, group health educator, Harmony Gold Mine, South Africa
Mark Miller, project coordinator, Gate Project (Garden-based agriculture for Toledo's Environment), Jamaica
Sylvester Ncube, head teacher, Nebiri School, Zimbabwe
Claudette Power, head teacher, and Miss James, garden manager, Sligoville School, Jamaica
Charles Ssekyewa, senior lecturer in Agriculture and coordinator of Seeds for Africa school gardens project, Martyrs University, Uganda
Simon Zayo, garden master, Negande School, Zimbabwe
We thank the community of Komga, South Africa, for their support and enthusiatic contributions to the photos and final preparation of the book, especially Errol Muller of Komga Market, Ronel Vorster and staff of the East Cape Co-op, the children of Draaibosch, the Flannigan family and Government Kobese.
Further acknowledgements are due to Brett Shapiro and Rosemary Allison for editing and proofreading. Mel Futter was responsible for design and layout, and unless otherwise stated within the publication, provided all photography and illustration.
Food and Agriculture Organization of the United Nations Rome,
© FAO 2005
---
Hyperlinks to non-FAO Internet sites do not imply any official endorsement of or responsibility for the opinions, ideas, data or products presented at these locations, or guarantee the validity of the information provided. The sole purpose of links to non-FAO sites is to indicate further information available on related topics.
This electronic document has been scanned using optical character recognition (OCR) software. FAO declines all responsibility for any discrepancies that may exist between the present document and its original printed version.
---
Involving the family and community
PART 3: WHAT IS OUR GARDEN FOR?
Raising environmental awareness
PART 5: WHAT DOES OUR GARDEN NEED?
PART 6: WHAT SHALL WE GROW TO EAT?
PART 7: WHAT SHALL WE GROW TO SELL?
PART 8: HOW DO WE GROW THINGS?
PART 9: HOW WILL WE EAT OUR GARDEN FOOD?
Preparing, processing, promoting
PART 12: HOW DO WE KEEP GOING?
2. A healthy diet for schoolchildren
Conserving and preserving garden foods
Snacks and drinks from the garden
GARDEN PATTERNS
Alternative Living

An Old Fashioned Farm
Search results
Successful gardens are designed and planted according to patterns, and each pattern is based on principles of design, which are common to all the arts — unity ...

www.landscape-guide.com/.../garden-patterns.php

-

Cached

Introduction to the use of geometric patterns in formal garden design history. The influence of geometric patterns in formal garden design history can be traced back ...

landscaping.about.com/cs/history/a/design_history.htm

-

Cached

garden-designs.com Find gardeners for design in your area. Get a cheap quote for garden maintenance. Compare gardening quotes for free.

www.garden-designs.com

-

Cached

FREE garden wood patterns!Garden Woodcrafts,garden stakes, garden signs, plans and patterns!

www.countrycornercrafts.com/garden.html

-

Cached

If you need inspiration for flower garden designs, start here. The right landscaping ideas and container gardening combinations can make your backyard an inviting ...

www.gardenideas.com/garden_designs

-

Cached

Crochet Garden! : - Babies - Children Patterns Gift Certificates Afghan Patterns Free Patterns Interweave Press Shawls, Stoles, Wraps Accessories 18 Doll Patterns ...

www.crochetgarden.com

-

Cached

Garden designs, When you think that your home needs to have a makeover, you really should not dive right away to tearing every part of your house down and renovating it.

garden-designs.org

-

Cached

Crochet Garden! : Free Patterns - Babies - Children Patterns Gift Certificates Afghan Patterns Free Patterns Interweave Press Shawls, Stoles, Wraps Accessories 18 ...

www.crochetgarden.com/index.php?main_page=index&cPath=66

-

Cached

Garden Design, advice, & ideas for garden decor, furniture, photos, & living green; for readers who are passionate about having the best gardens.

www.gardendesign.com

-

Cached

Flower Planting Patterns. Maybe you've seen a riotous garden filled with blooming red and yellow tulips in the spring. The sheer number of flowers required to create ...

www.gardenguides.com/89159-flower-planting-patterns.html
GARDENING DEDICATIONS AND PRAYERS
http://search.yahoo.com/search;_ylt=A0oGdX2pSRhPOgwAgs9XNyoA?p=gardemomg%20dedication%20prayers&fr2=sb-top&fr=slv8-att
update March 27, 2012
Tungurahua Volcano (EcuaVolcán Tungurahuador): constant ash emissions and ash fall
Monday Mar 26, 2012 19:15 PM
Tungurahua volcano's activity has been increasing, Ecuador's Instituto Geofísico reports. Throughout the morning of March 26, a constant column of steam and ash was rising from the summit crater, reaching up to 3 km height and drifting towards the northeast, where ash fall occurred. Ash fall was significant in the San Francisco and Black River areas, and mild in Baños, the Ventanas en Runtún, Juive, Pondoa, Puntzán and Cusúa sectors.
Occasional roaring explosion sounds were heard from small to moderate explosive events. Seismic activity remains characterized by volcanic tremor episodes lasting several minutes, interspersed with tremor bursts and long-period events, which are related to fluid movements within the volcano.
---
Links / Sources:
June 29, 2011 – SEATTLE, WA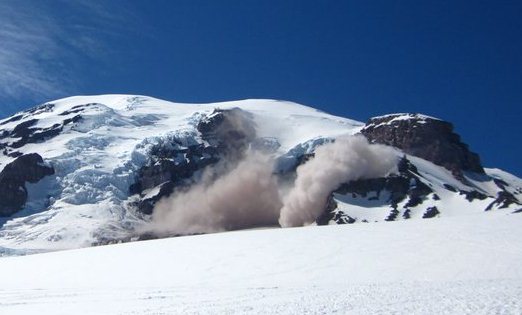 – Some of the biggest rock avalanches in years have been roaring off Mount Rainier over the past several days, kicking up billowing clouds of dust and propelling rivers of muddy debris nearly two miles down the volcano's flanks. No one has been injured, but one group of climbers fled as dust descended on their tent after a rock-fall Saturday afternoon. "From my standpoint of looking at the mountain for 20 years, we've probably had rock-falls like this once every five or 10 years," said Stefan Lofgren, lead climbing ranger for Mount Rainier National Park. Since June 24, at least three major rock-falls and several smaller ones have sloughed off the rocky ridge called Nisqually Cleaver, at an elevation of about 12,800 feet. The one that let loose Saturday afternoon was the biggest. University of Washington graduate student Max Stevens and his father were about to head out across the Nisqually Glacier to retrieve a GPS instrument used to measure the glacier's movement. "I heard it first and looked up and saw a house-sized block of rock falling off Nisqually Cleaver," he said. The pair were on skis, and they skedaddled. "We got out of there," Stevens said. "This cloud of dust just filled the basin." When it became clear the avalanche wasn't headed in his direction, Stevens watched the debris flow down the glacier. "There were truck-sized blocks of ice flowing like ice cubes in a stream of water," he said. "I was scared for a moment … but it quickly turned to pure amazement." Climbing ranger Chris Kalman was at Camp Muir, a popular day-hike destination and climbers' bivouac at 10,080 feet on the mountain's south side, above Paradise. The day was sunny and warm when a sound like an explosion split the air. "It was huge," Kalman said. "People were pretty much in awe. Things like this may happen only a few times in someone's life," he said. Another avalanche hit Monday. The events were big enough to register on earthquake sensors, and seismologists at the University of Washington called the park to see what was going on. –Seattle Times
THIS BLOG CONTINUES ON PAGE 109

BLOG TWO INDEX

BLOG ONE INDEX

http://www.greatdreams.com

http://www.earthmountainview.com