Vishwa-Karmas, the descendants of the Pancha Brahmas, were involved in the "architecture of the world". Thier work was classified as follows:
Manunaam loha karmani
mayanaam daru karmani
twasthanaam karuka karmani
shilakarantu shilpabihi
vishwajna swarna karma cha
pancha brahma mayam jagat.
Descendants of Manu -> Iron
Descendants of Maya -> Wood
Descendants of Twastha -> Copper, Bronze
Descendants of Shilpi -> stone
Descendants of Vishwajna -> gold
Thier tools depend on the yuga, as described below.
krutha yuge manashuddhi
tretaya yugam drushti rupakam
dwapare mantra saamarthyam
kali yuge kara sadhanaha.

In Krutha yuga -> from purity of mind
In Tretha yuga -> from sight
In Dwapara yuga -> from mantras
In Kali yuga -> using hands
However, this age of Kali is coming to an end. Vipras are gradually losing thier hold over the people. They have given up Veda Adhyayana, and have taken up Para Vidya (means all other professions, including western education). At the arrival of Kalki, they will be so poor and powerless as to not have enough to eat and wear. This process is evident in India, where there is an uprising against the upper-castes, mainly vipras. (incidentally, this upper-caste lower-caste business cropped up in kali yuga under the stewardship of vipra brahmins; before this, all castes were equally respected to thier service to the people).
In addition, just before the arrival of kalki, Vipras will lose control of Sringeri Mutt, and Vishwa-Karmas will get control of it. Also, Vishwa-Karmas will be restored to thier past glory.
Meanwhile, the original vedas have been written and hidden under a Tamarind tree in Kandi Mallaya Palli in Andhra Pradesh. Kalki will get it out for the benefit of the people.
Brahmin Cosmogonic Cycles of Creation and Destructions
Brahma is the cosmic dreamer who alternately sleeps and wakes for equal Periods of time. The days and nights of Brahma are calculated to Brahma years, and the Brahma years are calculated to one Brahma lifetime. At the end of a Brahma lifetime all creation dissolves into the body of the cosmic dreamer. One Brahmin Cycle is as follows:
Age 1 - Kruta Yuga = 400 divine dawn years + 4,000 full divine Years + 400 twilight Years (4,800 years).
Age 2 - Treta Yuga = 3,600 divine Years (including dawn and twilight)
Age 3 - DvaPora Yuga = 2,400 divine years (including dawn and twilights)
Age 4 - Kali Yuga (which begins 2/17/3102 BCE and continues to the present age) = 1,200 divine Years.
Added together, this makes 12,000 divine years in all, or one Great Cycle ("Mahayuga"). A Mahayuga calculcated in terms of human years = 4,320,000 years.
One thousand Mahayugas = one Brahma daytime.
One full day and night of Brahma is calculated as the equivalent of 4,000,000 divine years * 360 or 8,640,000,000 human years. (Just as in our system the 24 hour day contains 86,400 seconds and each second is the length of time of the human heart beat).
360 days and nights of Brahma = one Brahma year.
100 Brahma years = one Brahma lifetime. Calculated in human years, one Brahma lifetime = 311,040,000,000,000 human years.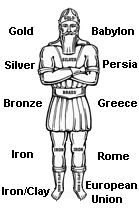 The image is from the Book of Daniel (2:31-40) (in the Bible) Thou, O king, sawest, and behold a great image.
This great image, whose brightness was excellent, stood before thee; and the form thereof was terrible. This image's head was of fine gold, his breast and his arms of silver, his belly and his thighs of brass, His legs of iron, his feet part of iron and part of clay.
Thou sawest till that a stone was cut out without hands, which smote the image upon his feet that were of iron and clay, and brake them to pieces. Then was the iron, the clay, the brass, the silver, and the gold, broken to pieces together, and became like the chaff of the summer threshingfloors; and the wind carried them away, that no place was found for them: and the stone that smote the image became a great mountain, and filled the whole earth.
Interpretation of the Dream
Thou, O king, art a king of kings: for the God of heaven hath given thee a kingdom, power, and strength, and glory. And wheresoever the children of men dwell, the beasts of the field and the fowls of the heaven hath he given into thine hand, and hath made thee ruler over them all. Thou art this head of gold.
And after thee shall arise another kingdom inferior to thee, and another third kingdom of brass, which shall bear rule over all the earth.
And the fourth kingdom shall be strong as iron: forasmuch as iron breaketh in pieces and subdueth all things: and as iron that breaketh all these, shall it break in pieces and bruise. And whereas thou sawest the feet and toes, part of potters' clay, and part of iron, the kingdom shall be divided; but there shall be in it of the strength of the iron, forasmuch as thou sawest the iron mixed with miry clay.
And as the toes of the feet were part of iron, and part of clay, so the kingdom shall be partly strong, and partly broken. And whereas thou sawest iron mixed with miry clay, they shall mingle themselves with the seed of men: but they shall not cleave one to another, even as iron is not mixed with clay.
And in the days of these kings shall the God of heaven set up a kingdom, which shall never be destroyed: and the kingdom shall not be left to other people, but it shall break in pieces and consume all these kingdoms, and it shall stand for ever.
Forasmuch as thou sawest that the stone was cut out of the mountain without hands, and that it brake in pieces the iron, the brass, the clay, the silver, and the gold; the great God hath made known to the king what shall come to pass hereafter: and the dream is certain, and the interpretation thereof sure. ---Daniel 2:37-45
Thus he said, The fourth beast shall be the fourth kingdom upon earth, which shall be diverse from all kingdoms, and shall devour the whole earth, and shall tread it down, and break it in pieces. And the ten horns out of this kingdom are ten kings that shall arise: and another shall rise after them; and he shall be diverse from the first, and he shall subdue three kings. And he shall speak great words against the most High, and shall wear out the saints of the most High, and think to change times and laws: and they shall be given into his hand until a time and times and the dividing of time.
But the judgment shall sit, and they shall take away his dominion, to consume and to destroy it unto the end. And the kingdom and dominion, and the greatness of the kingdom under the whole heaven, shall be given to the people of the saints of the most High, whose kingdom is an everlasting kingdom, and all dominions shall serve and obey him. ---Daniel 7:23-27