THE ETHICS OF CLONING PEOPLE

From: http://www.dti.gov.uk/hgac/papers/papers_c.htm

There are a number of situations where it has been suggested that cloning technology could be applied to make a "copy" of another human being. None of the activities suggested in these scenarios are permitted in the UK. Such scenarios envisage single or multiple "copies" of a living or dead fetus, baby, child or adult. For example:

1. Parents might wish to "replace" an aborted fetus, dead baby or child killed in an accident. A grieving woman whose husband and daughter have been killed in the same car crash, may wish to use the DNA from one of her daughter's cells and insert it into an egg supplied by another woman. The child born would be a clone of her dead daughter. However, the mother would not be "getting back" the same child that had died.

2. In the case of a child dying of kidney failure and where neither parent can donate a compatible organ, parents might wish to have a further sibling, produced by cloning, to be a compatible organ donor, as this would avoid a rejection reaction. One of this child's kidneys might then be transplanted to save the life of their older sibling.

3. An individual might seek to use cloning technology in an attempt, as that individual might see it, to cheat death.

~~~~~~~~~~~~~~~~~~

From: http://web.bma.org.uk/public/ethics.nsf/webpagesvw/Cloning

Human "cloning"

Common misperceptions

Much of the debate about cloning in the popular media has been based on the mistaken premise that a human clone would be an exact replica of the original person (the nucleus donor). The technique used to create Dolly does not result in the clone and the nucleus donor having exactly the same genetic make-up (see below). But, even if they were genetically identical, the idea that the clone would be a 'copy' or 'replica' of the nucleus donor is based on extreme genetic determinism. The clone and the nucleus donor would not be identical people. Personality, character and behaviour are not determined by genetic factors alone but by a complex interaction of genetic, social, political, historic and environmental factors. Experience of monozygotic twins (which can be considered as naturally occurring clones) is sufficient to illustrate that genetic identity is not the same as personal identity.

Another common misperception is that the clone would be the same age as the nucleus donor so that if the person to be cloned was an adult, the clone would appear as an adult. Although the clone, or clones, would have the same nuclear DNA as the nucleus donor, he or she would begin as an embryo, develop into a fetus , a baby and years later, an adult (Some questions have been raised, however, about whether Dolly's genetic age is the same as her chronological age or whether it is the same as the sheep whose nuclear DNA was used). The time difference between the birth and upbringing of the nucleus donor and those of his or her clones, and the inevitable differences in factors such as womb-environment, mother's diet, social, political and economic circumstances, will undoubtedly increase the differences between the individuals (If more than one clone is produced from an adult or child, the clones will be the same age as each other but will not be the same age as the nucleus donor).

Motives for using cell-nuclear replacement

A variety of reasons have been suggested as to why an individual may wish to create a clone of him or herself, or of another person, some of which are more likely to succeed than others. As discussed above, some are based on a mistaken belief that the clone would be an exact replica of the nucleus donor. Individuals, for example, who wish to use the technique to 'cheat death' or in a search for immortality are bound to be disappointed. The child will be a different person, born at a different time and into a different social, political and economic environment, with different choices and life-chances. Although the clone may look very similar to how the nucleus donor did at the same age, the clone will be an individual with his or her own thoughts, wishes and personality. For the same reasons, those who wish to use the technology to perpetuate outstanding talent, or to 're-create' others, alive or dead, will not succeed. Personality traits and abilities are only partially genetically determined, and even if an individual has innate talent, he or she may choose not to use it either because of different preferences or priorities, or in a deliberate attempt to be 'different' from the nucleus donor. The more science-fiction type scenarios of an egocentric dictator attempting to develop an army of clones for military purposes, are fanciful for a variety of reasons, not least because of the vast number of women who would be needed to carry the children (until some alternative method of gestation is found).

An often quoted example of a potential beneficial use of human reproductive cloning is to provide a perfectly-matched tissue or organ donor in order to save a life. It is well-known that in desperate situations where there is no compatible donor for a dying child, parents will sometimes conceive another child in the hope that he or she will be compatible as a donor. The use of cell-nuclear replacement, using the sick child as the cell donor, would avoid this lottery by ensuring that the sibling would have identical nuclear DNA and would be a perfect match.

Some people may wish to use cell-nuclear replacement in an attempt to create a 'replacement' for a dead or dying child. A range of variations on this theme have been suggested. The US National Bioethics Advisory Commission (National Bioethics Advisory Commission, Cloning human Beings, Report and Recommendations of the National Bioethics Advisory Commission, June 1997), for example, considered the scenario of a family involved in a terrible accident in which the father is killed and the only child is dying. The mother wishes to use some of the cells from the dying infant for cell nuclear replacement as her only chance to have a child biologically related to her late husband. In this case, the motivation is to have her husband's child, not to have a child who is genetically identical to another person. Does this make the motive more acceptable? Similarly, an infertile couple where the man has no sperm may opt for cell-nuclear replacement, using a cell from the husband, in order to have a child genetically related to both of them (nuclear DNA from the father and mitochondrial DNA from the mother), as an alternative to donor insemination. The primary aim is to have a child, not to create a genetic copy of the father, although the outcome is the same. A couple who are both carriers of a serious genetic disorder and wish to avoid the birth of an affected child, may prefer to use cell-nuclear replacement to clone one of them, rather than the alternatives of prenatal diagnosis or donated gametes. The efficiency of in vitro fertilisation (IVF) might be greatly increased by using the 8 nuclei from an 8-cell IVF embryo to make 8 separate embryos by cell nuclear replacement.

Are any or all of these motives acceptable? Does it make a difference whether the aim is to bring into existence a genetically identical individual, or simply to have a child who may, incidentally be genetically identical? Is it relevant whether reproductive cloning is to be used to overcome some pathology, such as to avoid a genetic disorder, to provide a compatible organ or tissue for donation or to overcome infertility? Or is creating an individual with the same genetic identity as another existing person unacceptable, regardless of the circumstances and motives of those concerned?

Ethical considerations

One of the most compelling arguments against using cell nuclear replacement for human reproductive cloning is the evidence, from animal work, that the techniques are hazardous and inefficient (Evidence from animal work indicates a high incidence of malformations, stillbirths and postnatal deaths. Dolly the sheep was the only successful outcome of 277 attempts). Until these matters are resolved, the risks are likely to outweigh any potential benefits, but whilst this may be sufficient to justify a temporary moratorium on the use of the technique, this paper assumes that the time will come when these issues of safety have been resolved.

Would there then be compelling arguments to prohibit or restrict the use of reproductive cloning?

Rights of the child

Opponents of cell nuclear replacement focus primarily on concerns about the welfare of the resulting child. Even if it were possible to ascertain that the procedure could be used without physical harm to the embryo, fetus or child, concerns remain about the likely psychological effect on the child of being conceived in this way. One aspect of this is the child's possible loss of a sense of uniqueness, individuality and personal autonomy although appeals to a child's 'right to a unique genetic identity' have been roundly rejected as meaningless. Rights are either liberties - such as a right to walk along the road whistling - or claims against specific people, who would have a correlative duty to observe the right - for example, a right against a person to have a loan repaid. How one would enforce a claim to an individual genetic identity is unclear unless it consisted in an absolute right to prevent others coming into being with the same genetic constitution (this would present particular problems with the case of naturally occurring monozygotic twins).

More important than genetic identity is personal identity which consists of personality, character, temperament and life-style. If there is a right in this context (a liberty) it is a right to be allowed to develop one's own identity. This is where individuals cloned by cell nuclear replacement are fundamentally different from monozygotic twins. Monozygotic twins begin life simultaneously with an equal lack of knowledge about what the future holds. For a 'delayed twin' cloned from an existing person, it may seem 'that one's life has already been lived and played out by another, that one's fate is already determined, and so the later twin will lose the spontaneity of authentically creating and becoming his or her own self" (National Bioethics Advisory Commission, 1997, Ibid). It is feared that this perception will be compounded by the parents' expectations of the way the child will develop, particularly if the primary motivation for using cloning was to replicate an existing person. But parents often have high expectations for their children and many children grow up in the shadow of an older successful sibling. To what extent does the child's genetic make-up increase the parents' expectations or make it more difficult for the child to resist such pressures?

Issues of identity also potentially arise from the confused genetic heritage of a child born in this way. A woman, carrying a child derived from cell nuclear replacement using one of her own cells, would give birth to her sister, rather than her daughter. Although it is sometimes argued that, in this situation, the child would have no genetic father - the woman's own father would also be the father of the child. It has been argued that this provides a less than ideal environment for a child's development. But evidence from children born in other 'unusual' family arrangements does not show that these children are necessarily harmed in any way by their experiences (See, for example, Golombok S, Brewaeys A, Cook R, Giavazzi MT, Guerra D, Mantovani A, van Hall E, Crosignani PG, Dexeus S. The European study of assisted reproduction families: family functioning and child development, Human Reproduction, 1996, 11(10) pp.2324-31 and Brewaeys A, Ponjaert I, van Hall EV, Golombok S. Donor insemination: child development and family functioning in lesbian mother families, Human Reproduction, 1997, 12(6) pp.1349-59). The first few children born in this way would inevitably be the subject of intense interest and curiosity but is this so different from the first few children born following in vitro fertilisation (IVF) or the first recipient of a donated organ?

Undermining human dignity

Some people oppose human reproductive cloning because they believe that a child born following cell nuclear replacement is being treated as an object and is being used to achieve some benefit for another person. This argument is based broadly on an interpretation of Kant's categorical imperative - that we must never treat each other merely as means to an end but always as ends in themselves. This argument is most clearly illustrated by the example of a child who is born in order to be a compatible organ or tissue donor for another person. It is said that the child is being used as an object, as a means to someone else's end. But do people always have children for the sake of the child itself or because they consider there to be a need for another child in the world? In reality, the reason why most people have children is more to do with their own wishes and desires than the child's. Furthermore, it is not unusual for individuals to use each other as a means to an end - indeed it is considered desirable that we should help each other - but we do not treat others merely as a tool for achieving a set objective. If the child were to be abandoned once the donation had taken place, he or she would have been treated merely as a means, and this would be rightly condemned, but the child will undoubtedly be loved and respected for him or herself and, perhaps even more so for having saved the life of his or her sibling (Gillon R. Human reproductive cloning - a look at the arguments against it and a rejection of most of them, Journal of the Royal Society of Medicine, 1992, 92 pp. 3-12).

Unnatural procedure

Many people's opposition to reproductive cloning is not clearly articulated but rather is based on a 'gut reaction' that it is wrong, horrible, disgusting or is, in some way, an affront to human dignity. Whilst intuitive reactions cannot and should not easily be dismissed it would also be wrong always to rely upon such reactions as necessarily reflecting an appropriate moral stance. Gillon points out that moral gut responses may be morally admirable but they may also be morally wrong, even morally atrocious. Without moral reflection, these gut feelings provide no way of distinguishing between those which are right and those which are wrong. He concludes therefore that "we need to reflect on and educate our moral feelings so as to select and develop the good ones, and deter and modify or preferably abolish the bad ones" (Gillon, R. 1992, Ibid). Similarly, the fact that something is 'unnatural' does not mean that it is necessarily wrong or bad. Many bad things happen naturally and many things which are unnatural are nonetheless beneficial - including many forms of medical treatment. Whilst these feelings are understandable they need to be treated with some caution and, where appropriate, should give way to moral reasoning.

Reports and surveys of public opinion show clear opposition to human reproductive cloning. Some of the early reports on IVF and organ transplantation were also negative, combining awe at what was possible with fear about where it would all end. This comparison helps to illustrate, not only the common and intuitive nature of fear of new developments but also, the way in which public opinion shifts such that many things which were considered unnatural and objectionable gradually become accepted as routine. Is opposition to reproductive cloning by cell-nuclear replacement any more than an illogical and transient fear of new technology?

Freedom of choice

Whenever any new or innovative treatment or procedure is proposed, the question facing society is whether the onus should be on those who would permit the technique to justify its use or whether the onus is on those who would prohibit it to justify a prohibition. In other words, should it be permitted until there is overriding evidence of harm or should it be prohibited until there is overriding evidence of benefit? At the present time there is overwhelming evidence, from animal work, that the techniques used for cell nuclear replacement are both hazardous and inefficient. But, assuming a time when these problems have been resolved, those who argue in favour of reproductive cloning claim that the arguments against its use are based on 'gut reaction' and prejudice and that no compelling reasons have been presented to justify a ban. Claiming a right to 'procreative autonomy' (defined as "a right to control their own role in procreation unless the state has a compelling reason for denying them that control" (Dworkin R, Life's dominion,1993, as quoted in Harris J, 'Goodbye Dolly?' The ethics of human cloning, Journal of Medical Ethics, 1997, 23, pp. 353-360) it is argued that there is insufficient evidence of harm to justify interfering with an individual's freedom to choose. If the use of reproductive cloning were to violate the rights of others or threaten society there would be grounds for restricting procreative autonomy but, some argue, such evidence has not been forthcoming (Harris J,1997, Ibid)

Balancing benefit and harm

Comparing benefits and harms can often help to resolve such ethical dilemmas but, with reproductive cloning, both the benefits and harms are more theoretical than real. There may be psychological harms to the resulting children or problems of identity but we simply do not know; whether the risk of such harms is worth taking may depend upon what else is at stake. Where the use of reproductive cloning could save the life of another child, by providing a compatible organ or tissue for donation, the risk of harm would arguably need to be very high to deny the sick child the opportunity of a cure. It is not unusual for young children to be exposed to procedures which have known risks, including bone-marrow transplants, in order to save the life of a sick sibling. Where the benefit is less clear, such as where an individual simply wishes to have a child in his or her own image, the evidence of harms required to warrant obstructing this aim may be lower. It could be argued then, that motive is a critical factor in assessing the balance of risks and benefits of reproductive cloning but so too is the harm of exposing children to unknown and, therefore, unquantifiable risks.

Reproductive cloning by embryo splitting

Another type of reproductive cloning, which has been proposed, is the splitting of an in vitro embryo, at an early stage of development, to deliberately produce identical twins. It has been suggested that this technique could have benefits for those undergoing fertility treatment where only one embryo is available for transfer, by splitting the embryo into two thereby, theoretically, increasing the chance of a successful pregnancy. There are, however, very serious doubts, based on experience from animals, about whether this technique is ever likely to be a realistic option. Although the success rates for IVF are consistently higher when two embryos are replaced rather than one (See, for example, Human Fertilisation & Embryology Authority, Sixth Annual Report, 1997 p.14 and Human Fertilisation & Embryology Authority, Fifth Annual Report, 1996 p.33), this may be linked to the quality of the embryos rather than the number replaced. Arguably, splitting, even a good quality, embryo into two will not increase the chance of pregnancy because it will result in two poor quality embryos which are unlikely to implant. If these problems can be overcome and it proves possible to produce good quality embryos by embryo splitting, would there be strong arguments for prohibiting this form of reproductive cloning?

Unlike children born following cell nuclear replacement, those born following embryo splitting would be genetically identical, sharing both nuclear and mitochondrial DNA. They would also share the same womb-environment and be born into the same social, political and economic circumstances and, for these reasons, should be far more alike than 'delayed twins'. Many of the psychological harms predicted for children born following cell nuclear replacement, which are discussed above, would not arise with embryo splitting because although the children would share their genetic make-up with each other they would not share it with any other existing, or previously existing person. They are each, therefore, free to develop their own personality, in the same way as naturally occurring monozygotic twins, with no more than the usual parental expectations and pressures. The children would not have a confused genetic heritage - the woman who carried them would be their mother not their sister - and the parents' motive for having them would be no different from any other parents' motives for having children. Furthermore, if motive is important, the intention with embryo splitting is not to create genetically identical individuals but to increase the chance of a successful pregnancy.

The differences between children born following embryo splitting and naturally occurring monozygotic twins would be few. One obvious difference is the artificial nature of the twinning but this is arguably no more likely to be a problem than for other children born following IVF treatment where medicine mimics nature. The other difference is the potential for only one of the embryos to be replaced with the other stored for use in the future. If the stored embryo is replaced some time later, the result would be a 'delayed twin' with the potential for the same psychological harms predicted following cell nuclear replacement. Media reports have focussed on the possibility of one of the embryos being stored indefinitely as a 'perfect replacement' in case of the sibling's death or as a source of 'spare parts' in case of future illness. Although such a scenario is unlikely, it could be guarded against by, for example, restricting the use of embryo splitting to those women who need fertility treatment, for whom only one embryo is available, limiting the splitting of the embryo into two and requiring that both embryos are replaced in the same treatment cycle. For those countries which have a licensing or monitoring body for IVF, such restriction can be imposed on those providing the treatment services. Even in countries without regulation, many practitioners are, nonetheless, willing to follow established good practice guidelines and limit their practice accordingly. It is questionable whether those who would not adhere to restrictions on their practice would be any more likely to adhere to a complete prohibition on embryo splitting.

Reproductive cloning by embryo splitting, with appropriate regulation, does not raise the same problems predicted with cell nuclear replacement and may be considered less problematic from an ethical perspective. But, the potential benefits would apply to a very small number of people. Are the potential benefits sufficient to outweigh the harms, including the possible damage to public confidence, of crossing the currently accepted moral boundary, by permitting any form of reproductive cloning?
THE RAELIAN EFFORTS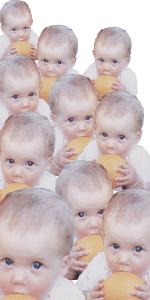 FROM; http://www.is.lk/times/010603/specrpt.html
Race for a double
A maverick cult leader and a team of top-notch scientists compete to clone the world's first human. What will be the consequences of their success?
The guru wants to play God. That was the chorus from critics when the 54-year-old sportswriter-turned-leader of the Raelians sect unveiled his plans for a genetic leap forward. They reacted with disdain when he set up Clonaid, the world's first company to clone a human, soon after the birth of Dolly, the world's first cloned sheep, in 1996. Things have changed since then and the disdain has been replaced by part-disbelief, part-dread.
More so after an American couple approached Clonaid last year with the preserved skin cells of their 10-month-old son who didn't survive heart surgery. Rael's scientists accepted the challenge, and the $500,000 that the couple offered for a cloned child. Boasting the best equipment, geneticists and fertility experts-and now loaded with cash-Rael is moving towards his goal.
Unless Dr. Panayiotis Zavos delivers first. The Cyprus-born, Kentucky-based doctor has teamed up with Italian fertility specialist Dr Severino Antinori in an international project to clone the first human. Zavos and Antinori, who grabbed headlines six years ago when he helped a 62-year-old Italian give birth, have the same objective as Rael: devising a new technique to help infertile couples have children.
The speed with which the cloners are making progress would have surprised Hans Spemann. Ninety-nine years ago, the German embryologist gingerly extended a sliver of hair from the head of his infant son to splice two cells of a salamander embryo. To his astonishment, the separated cells grew into two robust salamanders. Spemann's was one of the earliest attempts to prove that every living cell of an animal is loaded with the genetic map for the entire creature. It took another nine decades for Dolly to arrive, then Cumulina the cloned mouse, and Starbuck II the cloned prize bull. A few piglets and some calves followed. Suddenly, it appeared that Aldous Huxley's Brave New World was unfolding before our eyes.
The only missing characters from the cloning cast were humans. Now Rael, Zavos and Co. promise to people the New Age Noah's Ark. "Our project is making progress every day," Zavos told The Week. His international consortium will apply "the human therapeutic cloning technology only for reproductive purposes to help those who have exhausted every possible avenue in having their own biological child."
Five years ago such talk would have tickled the critics. After Dolly, the chuckles have been quieted by the refrain that someone is bound to clone a human sooner than later. With every breakthrough since Dolly, researchers have polished the craft of being copycats. So much so that the technology isn't any great shakes today. Everyone knows that cloning involves the creation of a genetic twin from a single cell-such as a skin cell-from an adult. The way Scottish scientist Dr Ian Wilmut went about cloning Dolly was pretty straightforward: the DNA-containing nucleus from the cell of an adult sheep was transferred to a donor egg whose nucleus had been removed. The two were fused with an electrical jolt, activating the growth of the embryo which was then transferred to a surrogate mother's womb to develop. Scientists believe that the process to clone a human will be more or less the same.
Sometimes cloning occurs without any electrical jolt-as in the case of twins-with only the parents receiving a jolt at the double whammy! "Initially there is one egg, but suddenly it bifurcates and they grow into two babies. It does happen naturally," says Hinduja. "Thus cloning a human is quite possible."
Not just possible, says Zavos, but it is "inevitable that human cloning will be done by someone." He argues that it will be better if the procedure is handled by a group like his which will "develop this technology in the most responsible way".
Maybe that's a dig at his competitor in Quebec, but the maverick cult leader nursing a new-born religion could just be ahead in the race. In February, Clonaid's scientific director Dr Brigitte Boisselier revealed her team had started work on human eggs and was practising the technique of enucleation or the removal of the nucleus. Next, they would practise the process of transferring the nucleus of a cell into the enucleated cell. If things went as expected, they would have begun work on the preserved cells of the dead child by early April. Add the gestation period and you know when to expect the results.
The only obstacle seems to be the large number of failed pregnancies during the cloning process. Dolly came after 277 attempts at fusing the donor egg in the womb of the surrogate ewe; Starbuck II was born after 68 tries. Indeed, the cloners will have to make hundreds of attempts to create an embryo and also to implant it successfully. And, most surrogate mothers with bulging bellies face the certainty of an abortion because of defects in the embryo or the placenta.
The numbers game will challenge the cloners, who know that the higher the availability of donor eggs and surrogate wombs, the greater their chances of success. On this score, the Raelians don't have a worry: 50 women followers volunteered to become surrogate mothers. The advantage of such large numbers is that even if one pregnancy is aborted, the experiment will continue through other surrogate mothers instead of having to wait for the woman's next cycle.
Rael promises'Eternal life for all'
Last year a couple paid $500,000 to your company to clone their child. What is the progress?
We are currently working on this project and hope to have a pregnancy real soon.
What are the chances of success in cloning a human?
Today the success rate of mammal cloning is reaching levels of 15 per cent. We know less about mammal reproduction than we do about human reproduction. Our knowledge on human reproduction, thanks to IVF, is such that we are very confident on the outcome of this research.
Your critics say that your project is unethical.
They are wrong. Ethical is only a word to hide superstitions and taboos.
Prof. Ian Wilmut says human cloning will be "absolutely criminal".
What is criminal is to deny the right to scientists to work on projects [like these], the right to individuals to choose the way they want to reproduce, the right for the future to be born.
Do you have the expertise to clone?
Our scientists are well-trained biologists and physicians.
Your critics say that your project is not legal.
It is perfectly legal to do these researches in the US. If it becomes illegal, we will ask the US Supreme Court whether they want to deny the right of reproduction choice to the hundreds of couples who have requested our services. I doubt they will. In any event, we will always respect the laws of the country in which we are located.
Will there be any development problems in a cloned child?
None. No more than in sexually-produced children.
There are fears that many of the surrogate mothers will suffer horrible miscarriages.
If an embryo is not viable there will be miscarriages in the few days following the implantation, just like in IVF.
The IVF success rate is in the range of 30 to 40 per cent meaning that 60 to 70 per cent of the implantations lead to miscarriages.
This is well documented. We do not know why these miscarriages [in cloning projects] would be more horrible than the other ones. The surrogate mothers know that they may have to face it.
How has life changed for you since you became Rael?
No more selfishness. I think only about the well-being of humanity, and I devote my life to helping mankind to reach higher levels, both spiritually and scientifically.
How do you see the world in the year 2020?
Cloning will be performed by hundreds every day as IVF is today. The media was talking about monsters and Frankenstein after the birth of Louise Brown, the first test-tube baby. Now 20,000 babies have been born using this technique. It is well accepted. It will be the same with cloning.
Nanotechnology will make work obsolete, as well as money. Nanorobots or nanobots will do all the work and production, and humans will be able to enjoy life. All diseases will be cured thanks to genetics, cloning and stem cells. Schools will disappear replaced by direct downloading of education in the brain, jails will disappear, and eternal life will be available for all.
Interview with Dr. Panayiotis Zavos, human cloning project leader
'A human can be cloned safely'
Do you believe that a human can be cloned? Or is it all a dream?
The project is on its way to being executed and therefore it is not just a dream. A human can be cloned and can be cloned safely. Please do not forget that the effort of our consortium is to apply the human therapeutic cloning technology for reproductive purposes only and to those who have exhausted every possible avenue in reproducing their own biological child.
What is the progress of your project?
It is well under way and we're making progress every day.
Experts have criticised your project, not only because of the ethical issues but because of the possibility that a cloned human will have serious malformations.
The so-called experts in the field of animal cloning have created a monstrous opinion about reproductive cloning. Since they have been unable to execute their efforts successfully, because of a variety of reasons, they believe that nobody else should attempt to apply this development in humans.
Most of the animal cloners have carried out their so-called experiments in a "hit and miss" configuration and are driven by fame and fortune. We are not driven by any of those qualities but rather by our desire to help our fellow men and women to have a better life.
Experts say that serious malformations have occurred in all species cloned so far, and they are sure it will happen in humans too. Are their fears justified?
With further experimentation our consortium will be able to develop the proper technology to bypass and overcome any of the so-called difficulties that the animal cloners are referring to. We do not live in a perfect world and therefore there will be mishaps and risks taken like any other technology that is currently available for use in humans. The consortium will not step on dead bodies and deformed babies to develop and apply this technology. Furthermore, we will not do this unless it is safe. This is the responsible way of going about it.
NEWS OF THE FIRST CLONED BABY:

HOLLYWOOD, Fla. (Dec. 27, 2002) - A chemist connected to a group that believes life on Earth was created by extraterrestrials claimed Friday to have produced the world's first human clone, a baby girl named Eve.

The 7-pound baby was born Thursday, said Brigitte Boisselier, head of Clonaid, the company that claimed success in the project. She wouldn't say where the baby was born.

Even before the announcement, other scientists expressed doubt that her group could clone a human.

Boisselier, who spoke at a news conference, said the baby is a clone of the 30-year-old American woman who donated the DNA for the cloning process, had the resulting embryo implanted and then gestated the baby. If confirmed, that would make the child an exact genetic duplicate of her mother.

''It is very important to remember that we are talking about a baby,'' she said. ''The baby is very healthy. She is fine, she doing fine. The parents are happy. I hope that you remember them when you talk about this baby, not like a monster, like some results of something that is disugusting.''

Boisselier did not immediately present DNA evidence showing a genetic match between mother and daughter, however. That omission leaves her claim scientifically unsupported.

The group expects four more babies to be born in the next few weeks, another from North America, one from Europe and two from Asia.

She said the baby will go home in three days, and an independent expert will take DNA samples from the baby to prove she had been cloned. Those test results are expected within a week after the testing.

Most scientists, already skeptical of Boisellier's ability to produce a human clone, will probably demand to know exactly how the DNA testing was done before they believe the announcement.

Clonaid was founded in the Bahamas in 1997 by Claude Vorilhon, a former French journalist and leader of a group called the Raelians. Vorilhon and his followers claim aliens visiting him in the 1970s revealed they had created all life on Earth through genetic engineering.

Cloning produces a new individual using only one person's DNA. The process is technically difficult but conceptually simple. Scientists remove the genetic material from an unfertilized egg, then introduce new DNA from a cell of the animal to be cloned. Under the proper conditions, the egg begins dividing into new cells according to the instructions in the introduced DNA.

Boisselier, who claims two chemistry degrees and previously was marketing director for a chemical company in France, identifies herself as a Raelian ''bishop'' and said Clonaid retains philosophical but not economic links to the Raelians. She is not a specialist in reproductive medicine.

Human cloning for reproductive purposes is banned in several countries. There is no specific law against it in the United States, but the Food and Drug Administration contends it must approve any human experiments in this country. Boisselier would not say where Clonaid has been carrying out its experiments. Bush administration officials said in Washington on Thursday they were aware of rumors of an announcement but had no plans to comment on the matter until after the details were known.

In Rome, fertility doctor Severino Antinori, who said weeks ago he had engineered a cloned baby boy who would be born in January, dismissed Clonaid's claims and said the group has no scientific credibility.

The news ''makes me laugh and at the same time disconcerts me, because it creates confusion between those who make serious scientific research'' and those who don't, Antinori said.

''We keep up our scientific work, without making announcements,'' he added. ''I don't take part in this ... race.''

So far scientists have succeeded in cloning sheep, mice, cows, pigs, goats and cats. Last year, scientists in Massachusetts produced cloned human embryos with the intention of using them as a source of stem cells, but the cloned embryos never grew bigger than six cells.

Many scientists oppose cloning to produce humans, saying it's too risky because of abnormalities seen in cloned animals.

AP-NY-12-27-02 0942EST

Copyright 2002 The Associated Press.