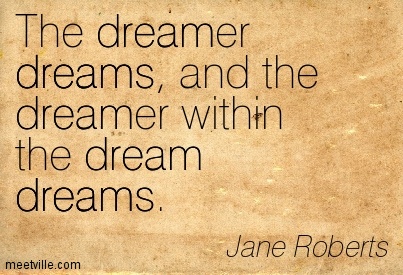 Dee Finney's blog
start date July 20, 2011
today's date June 28, 2014
page 704
TOPIC: JANE ROBERTS - SETH - DREAMS
6-28-14 - NAP DREAM - I received this book in the mail today: SETH: DREAMS AND PROJECTION OF CONSCIOUSNESS, BY JANE ROBERTS. I was watching the news on TV , looking for clues that might be about a previous prophetic dream that has already come true about an assassination coming, so when the mail come, I only looked at the inside of the book for any photos it might have. I saw a drawing of rings of consciousness, immediately got tired, so I marked the page with the front fly cover, fell asleep and had a dream about being with Jane Roberts and her husband Robert Butts. They were telling me about how they met SETH, which is in this book. Unfortunately, I don't remember consciously what they said.
I've always been a vivid dreamer- it runs in my family. My father told us his dreams a lot when I was a kid, many of them about his job, so we didn't write them down. I started journaling my dreams in 1981 when my metaphysical teacher told me to do so, and I'd write them down and he would analyze them for me. Through that process, I started making a dream dictionary for myself. That said, the dream dictionary keeps getting bigger because I tend to dream about things I know nothing about, so I constantly research those things, and that in turn increases my knowledge base. It's a great learning tool.
I keep my journal on line for others to read, and have met many friends that way who also dream. http://www.greatdreams.com/deepage.htm
videos
https://www.youtube.com/watch?v=AMRYkgBjCoA part 1
https://www.youtube.com/watch?v=ZRG-IR3aqec part 2
http://www.youtube.com/watch?v=7J9CyIOlMys part 3
Jane Roberts (May 8, 1929 – September 5, 1984) was an American author, poet, self-proclaimed psychic and spirit medium, who claimed to channel an energy personality who called himself "Seth". Her publication of the Seth texts, known as the "Seth Material", established her as one of the preeminent figures in the world of paranormal phenomena. The Yale University Library Manuscripts and Archives maintains a collection entitled Jane Roberts Papers (MS 1090), which documents the career and personal life of Jane Roberts, including journals, poetry, correspondence, audio and video recordings and other materials donated after her death by Roberts' husband and other individuals and organizations.
THERE ARE 1220 ARTICLES REFERENCING CONSCIOUNESS ON OUR WEB SITE
http://search.aol.com/aol/search?s_it=topsearchbox.search&v_t=client97_searchbox&q=site%3Agreatdreams.com+consciousness
THIS IS WHERE I POST WHAT I'M DOING AND THINKING
BLOG INDEX 2011
BLOG INDEX 2012 - page 1
JANUARY THRU APRIL 2012
MAY THRU AUGUST 2012
SEPTEMBER THRU DECEMBER
BLOG INDEX 2013
BLOG INDEX - PAGE 2 - 2013
BLOG INDEX - PAGE 3 - 2013
BLOG INDEX 2014
BLOG INDEX - PAGE 2 2014