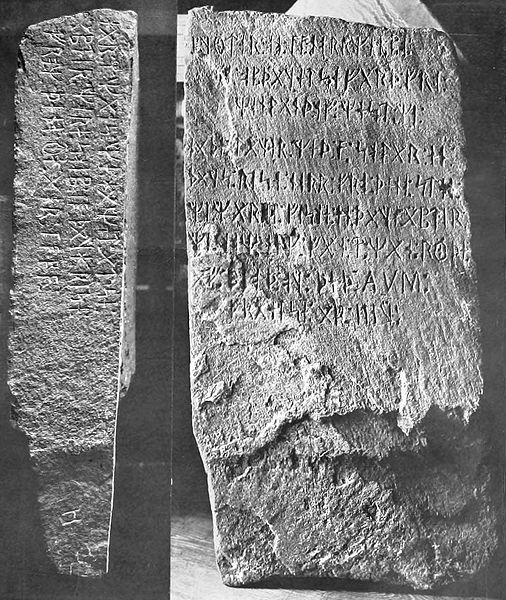 Dee Finney's blog
start date July 20, 2011
today's date November 24, 2013
page 598
TOPIC: THE HOOKED X
NOTE FROM DEE: LAST NIGHT, JOE AND I WATCHED A DOCUMENTARY ON THE KENSINGTON RUNE STONE THAT WAS STOLEN OUT OF A STATE PARK IN THE OCEAN ON THE EAST COAST. THE INTRIGUING PART OF THE DOCUMENTARY, OTHER THAN THE STEALING OF A 2,000 TON STONE OUT OF THE OCEAN WAS THE STORY OF THE STRANGE LETTER CARVED ON THE STONE (PICTURED ABOVE) WHICH IS THE 'HOOKED X'. NOBODY SEEMS TO KNOW WHAT THAT HOOK ON THE X IS, AND IT IS ON FIVE DIFFERENT RUNE STONES AROUND THE COUNTRY.
DURING THE NIGHT, I STARTED DREAMING ABOUT WORKING ON A WEB PAGE ON WHICH I WAS COPYING STRANGE FOREIGN LETTER WORDS FROM A LANGUAGE I DIDN'T KNOW AND PLACING THEM ON ANOTHER PAGE IN A DIFFERENT ORDER. I STARTED WAKING UP AND REALIZED THAT JOE WAS TALKING OUT LOUD IN HIS SLEEP, SEEMINGLY SAYING THE SAME WORDS I WAS WORKING ON IN MY DREAM.
JOE IS WELL KNOWN FOR TALKING IN HIS SLEEP IN A STRANGE LANGUAGE THAT NO ONE CAN UNDERSTAND. HIS OWN KIDS HEARD HIM DOING THIS SO ITS BEEN GOING ON FOR A LONG TIME. WE HAVE EVEN TRIED TAPING HIM DURING THE NIGHT AND FOR SOME REASON WHEN THE TAPE IS RUNNING, HE DOESN'T DO IT, ONLY WHEN THE TAPE IS NOT RUNNING.
I HAVE TRIED WAKING HIM UP WHEN HE IS DOING THIS, AND HIS DREAMS NEVER HAVE ANYTHING TO DO WITH WHAT HE IS SPEAKING. THE LANGUAGE IS COMING FROM A DIFFERENT PART OF CONSCIOUSNESS THAN THE DREAM STATE.
LAST NIGHT WAS ANOTHER EXAMPLE OF THIS. IS HE REALLY SPEAKING THIS PARTICULAR LANGUAGE THAT IS SAID TO BE VIKING?
Name
Kensington Runestone
Country
United States
Region
Minnesota
City/Village
Originally

Kensington

currently located at

Alexandria, Minnesota
Produced
contested
Runemaster
contested

---

Text - Native

direct transliteration[1]
8 : göter : ok : 22 : norrmen : po :
...o : opþagelsefärd : fro :
vinland : of : vest : vi :
hade : läger : ved : 2 : skLär : en :
dags : rise : norr : fro : þeno : sten :
vi : var : ok : fiske : en : dagh : äptir :
vi : kom : hem : fan : 10 : man : röde :
af : blod : og : ded : AVM :
frälse : äf : illü.
här : (10) : mans : ve : havet : at : se :
äptir : vore : skip : 14 : dagh : rise :


from : þeno : öh : ahr : 1362 :
Text - English

(word-for-word):[1]
Eight Götalanders and 22 Northmen on (this?) acquisition journey from Vinland far to the west. We had a camp by two (shelters?) one day's journey north from this stone. We were fishing one day. After we came home, found 10 men red from blood and dead. Ave Maria save from evil.

(side of stone) There are 10 men by the inland sea to look after our ships fourteen days journey from this peninsula (or island). Year 1362
Other resources
Runestones

-

Runic alphabet
Runology

-

Runestone styles
The Hooked X was found:


On the Kensington Runestone


On the Spirit Pond Runestone (the Mapstone)


On the Narragansett, Rhode Island inscription stone


On an ancient Astrolabe held at Oxford University dated 1350-1400 AD.


On the sigla of Christopher Columbus


At the Rosslyn Chapel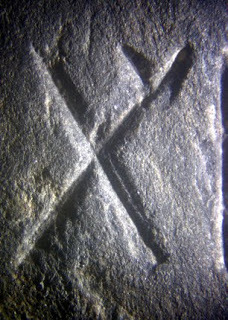 The Kensington Runestone is a 200-pound slab of greywacke covered in runes on its face and side, created in modern times to claim that Scandinavian explorers reached the middle of North America in the 14th century. It was found in 1898 in the largely rural township of Solem, Douglas County,Minnesota, and named after the nearest settlement, Kensington. Almost all Runologists and experts in Scandinavian linguistics consider the runestone to be a hoax.[2][3] The runestone has been analyzed and dismissed repeatedly without altering local opinion of the Runestone's legitimacy.[4][5][6][7][8] The community of Kensington is solidly behind the runestone, which has transcended its asserted cultural importance to the Scandinavian community and has "taken on a life of its own"
Swedish immigrant[11] Olof Olsson Ohman asserted that he found the stone late in 1898 while clearing his land of trees and stumps before plowing, having recently taken over an 80-acre (320,000 m2) parcel of public domain land that had for years been left unallocated as "Internal Improvement Land".[12][13]The stone was said to be near the crest of a small knoll rising above the wetlands, lying face down and tangled in the root system of a stunted poplar tree, estimated to be from less than 10 to about 40 years old.[14] The artifact is about 30 × 16 × 6 inches (76 × 41 × 15 cm) in size and weighs about 200 pounds (90 kg). Ohman's ten-year-old son, Edward Ohman, noticed some markings[15] and the farmer later said he thought they had found an "Indian almanac."
Unfortunately for provenance purposes, the only witnesses cited for the finding were family members, although people who later saw the cut roots said that some were flattened, consistent with having held a stone. Also, there are many different versions describing when the stone was found (August or November, right after lunch or near the end of work for the evening), who discovered the stone (Olof Ohman and Edward Ohman; Olof Ohman, Edward Ohman and two workmen; Olof Ohman, Edward Ohman, and his neighbor Nils Flaten), when the stone was taken to the nearby town of Kensington, and who made the first transcriptions that were sent to a regional Scandinavian-language newspaper. Soon after it was found, the stone was displayed at a local bank. There is no evidence Ohman tried to make money from his find.
It can be claimed that at the period when Ohman discovered the stone, the journey of Leif Ericson toVinland (North America) was being widely discussed and there was renewed interest in the Vikingsthroughout Scandinavia, stirred by the National Romanticism movement. Five years earlier Norway had participated in the World's Columbian Exposition by sending the Viking, a replica of the Gokstad shipto Chicago. There was also friction between Sweden and Norway (which ultimately led to Norway's independence from Sweden in 1905). Some Norwegians claimed the stone was a Swedish hoax and there were similar Swedish accusations because the stone references a joint expedition of Norwegians and Swedes at a time when they were both ruled by the same king, after the Union of Kalmar. It is thought to be more than coincidental that the stone was found among Scandinavian newcomers in Minnesota, still struggling for acceptance, and quite naturally proud of their Nordic heritage.[16]
An error-ridden copy of the inscription made its way to the University of Minnesota. Olaus J. Breda (1853–1916), Professor of Scandinavian Languages and Literature in the Scandinavian Department made a translation, declared the stone to be a forgery and published a discrediting article which appeared in Symra during 1910. Breda also forwarded copies of his translation to fellow linguists in Scandinavia. The Norwegian archeologist Oluf Rygh also concluded the stone was a fraud, as did several other noted linguists.[17]
The stone was then sent to Northwestern University in Evanston, Illinois. Scholars either dismissed it as a prank or felt unable to identify a sustainable historical context, and the stone was returned to Ohman, who is said to have placed it face down near the door of his granary as a "stepping stone" which he also used for straightening out nails. Years later, his son said this was an "untruth" and that they had it set up in an adjacent shed, but he appears to have been referring only to the way the stone was treated before it started to attract interest at the end of 1898.
In 1907 the stone was purchased, reportedly for ten dollars, by Hjalmar Holand, a former graduate student at the University of Wisconsin–Madison. Holand renewed public interest with an article[18] enthusiastically summarizing studies that were made by geologist Newton Horace Winchell(Minnesota Historical Society) and linguist George T. Flom (Philological Society of the University of Illinois), who both published opinions in 1910.[19]
According to Winchell, the tree under which the stone was allegedly found had been destroyed before 1910, but several nearby poplars that witnesses estimated as being about the same size were cut down, and by counting their rings it was determined they were around 30–40 years old, and one member of the team which had excavated at the find site in 1899, county schools superintendent Cleve Van Dyke, later recalled the trees being only ten or twelve years old.[20] The surrounding county had not been settled until 1858, and settlement was severely restricted for a time by the Dakota War of 1862 (although it was reported that the best land in the township adjacent to Solem, Holmes City, was already taken by 1867, by a mixture of Swedish, Norwegian and "Yankee" settlers.[21])
Winchell also concluded that the weathering of the stone indicated the inscription was roughly 500 years old. Meanwhile, Flom found a strong apparent divergence between the runes used in the Kensington inscription and those in use during the 14th century. Similarly, the language of the inscription was modern compared to the Nordic languages of the 14th century.[19] The Kensington Runestone is currently on display at the Runestone Museum inAlexandria, Minnesota.[22]
In 1577, cartographer Gerardus Mercator wrote a letter containing the only detailed description of the contents of a geographical text about the Arctic region of the Atlantic, possibly written over two centuries earlier by one Jacob Cnoyen. Cnoyen had learned that in 1364, eight men had returned to Norway from the Arctic islands, one of whom, a priest, provided the King of Norway with a great deal of geographical information.[23]
Books by scholars such as Carl Christian Rafn early in the 19th century revealed hints of reality behind this tale. A priest named Ivar Bardarsson, who had previously been based in Greenland, did turn up in Norwegian records from 1364 onward and copies of his geographical description of Greenland still survive.
Furthermore, in 1354, KingMagnus Eriksson of Sweden and Norway had issued a letter appointing a law officer named Paul Knutsson as leader of an expedition to the colony of Greenland, to investigate reports that the population was turning away from Christian culture.[24] Another of the documents reprinted by the 19th century scholars was a scholarly attempt by Icelandic Bishop Gisli Oddsson, in 1637, to compile a history of the Arctic colonies. He dated the Greenlanders' fall away from Christianity to 1342, and claimed that they had turned instead to America. Supporters of a 14th-century origin for the Kensington runestone argue that Knutson may therefore have travelled beyond Greenland to North America, in search of renegade Greenlanders, most of his expedition being killed in Minnesota and leaving just the eight voyagers to return to Norway.[25]
However, there is no evidence that the Knutson expedition ever set sail (the government of Norway went through considerable turmoil in 1355) and the information from Cnoyen as relayed by Mercator states specifically that the eight men who came to Norway in 1364 were not survivors of a recent expedition, but descended from the colonists who had settled the distant lands, generations earlier.[23] Also, those early 19th century books, which aroused a great deal of interest among Scandinavian Americans would have been available to a late 19th-century hoaxer.
Hjalmar Holand had proposed that interbreeding with Norse survivors might explain the "blond" Indians among the Mandan on the Upper Missouri River,[26] but in a multidisciplinary study of the stone, anthropologist Alice Beck Kehoe dismissed, as "tangential" to the Runestone issue, this and other historical references suggesting pre-Columbian contacts with 'outsiders', such as the Hochunk (Winnebago) story about an ancestral hero "Red Horn" and his encounter with "red-haired giants".[27]
A natural north-south navigation route—admittedly with a number of portages round dangerous rapids—extends from Hudson Bay up Nelson River (or the Hayes River, as preferred by early modern traders from York Factory[28][29]) through Lake Winnipeg, then up the Red River of the North. The northern waterway begins at Traverse Gap, on the other side of which is the source of the Minnesota River, flowing to join the great Mississippi River at Saint Paul/Minneapolis. One of the early Runestone debunkers, George Flom, found that explorers and traders had come from Hudson Bay to Minnesota by this route decades before the area was officially settled.[30] Supporters of the stone's authenticity argued that the 1362 party could have used the same waterway.[31] This idea is based on Scandinavian voyagers sailing the rivers from the Baltic sea down to Istanbul during the Viking age, but this ignores that different ship types were used to cross oceans and to sail on rivers. The boats that are small enough for portage are not suitable for open sea voyages.[32]
This waterway also contains alleged signs of Viking presence. At Cormorant Lake in Becker County, Minnesota, there are three boulders with triangular holes which are claimed to be similar to those used for mooring boats along the coast of Norway during the 14th century. Holand found other triangular holes in rocks near where the stone was found; however, experimental archaeology later suggested that holes dug in stone with chisels rather than drills tend to have a triangular cross-section, whatever their purpose.[33] A little further north, by the Red River itself, at Climax, Minnesota, afiresteel found in 1871, buried quite deep in soft ground, matched specimens of medieval Norse firesteels at the Oslo University museum in Norway.[34]
There has also been considerable discussion of what has recently been named the Vérendrye Runestone, a small plaque allegedly found by one of the earliest expeditions along what later became the U.S./Canada border, in the 1730s. "Allegedly", because it is not referred to in the journal of the expedition, or indeed any first-hand source; only in a summary of a conversation about the expedition a decade after it took place.[35]
No non-Native American artifacts dating from before 1492 have been recovered under controlled, professionally conducted archaeological investigations at any great distance from the east coast of the continent; and with current techniques, the dating of any holes cut into rocks in the region is as uncertain as the dating of the Kensington stone itself.
This is a transliteration of the stone:[1]
"

8 : göter : ok : 22 : norrmen : po :
...o : opþagelsefärd : fro :
vinland : of : vest : vi :
hade : läger : ved : 2 : skLär : en :
dags : rise : norr : fro : þeno : sten :
vi : var : ok : fiske : en : dagh : äptir :
vi : kom : hem : fan : 10 : man : röde :
af : blod : og : ded : AVM :
frälse : äf : illü.

"
The lateral (or side) text reads:[1]
"

här : (10) : mans : ve : havet : at : se :
äptir : vore : skip : 14 : dagh : rise :
from : þeno : öh : ahr : 1362 :

"
Translation:[1]
Eight Götalanders and 22 Northmen on (this?) acquisition journey from Vinland far to the west. We had a camp by two (shelters?) one day's journey north from this stone. We were fishing one day. After we came home, found 10 men red from blood and dead. Ave Mariasave from evil. There are 10 men by the inland sea to look after our ships fourteen days journey from this peninsula (or island). Year 1362
When the original text is transcribed to the Latin script, the message becomes quite easy to read for any modern Scandinavian. This fact is one of the main arguments against the authenticity of the stone. The language of the inscription bears much closer resemblance to 19th-century than 14th-century Swedish.[4]
The AVM is historically consistent since any Scandinavian explorers would have been Catholic at that time.
Holand took the stone to Europe and, while newspapers in Minnesota carried articles hotly debating its authenticity, the stone was quickly dismissed by Swedish linguists.
For the next 40 years, Holand struggled to sway public and scholarly opinion about the Runestone, writing articles and several books. He achieved brief success in 1949, when the stone was put on display at the Smithsonian Institution, and scholars such as William Thalbitzer and S. N. Hagen published papers supporting its authenticity.[36] However, at nearly the same time, Scandinavian linguists Sven Jansson, Erik Moltke, Harry Anderson and K. M. Nielsen, along with a popular book by Erik Wahlgren again questioned the Runestone's authenticity.[4]
Along with Wahlgren, historian Theodore C. Blegen flatly asserted[5] Ohman had carved the artifact as a prank, possibly with help from others in the Kensington area. Further resolution seemed to come with the 1976 published transcript[6] of an interview of Frank Walter Gran conducted by Dr. Paul Carson, Jr. on August 13, 1967 that had been recorded to audio tape.[37][38] In it, Gran said his father John confessed in 1927 that Ohman made the inscription. John Gran's story however was based on second-hand anecdotes he had heard about Ohman, and although it was presented as a dying declaration, Gran lived for several years afterwards saying nothing more about the stone. In 2005 supporters of the runestone's authenticity attempted to explain this with claims that Gran was motivated by jealousy over the attention Ohman had received.
The possibility of a Scandinavian provenance for the Runestone was renewed in 1982 when Robert Hall, an emeritus Professor of Italian Language and Literature at Cornell University published a book (and a follow up in 1994) questioning the methodology of its critics. He asserted that the odd philological problems in the Runestone could be the result of normal dialectal variances in Old Swedish during the purported carving of the Runestone. Further, he contended that critics had failed to consider the physical evidence, which he found leaning heavily in favour of authenticity. Meanwhile inThe Vikings and America (1986) former UCLA professor Erik Wahlgren wrote that the text bore linguistic abnormalities and spellings that he thought suggested the Runestone was a forgery.[8]
As an example of how linguistic research affects the discussion of this text, no evidence has been found of the Swedish term opthagelse farth (journey of discovery), or updagelsefard as it often appears, in Old Swedish, Danish or Norwegian, nor in Middle Dutch or Middle Low German during the 14th or 15th centuries.[39]
In the contemporary and modern Scandinavian languages the term is called opdagelsesrejse in Danish, oppdagingsferd or oppdagelsesferd in Norwegian and upptäcktsfärd in Swedish. It is considered a fact that the modern word is a loan-translation from Low German *updagen, Dutch opdagenand German aufdecken, which are in turn loan-translations of French découvrir.
In a conversation with Holand in 1911, the lexicographer of the Old Swedish Dictionary (Soderwall) noted that his work was limited mostly to surviving legal documents written in formal and stilted language and that the root word opdage must have been a borrowed Germanic term (i.e. from Low German, Dutch or High German). Also, the -else ending characterizes a class of words that the Scandinavians borrowed from their southern neighbors.
However, before the Scandinavians could have borrowed the term from the West Germanic languages, West Germanic language speakers had to have first borrowed it from the French language, which did not happen before the 16th century. Linguists who, due to this and similar facts, reject the Medieval origin of the Kensington inscription, consider this word to be a neologism and have noted that, in a Norwegian newspaper circulated in Minnesota, the late 19th-century Norwegian historian Gustav Storm often used this term in articles on Viking exploration.
Nielsen suggests that the Þ (transliterated above as th or d) could also be a t sound, which would mean the word could be the 14th century expressionuptagelsefart (acquisition expedition). However, in the rest of the text, the Thorn rune regularly corresponds to modern Scandinavian d-sounds and only occasionally to historical th-sounds, while the T-rune is used for all other t-sounds.
Another characteristic pointed out by skeptics is the text's lack of cases. Old Norse had the four cases of modern German. They had disappeared from common speech by the 16th century but were still predominant in the 14th century (see Swedish language). Also, the text does not use the plural verb forms that were common in the 14th century and have only recently disappeared: for example, (plural forms in parenthesis) "wi war" (wörum), "hathe" (höfuðum), "[wi] fiske" (fiskaðum), "kom" (komum), "fann" (funnum) and "wi hathe" (hafdum). Proponents of the stone's authenticity point to sporadic examples of these simpler forms in some 14th-century texts and to the great changes of the morphological system of the Scandinavian languages that began during the latter part of that century.[40]
The inscription also contains "pentadic" numerals. Such numerals are known in Scandinavia, but nearly always from relatively recent times, not from verified medieval runic monuments, on which numbers were usually spelled out as words. For example, to write EINN (one) the runes E-I-N were used (writing customs avoided having the same rune twice in a row for identical sounds) and indeed the word EN (one) is in the Kensington inscription. Writing all the numbers out (such as thirteen hundred and sixty-two) would not have easily fit the surface space, so the stone's author (whether a forger or 14th-century explorer) simplified things by using pentadic runes as numerals in the Indo-Arabic positional numbering system. This system had been described in an early 14th-century Icelandic book called Hauksbók, known to have been taken to Norway by its compiler Haukr Erlendsson. However, the few pages of Hauksbók, called Algorismus, that describe the Indo-Arabic numerals and how to use them in calculations, are believed not to have been widely known at the time, and that the Indo-Arabic number system did not become widespread in Scandinavia until centuries later.
It must be admitted, however, that these points are "arguing from silence", and that 14th century Scandinavia was hardly isolated from current European thought and movements of the period.
In 2004, Keith Massey and Kevin Massey published their theory that the Latin letters on the Kensington Stone, AVM, contain evidence authenticating a medieval date for the artifact.[41] The Kensington Stone critic Erik Wahlgren had noticed that the carver had incised a notch on the upper right hand corner of the letter V.[4] The Massey Twins note that a mark in that position is consistent with an abbreviation technique used in the 14th century. To render the word "Ave" in that period, the final vowel would have been written as a superscript. Eventually, the superscript vowel was replaced by a mere superscript dot. The existence of a notch where Wahlgren notes, then, shows that the carver was familiar with 14th century abbreviation techniques. The Massey Twins, however, point out that knowledge of these conventions was not available to the purported forger in late 19th century Minnesota, as books documenting these techniques were being printed in Italian academic circles only a few years after Ohman discovered the stone.[citation needed]It is possible, however, that Ohman or someone else had observed such a device on a medieval artefact before moving to the United States.
The Kensington inscription consists of 29 different runic characters. Of these, 18 belong to the normal futhark series, q.e. a, b, d(/th), e, f, g, h, i, k, l, m, n, o, p, r, s, t, and v. Then there are three special umlauted runes, that are marked by two dots above them. These represent the letters ü, ä and ö. There is also one appearance of the Arlaug rune which usually represents the number 17. This does not work on the Kensington Stone, so therefore it's sometimes interpreted as a bind rune of e and l. Finally, there are seven others that represent the numbers 1, 2, 3, 4, 6, 8, and 10. These results are obtained by counting how many times each rune recurs on the stone. Since the included photographs of the stone are quite sharp, the reader can easily verify this. Furthermore, it is also quite easy to see what Latin letter each rune represents, since most of the words are readily recognized as modern Swedish words. The result of such analysis also agrees nicely with the runic alphabets recorded by Edward Larsson in 1885.
Many runes in the inscription deviate from known medieval runes, but in 2004 it was discovered that these appear along with pentadic runes in the 1883 notes of a 16-year-old journeyman tailor with an interest in folk music, Edward Larsson.[42] A copy was published by the Institute for Dialectology, Onomastics and Folklore Research in Umeå, Sweden and while an accompanying article suggested the runes were a secret cipher used by the tailors' guild, no usage of futharks by any 19th-century guild has been documented. However, given that the Larsson notes are the only firm evidence for 19th century knowledge of these futharks, it does appear that a secret has been kept with considerable success. The notes also include the Pigpen cipher, devised by the Freemasons, and it may not be coincidental that the abbreviation AVM seen in Latin letters on the Kensington stone also appears (for AUM) on many Masonic gravestones; Wolter and Nielsen in their 2005 book even suggested a connection with the Knights Templar.
Larsson's notes disprove the early theory that the unusual runes on the Kensington Runestone were invented on the spot by the supposed 1890s hoaxer; but without a source for Larsson's rune rows (for example an ancient book, or records from the hypothetical Masonic-type organisation), it is not possible to give their origin any particular date range closer than "before 1883." However, his second rune row includes runes for the letters Å, Ä and Ö, which were introduced into the Swedish version of the Latin alphabet in the 16th century.[43] Although Nielsen has demonstrated that double-dotted runes were used in medieval inscriptions to indicate lengthened vowels[citation needed], the presence of other letters from the second Larsson rune row on the Kensington stone can be interpreted as suggesting that the post-16th century versions were intended in this case.
In December 2012, a Norwegian TV documentary revealed that Larsson's aunt had migrated with her husband and son from Sweden to Crooked Lake, just outside Alexandria, in 1870.[44]
Before Edward Larsson's sheet of runic alphabets surfaced in Sweden in 2004, when the stone was exhibited there, it seemed as if the Kensington runes were gathered from many different futharks, or in a few cases invented by the carver. Larsson's sheet lists two different Futharks. The first Futhark consists of 22 runes, the last two of which are bind-runes, representing the letter-combinations EL and MW. His second Futhark consists of 27 runes, where the last 3 are specially adapted to represent the letters å, ä, and ö of the modern Swedish alphabet.[42]
Comparing the Kensington Futhark with Larsson's two it appears to some that the Kensington runes can be interpreted as a selective combination of Larsson's two Futharks, with some very minor variations such as mirror-imaging. On the stone the runes representing e, g, n, and i can be argued to have been taken from Larsson's first Futhark, and likewise the runes representing the letters a, b, k, u, v, ä, and ö from Larsson's second Futhark.
However, the use of runes in the medieval period is far from systematic or coherent: in defence of the possibility of the genuineness of the stone, S.N. Hagen had earlier written: "The Kensington alphabet is a synthesis of older unsimplified runes, later dotted runes, and a number of Latin letters ... The runes for a, n, s and t are the old Danish unsimplified forms which should have been out of use for a long time [by the 14th century]...I suggest that [a posited 14th century] creator must at some time or other in his life have been familiar with an inscription (or inscriptions) composed at a time when these unsimplified forms were still in use" and that he "was not a professional runic scribe before he left his homeland".[45]
HOOKED ON THE "X"

Can you Say "Freemason"?

A Free Lecture SPONSORED by GIANTS OF THE EARTH HERITAGE CENTER AND SONS OF NORWAY VALHEIM LODGE 1-364 conducted by Scott F. Wolter. PLEASE READ THE BEGINNING OF THIS PDF.
http://www.springgrovemnheritagecenter.org/wp-content/uploads/2010/03/ScottWolterHookedX42710abw.pdf
Those who research the Freemason see all the signs here;

"Key to the Secret History of North America"

Giants

Sons of Norway-
http://www.digitaltrends.com/international/lost-atlantis-like-world-discovered-under-north-atlantic-ocean/
This website reveals an ancient underwater landscape more than a mile beneath the surface of the North Atlantic Ocean. This newly discovered landscape is located west of the Shetland Islands, northern of Scotland and Norway. Could this possibly be Atlantis?

Valheim

Lodge

It's no surprise to some that GIANTS lived among us and their origins were from the Fallen Angels mating with human women which produced the Nephilim Giants. Others may be surprised to know that the Fallen Angels were the mythological Olympians. Their descendants migrated after the collapse of Atlantis.

The Norse mythology loved using Runestones to convey their legends. Scandinavia and Vikings go hand in hand. These cultures and their plight of their gods spoke of giants using witchcraft and other pagan traditions which has been spread down through the millenniums. Their stories of the Great Deluge parallel the Bible and are identical except for who GOD is.

These cultures were taught to converse in secrecy and through secret lodges and meetings. Hence the modern Freemason Lodges around the world.

Scott F. Wolter, a geologist who has an 'honorary masters degree,' recently came forward with his own series, "America Unearthed" is the speaker of this lecture noted above.

Wolter's work is much the same, where Norse contact with North America is being repackaged in terms of Masons and Templars. Dan Brown started that with his book DaVinci Code, the themes for which he admits to receiving from David Hatcher Childress, who in turn plagiarized them from the earlier authors of Holy Blood, Holy Grail; but their work gave some hint of Hitler's deep ties with the Theosophist cult the Thule Society.

Lastly, although Scott F. Wolter would love to take credit for the discovery of the "Hooked X", it is impossible for him to do so. From what I can gather a brilliant cryptographer by the name of Margaret Leuthner spent 40 years of her life, to her dying day, working on the Kensington Runestone.
This year being the 700th anniversary of the Templar's downfall, so it would seem this is as good a time as any to look at these mysterious events. But, did they disappear, I mean really disappear?

The papal authority in 1307 saw fit to torture Jacques de Molay into confessing heresy and blasphemy. Some even capture this 'unlucky' event as a parallel of sorts to Judas being the 13th disciple and Christ being arrested on a Friday. But even this is a lie, because Christ's arrest did not take place on a Friday. But all in all, this would be setting up parallels with the Templar's last leader as the 'second messiah'. Now that's blasphemy. But it doesn't stop there. The argument made that his torture consisted of being crucified to mock the fact that he said his Order could 'absolve sins'. And if that's not enough, there will be conferences in Britain and America which will investigate the aspect of the "English Templar Trials".

Of course, the idea that this Order died with Jacques de Molay when he was executed after a 7-year captivity period in 1314 could be left up to discussion here but I am interested in other aspects.

The Templar's did not officially use the "Maltese Cross" motif but eventually the Knights Hospitaller, alias Knights of Malta, did use the Maltese Cross. The tips of the four arms stretch out to form a near-circle and it seems more like an adaptation into a circular Celtic-cross design of the cross pattee adopted by the Templar's at one time which can be seen with the rounded outer edged, 'in the shape of arcs of an enclosing circle'.

Another group which fits into this scenario is none other than the Priory due to their similar motifs and doctrines. Seems that all these 'Serving Brothers' had similar characteristics and lead equally mysterious lives.
CISTERCIANS & THE KNIGHTS OF TEMPLAR

The Knights Templar were known for their warrior-like monks. But, what is commonly not known is this is where the split happened! While working as one clan the split began to take place because of religious doctrines. You see, the Cistercians were a religious order of the Roman Catholics, also called, The Bernardines, or the White Monks. While the origins of the Knights Templar were very honorable, the opposite is true now.
CATHOLIC CHURCH VS. KNIGHTS TEMPLAR

The Knights Templar were very angry at the Roman Catholic Church. Their very lives were being extinguished because of this entity. So, they made a solemn vow to infiltrate the church at all costs. It has become an internal war.

This mad war is going on still! So we have a split which took place. A WAR of the MINDS if you will. A battle of the souls. I believe this battle still rages, not only in the Roman Catholic Church but around the world. The Roman Catholic Church (RCC) is known for the presence of the Knights Templar then but this group is now called the JESUITS. They RULE the ROOST with an IRON FIST. So, you see they have the last laugh….they THINK! But, GOD is in control.
THE NEW WORLD OF COLUMBUS

The RCC held accused the Templars of spitting on the Cross, of denying Christ, of permitting sodomy, of worshiping an idol, and more. So, they escaped with their lives, and fled to America where a new secret society emerged by the name of Free Masons. Columbus was not the founder of America, and if you check your textbooks, you will see that his ships carried the bright red cross which was/is the Templar/Freemason symbol. Columbus was not only a secret member of the Knights Templar, but he was a Free Mason. Columbus signed his name with a hooked X.
It is traditional to believe that this item is the cup or chalice Christ used at the last supper. Grail is an Anglicized form of the Old French graal or greal meaning a dish, which came through the Latin gradalis from the Greek krater meaning a cup or bowl.
But there are others who believe this is a bloodline, and this is just ridiculous. The veiled agenda here is to cause speculation. This is enough to cause doubt. This is Satan's main objective in this world, to cause us to question GOD. Consistency is key in Satan's work.

Medieval romance would have you believe this could also deal with "Authurian" legends but this again is to confuse. Cups with magical properties, and otherworld 'vessels' are just another misnomer.

Another form of directing the attention elsewhere is to consider it to be 'knowledge'. To know the secrets is to suggest there is more to the story than what is implied. Again another tactic to divert the believer.
Connecting the grail to an elaborate theory linked to the theft of the Lance of Longinus involves occultism and evil powers which involves the Nazi hierarchy. Was this connected to Transhumanism? The Transhumanism agenda began in the days of Hitler, probably even before. Bringing forth a super-human race and still is.

The Bloodline of Christ is the final straw. The Sang Real (Royal Blood) belief is to support the theory of Jesus and Mary Magdalene as husband and wife. This is a modern version of a legend which details Jacobus de Voragine's 'The Golden Legend', who also linked it to the king Dagobert I, the Great and the Merovingians, the first Frankish dynasty reigning from 500-750 AD. This theory suggests that the Merovingians, through Dagobert, were descendants of Christ and Mary Magdalene, and that certain families today are the heirs of Dagobert. There are secret societies which have supposedly guarded these secrets and these bloodlines down through the ages to the present day.
This very well organized plot to attack the Divinity of Christ, has been attempted by Satan on various occasions. This is not the first, oh no! But, I assure you this is the saga which has fixed itself into this culture by way of the fallen angels. Mass public perception is the key to their directive.

I believe this will be the avenue by which the elite will bring forth the anti-christ. I believe him to be a hybrid of the Merovingian bloodline, who will come forth and claim to be of the Davidic bloodline.
Scripted X for Christ and Christi
A clue to the supposed meaning of the hooked X is found in some Old Danish manuscripts where the abbreviation to Christi is an "I" superscripted over the X for Christ.
The "i" superscript over X means Christi (belonging to Christ) in Latin. But the issue at hand is not just belonging to Jesus Christ but of His bloodline. This is their motive for such work.
TEMPLAR TOWERS & MORE

It is said that the last head of the English Order died in the Tower of London, and some say his survival supports the Roselyn as a Templar chapel and buried in an usual tomb, but nevertheless, let's look at some rather interesting landmarks attached to these strange occurrences.

NEWPORT TOWER. Newport Tower near Narragansett Bay, Rhode Island. In 1524 de Verrazano mapped it. Oaves ascribe it to 1600s, and say it is a windmill. Stands on 8 columns with arches. Great resemblance to Templar towers in England and Bornholm. All round, ambulatory, i.e., covered walkway. Astronomical alignments to Venus, Equinox, etc. Has a keystone illumination at Winter Solstice of an egg-shaped keystone. Cistercian and Templar religious ideology of sacred feminine, female goddess. With another keystone, plotted a line across US into Midwest, extends directly to Kensington Stone 1500 miles away.

[link]
*NOTE: At 5:20 on this video, he speaks of a land claim and it being 'the date' which confirms time frames. And then says, "WE WERE HERE FIRST". He was speaking of FREEMASONS. Does this imply he is a Freemason? I Think so.

Some of the runes are not old Swedish like the rest. There are also punch marks and short strokes. These special letters can be taken out and used to read as a separate code, which says 'Grail.' Dotted 'R's, which appear, are found in Sweden, but were not known until 1938. The hooked 'X' was found in the Larson Papers. Allegedly written in 1883 and 1885, they are supposed to be a Masonic. The hooked 'X' and 7 other symbols appear in both the Kensington Stone and Larsson Papers. Cistercian churches on Gotland have grave slabs with the rare dotted 'R,' and double dated, like the Kensington Stone. They used a medieval chart called the Easter Table to encode a hidden date.

Prince Henry Sinclair left on a voyage in 1398. Thought to be to hide Holy Grail. They mapped Iceland and Greenland, and heard about lands further west. Established rapport with Micmac Indians. Their oral history calls him ? Gluscop, which has exploits that match records. 17 similarities were outlined, additionally, the national Micmac flag is exactly the same as a Sinclair flag used on his ships. White cross on red field, with a star and quarter moon in the small fields. The Micmac say he built an island, called Oak Island. The hardwood species was not indigenous. He planted them to distinguish the island from the 300 other islands.

The Kensington Stone is now thought to be a land claim. A Cistercian monk, accompanying a party of Templars, likely carved it. A new translation calls it a journey of acquisition.

Knights Templar Tower-1298 AD Askeaton-County Limerick Ireland.
[link]
Mysterious Foliage Circle inside the door with a chain running up the wall to a bell. Outside is a mound/crypt/pyramid with various graves.
Remnant of a Knights Templar Tower tusked in a courtyard on the Marias. The worn Latin inscription on the stone floor of the Conservatoire d'Arts et Metiers.
A leftover air raid shelter exit for the German army under a hotel in the Marais.
In the Old World, the octagon within a circle was a Templar device carried from churches in Jerusalem and Damascus, to Italy, France, Portugal, England, Ireland, the Orkney Islands and even to Bornholm, a tiny island in the Baltic Sea regarded as the "Secret Island of the Templars".
VIKINGS & FREEMASONS
http://archaeologica.boardbot.com/viewtopic.php?f=9&t=3026
Also, the new show beginning soon…VIKINGS! I don't think anything happens by coincidence and this show will definitely reveal some interesting sights. NO DOUBT. Oh…and let's not forget the OLYMPUS movie hitting screens this month. With America as the New Atlantis and with obelisks in practically every large American town, it's no wonder the elite laugh behind our backs.
Holy Grail in America
http://www.hookedx.com/film.asp
FROM: http://mysteryoftheiniquity.com/2013/03/18/hooked-x/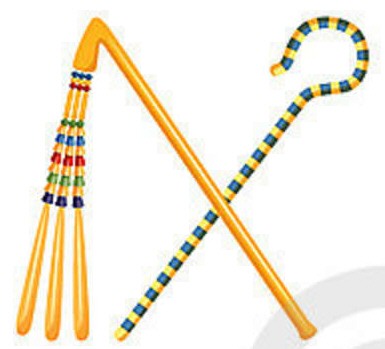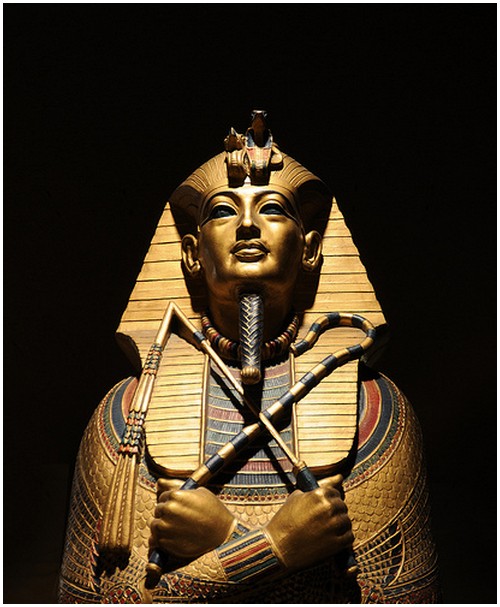 PHAROAH TUTANKHAMUN
Red Ice Radio - Scott Wolter - The Kensington ... - Red Ice Creations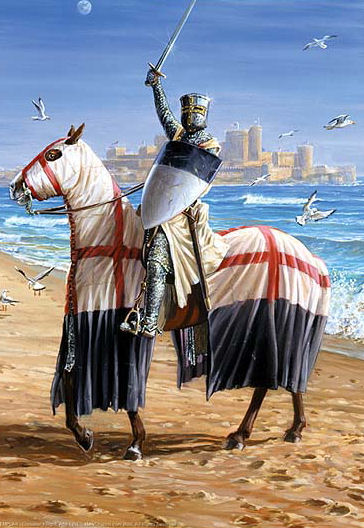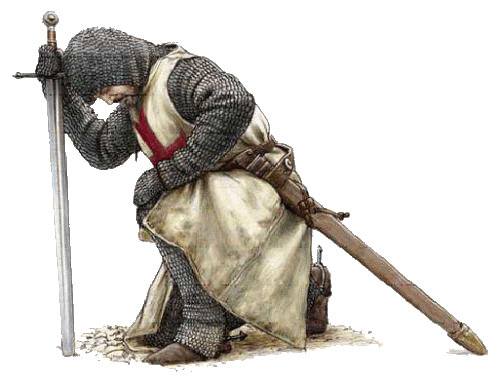 A Templar Knight is truly a fearless knight, and secure on every side, for his soul is protected by the armor of faith, just as his body is protected by the armor of steel. He is thus doubly armed, and need fear neither demons nor men."

Bernard de Clairvaux, c. 1135,

De Laude Novae Militae—In Praise of the New Knighthood
With their military mission and extensive financial resources, the Knights Templar funded a large number of building projects around Europe and the Holy Land, many of which structures remain standing today.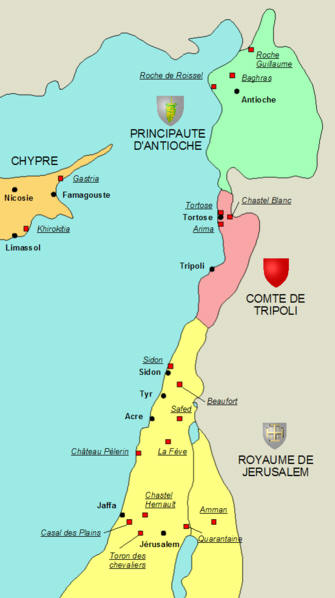 Masonic Lodge Symbols Education
Freemason Symbols: Masonic symbology has come down to us from the cuneiform scripts of the ancient Sumerians, circa 3000 B.C.. as well as the ancient Mesopotamians and Persians. Cuneiform writing was a series of pictographs (symbols) which were drawn on clay tablets with a blunt reed (or stylus).
Masonic scholars, today, question the origin of the Point within the Circle, whose parallel upright lines on both sides of the circle, closely resemble an Egyptian hieroglyphic (circa 1570–1342 B.C.).
Is it one of the first Freemason symbols?
It is not known; however this information creates questions in scholarly circles.
Did Freemasonry begin long before King Solomon's temple was built (circa 953 B.C.)?
Did it begin with the operative stone mason guilds during the Middle Ages? (between 500 A.D. and 1500 A.D.) Did it begin in Scotland near the time of Robert the Bruce (1274 - 1329)?
These questions are a subject of much debate within the fraternity. Thousands of research man-hours have been spent attempting to answer these questions, mostly to little avail.
Very little information has surfaced from the books and hand-written manuscripts that survived these eras in history.
Even Freemason symbols are subject to somewhat different interpretations across the many Masonic jurisdictions in the world.
Understanding Freemasonry Begins With
Learning Its Symbols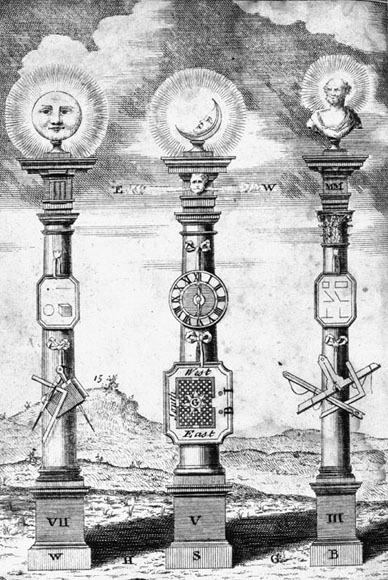 Learning the Meanings of Freemason Symbols:
Masonic symbology was used in past centuries, not due as much to Masonic secrecy, (as many people believe), but due to the fact that most of the world's population was illiterate.
During the Dark Ages, the Middle Ages, and through subsequent centuries, most of the population, being working people, were illiterate or had only a rudimentary (basic) ability to sign their names, make their "mark" to signify their acceptance, or read simple words.
During the Middle Ages, many Lords (wealthy landowners) could read (and some could not), but the Serfs (working class people), almost as a whole, had never been taught to read.
During the Dark Ages and extending throughout the Middle Ages, there was a loss of classical learning due to the many wars, bloodshed and unrest in which most of the old hand-printed scrolls, papyrus paper, books and records were burned by the opposing forces...much like King Solomon's temple was dismantled and carried off, never to return.
Illiteracy did not make these Masons stupid or lesser operative Masons in the craft. They were simply working people, taking care of their families, who, by necessity, had to begin working at a very early age...usually from dawn until dusk, 6 days a week and did not have the time nor the teachers to avail themselves of the ability to learn to read or of any higher education.
Making Your Mark: Some of you can, even now, remember people in your past (or present) who were illiterate and signed their name (made their mark) with an "X".
Schools were for the wealthy.
Thus, operative Freemason symbols were taught to these stone masons (workers in stone) as a part of their obligation for the betterment of their craft.
Actual (operative) stone masons made their "mark" by inscribing their work with their symbol (or logo), just as artists and other craftsmen have "signed" their work throughout the centuries. This "mark" symbolizes the uniqueness of the piece as well as the intent of the Master craftsman that each person who views it, be aware of its unique and personal craftsmanship.
Today, there are mass-printed books, everywhere, and a wealth of information on the internet about Freemasonry. But, this has not always been the case. In the operative stonemason days, only the very few people who could read, owned books.
Books were created by scribes who painstakingly copied down the the verbal words they heard or copied, (letter by letter) the words from other hand-printed scrolls, which later became hand-bound books. Due to the immense amount of time it took to create such a book, they were very rare and very expensive.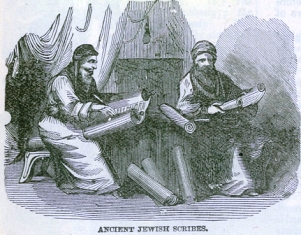 ...Hence, due to the lack of books, much knowledge was passed down via the use of symbols and by word of mouth...a "monitorial" inculcation (mouth-to-ear-teaching).
Printing presses were actually invented by the Chinese circa 593 A.D. wherein each page's text was hand-carved onto a wooden block, dipped into ink and then applied to cloth, and later, when paper became more readily available and less expensive, the ink-dipped blocks were applied to the paper, from which books could be bound.
In Germany, Johannes Gutenberg invented the use of movable type on his printing press (circa 1440 A.D.) ...568 years ago, which made the creation of books much faster and much less expensive, and therefore, more easily acquired by the common man.
Hand-Written Book Inscription: Many of the aforementioned scribes only heard the spoken words (without the advantage of being able to copy any written text) and, therefore, spelled the words as best they knew how.
This fact accounts for the numerous different spellings of so many names and words in the Old Charges (Old Manuscripts) (1390 - 1714). Some of the Old Charges and old Masonic constitutions are on hand-written scrolls.
This also accounts for some of the many translation differences in the Holy Books of the major religions of the world which Freemasonry embraces...(the Bible, the Torah, the Veda, the Koran, etc.) down through history.
Masonic Scholars Study Freemason Symbols: True Masonic scholars have devoted a portion of their time to the study of the meanings of Freemason symbols.
Consequently, they have a strong foundation of knowledge which the non-scholar lacks. (The word "scholar" in this instance refers to a person who studies...and not a person who has a genius-level I.Q. mind, which others were not blessed with.)
Your Symbolic Foundation Beneath Your Middle Chamber: The perfect ashlars (stones) which made up the foundation of King Solomon's Temple were gargantuan (huge) in size, ..some as large as 41 feet x 11.5 feet,... because in his wisdom; King Solomon understood the need to build a solid foundation for his temple...just as each of us must do.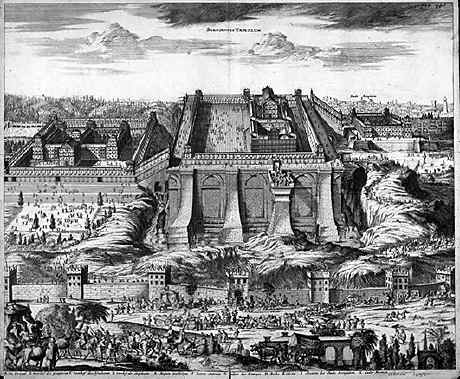 Q: So, ...now that nearly everyone has been taught to read ...and with millions of books now available, as well as nearly 6,000,000 pages about Freemasonry on the internet and over 400 books about Freemason symbols and Masonic symbolism available on Amazon.com, why is this depth of knowledge not found in most Freemasons, today?
A: While there are lots of books and information available; unfortunately, a clear, concise, step-by-step Masonic education
is nearly impossible to find. The foundation of Freemason ritual is built on Freemason symbols and biblical (Holy Book) references.
Therefore, it is impossible to fully understand Masonic ritual without understanding its underlying foundation...that of the biblical meanings within ritual and the rich history of these Freemason symbols ...theseMasonic symbols, which we have inherited.
Lodge education officers valiantly attempt to impart pieces of Masonic knowledge; ...however the only true path to Masonic education is when you begin to link and understand the meaning of the words in the ritual to their biblical meaning coupled with the Freemasonry symbols which underlie it.
Memorizing the words is not enough. True light is achieved through study and understanding of that which you seek.
Only then can you "feel" the biblical power of our Creator's words within Freemasonry's tenets because this is where the rubber-meets-the-road.
Ritual, alone will not fulfill your quest. 50 years of perfect lodge attendance cannot create true "light".
Degrees: Without a true understanding of the ancient and biblical tenets, Freemason symbols, Masonic history and why we circumambulate (the act of moving around a sacred object) in our ancestor's footsteps around an altar glorified to our Creator;...the titles and degrees upon which we have been bestowed may possibly only be words which attempt to attach a scholarly credibility and experience to a man which he may not, in fact, yet possess.
Education, study and the resulting knowledge which comes from this learning process is the only method which leads to a "graduate", once having received his "Master's" degree, actually knowing what he studied, what he learned and why it is important in his life.
"As Hiram prayed daily for guidance from his God before drawing the designs that would set the craftsmen to work, so must we."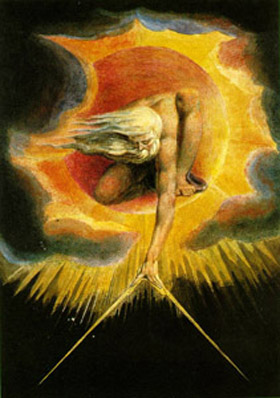 Ancient of Days by William Blake, 1794
The watercolor etching, above was painted by William Blake in 1794. Its title is "Ancient of Days". It refers to an excerpt of a passage from the book of Proverbs 8:27, (a book within both the Christian Bible and the Hebrew Bible), which says "when he set a compass upon the face of the earth." Note: Different biblical translations may use different wording. Source: The Holy Bible; Self-Pronouncing Edition; Containing Old and New Testaments; Translated out of the Original Tongues; copyright 1903 by A.J. Holman Co., Philadelphia, PA.
"...Each Master Mason becomes his own architect. Each supervises the building of that "temple not made by hands." Each builds into his structure beauty, harmony and knowledge to the extent he is willing to work."...The Craft and Its Symbols, p. 84, 1974, Allen E. Roberts, MaCoy Publishing and Masonic Supply Co.
Freemason Symbols
Looking back through history, we find that Masonic symbols have been drawn on tracing boards, scratched into the dirt with a stick during the days when lodges met on high hills and low vales in the outdoors, chiseled into stones, not only from stonemason artisans of the past making their Master's Mark, (their attestation of their work as a job well done) but also proudly inscribed into our more modern-day building cornerstones.
Masonic Temple
We see Masonic symbols in each Masonic temple around the world. Masonic light abounds...and Masonic charity is well known.
Masonic Jewelry
Freemason symbols are most often noticed in Masonic jewellery such as Masonic rings, Masonic lapel pins and Masonic cufflinks. Members with other Masonic degrees, such as Knights Templar, wear Masonic jewelry displaying symbols of the Knights Templar sword, cross and other ancient symbols of the fraternity.
Masonic Art
Masonic art is full of Freemason symbols...whether it be a Masonic painting or on each and every one of the Masonic aprons across the world. Like Freemasons, themselves, each unique Masonic apron is a testament to its owner's belief in a life well lived in brotherhood with other like-minded men.
Masonic Clip Art
Is Masonic artwork using Freemason symbols a thing of the past? No. Today, we have Masonic clip art. There is a lot of free Masonic clipart on the web. Some high resolution Masonic clipart is also available. Most is copyright free, for non-commercial use, but always check with the website's policies before using it.
Masonic Regalia
Digital Masonic clipart is also used to embroider symbols onto Masonic regalia such as the Masonic altar cloth used in the lodge, Masonic officer aprons, Masonic funeral aprons and Masonic flags. Digitized routers are used to carve Freemason symbols into wooden Masonic regalia items such as the square and compasses symbol into the Masonic gavels and the Wardens Columns used in the lodge.
Freemason Symbols In The 21st Century
Much like the moveable-type printing presses replaced the scribes of yore, technological advances have also brought Freemasonry into the 21st century.
If you could go back in time and tell one of the scribes who hand wrote one of these entire Masonic constitutions encompassed in the Old Charges (circa 1400 A.D.) (without a single error or erasure) about a "magic box" called a computer, with a screen and a bunch of buttons on the table wherein if he pushed a few of these buttons, another "magic box" would print hundreds of pages in an hour; how could he possibly fathom such a preposterous idea?
It would be only logical for him to conclude, using only his current knowledge at the time, that witchcraft would have to be involved, or magic of some kind to be able to print pages from a "magic box", that we now know as a printer.
Sadder still, he couldn't even "Google" it to be able to find one! ...And, even if he had a computer, we'd have to explain to him how electricity works and how to download drivers and, oh yes, teach him how to type.
We are a very fortunate generation that such a wealth of knowledge is now at our fingertips.
Deciphering The Cryptograms of Masonic Symbology
A Masonic scholar is simply one who reads for greater understanding in his "quest for more light".
He learns the meanings of each cryptogram (a figure or representation having a secret or mysterious significance), so that he may build on it to understand the whole.
Think back a moment to your childhood...before you could read. You were riding along with your parents in the car and saw a big red, octagonal sign with black letters on it which was stuck on a post in the ground.
Until you were taught that a stop sign meant that you must (by law), stop the car, it is simply an imposing big red sign by the side of the road...and thus an enigma (a mystery) to you as to its meaning. Later, after you learned to read, you learned other road signs. You learned the meanings of "Merge", "On Ramp", "MPH", etc.
Therefore, if you can read, (and apply yourself) you, too, can become a Masonic scholar...but more important than becoming a scholar, is feeling the purity of Freemasonry's (and our Creator's) goals for each of us.
The real goal of understanding, ...the Masonic "light" which each of us seeks, is not how many books you've read, but whether you "get" their message in your heart.
So, as you can see, the history of Freemasonry is best represented by its Freemason symbols, which have come down to us through the ages.
The Freemason symbols that you see on this page, ..from which our ancient brethren were taught, ... are the same Masonic symbols and meanings that have come down through the centuries...and the very same ones that you, too, will study in your quest for more light.
So Mote It Be!
Simon
FROM:http://www.masonic-lodge-of-education.com/freemason-symbols.html
Wessex Ridgeway, Nr Roundway, Wiltshire, UK. Reported 24th July, 2013.
---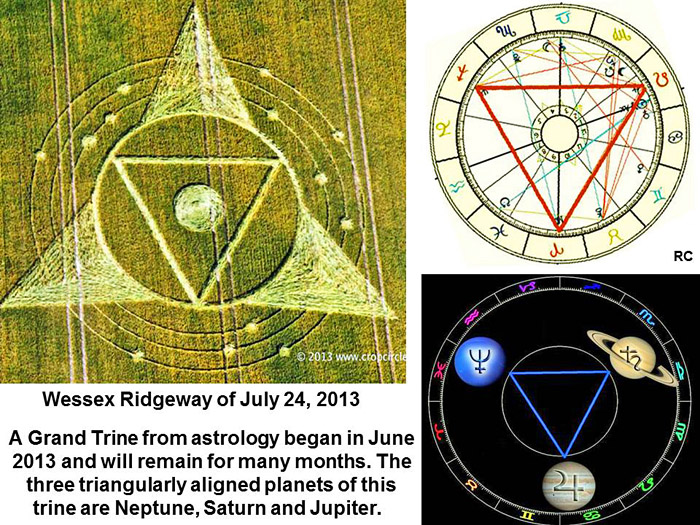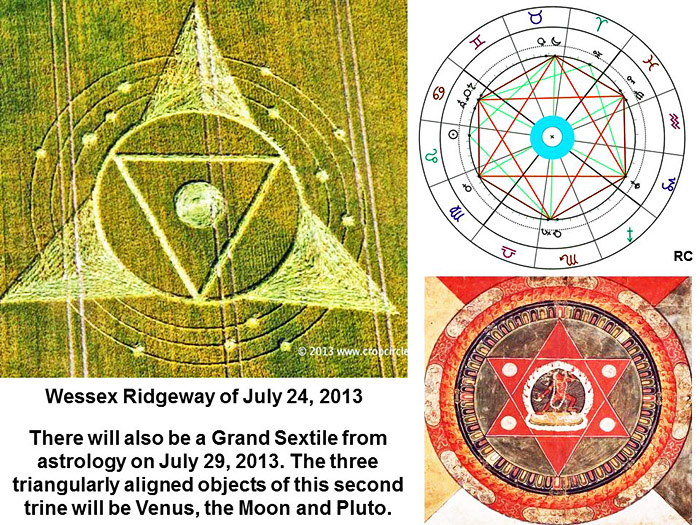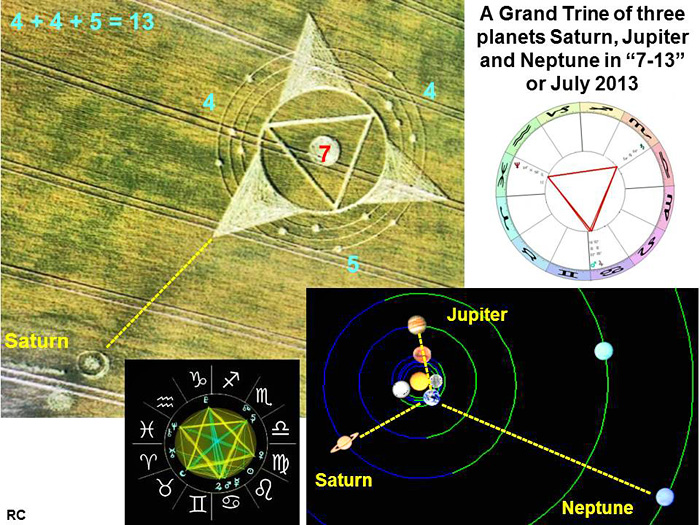 ---
Dear readers and writers, with this new crop circle we have something specific - finally.
At a first glance it seems to be either
- a planet with its surrounding moons
- a galactic solar system with its surrounding planets
- an emblem of an extraterrestrial species
As to see at the depicted crop circle there are 3 different orbits with 13 moons in summary.
Is it a planet from our solar system, then it can only be Neptune with its 13 moons.
Only some days ago, on 1st of July 2013, there was a 14th new moon discovered by Mark Showalter from S.E.T.I. Institute.
I copy in an actual image which I have found in internet.
It shows the Neptune with some of its moons and with the new discovered moon S/2004 N 1.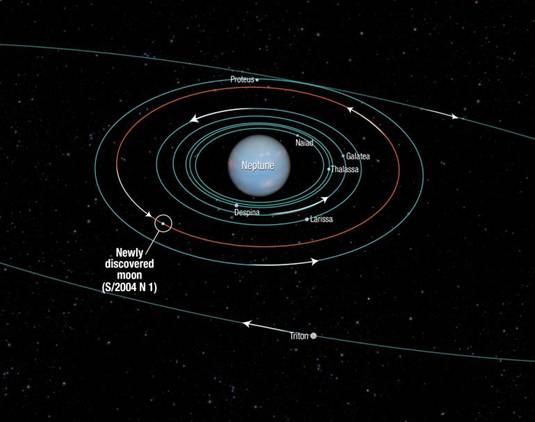 The only problem is the different number of orbits of the moons: In crop circle are three orbits depicted, but the Neptune moons are circling on more than three orbits.
However, it is only my first idea and it may be wrong.
My second and possible explanation is an unknown solar system anywhere in space.
In that possible case there is a single solar system with 13 planets orbiting that sun.
And it is the home world of one race of extraterrestrial beings - who by the way create some crop circles here on Earth (my special thanks here)......
The third and last possible explanation is an 'emblem' of a special 'group' so to say. For to illustrate I copy in the NASA emblem (found in internet):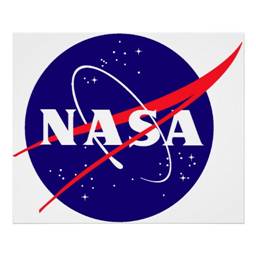 Emblems like this one are often found on the astronauts space suits. Other troops or special groups use different emblems.
For to show an example: I have altered the depicted crop circle image and also have changed the colours. Then as a next step I have 'placed' it onto the suit of a 'soldier'.
The next image is a screenshot of the PC/Console game: Mass Effect 3. I have replaced the emblem with the 'crop circle emblem' (it looks really nice):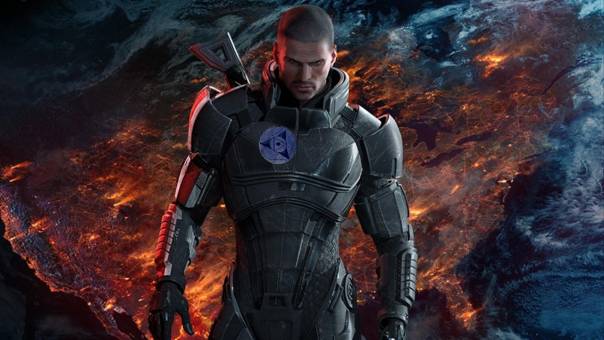 Some words about the 'design' of the crop circle: The filled dot in the centre which is surrounded by an triangle can have the meaning: This solar system is the home of (name of the extraterrestrial race). The three outer triangles which exceed the orbits of the planets show the schematic 'domain', the 'sphere of control'.

Greetings to you and to the CC-makers, who kindly sent that information........
2013-07-24 - Gerd Estrup - gestrup@alice.de
Thirteen small circles from the outer parts of Wessex Ridgeway on July 24, 2013 may represent not only "astrological symbols", but also an "hour and date" of 0400 UTC on July 25, 2013 in ternary base-3 code, when Jupiter, Saturn, Neptune and the Moon formed a Grand Trine in Earth's sky
Many people have suggested that a new crop picture at Wessex Ridgeway on July 24, 2013 may call our attention to a Grand Sextile from astrology on July 29-30, 2013. On those two days, six different astronomical objects (Jupiter, Saturn, Neptune, the Moon, Venus and Pluto) will form a six-fold symmetric shape or "sextile" in Earth's sky (see wessex ridgeway).
Still unsolved, however, is any possible meaning for 13 small circles, which were drawn along three thin rings in outer parts of the Wessex Ridgeway crop picture? When we studied this problem carefully, we realized that those 13 small circles seem to give an "hour and date" in ternary base-3 code, consistent with a triangular shape for the crop picture as a whole. A ternary base-3 code has only been used once before in crops, to the best of our knowledge, to give a different "hour and date" at Temple Farm on August 7, 2011 (see time2012b).
In the present case, we learned that there was a Grand Trine involving Jupiter, Saturn, Neptune and the Moon at 0400 UTC on July 25, 2013, just one day after the crop picture appeared: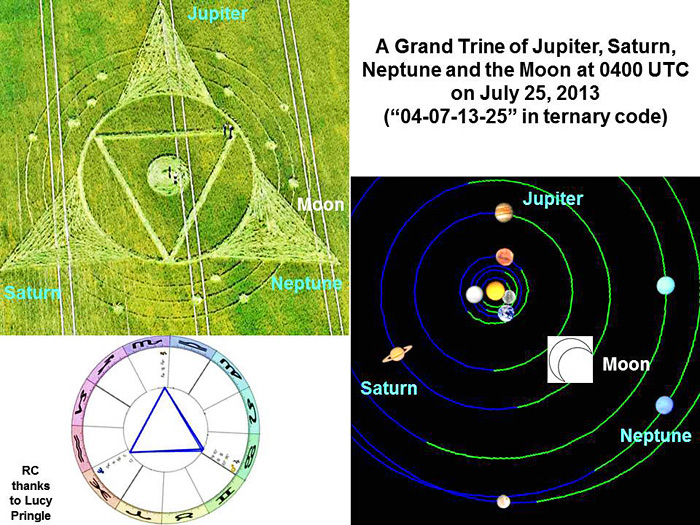 If you write that hour and date in ternary base-3 code, you get "04-07-13-25" for "hour-month-year-day". Those are the four numbers which seem to be encoded along three thin rings in the outer parts of Wessex Ridgeway, counting from out to in: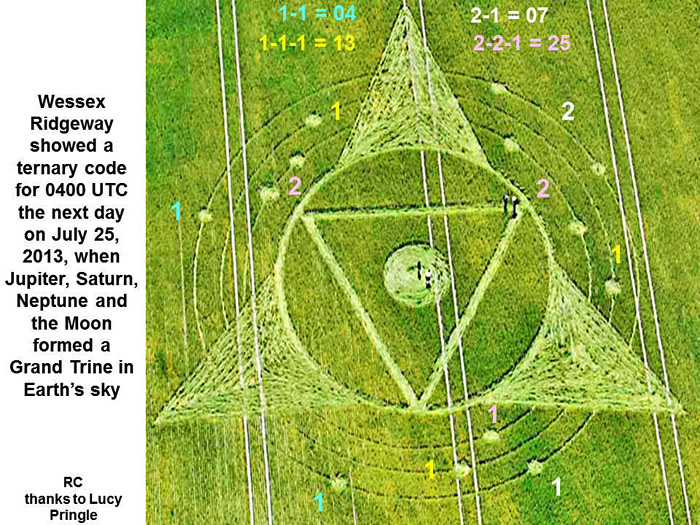 When counting in ternary base-3, it should be noted that 1-1 = (1 x 3) + (1 x 1) = 04 in decimal, 2-1 = (2 x 3) + (1 x 1) = 07 in decimal, 1-1-1 = (1 x 9) + (1 x 3) + (1 x 1) = 13 in decimal, or 2-2-1 = (2 x 9) + (2 x 3) + (1 x 1) = 25 in decimal.
There is some ambiguity as to how we might read five circles along the outermost thin ring, as 1-1 / 2-1 or 2-1-2? Since a crop tramline divides the two lowest small circles (labelled in blue or white), we favour the first interpretation 1-1 / 2-1. A second ring of numbers 1-1-1 likewise starts on the same crop tramline. Perhaps that feature of the crop picture tells us where to start counting in base-3 on all three rings?
Thus in late July of 2013, there will be two distinct astronomical alignments in Earth's sky. The first was a Grand Trine on July 25, 2013 at 0400 UTC, which involved Jupiter, Saturn, Neptune and the Moon (coloured red in the table below):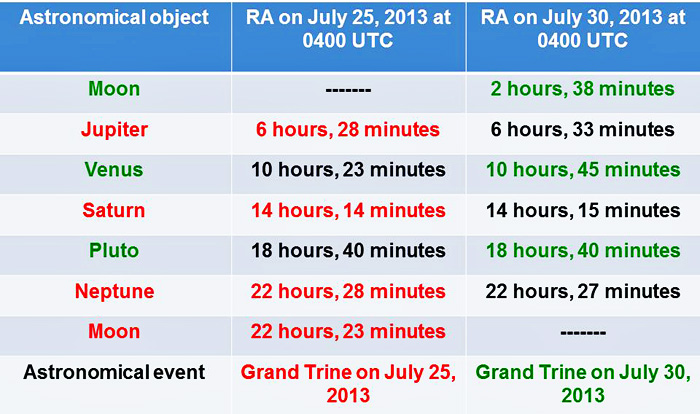 The second will be another Grand Trine on July 30, 2013 around 0400 UTC, which will involve the Moon in a new sky location, Venus and Pluto (coloured green in the table above). When studied together, both of these Grand Trines make up the Grand Sextile which everyone is talking about! The crop artist cleverly brought both dates to our attention. A nearby ringed symbol for "Saturn" likewise points in the field, to where Saturn will set after sunset on July 25-30, 2013.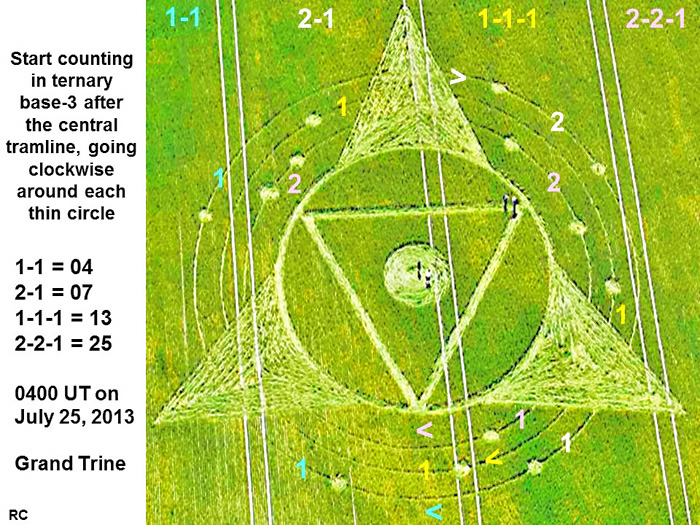 Red Collie (Dr. Horace R. Drew)
---
THE RECURRING POINT OF REFERENCE
Foreword
I've been labouring recently on an article outlining my investigation of what I now believe is a profoundly important formation: the one whose circumference comprised 5 evenly spaced structures, resembling ogham characters, which appeared south of Silbury Hill, on June 25. Having discovered that, amongst other things, the circle embodies a clearly defined geodetic link to the cited ancient monument [outlined later], I realised, as the season progressed, that certain subsequent UK formations exhibit the same characteristic, and this particular creation - at the Wessex Ridgeway - did so in a particularly interesting manner.
I concluded that the recurrences of this unique form of relationship constitute a subtle way of confirming the chilling message I'd found in the formation of June 25. However, my attempts to process the torrent of data that was coming my way denied me the time needed to complete the cited article. I've therefore decided to present a limited analysis of the Wessex Ridgeway formation now even though, in the absence of the quoted work, which I hope to finish soon, what I expose will not reveal the answer to certain fundamental questions that will be raised.
I'll be using the Fig. below, and I've gratefully incorporated into it the CCC drawing by 'TB'; it's not intended to be to scale and is merely a symbolic representation of the formation:-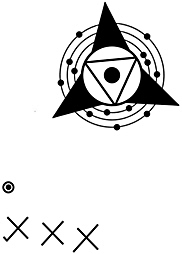 ANALYSIS
Part 1: the model
As soon as I realised that the dominant structure is accompanied by the three roughly formed crosses [together with a small circle, nearby] I suspected that the arrangement is again linked to the above cited Silbury Hill formation, as I'll shortly explain, and it didn't take me long to prove that that is indeed the case. But I could also see that the edifice nearby possessed some rather interesting features of its own. …
It was clear that the 13 ostensibly orbiting spheres encompass a central circle [the perimeter of which is partially obscured by the formation's 3 large, triangle-like areas of flattened crop, not shown below] that displays a total of 4 isolated areas of standing crop, thus:-

And this intimacy between the numbers 4 & 13 - in the context of a circle, or circles - was a phenomenon I was very familiar with. …
Those of you who've read Les Sentiers des Dieux, Pathways of the Gods should recall that, in the Appendix, I describe a number of remarkable properties of the following arrangement of the first 17 consecutive primes [headed by the supreme prime 1], split into groups of 4 & 13, which my research, using ancient sources, together with those associated with the mystery of Rennes-le-Château[which Dan Brown's The Da Vinci Code was based on], had exposed:-

At the overt level, a product can be inferred from this … 4x13 = 52 … which can represent the number of full weeks in an earth year, expressed as 4 seasons of 13 weeks … although it's also the case that 52 is the quota of teeth a normal human being grows in a lifetime, spanning from childhood to adulthood - which is again linked to a 4 [i.e. 2 upper lots and, 2 lower].
But a set of more subtle properties derive from the fact that the sums of the two depicted sets of primes are - 11 & 371 - respectively, where the first of these numbers, 11, is the 6th prime [a relationship that can be expressed as: 6 is the prime rank of 11], thus:-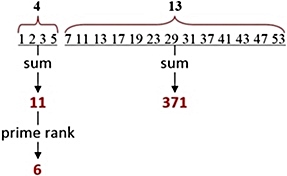 Fig. 4
The 371 minus the 11 yields - 360 - the exact quota of degrees defined to be in a circle.
The 371 minus the 6 yields - 365 - the exact number of full days in an earth year.
6 juxtaposed with 371 infers - 6371 - an up-to-date value, in km, of the earth's mean radius: it's the geometric mean radius of the WGS 84 ellipsoid, accurate to the nearest metre.
My suspicion that the formation - with its concentric circles, and its 13 orbiting spheres - was alluding to these key properties of our planet was supported when I examined the respective arrangements of the cited spheres. …
The quotas in the 3 orbits, starting from the outer, are … 5, 3 & 5 … thus:-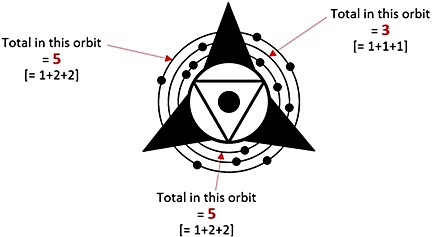 And it was apparent that the expression 5p+3p+5p [= 5th prime+3rd prime+5th prime] yields another prime … 17 [= 7+3+7] … the tally of entries in the described 4+13 arrangement.
But the alternative way of counting the orbiting spheres - by looking at their presence in the areas that exist between the central circle and the 3 triangle-like projections of flattened crop - yields quotas of 4, 5 & 4, thus:-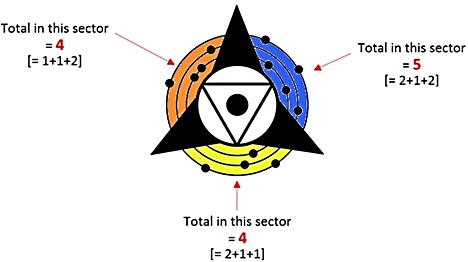 And the expression 4p+5p+4p again yields … 17 [= 5+7+5].
So each of the two ways of counting the 13 orbiting spheres leads us, through an elementary and consistent process, to the prime17, which, in conjunction with 13 itself, has the cited key role in replicating the important earth parameters I've described, including the value [in km] of its up-to-date mean radius: 6371, the digits of which also add up to 17.
Any lingering doubts about the relevance of these observations dissipated when I noted that other dominant characteristics of the field structure embody the means of generating another simple and elegant expression of the cited planetary factor. …
I've already explained the significance of the fact that the formation's central circle displays a total of 4 isolated areas of standing crop, thus:-

It's the case, however, that these 4 areas are demarcated by both the cited circle and a triangle, each of which is comprised offlattened crop. The triangle of flattened crop, then - with its 3 vertices - is intimately linked to the encompassing circle of flattened crop i.e. those 3 vertices are disposed on the circle.
If we now number the vertices, 1-2-3, in the same way that we numbered the 4 cited areas of standing crop, 1-2-3-4, we've produced two sequences that add up to 6 and 10, respectively. But if we take cognisance of the described intimacy that exists between the triangle's vertices, which give us the 6, and the circle, which could represent the numeral zero, it doesn't require a giant leap of imagination to see that a 60 could be inferred, together with the 10, thus:-

The significance of this ostensibly trivial relationship between these closely linked numbers and the formation is that the product of the60th and 10th primes [i.e. 277x23] yields another manifestation of:-
6371
the cited geometric mean radius, in km, of the up-to-date earth model
And as the depicted circle was closely involved in the process whereby this pivotal, geodetic number was computed, I realised that it would make sense if that circle had been intended to define not just the radius 6371 km but a sphere of that exact size i.e. aspherical earth model, of radius 6371 km [an artefact that I first encountered - and started using - long before 2013!], as shown below:-
Fig. 9
The accurate terrestrial calculations I shall soon undertake, involving the current formation, then, will be based on this clearly defined earth model.
Part 2: the other side of the structure
We know that, on the periphery of the formation, we see a curious triplication of a figure that resembles the letter X, with a minuscule circle nearby, as shown in my idealised Fig. below:-

The immediate interest I had in this odd arrangement, which I referred to near the beginning of this article, is explained in the following two paragraphs. …
My investigation of the Silbury Hill formation, which I alluded to earlier, revealed that its pentagonal arrangement of ogham glyphs is also reflected in two of its more subtle attributes. And 72 [the angle, in degrees, which each side of a regular pentagon subtends at the centre], expressed as its corresponding prime, 353 [= 72p], is the number that the respective attributes were based on. In particular, both the formation's radius [measured in a horizontal plane] and its centre's horizontal displacement from the estimated centre point of the ancient monument nearby are tied to this 353 [as I'll demonstrate when the treatise I'm preparing is ready].
Knowing, then, that X is the 24th letter of the alphabet that's in common use in the UK, where the formation appeared, I couldn't fail to notice that if each one is labelled with a 24, the full set of such labels would add up to - 72 - the very number that had played the cited central role at the earlier formation. I therefore had an almost instant suspicion that this whole structure is again closely tied to what I'd uncovered at the Silbury Hill circle, and when I dug just a little deeper I was left in no doubt about the matter. ...
I was now drawn to the fact that although the X's had been formed in a seemingly imprecise way the first of them [counted from the left, as earlier depicted] had an appearance that was only too familiar [having once taught mathematics in a Comprehensive School]:-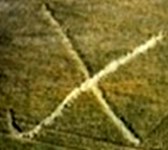 It looked as if its creator had started writing a tick, signifying 'correct', and had then changed it to an 'X', signifying 'wrong', something that even the best teachers are obliged to do from time to time, and I concluded that this peculiarity must have been created for a good reason. Indeed, my suspicion that we'd been expected to recognise this tick component of that one X was supported when I considered another anomaly - relating to the next letter. This strangest looking X of the three displays a conspicuous kink in one of its arms and it was clear that this feature starts where the adjacent, long arm of the tick would cut it, if extended. Furthermore, the dislocation in the cited letter's arm is in the direction of movement that would occur if the tick alongside it was being drawn i.e. upwards and to the right [as viewed], as shown below:-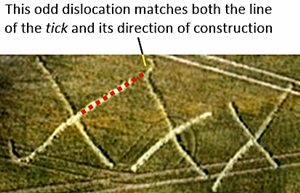 It seemed feasible, then, that the bizarre, kinked arm, of the middle X, represented a device that had been intended to confirm a special role - within the formation - for the tick next to it. It therefore occurred to me that the word we use to represent the concept, TICK, may embody some information that's relevant to my investigation - and it wasn't hard to find what it is. …
When its four letters are again apportioned numbers that represent their respective positions in our 26-lettered alphabet they yield a total value of, 43 [= 20+9+3+11], which is a prime. And having encountered this concept of a prime number, again, I noted that the 43rd prime, 181, exhibits an exceedingly interesting relationship with 24, the value of the 'X' that the tick is embodied within i.e. 181+24 equals … 205 … which is the day of the year, in our Western calendar, that the formation was first reported i.e. July 24, as shown below:-

When I now took cognisance of the fact that the tick is also a component of the sequence of all 3 'X's', I uncovered what appeared to be a simple link to another relevant date: when the quoted value of TICK, 43, is taken from the 72, we obtain … 29 … and it happens to be the case that 29 days before the cited 205th day [i.e. July 24] was June 25 [i.e. day 176], the very day of the year that the aforementioned Silbury Hill formation was first reported, thus:-

I was now fascinated by the fact that the last relationship appeared to be linking the numbers 29 & 72 through a word, tick, which is closely associated with the concept of correct. And as I knew that the first of the two, 29 [the 11th prime], is a defining characteristic of the array of the first 17 primes I'd started with [apart from actually being its 11th entry]:-
1-2-3-5 - 7-11-13-17-19-23-29-31-37-41-43-47-53
i.e. these primes have 29 digits [there are 5 single-digit entries and, 12 double], my attention was again drawn to that sequence, and I soon exposed something of considerable interest. …
The sum of the all-important [in the current context] 17 primes, 382, exceeds 29 by … 353 … which happens to be the 72nd prime. In other words, it was clear that the cited sum of the first 17 primes can be expressed as:-
29 + 353
And as I knew that a circle, that had appeared 29 days before this one, had had a relationship with Silbury Hill involving the number353 i.e. the distance from the latter's estimated centre to the centre of the cited formation was 353 metres [detailed in the article I'm writing] I was curious as to what the intimacy I'd now found between these numbers 29 and 353 meant: was it just confirming what I already knew about the Silbury Hill circle or, also providing me with new information about the edifice under scrutiny?
Part 3: a defining moment
Following my survey of the Wessex Ridgeway formation, I soon discovered an expression of the paired numbers I'd found highlighted in my analysis, 29 and 353. I first noticed that the centre point of the main structure and the centre of the unique and important cross with the tick [its centre having been defined as 'the centre of the area of intersection of its two arms'] are disposed on the same line of latitude [insofar as I could determine with my GPS unit]*, as depicted in the following Fig., where only 7 key points in the geometry are shown - also note that the tractor tracks can't be used to locate the points because they are of a preceding year:-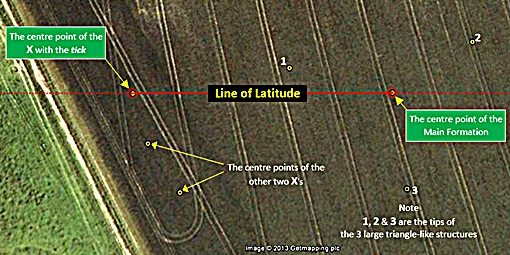 I then identified a more profound relationship between the two depicted centre points. …
The midpoint of the line joining them is displaced from the estimated centre of Silbury Hill's summit by the following dimension [measured on the cited earth model]:-
29x353 metres
[= 10,237 metres]
- as illustrated in the Fig. below:-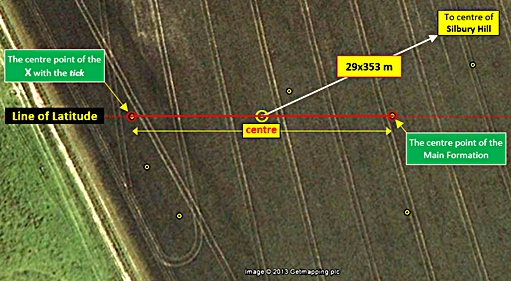 And I'd emphasise, here, that, although the field point's coordinates were not determined with a precision GPS instrument, the measurement from it to a point that's, at worst, very near to the centre of Silbury Hill's summit [which is hard to identify, in any case] will be 10,237 m.
What I had found, then, can be summarised as follows. …
My careful survey of a circle - that was encompassed by a pentagonal array of small, glyph-like structures that resembled ogham characters and was first reported on June 25 - revealed, amongst other things, that its centre was displaced, from what I estimated to be the centre of Silbury Hill's summit, by a dimension that is directly related to the pentagonal number 72 i.e. 72p [= 353] metres [my measurement was on a spherical earth model of radius 6371 km].
Then 29 days later, on July 24, another structure is reported and a central point, within it, is found to be exactly 29 times the preceding displacement from the same area on the ancient monument [using the cited earth model] i.e. 29x353 metres. And it's possible to see that the factors 29 & 353 are being cleverly highlighted, within the formation.
I later realised that if we plot these 2 measurements on the same, small-scale map, we create an elongated version of a glyph that I've mentioned a number of times in this paper - a tick - as shown below, where I've rotated the image so that the shape [in red] will be closer to its more usual orientation in relation to an observer. I've also labelled the three points at Silbury Hill, the ogham-glyph circle and the Wessex Ridgeway formation H, O & W, respectively:-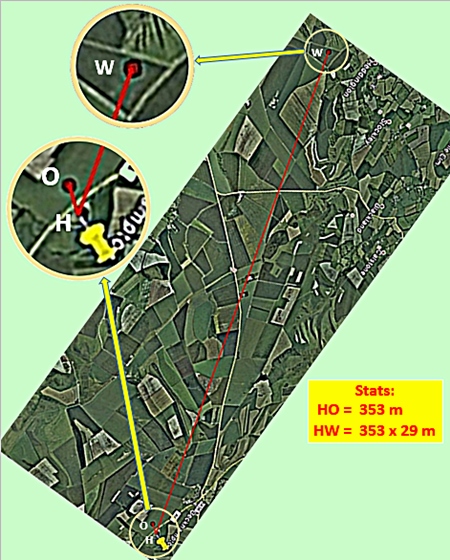 My attention was now drawn to the fact that the points labelled O & W - at the ogham-glyph edifice and the Wessex Ridgeway formation, respectively - are both linked to the number 10. The point to which the short line was drawn, O, resides at the centre of a circle that comprises 10 isolated areas of standing crop [this fact is highlighted in the article I've been alluding to]. And the point, in the other formation, from which the long line was drawn, W, is closely tied to a tick that was part of a letter X, which we know can represent the Latin 10. In other words it was evident that the two extremities of the large tick, O & W, which aren't joined by a line, have close associations with the number 10.
These simple observations proved to be of interest when I decided to determine the distance between the cited points, O & W [again measured on the usual earth model]. …
If we label the 10 separate areas in the ogham-glyph circle 1 to 10, the sum of those labels is … 55 [= 1+2+…+9+10] … and when this is multiplied by the prime we derived earlier from TICK i.e. 181 [= 43p, where 43 is TICK's value], we obtain:-
9955
- which is the exact value [expressed to the nearest metre], of the result I obtained when I measured between points O & W, using my GPS-derived coordinates of these points.
Note: in this case the quoted, impressive correlation can't be relied on because I wasn't using a high-precision GPS device. In the earlier measurements, to the estimated centre of Silbury Hill's summit, the limitations of my machine weren't critical because of the considerable size of the central area and its ill-defined limits. O and W, however, are specific points that exist within the two formations and if we wish to make finely defined measurements between them using coordinates the latter have to be specified to the appropriate level of accuracy.
It's clear, then, that an extraordinary situation has now been exposed. …
A terrestrial triangle has been described, involving Silbury Hill and two pivotal points, within a pair of local crop circles, where the measured values, expressed in metres, of each of the 3 sides can be seen to be tied to factors that have prominent roles in the formations. …
From the centre of the ogham-glyph circle to Silbury Hill is the pentagonal … 72p [= 353].
From a more subtle centre of the Wessex Ridgeway circle to the monument is … 29x72p.
From the 1st circle's centre to the 2nd is … [1+2+...+9+10]x43p [43 being TICK's value].
I'd add that, as stated earlier, it's my contention that the Wessex Ridgeway edifice is not the only one of this year's formations to exhibit such a concordance with the ogham-glyph circle: I hope to release further analyses, soon, which I believe prove the point conclusively. Indeed, it may be the case that a number of the latest UK circles are also involved.
Conclusion
Until my findings have been accepted and confirmed by others it would be inappropriate to make any concrete deductions from them, especially as a number of my other investigations, including that pertaining to the pivotal ogham-glyph circle, of June 25, are not yet available. There's at least a possibility, nevertheless, that my discoveries are going to herald a new era in our perception of these thought-provoking creations. Unfortunately, however, if what I believe I've also found in the cited structure [strongly backed by relationships in later circles] is correct we shall have very little time for celebrations: we'll have to focus our energies on a matter that relates to the very survival of our species.
*
At the level of precision of my geodetic calculations a conventional hand-held GPS device is of insufficient accuracy for many applications. Suitable units are available, which can also be used for more general surveying purposes [with an accuracy of a few centimetres] - but for a hire charge of about £400 per week.
© Neil Hudson Newman MSc. [Construction Management]: 07 August, 2013
OTHER VIKING PAGES ON THIS SITE
www.greatdreams.com/blog-2012/dee-blog101.html

Jan 4, 2012 ... The island was held by the Vikings from the 9th century, but after Norwegian defeat at the battle of Largs in 1263, the island became more and ...

Viking eddas were found in Iceland that told the story of the Day of Ragnorook, the Doomsday of the Gods. At that time, 800 Divine Warriors will come out of each ...
www.greatdreams.com/solar/black-sun.htm
Jun 30, 2002 ... Humanity On The Pollen Path - Part Six ... Interestingly, in the Vikingmyths, Thor throws a fiery Swastika, which always returns to the thrower.
The Gokstad Viking Ship - was discovered in 1880, buried in a huge mound of blue clay southwest of Oslo. The Goldenhorn - 1883-1892 four masted bark, bulk ...

www.greatdreams.com/nine/nine.htm

To placate him the Vikings often sacrificed some prisoners before setting sail. Heimdall (Heimdalr) - (Norse) He is said to be the son of nine mothers. He lived at ...
www.greatdreams.com/reptlan/draconians.htm

From here, they spread west toward Europe, seeding the national identities for the Vikings, the Franks, the Teutonic peoples, and the Russians. Keep in mind ...

www.greatdreams.com/earthy_trigon.htm

The Vikings had the Norns (Urdu/Verdandi/Skuld), the Romans had the Fortunae (Concordia/Salus/Pax), the druids had Diana Triformis, the Greeks had the ...
www.greatdreams.com/sacred/irenaeus_beckett.htm

The Vikings and Muslims had ransacked the monasteries, and to defend themselves, abbots had sought protection from feudal lords and soon fallen under their ...

www.greatdreams.com/iceage.htm

... "a period of early Medieval warmth dated to AD 1000-1100," which " corresponds to the time when the Vikings succeeded in colonizing Iceland and Greenland.

www.greatdreams.com/holwdrms.htm

The Vikings wore amulets to honor him. Thor was often in battle with the giants. He is married to Sif. Tyr God of war and son of Odin. Tyr sacrificed his left hand ...
www.greatdreams.com/magellan/magellan.htm

Feb 9, 2001 ... The Vikings were crossing the Atlantic starting around 900 A.D.to the Americas ... way before Columbus ... remember Americus Vespucci?

www.greatdreams.com/warming.htm

May 9, 2002 ... So warm, in fact, that it had spurred the Vikings to set up base in Greenland and led to northern Britain being filled with productive vineyards.

www.greatdreams.com/religin4.htm

... growth and spiritual development. A great place for enlightened conversation and growth. The Viking Homepage (Norway) · The World Of The Vikings (UK).
www.greatdreams.com/blkwht.htm

WHITE WOMEN. The very first discovery of North America by Norwegian Vikings around year 1000. Obtaining the first date of white women in America is difficult.

www.greatdreams.com/joestuff/interp/comun/comun.htm

May 22, 2008 ... This one had the four Vikings on horses. Randy's 1990 dream of the halos picking everyone up, also fits. The name Burak or Buraq may apply ...

www.greatdreams.com/anover.htm

Jun 26, 1999 ... The Vikings and Greeks worshipped the Python and the Mayans saw in the Milky Way a huge rattlesnake. The Pyramid texts refer to both a ...
THIS IS WHERE I POST WHAT I'M DOING AND THINKING
BLOG INDEX 2011
BLOG INDEX 2012 - page 1
JANUARY THRU APRIL 2012
MAY THRU AUGUST 2012
SEPTEMBER THRU DECEMBER
BLOG INDEX 2013
BLOG INDEX - PAGE 2 - 2013
BLOG INDEX - PAGE 3 - 2013