North Korea's Kim 'has collapsed'
The North Korean leader, Kim Jong-il, "almost certainly" has health problems, a South Korean government official has told the country's Yonhap news agency.
The official said Mr Kim had collapsed, but did not say when or how serious his condition was. He said he had not died.
But a North Korea official denied the reports, calling them "worthless".
The reclusive leader failed to appear at a triumphant military parade on Tuesday in the capital, Pyongyang, to celebrate his state's 60th anniversary.
Earlier, Western intelligence officials said Kim Jong-il might have suffered a stroke.
An unnamed US intelligence official told reporters on Tuesday: "It does appear that Kim Jong-Il has had a health setback, possibly a stroke."
The official said Kim appeared to have become ill in "the last couple of weeks".
Top of the Agenda: North Korea's Kim Jong-Il Dies
North Korean leader Kim Jong-Il died Saturday of a heart attack at the age of sixty nine, even as the government kept his death a secret for nearly two days. The ruling Workers' Party announced that Kim's youngest son (NYT), Kim Jong-un, would replace his father as the country's leader.
The United States said it was "closely monitoring" (WSJ) the news of Kim's death. The authoritarian and nuclear-armed North Korean regime has posed significant foreign policy obstacles to Washington and its allies over the past decade.
South Korea placed all military units on emergency alert following news of Kim's death, as the South Korea-U.S. Combined Forces Command (Yonhap) increased monitoring efforts along the border with the North.
Analysis
Kim Jong-Il's death has prompted discussion about the future of the isolated country and its nuclear weapons program. Experts cited in this CFR Backgrounder believe a post-Kim regime in North Korea would remain a tough nuclear negotiator.
After the fall of the Dear Leader, his third son aims to fulfill succession plans--but challenges loom ahead for this young, untested ruler, writes TIME's Bill Powell.
Over half a century since the Korean War's end, conflict persists on the peninsula. Explore the military, economic, and nuclear dimensions of this frozen conflict with this CFR Crisis Guide.
This CFR Task Force report identifies three elements of an internationally coordinated response to the threat posed by North Korea: first, denuclearization of the Korean peninsula; second, regional cohesion, enabled by close U.S.-South Korea relations; and third, China's cooperation and active engagement.
MIDDLE EAST
Cairo Violence Enters Fourth Day
Protesters demonstrating against military rule clashed with Egyptian security forces (NYT) for a fourth day in central Cairo. Hundreds have been wounded and at least ten civilians killed during the military crackdown.
The New Yorker's Wendell Steavenson unpacks the current tensions in Egypt's democratic transition, highlighting the unfolding dynamic between the Muslim Brotherhood, Salafi hardliners, liberals, and the military leadership in this CFR Must Read.
SYRIA: The regime of President Bashar al-Assad signed onto an Arab League agreement (al-Jazeera) to allow an observer mission into Syria. The mission is expected to monitor the implementation of a peace deal that requires the government to end its nine-month crackdown on opposition protesters.
PACIFIC RIM
Mass Burial in Philippines after Flash Floods
Filipino officials organized a mass burial for the over six hundred-and-fifty people killed by flash floods on the southern island of Mindanao (BBC) over the weekend. At least eight hundred others are still missing.
SOUTH AND CENTRAL ASIA
Zardari returns to Pakistan
President Asif Ali Zardari returned to Pakistan early Monday morning after undergoing treatment for a heart condition in Dubai, amid mounting tensions (NYT) between the Pakistani military and the civilian government led by Zardari.
Pakistan's stability is of great consequence to regional and international security. Examine the roots of its challenges, what it means for the region and the world, and explore some plausible futures for the country with this CFR Crisis Guide.
KAZAKHSTAN: Former oil workers continued to riot (Telegraph) against the government in the western region of Mangistau, prompting a military crackdown that has left at least thirteen people dead.
AFRICA
Congo Opposition Leader Calls for Army Backing
Democratic Republic of Congo opposition leader Etienne Tshisekedi called on the army to follow him after losing a recent presidential election that he says was a sham. Tshisekedi said he would offer a "great prize" to anyone who captures President Joseph Kabila (al-Jazeera).
The United States should withhold its support for the Kabila government until the situation in Congo clarifies, says CFR's John Campbell in this CFR Video.
NIGERIA: Police arrested fourteen suspected members of the radical Islamist group Boko Haram (Reuters) following a weekend gun battle that left four militants and three policemen dead in the northern city of Kano.
AMERICAS
Last U.S. Troops Leave Iraq
The final U.S. military convoy crossed from Iraq into Kuwait (LAT) on Sunday morning, bringing to a close the nine-year military operation in Iraq.
As the U.S. military formally ends operations in Iraq, four leading voices differ over whether the war merited the cost in blood, treasure, and U.S. credibility, in this CFR Expert Roundup.
URUGUAY: A two day Mercosur summit (MercoPress) --comprised of South America's largest trading bloc--is set to begin today, as the six-month rotating chair is passed from Uruguay to Argentina.
EUROPE
Vaclav Havel Dies
Former Czech President Vaclav Havel, the dissident playwright and activist who helped his country transition from communism to democracy (DeutscheWelle), died at seventy-five. Havel was Czechoslovakia's last president and the Czech Republic's first.
Vaclav Havel went from designing theater sets to choreographing the Czech Republic's entry into NATO. One constant in his improbable rise to president was a steely commitment to human rights, as reflected in selected excerpts in this CFR Analysis Brief.
GERMANY: European finance ministers are set to hold talks later today over contributing approximately $260 billion to the International Monetary Fund (WSJ) to help fight eurozone sovereign debt contagion, but face significant resistance from the Bundesbank, Germany's central bank.
Previously published:
US to Send 'Sharp Signal' to N. Korea in Naval Exercise
Steven R. Weisman | New York Times | August 18, 2003
"[The] exercise would consist in part of ships and helicopters practicing the 'nonpermissive boarding' of ships suspected of carrying drugs, missile components, nuclear materials and other items that the United States says are being imported or sold by North Korea. Some diplomats are known to worry that [such] exercises ... might be seen as provocative by the government of Kim Jong Il in North Korea, and perhaps by China and Russia." WASHINGTON — The Bush administration, while preparing for talks soon with North Korea, is also stepping up military pressure with plans for a joint naval exercise next month to train for interdicting at sea arms and other materials being transported to and from the North.
http://www.greatdreams.com/war/weapons-sea.htm
Previously published;
B-2 Stealth bomber as antigravity craft
by Richard Boylan, Ph.D.
Date: 09/20/97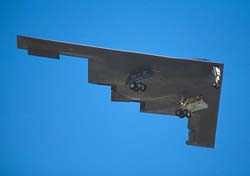 Retired Air Force Colonel Donald Ware has passed on to me information from a three-star general he knows who revealed to him in July that "the new Lockheed-Martin space shuttle [National Space Plane] and the B-2 [Stealth bomber] both have electro-gravitic systems on board;" and that " this explains why our 21 Northrop B-2s cost about a billion dollars each." Thus, after taking off conventionally, the B-2 can switch to antigravity mode, and, I have heard, fly around the world without refueling.
Thus, the B-2 Spirit advanced bomber has hybrid propulsion and lift technologies, utilizing jet thrust for public take-offs and landings, to look conventional, but switching to antigravity mode for extended cruising range, for lightning-fast maneuverability, and for shrouding the airframe in invisibility (by having its local anti-gravity field bend space-time, and thus light, around the airframe). This "disappearance" from conventional 3-D space-time provides the B-2 with virtually undetectable infrared, acoustic, electromagnetic, visual and radar signatures."

The unstable lift and forward-motion characteristics of the B-2's boomerang-like airframe are merely temporary, until it moves into antigravity mode, where independent field propulsion provides stability.
Further commentary, revealing that the government eventually plans to release antigravity technology publicly, is provided by Colonel Ware.
He says, "Apparently this highly-controlled military program was used to gain experience with 4th-density technology that may transform civil aviation, after all national leaders choose peace."

The Colonel thus is suggesting that the Black Projects units behind this antigravity craft are going to share their technology with everyone, once North Korea's Kim Jong-il and Iranian President Ahmadinejad settle down.

http://www.greatdreams.com/planes/stealth_craft.htm
Previously published:
Many modern leaders have exploited the artistic imagery if not the theology of apotheosis. Examples include Rubens's depictions of James I of England at the Banqueting House (an expression of the Divine Right of Kings) or Henry IV of France, or Appiani's apotheosis of Napoleon. The term has been used figuratively to refer to the elevation of a dead leader (often one who was assassinated and/or martyred) to a kind of superhuman charismatic figure and an effective erasing of all faults and controversies which were connected with his name in life - for example, Abraham Lincoln in the US and Yitzchak Rabin in Israel. Kim Jong-il of North Korea took the place of his father Kim Il-sung and much of the nation has grown up with the idea of the "leader" being placed at the height of society, this is the result of parents raised under a similar image by Kim Il-sung passing this view onto their children.
The subjective experience of being oneself elevated to God-like status has been widely reported by those involved in and ever since the psychedelic counterculture beginning in the 1950s and continuing through the present. The distinction can be made as becoming one with God by sacrificing the individual ego during psychedelic ecstasy, as opposed to co-opting the name or status of God in order to elevate the individual ego. In fact, the word "psychedelic" is coined from the Greek words for "soul," ψυχή (psyche), and "manifest," δήλος (delos). The word "entheogen" may also be used, which means "creates god within," en- "in, within," theo- "god, divine," -gen "creates, generates," and so may the word "phanerothyme," which, also derived from Greek, means "to reveal the spirit." Apotheosis can be understood in either the ego-less or egotistical context as long as the definition of God is equally contextual.
http://www.greatdreams.com/climate/apotheosis.htm
Prevously published;
Sadly, this fairly black and white issue will be muddied by those who insist on ritualistic denunciations of North Korea's leader Kim Jong Il, communism and neo-Stalinism, in the same way the issue of Washington's grossly illegal, immoral, and unpopular designs for war on Iraq have been muddied by ritualistic denunciations of Saddam Hussein, Iraqi human rights violations, and old stories (which now seem to be have been distorted, "Reality Checks Needed During War," Toronto Star, March 1, 2003) of Saddam gassing his own people.
The issue isn't Kim Jong Il. The issue is the United States seeking to extend its hegemony, through whatever means necessary. If that isn't learned soon, the hit list will grow longer.
You may re-post this article, providing the text remains unchanged.
THE KOREAN LEADER - ATTACK ON AMERICA?
... Donna. N. Korea Leader: 'Burn With Hatred' Against US. Nation's Leader Celebrates Birthday. ... OTHER PAGES ON THIS SITE REGARDING KOREA. DREAM OF 33. ... ...
www.greatdreams.com/korean.htm -
... The events, scheduled to take place throughout the United States, the Republic of Korea and the Pacific from 2000 to 2003, are intended "to honor and thank all ...
www.greatdreams.com/coming_war.htm -
http://www.greatdreams.com/war/1715-war.htm
North Korea mourns Kim Jong Il; son is 'successor'
PYONGYANG, North Korea (AP) — North Koreans marched by the thousands Monday to their capital's landmarks to mourn Kim Jong Il, many crying uncontrollably and flailing their arms in grief over the death of their "Dear Leader."
North Korean state media proclaimed his youngest son, Kim Jong Un, a "Great Successor," while a vigilant world watched for any signs of a turbulent transition to the untested leader in an unpredictable nation known to be pursuing nuclear weapons.
South Korea's military went on high alert in the face of the North's 1.2 million-strong armed forces following news of Kim's death after 17 years in power. North Korea said Kim died of a heart attack on Saturday while carrying out official duties on a train trip. President Barack Obama agreed by phone with South Korean President Lee Myung-bak to closely monitor developments.
On the streets of the North Korean capital, Pyongyang, people wailed in grief, some kneeling on the ground or bowing repeatedly. Children and adults laid flowers at key memorials.
A tearful Kim Yong Ho said Kim Jong Il had made people's lives happier. "That is what he was doing when he died: working, traveling on a train," he said.
Other North Koreans walked past a giant painting of Kim Jong Il and his late father, national founder Kim Il Sung, standing together on Mount Paektu, Kim Jong Il's official birthplace. Wreaths were neatly placed below the painting.
"How could the heavens be so cruel? Please come back, general. We cannot believe you're gone," Hong Son Ok shouted, her body shaking wildly during an interview with North Korea's official television.
A foreigner who teaches at a university in Pyongyang told The Associated Press that students told about Kim's death looked very serious but didn't show any outward emotion.
"There was a blanket of silence," said the teacher, who spoke on condition of anonymity because of worries about his security. "People were going about their business. Lots of people were lining up to lay flowers at official portraits. People looked a little stunned and very serious, but composed and respectful."
"He passed away too suddenly to our profound regret," said a statement carried by the North's official Korean Central News Agency. "The heart of Kim Jong Il stopped beating, but his noble and august name and benevolent image will always be remembered by our army and people."
He was 69, according to official records, though some reports indicate he was 70.
North Korean state media fell short of calling Kim Jong Un the country's next leader, but gave clear indications that Kim Jong Il's third son, who is believed to be in his late 20s, would succeed his father.
The North said in a dispatch that the people and the military "have pledged to uphold the leadership of comrade Kim Jong Un" and called him a "Great Successor" of the country's revolutionary philosophy of juche, or self reliance.
The death could set back efforts by the United States and others to get Pyongyang to abandon its nuclear weapons ambitions, because the untested successor may seek to avoid any perceived weakness as he moves to consolidate control.
"The situation could become extremely volatile. What the North Korean military does in the next 24-48 hours will be decisive," said Bill Richardson, a former U.S. ambassador to the United Nations who has made several high-profile visits to North Korea.
The death comes at a sensitive time for North Korea as it prepares for next year's 100th anniversary of the birth of Kim Il Sung. The preparations include massive construction projects throughout the city as part of Kim Jong Il's unfulfilled promise to bring prosperity to his people.
Seoul and Washington will worry that Kim Jong Un "may feel it necessary in the future to precipitate a crisis to prove his mettle to other senior leaders," said Bruce Klingner, an Asia analyst at The Heritage Foundation think tank in Washington.
North Korea conducted at least one short-range missile test Monday, a South Korean official said. South Korea's military sees the firing as part of a scheduled routine drill, instead of a provocation, said the official, speaking on condition of anonymity because of a policy that bans commenting on intelligence matters.
However, Konstantin Makienko of the Moscow-based Center for Analysis of Strategies and Technologies said the test "undoubtedly is connected to the death of North Korean leader Kim Jong Il."
"Its goal is to show the world that ... the armed forces of this country now are completely battle-ready and will react to any development," he told the Russian news agency RIA-Novosti.
North Korea conducted two nuclear tests in 2006 and 2009 and is thought to have enough plutonium for at least a half-dozen weapons. But experts doubt the North has mastered the technology needed to mount a nuclear warhead on a missile.
In Seoul, residents worried about instability in the North. A parliamentary official, Lee Kyu-yun. said he was thinking of stocking up food in case of soaring military tensions.
Lee Byung-joon, 27, feared South Korea might have to fight a war against the North if high-ranking officials challenge the inexperienced Kim Jong Un.
"I definitely think the chance of war breaking out between the South and the North is higher now than before," Lee said.
Some analysts, however, said Kim's death was unlikely to plunge the country into chaos because it already was preparing for a transition. Kim Jong Il indicated a year ago that Kim Jong Un would be his successor, putting him in high-ranking posts.
"There won't be any emergencies in the North, at least in the next few months," said Baek Seung-joo of the state-run Korea Institute for Defense Analyses in South Korea.
Another analyst said an internal power struggle could break out between Kim Jong Un and his uncle, Jang Song Thaek, who was elevated in the government last year and likely will be given a caretaker role in the new administration
"Tension will arise between Jang and Kim Jong Un, because Kim will have no choice but to share some power with Jang," said Ryoo Kihl-jae, a professor at the University of North Korean Studies, which is in South Korea.
The North said it would place Kim's body in the Kumsusan memorial palace in Pyongyang and that his funeral would be Dec. 28. No entertainment will be allowed during an 11-day mourning period, and the country will accept no "foreign delegations hoping to express condolences," it said.
South Korea's President Lee urged his people to remain calm while his Cabinet and the parliament convened emergency meetings. The Defense Ministry said the South Korean military and the 28,500 U.S. troops stationed in South Korea bolstered reconnaissance and were sharing intelligence on North Korea. Lee also talked with the leaders of Japan and Russia.
The Obama administration called Monday for a peaceful and stable leadership transition in North Korea.
The United States is still looking for better relations with the North Korean people despite the "evolving situation" there, said U.S. Secretary of State Hillary Rodham Clinton. "We both share a common interest in a peaceful and stable transition in North Korea as well as ensuring regional peace and stability," she said.
However, U.S. officials said Kim's passing and assumption of power of his son, Kim Jong Un, will likely delay anticipated developments on resuming nuclear disarmament talks with the North and supplying the nation with food aid.
The administration had been expected to decide on both issues this week. The officials said the U.S. was particularly concerned about any changes that Kim's death might spark in the military postures of North and South Korea, but were hopeful that calm would prevail.
In a special broadcast Monday from the North Korean capital, state media said Kim died on a train due to a "great mental and physical strain" during a "high intensity field inspection." It said an autopsy was done Sunday and "fully confirmed" the diagnosis. Kim suffered a stroke in 2008.
Associated Press writers Jean H. Lee in Pyongyang, Foster Klug, Hyung-jin Kim, Sam Kim and Jiyoung Won in Seoul and Matthew Lee in Washington contributed to this report.