Posted on Wed, Jan. 26, 2005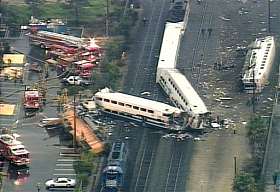 Commuter train derails in Glendale; killing nine and injuring more than 100
DAISY NGUYEN
Associated Press
GLENDALE, Calif.
Nine people were killed and more than 100 injured when a Metrolink commuter train crashed into an SUV parked at a crossing, derailed and sideswiped another commuter train early Wednesday, authorities said.
Los Angeles Sheriff Lee Baca said authorities were speaking with the driver of Jeep Cherokee and believe he intentionally parked it on the tracks and then left the vehicle.
"It didn't appear that the vehicle had stalled," Baca said. "It appears that it was deliberately placed there."
NOTE: CNN calling it an attempted suicide who changed his mind and jumped out of the vehicle. (Yeah right!)
The exact circumstances of the crash were still under investigation and the National Transportation Safety Board was headed to the scene.
Firefighters picked through twisted wreckage scattered across the tracks in the suburb north of downtown Los Angeles and carried wounded passengers from the trains to a triage center set up in a nearby parking lot.
"At this time we believe we have nine fatalities," Los Angeles Fire Chief William Bamattre said. More than 100 were transported to hospitals, he said.
One commuter train was headed from Los Angeles' Union Station to downtown Burbank, and the other was bound to Union Station from Moorpark, Metrolink officials said. Passengers were sent tumbling down the aisles as the trains derailed.
"I heard a noise. It got louder and louder," said passenger Diane Brady, 56, of Simi Valley. "And next thing I knew the train tilted, everyone was screaming and I held onto a pole for dear life. I held on for what seemed like a week and a half it seemed. It was a complete nightmare."
After the train headed to Union Station struck the SUV, one of the trains was propelled into a Union Pacific car parked on a side track, said Kathryn Blackwell, a spokeswoman for Union Pacific in Omaha, Neb.
In a light rain, more than 300 firefighters climbed ladders into windows of a battered train tipped onto its side. Los Angeles fire spokesman Brian Humphrey said firefighters freed about six people from the wreckage and no others were trapped.
Sheriff's Deputy James Tutino, on his way into work from his home in Simi Valley, was killed in the crash, Baca said. He said Tutino had been with the department for more 23 years.
Dazed passengers, some limping, gathered at tables in a nearby store while the injured sprawled on mats before being whisked away to hospitals by more than 35 ambulances.
"For me this is the worst train accident that I have ever seen. I've never seen anything like it," Los Angeles fire Capt. Rex Vilaubi told KNBC-TV.
One Metrolink car was sent twisting backward by the force of the crash, which occurred after 6 a.m. near the intersection of San Fernando Road and Chevy Chase Boulevard. A small fire that erupted in the crash was quickly extinguished by firefighters, Humphrey said.
Passenger Paul Konkirati, 28, of Burbank, said he was in a front car that broke in two.
"I felt the train sliding so I braced myself and put my foot on the chair next to me and held onto a bar. We hit and then somebody's head landed on my thigh."
Konkirati, his jeans covered in blood, said he tried to comfort the woman, "then it got really smoky, so smoky that I had to leave. I don't know what happened to her."
Workers at a Costco store near the accident ran out to help after the accident, which occurred in an industrial area with no homes nearby. There were no evacuations.
George Touma, 19, of Burbank, said he was called by his mother, who was on one of the commuter trains.
"She told me she was bleeding in the head and her arm was really hurting," said Touma, who was near the scene of the accident searching for her. "I'm really worried because she has vertigo and when I tried to call back she wouldn't answer.
"She said she remembered hearing sequential loud noises and then somebody pulled her out of the train while it was burning. She was in a panicked mode and now she's not picking up."
Union Pacific spokesman John Bromley said the track on which the crash occurred is owned and operated by Metrolink.
Metrolink began service in 1992 and operates seven lines, part of a multibillion-dollar transportation network aimed at reducing pollution and congestion in Southern California.
~~~~~
UPDATE:
Thursday, January 27, 2005
Man who caused Glendale train wreck could face death penalty
The Los Angeles District Attorney says the suicidal man who caused yesterday's chain reaction train derailment could face the death penalty. Eleven people were killed when a commuter train slammed into Juan Alvarez's Jeep Cherokee in Glendale.
There are now names and faces to put to the numbers. Eleven victims have been pulled from the train wreckage all but one have been identified. Firefighters have searched with dogs and under crushed rail cars and are turning the site over to investigators.
"We believe we have recovered everyone that could possibly have been a victim on this train," said Tom Lorenz with the Glendale Police Department.
Murder charges have been filed against 25-year-old Juan Manuel Alvarez. He faces eleven counts with special circumstances, making him eligible for the death penalty.
"The mere fact that you create a train wreck and people died can support murder charges under California law," said Los Angeles District Attorney Steve Cooley.
State of mind will be an issue. Alvarez lived in a converted garage with his wife until she threw him out several months ago. Relatives say he was despondent and had a history of drug abuse.
"He was in drug rehab but to my knowledge never finished it," said Alvarez' brother-in-law, Ruben Ochoa.
Before parking his SUV on the tracks, Alvarez had stabbed himself and tried to slash his wrists but as he saw the train approaching, he ran from the car, watching as the commuter train hit it and slammed into a freight train before clipping another commuter train.
There have been more than 40 fatal crashes involving Metrolink trains, but this is the worst in its 12 year history. Officials now will try to assess whether there was anyway to prevent it.
Juan Alvarez, will be arraigned tomorrow. He's being held without bail in a hospital ward.
All content © Copyright 2002 - 2005 WorldNow and KESQ. All Rights Reserved
UPDATE - 2-18-05
Man deliberately caused L.A. train wreck: police
CTV.ca News Staff
California police say they no longer believe a man who caused a fatal train wreck near Los Angeles was attempting to kill himself.
Juan Manuel Alvarez, charged with the deaths of 11 people on a commuter train last month by allegedly parking a truck in its path, wanted to create a "horrific tragedy," according to police.
The crash also injured at least 180 people.
Authorities initially said Alvarez, 25, was planning to commit suicide; and it was believed he lost his nerve and fled the truck before the Metrolink train hit it and derailed.

"The investigation has revealed that his actions are not consistent with that of an individual who is attempting to follow through with that act," said Police Chief Randy Adams.
"Although Mr. Alvarez may have contemplated suicide, his actions were deliberate with the intent of causing a horrific tragedy."
Adams stated that Alvarez had poured gasoline on both the outside and inside of his SUV.
Police spokesman Sgt. Tom Lorenz added another strange detail, saying Alvarez wanted to gain the attention of his wife, Carmelita.
The couple had separated and Alvarez's wife had obtained a restraining order against him.
Alvarez's lawyer calls the police statements vicious, callous and "a reckless distortion of the facts."
"If they want to make this case about, as they say, Juan Alvarez's intent to cause a horrific tragedy, I hope they can back it up," said Defense attorney Eric Chase.
"Apparently the Glendale police have not seen enough blood and are hungry for more."
Alvarez pleaded not guilty Tuesday to 11 counts of murder and a charge of arson causing great bodily injury in the crash and subsequent fire.
Prosecutors have not decided whether to seek the death penalty, reports the Associated Press.
Alvarez was jailed without bail pending a March 16 preliminary hearing, which will determine whether there is sufficient evidence to try him.
Relatives and friends of the 11 victims gathered at the crash site earlier this week for the first time since the disaster. They prayed and left flowers on the tracks. Fire officials and grief counsellors were on hand to provide support.
Some of the family members say they're angry that the train lacked seat belts and other safety mechanisms that could have prevented the deaths.
With files from the Associated Press
---
Eight killed, 240 treated in South Carolina train wreck that released chlorine gas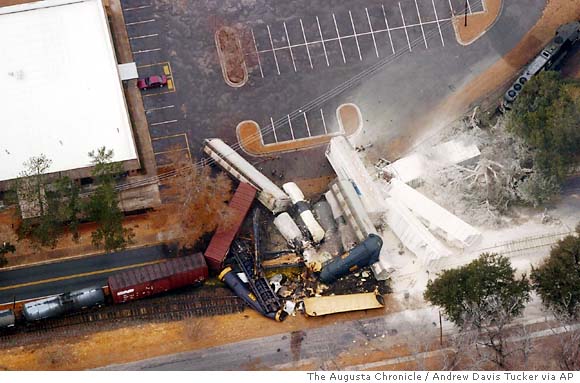 Friday, January
(01-07) 07:22 PST GRANITEVILLE, S.C. (AP) --
Margie West didn't want to leave her cats or comfy home, so she thought about waiting out the toxic chlorine cloud that was released after a train wreck.
Eight people died from the fumes, and sheriff's deputies persuaded West to spend the night elsewhere when they asked for her next-of-kin in case she died. "If anything happened I didn't want to die in the night," she said.
The air in Graniteville remained too dangerous for people to breathe Friday morning, 24 hours after a Norfolk Southern train carrying the chlorine crashed into a parked train near an Avondale Mills Inc. plant.
About 75 people found shelter at the University of South Carolina-Aiken on Thursday night, and shelter operators said the displaced residents were planning for a three-day stay.
More than 240 people sought treatment for respiratory and other ailments, and authorities said late Thursday that about 45 were admitted to hospitals.
Five victims, all men, were found at a mill near the wreck. Another man died in a vehicle, and one died in his home. The engineer of the moving train died at a hospital.
Autopsies were planned, but authorities said all appeared to have died from inhaling the chlorine gas.
Mill worker Rodney Johnson told the Aiken Standard that he smelled a strong chlorine odor around 2:35 a.m. "When I opened the door I saw a green mist coming toward me. I stepped up to see what it was and ran to my supervisor. He said to get them out."
Johnson said he piled several of his fellow workers in his truck and rushed them to Aiken Regional Medical Centers.
"It tore me all up," Johnson said. "My eyes burned and lungs hurt. I couldn't breathe at all. All I could think about was breathing and getting to rescue."
The wreck is the second in two months in the small textile mill town near the Georgia state line. In November, five people were killed when their car was hit by a train at a rail crossing.
The toxic gas kept investigators from reaching the site and officials don't know how the two trains ended up on the same track, National Transportation Safety Board spokesman Keith Holloway said.
The leak had slowed considerably Thursday night as Norfolk Southern workers prepared to remove rail cars from the track, said state Department of Health and Environmental Control spokesman Thom Berry.
Berry said Friday that officials would begin deciding how best to unload the chlorine.
There were at least three hazardous chemicals on the train, but officials were most concerned about the chlorine gas, which affects respiratory and central nervous systems.
Most of the 5,400 residents living within a mile of the site were evacuated about 12 hours after the early morning wreck. Until then, residents had been told by authorities to stay inside homes and turn off their ventilation systems.
By the time the evacuation order was issued, some had already experienced the skin- and eye-burning sensations associated with chlorine contact.
Cindy Britt, 39, said her throat had begun feeling clogged early in the day, and it took little persuading from deputies to get her out of her home. She sat Thursday in donated clothes on a blue cot in a makeshift shelter at the University of South Carolina-Aiken. She had turned the clothes and shoes she was wearing in to authorities.
"She forced me out," said Cindy's husband Randy Britt. "I was just going to shut the car in the garage and watch TV."
Two Trains Collide in Thick Fog in Northern Italy, Killing 14 and Injuring Dozens

BOLOGNINA DI CREVALCORE, Italy Jan 7, 2005

— A passenger train and a freight train collided in thick fog Friday in northern Italy, killing 14 people and injuring dozens, rescue officials said.

The crash, on a line between Bologna and Verona, left several train cars in a wreck of buckled metal. At least one carriage was lifted high into the air by the force of the collision.

The crash happened at 12:50 p.m. in a rural area of Bolognina di Crevalcore, 25 miles north of Bologna.

Workers pulled bodies from the wreckage and laid them in body bags in a misty field. Eight bodies had been recovered, according to police in the nearby town of San Giovanni in Persiceto, who were overseeing the efforts. Officials in Rome said 14 people were killed and 80 injured, several seriously.

The Civil Defense department said around 100 people were on board the passenger train, which was a local train traveling south from Verona to Bologna. The freighter was headed north from Rome to San Zeno Falzano.

The cause of the crash was not known, but officials said there was thick fog at the time of the collision. The Transport Ministry said it was opening an investigation.

A helicopter was sent from Rome, the ANSA news agency reported, while several ambulances rushed to the scene.

Several seriously injured people were taken to a hospital in Bologna, and about 50 people were being treated on-site for minor injuries, the report said.

Italy has few deadly train crashes, but a train from Palermo to Messina derailed in northeastern Sicily, killing at least eight people in July 2002.

Copyright 2005 The Associated Press. All rights reserved
Metro Trains Collide on Red Line
Updated: Wednesday, Nov. 3, 2004 - 3:00 PM

WASHINGTON (AP) - Two witnesses to Wednesday afternoon's train crash at the Woodley Park Metro station are describing a harrowing scene. Nick Harnice and his girlfriend, Deana Clingerman, both of Alexandria, were on board the train that was hit at around 12:49 p.m.

Harnice says just as their train pulled into the station and stopped, the conductor began screaming for people to get off the train, and the passngers started running.

In a matter of seconds, Clingerman says a second train hit their train head-on and went on top of the first train, sending debris flying.

Both described a lot of smoke and debris in the station.

The train that was hit was bound for Shady Grove. The second train was reportedly empty.

D.C. Fire Department spokesman Alan Etter says four people have been injured in the collision.

Etter says the injured are three passengers and the operator of one of the trains involved.

He says none of the injuries are life-threatening.

But he says damage to the trains is "significant." He describes the scene in the underground station as one of cars accordioned together, like "sardines in a can."

Etter says Metro Transit police are on the scene, talking to witnesses and collecting information about what happened.

The crash has closed a portion of the Red Line.

Service is shut down between the Van Ness and Dupont Circle stations. On its web site, Metro is advising customers to find alternate ways home for Wednesday afternoon's commute.

Shuttle bus service will be provided between Dupont Circle and Van Ness.

www.wtop.com
FROM: http://www.stevequayle.com/index1.html
COMMENT: Mainstream news articles are reporting eyewitness accounts of dry runs on aircraft by Middle Eastern groups (6-14 men) scouting out specific flights to and from L.A. and New York. Also today, Amtrak was stopped and searched for explosives based on specific intel that there will be a major East Coast train bombing on the order of Madrid. As we get closer to the anniversary date of 9-11, it appears that the jihad forums are becoming more frequent in their postings to the "Big Day". I would strongly urge everyone reading this to be extra diligent and if you MUST travel from the East Coast to the West Coast, introduce stopovers into your schedule. Terrorist training manuals indicate the number of terrorists will be increased on the flights with the idea of over powering air marshalls and U.S. citizens. Extreme caution is advised.
Flood of Non-Speaking Middle Eastern Males Crossing Border


July 23, 2004
From Chris Simcox
The Tombstone Tumbleweed

Border Patrol field agents have shared some disturbing information with the Tumbleweed as well as other civilian sources with the hope the information will make it to the general public.

The Tumbleweed has verified information that a flood of middle-eastern males have been caught entering the country illegally east of Douglas, Arizona. The increased patrols in the Huachuca Mountains area of Cochise County, seems to have diverted the flow of OTM's, "other than Mexicans" east to the Chiricahua Mountains. In the last month, the Tumbleweed has confirmed at least two documented accounts of Border Patrol agents encountering large groups of non-Spanish speaking males in the Chiricahua foothills and on trails along the high mountain areas.

On or about the early morning hours of June 13, 2004 Border patrol agents from the Wilcox station encountered a large group of suspected illegal border crossers, estimated to be around 100, just east of the Sanders Ranch near the foothills of the Chiricauha Mountains. 71 suspected illegal aliens were apprehended; among them were 53 males of middle-eastern decent.

According to a Border Patrol field agent, the men were suspected to be Iranian or possibly Syrian nationals. "One thing's for sure, these guys didn't speak Spanish and after we questioned them harder we discovered they spoke poor English with a middle-eastern accent, then we caught them speaking to each other in Arabic…this is ridiculous that we don't take this more seriously, and we're told not to say a thing to the media, but I have to," said the agent, whose name will obviously remain anonymous.

The agent stated the men were wearing the traditional uniform of migrants - baseball caps, tennis shoes, some had work boots, denim jeans and many had t-shirts with patriotic American flags and slogans. The agent added the following description "A curious thing I noticed was that they all had brand new clothing and they looked as if they had just been to the barber shop, you know, new haircuts. They were clean cut and they all had almost the exact cut of mustaches."

The information was corroborated by a local rancher in the area who reports that sightings of groups similar to these are on the rise. The rancher also reports that groups of heavily armed paramilitary drug smugglers have also been seen in the same area.

"We've had groups in the hundreds coming through again. They were gone for awhile but now they're back. And of course we have the drug mules again and many are carrying automatic weapons. Many other ranchers in the area have been frustrated with the lack of response from Border Patrol.

After calling over and over again, to the Wilcox headquarters, we might get a response a few hours later. We call them in to the Border Patrol, we only have the Wilcox station, and they're so darned far away. By the time they send in the helicopters these groups are long gone. I don't know how many they catch but they're coming through here heavy right now."

On or about the evening of June 21, 2004, agents from the Wilcox Border Patrol station apprehended 24 members of a larger group of Arabic speaking males located just east of the Pierce/Sunsites area of Cochise County. At least half of the males escaped capture and disappeared into the United States.

http://www.tombstonetumbleweed.com/tombstone/default.asp#iframe1
Amtrak Train Stopped For Arabic-Looking Graffiti
Officials Question Passengers, Search Station
POSTED: 6:13 pm EDT July 3, 2004
WASHINGTON -- An Amtrak train on its way from Miami to New York was stopped at Union Station on Saturday after Arabic-looking graffiti was spotted on its side, News4 reported.
News4 was told the graffiti possibly said "die," "July Fourth" and "D.C."
Transportation Security Administration officials questioned everybody on the train and used K-9 dogs to search the station.
No one was detained or arrested.
The train arrived in New York City Saturday evening, about four hours behind schedule.
TUESDAY 13/07/2004
Lurgan train bomb attack

A train carrying members of the loyal orders was petrol bombed by nationalist youths in Lurgan, Co Armagh today.
By:Press Association
No-one was injured as around six petrol bombs and at least one paint bomb were hurled at the train on the outskirts of the town, near the nationalist Kilwilkee estate, shortly after 10am.

The attack followed a parade by members of the Royal Black Preceptory in the William Street area of the town.

The members traditionally march to the town`s train station before boarding the train to Bangor, Co Down.

A police spokeswoman confirmed that several windows in the train were broken, adding that the area was now quiet.

This year, a Parades Commission ruling meant that the parade dispersed 300 metres from the station and members had to walk along the footpath to catch the train.

The parade itself passed off peacefully.
Suspect is held in train bomb threats
Before making the 911 bomb threat calls, Michael Dean Conwill called AT&T and asked that the name of his cell phone account be changed to the name of his previous employer, he told FBI agents this week.
He said he did so to prevent anyone from tracing the bomb threats back to him.
It didn't work.
Conwill, 35, of Anchorage, Alaska, made an initial appearance Friday in federal court in Chicago, where he was ordered to be delivered to federal authorities in Madison.
He had previously admitted to the FBI that he made telephone bomb threats while a passenger on the Seattle-to-Chicago Amtrak train authorities stopped in Portage this week, according to documents filed Friday in federal court.
He is expected to be transferred in federal custody to Madison by Tuesday or Wednesday, said Assistant U.S. Attorney Grant Johnson.
According to an affidavit by FBI Agent Peter Freitag in Madison:
Train bomb threat exposes security gap
8:40 PM 7/07/04
Though no bomb was found on a cross-country Amtrak train evacuated Tuesday in south-central Wisconsin, the incident exposes a real threat: America's rail system is terribly vulnerable to attack. <
About 300 passengers were evacuated at the Portage Amtrak station following bomb threats called in to 911 centers in neighboring counties. Authorities spent nearly six hours searching the Chicago-bound train, turning up only fireworks and an illegally concealed weapon. <
By all accounts, local and federal authorities worked well together. Nevertheless, the incident reminds us that more than two years after the Sept. 11 attacks, American mass transit - railways, subways and buses - still desperately need a major security upgrade.
The Bush administration, intelligence agencies and Congressional leaders continue to devote most attention and federal resources to airport security, underestimating the threat to other transportation such as regional and cross-country passenger trains.
Those priorities should change now. In contrast to already tightly controlled airports, the open access essential to rail, subway and bus travel make these forms of public transit much easier to attack and harder to defend. The recent railway bombings in Madrid, where 10 bombs planted on four commuter trains killed 191 people during the morning rush, show that terrorists are able and willing to carry out public transit attacks coordinated to maximize murder and mayhem. <
In fact, our preoccupation with air travel may
Spain probe of Madrid train bombings gets under way

Parliament's investigation of the Madrid train bombings opened yesterday with a witness account of three young men wearing wool caps on a warm spring day, and with handkerchiefs covering their faces, at the station that was the starting point of the attacks.
One walked quickly toward the train carrying a bag while the other two stayed behind at a parked van.
"My blood ran cold. I thought it was a robbery," Luis Garrudo, a doorman in the town of Alcala de Henares, said.
Garrudo told the commission what he told authorities on March 11: He directed police to the suspicious van that was found to contain a cassette tape with verses from the Quran, detonators and traces of explosives of the kind used in the attack.
It was the first big break in the case.
In all, 10 backpacks stuffed with dynamite and shrapnel exploded on four crowded trains heading to Madrid during the morning rush hour, killing 190 passengers and bystanders, and wounding more than 2,000.
The attack is blamed on Islamic militants with possible ties to the international terrorist group al-Qaeda.
Of the 50 people arrested, 16 remain in jail, including two believed to have put the explosives on the trains.
Garrudo, his face electronically blanked for security reasons on the live cable TV broadcast of the hearing, was the first of at least 35 people scheduled to testify before the 16-member commission of the Congress of Deputies.
The commission will interview witnesses and officials, and examine police documents and other material, to review what happened on March 11 and the following days.
On March 14, the Popular Party was upset in elections that brought the Socialists to power.
The aim is to determine whether the threat of Islamic terrorism might have been foreseen and counteracted; whether Spain is safer now that greater security steps have been taken; and what impact Spain - and Europe's - worst terror attack had on the election.
Thirteen people, most of them police officials, were due to appear before the panel this week.
The investigation, similar to the September 11 commission in the United States, is expected to last at least a month.
While declassifying some documents, the government of Prime Minister Jose Luis Rodriguez Zapatero refused to declassify others, notably an intelligence report from October 2003.
It reportedly cautioned that a threat from Osama bin Laden to target Spain and other countries which deployed troops in Iraq during or after last year's US-led invasion should be taken seriously.
The government won't declassify these documents because they contain information from foreign intelligence agencies, the public disclosure of which might provoke them to not cooperate with Spain's intelligence agencies.
The Popular Party sent 1,300 peacekeeping troops to Iraq despite massive opposition by Spanish voters. One of Zapatero's first policies was to remove them.
Testimony from key politicians was left for the final stage of the probe. It is not yet known if former Prime Minister Jose Maria Aznar will testify. He has not been subpoenaed. His Popular Party says he will testify willingly if requested.
The probe is politically charged. Socialists seem bent on highlighting the previous government's initial insistence that Basque separatists - not Islamic militants - were the main suspects, in a bid influence the election.
AP
Madrid train bombers had more targets lined up-media 30 Jun 2004

MADRID, June 30 (Reuters) - The Madrid train bombers were planning other attacks on targets including a British school and two Jewish centres, Spanish media said on Wednesday, quoting a police report.
Investigators found documents detailing the targets in the wreckage of a suburban apartment where seven prime suspects in the train attacks blew themselves up on April 3 when police cornered them, the reports said.
Police have handed the information to a parliamentary commission investigating the bombings that killed 191 people and injured 1,900 on packed commuter trains on March 11, news agency Europa Press said.
As well as a British infant school in a suburb of Madrid, targets included a Jewish hostel and a recreation centre used by Jewish families, the agency said.
A parliamentary spokeswoman said she had no information on the police report.
Investigators say Islamic militants acting in the name of al Qaeda carried out the train bombings. They say most of the key suspects either died in the April 3 suicide blast or are under arrest. A judge has formally accused 25 people, most of them Moroccan.

The Madrid Train Bombing Was a Primer
They are using the example of the Madrid train bombing as a kind of overlay to reinforce the likelihood in people's mind that this is going to happen.
The individuals who carried out that attack had closer links to the Spanish government than they did to Al-Qaeda. The man who provided the explosives was in contact with the Spanish security services days before the attack, as BBC reported . And of course the Boston Globe reported that the Al-Qaeda group blamed for the attack was non-existent.
They've already been laying the groundwork for the pre-attack propaganda. A plane which was carrying the governor of Kentucky to the Reagan funeral which strayed into restricted airspace forced the capitol building to be evacuated . This story didn't get much attention but there were police running around screaming at people to run because a plane was about to hit in two minutes. So those members of Congress who aren't in on the loop have already been prepared.
Even if the election isn't cancelled, Homeland Security may raise the color code to a red alert and it will a martial law drill which will make a lot of people in the big cities stay in their homes and not vote, which again conditions them that voting is some kind of privilege afforded to them by the government
FROM:
http://www.infowars.com/print/ps/postpone_election.htm
4-29-04 - ALERT

I am currently listening to a radio interview by Steve Quayle. at: http://www.realityradionetwork.com/thursday.shtml
He is saying that short trains pulling box cars with handcuffs on the walls inside have been going through Bozeman, Montana on a nightly basis. They only move at night. They were heading west.

Another guy in Wyoming reporting the same thing.

He also said there is a railroad yard in Portland, Oregon is where these cars are stored.

He also said it is expected that there will be a civil war in the US between Christians and Islamists.

It'll be horrible if that happens.

Dee
xxx
Another area rife with rumor concerns secret concentration camps or "detention centers" which reportedly are being built -- or are already constructed -- throughout the country for the incarceration of American patriots. Usually these are said to be under the control of the Federal Emergency Management Agency (FEMA). Now, a police state is one big concentration camp or "gulag"; but, as in the Soviet Union, there were (and still are) gulags within the gulag. And if the police state toward which we are headed eventuates, America will have many Treblinkas, Vorkutas, Auschwitzes, and Kolymas. So it is entirely possible that the police statists who are leading us into the totalitarian vortex have indeed established and/or are building prisons, concentration camps, re-education camps, and detention facilities.
Some reliable sources have provided THE NEW AMERICAN with photographs of, and information on, what are reportedly secret prison facilities. We are investigating these through both official and unofficial channels. We take them seriously, as we do many of the issues mentioned throughout this article, even though the enormous number of fraudulent, fanciful, exaggerated, and speculative stories makes it more and more difficult to do so.
FROM: THE NEW AMERICAN
ITS MORE THAN JUST 'TRAINS'
In an American information newsletter "The Spotlight" which is issued from a Washington address, there appeared an article quoting from a copy of an army manual known as FM-41-10 which outlines army contingency operations designed to round up American civilians and detain them in concentration camps. This manual has a distribution restriction to government agency only and contains instructions to destroy it to prevent disclosure of contents. Reprinted in "The Spotlight" is a plan of a concentration camp complete with wire fence and tower lights, with barracks for families, unescorted children, unattached males and unattached females. The manual is designed to be used in conjunction with national emergencies when units of the army will be used to support the Federal Emergency Management Agency orders.
This organization is commonly known as FEMA and was in charge of the murderous assault on David Koresh and his followers. Incidentally, during the recent scare about the crash of the Russian Mars space vehicle was the first time that I had heard mention of our own Emergency Management Agency. How much more don't we know and need to find out?
But to continue the "Spotlight" article.
"Included in the manual are illustrations of the FEMA chain of command and the boundaries of the regions which will become the governmental subdivisions supplanting state authority."
Here again we have a parallel with Australia with the recent amalgamation of local councils into larger onees. Our former Premier, Wayne Goss was correct, I believe, in assuming that this was a prelude to the phasing out of State Governments and the Federal Government dealing directly with local councils who are much closer to the people.
But to continue. "The manual includes details on the methods of rounding up civilians and placing them in detention centres. The newspaper also outlines the officials in the Pentagon charged with facilitating "Civil Affairs" operations. Handling the operation is Assistant Secretary of Defence, Henry A. Holmes who heads something called "Special Operations Command" with General Wayne A. Downing under him.
In addition to civil affairs planning, Holmes and Downing handle special operations for all services, as well as "Psychological Operations" and "Special Aviation" units. Included in the Special Aviation Units are uniquely equipped fixed-wing and rotary aircraft, some of which are for low-flying ground surveillance.
The use of unmarked black military helicopters flying low over civilian areas recently has raised rumours and fears that surveillance is now being conducted against the civilian population."
Now if you are sitting there thinking to yourself that this is pure speculation and a load of rubbish, just remember that the German people under Hitler saw what was happening and closed their eyes, but it was all too real anyway.
I often wonder if the now accepted practice in Australia of emptying our mental hospitals and institutions and forcing mentally incompetent people to fend for themselves in the community is so arranged that those facilities might be used to house our dissident population. Three or four years ago, the local mental hospital in my home town of Toowoomba was extended at the same time that patients were being sent out into the community. Seems odd to me.
HERE IS A FURTHER QUOTE FROM METRO FORCE BY SERGE MONAST
"That everything is in readiness for the total control of the U.S. population can be further affirmed by the presence of "Rainbow" Highway Code Markers now appearing on certain U.S. highways, where it is believed that inactivated army bases are to be used as concentration camps. In January 1995 it was reported by residents in Montana, that the area had been quietly invaded by U.N. Troops. A local blacksmith reported that he had just returned from the north western part of the state, and said the area was crawling with Belgian troops and some Austrian troops.
Also he counted no less than 114 barges loaded with U.N. equipment coming in from Canada. Montana, North Dakota, Minnesota and Wisconsin and a few states below them are to be policed by Belgian troops. This man was told that at the town of Kalisfel in Montana, the government had bought a ranch and fenced it, the fence going inwards at the top to keep people in - not out!
A massive new crematorium has recently been completed in Indianapolis, Indiana, at the now disused Amtrak railroad terminal, and an investigator has reported that he has received information from some of those who helped to build the facility that guillotines have been installed for those who arrive alive instead of dead. Others say new gas lines have been installed - and not for heating purposes. Pictures of this facility bear this out.
Three other such crematoriums are known to exist. They are Oklahoma City, Oklahoma; Kansas City. Missouri; and Bay City, Michigan. The Blue Highway Markers on the back of the highway signs lead to them. The Indianapolis Crematorium is a blue arrival point. As blue is the colour indicating in hospitals that the subject has died, we believe that this is a destination for those who are already dead, that is those shot by the police and military forces of the New World Order.
On the same grounds is a Red Zone arrival point. As red signifies death, we believe that this is a destination point for those yet living who are destined for either the gas chambers or the guillotine. An aerial picture was taken of the gas chambers being constructed at the same Amtrak facility. Newly installed gas pipes lead to every chamber. There are revolving steel gates by which admissions are made of the living, who arrive in the Red Zone. The symbols of the New World Order appear above the entrance gates; this is the all-seeing-eye of Satan atop the Pyramid as appears on the back of the U.S. 1 dollar bill.
Parked at the facility is a locomotive decked out in blue which patrols the old Amtrak railway station. It has U.S. Air Force on its side. Blue Highway Code Markers are as I said before, representative of death. Green represents life, and it is speculated that these signs lead to detention facilities where people will be sorted out for commitment to concentration camps, to work camps, either death or release. Perhaps these will be sites for micro-chipping all those brought to the facility.
The micro-chip is a means of keeping track of and controlling you wherever you may be. Orange Highway Markers lead to confiscation targets such as factories, smaller airports, gravel pits and private lands. (Maybe the gravel pits are to be mass graves, as gravel pits also have the blue markers.)
Red markers are death and lead to crematoriums. Brown markers lead to materials to be seized and used; brown markers have been noted to lead to building materials companies, seed companies, pig farms and butchering facilities. Yellow markers are areas to be secured or confiscated. White markers are areas used for holding seized material like firearms; these white markers lead to military bases, National Guard Armories, and certain warehouses.
These highway markers are ominous and can be found in the U.S., Canada, Russia and other countries. They are obviously U.N. ordained. U.N. troops who are stationed in a foreign country and who do not speak the language of the country they are in can be guided to destinations by these markers.
On 13th January 1994, traffic at a railroad crossing in Tulsa,
Oklahoma, was held up by an extremely long train of over 100 cars that were south west bound from that location. The next major city on that route was Oklahoma City. The train however, could continue on to Arizona and California.
The train was described as consisting of brand new totally black boxcars, all probably empty due to the fact that a single engine pulled the number of cars involved. There were no markings on the cars other than a bar code and a serial number. When interviewed, a railway security officer said he knew of such train cars being stored "up north" in either Minnesota or Michigan or Wisconsin.
He was told they were boxcars that preceded the "white" trains. He was then asked `What do you guys do with those boxcars that have shackles and handcuffs bolted to the inside walls?' Without hesitation he stated "Oh those must be the "white" trains. We supposedly use those to precede any transportation of nuclear weapons or material. When we move a nuc. train we don't stop for anyone. If there are any demonstrators on the tracks, a security force in the lead train rounds them up and sticks them in the boxcars until they can be dealt with later.
The more reasonable explanation, I think, is that these cars, especially in this quantity, are not being built and maintained for simply preceding nuclear shipments". These boxcars are obviously being readied for future civilian detainee transportation. You may be asking yourself, why aren't we seeing this here? My theory is this. We have a vastly smaller population, and America has a much greater proportion of Christians who are likely to resist, whereas Australia has few strong, born-again Christians in comparison, in fact, several years ago, the U.N. itself designated Australia as a pagan country. I pondered whether to include the seven rainbow classification of the New World Order prisoners, due to their horrific nature, but have decided to do so, as I believe we need to know.
http://www.freep.com/news/latestnews/pm19475_20040422.htm
Reports: Explosion kills thousands in North Korean train station
Thursday, April 22, 2004
BY SANG-HUN CHOE
ASSOCIATED PRESS
SEOUL, South Korea - Two fuel trains collided and exploded in a North Korean train station near the Chinese border Thursday, according to South Korean media, which reported large numbers of casualties. One television station said 3,000 people were believed killed or injured.
The North Korean leader, Kim Jong Il, reportedly had passed through the station as he returned from China nine hours earlier. It was not clear what caused the crash, or if it was related to Kim's journey. The trains were carrying oil and liquefied petroleum gas, media reported.
The crash reportedly took place about 1 p.m. in Ryongchon, a town 12 miles from China. North Korean authorities declared a ``state of emergency'' in the area, South Korea's Yonhap news agency reported.
In another sign of the accident's magnitude, the secretive North Korean government cut international phone lines to prevent news of the collision from leaking across its borders, Yonhap said, citing no sources.
The number killed or injured could reach 3,000, South Korea's all-news cable channel, YTN, reported, citing unidentified sources on the Chinese side of the border.
``The area around Ryongchon station has turned into ruins as if it were bombarded,'' Yonhap quoted witnesses as saying. ``Debris from the explosion soared high into the sky and drifted to Sinuju,'' a North Korean town on the border with China, it said.
Cho Sung-dae, a Yonhap correspondent in Beijing, said his reports were based on Chinese sources in the Chinese border town of Dandong who had talked with their relatives in Ryongchon.
They described a massive explosion involving a large number of casualties but could not give figures, Cho told The Associated Press in a telephone interview. Cho also said North Korean authorities appeared to be shutting down the border with China after the incident.
Subsequent attempts by his Chinese sources to contact people in Ryongchon failed because the phone lines had been severed.
North Korea is one of the world's most isolated countries and rarely allows visits by outside journalists. News events within its borders are difficult to confirm independently.
North Korea's state-controlled media is unlikely to provide quick confirmation of such an accident. The communist country's infrastructure is dilapidated and accident-prone. Its passenger trains are usually jam-packed with people, but defectors say they are seldom punctual and frequently break down.
Sometimes, trains are stranded for hours at stations until their electricity supply is restored enabling them to continue on their journey, some defectors say.
YTN, citing an unidentified South Korean government official, said the government in Seoul confirmed a huge explosion in the Ryongchon train station. The official told YTN he believed the incident was an accident, not politically motivated.
Yang Jong-hwa, a spokeswoman of South Korea's Unification Ministry, said her organization could not immediately confirm the reports. The ministry is in charge of relations with North Korea.
The Defense Ministry could not comment, and the Foreign Ministry could immediately be reached.
YTN reported that the casualties included Chinese living in the North Korean border region, and that Chinese in Dandong - a bustling industrial city on Yalu River - were desperate to learn about their relatives.
Some of the injured were evacuated to hospitals in Dandong, it said.
Chinese and North Korean traders frequently cross the border at Dandong.
The accident resembled a disaster in Iran on Feb. 18, when runaway train cars carrying fuel and industrial chemicals derailed in the town Neyshabur, setting off explosions that destroyed five villages. At least 200 people were killed.
North Korea's state-run news agency on Thursday confirmed that Kim made a secretive trip to China on Monday through Wednesday, but carried no comments on the reported explosion.
China, which also confirmed Kim's visit, is North Korea's last major ally, and the two countries' ruling communist parties boast of close ties. But while China's experiments with capitalism have transformed it into an economic dynamo, North Korea suffers chronic food shortages and depends on its larger neighbor for aid.
Kim met with President Hu Jintao and other Chinese leaders and agreed to ``push ahead'' with a peaceful resolution to the standoff over its nuclear weapons programs, the North's official KCNA news agency and central television network reported earlier Thursday.
The broadcast added that Kim said his government ``will continue to be patient and flexible and actively participate in the process of six-nation talks and contribute to making progress at the talks.''
The comments were likely to be encouraging to the United States and other countries, who want China to use its leverage as North Korea's leading supplier of food and energy aid to get the country to disarm.
Washington wants Pyongyang to dismantle its nuclear facilities, but North Korea has said it doesn't trust the United States not to invade and wants a security guarantee.
The last round of six-nation talks - involving China, the two Koreas, the United States, Japan and Russia - ended in February in Beijing without a settlement.
MADRID, Spain (March 11) -- Ten terrorist bombs blasted three Madrid train stations at the height of the morning rush hour Thursday, killing more than 170 people and wounding at least 600 before this weekend's general elections. Officials blamed Basque separatists for the worst terror attack in Spanish history.
Blasts Strike Madrid; 173 Dead
Basque Separatist Group ETA Suspected, but Party Leader Denies Responsibility
by MAR ROMAN, AP
MADRID, Spain - Ten terrorist bombs blasted three Madrid train stations at the height of the morning rush hour Thursday, killing more than 170 people and wounding at least 600 before this weekend's general elections. Officials blamed Basque separatists for the worst terror attack in Spanish history.
Rush Hour Shattered
''This is a massacre,'' government spokesman Eduardo Zaplana said.
A total of 10 bombs exploded, killing 173 people and injured more than 600, Interior Minister Angel Acebes said. Police found and detonated three others.
Before the Thursday bombings, the Basque separatist group ETA had been blamed for more than 800 deaths in its decades-old campaign to carve an independent Basque homeland from territory straddling northern Spain and southwest France.
Largest Terror-Related Death Toll
Blast Blamed on Separatists
Aftermath of the Bombing
''ETA had been looking for a massacre in Spain,'' Acebes said after an emergency cabinet meeting, citing recent thwarted attacks. ''Unfortunately, today it achieved its goal.''
He said security services knew ETA was responsible because the group tried a similar attack on Christmas Eve, placing bombs on two trains bound for a station that was not hit Thursday. He also noted the Feb. 29 police interception of a Madrid-bound van packed with more than 1,100 pounds of explosives. Authorities blamed ETA.
''Therefore, it is absolutely clear and evident that the terrorist organization ETA was looking to commit a major attack,'' Acebes said. ''The only thing that varies is the train station that was targeted.''
A top Basque politician, Arnold Otegi, denied the separatists were behind the blasts and blamed ''Arab resistance.'' Many al-Qaida-linked terrorists were captured in Spain or were believed to have operated from there.
Thursday's bombs exploded about 7:30 a.m. on trains or at platforms on the commuter line running to the Atocha station, a bustling transportation hub in the capital. At least two of the bombs went off in trains that were in the Atocha station.
Otegi told Radio Popular in San Sebastian that ETA always phones in warnings before it attacks. Acebes said there was no warning before Thursday's attack.
''The modus operandi, the high number of victims and the way it was carried out make me think, and I have a hypothesis in mind, that yes it may have been an operative cell from the Arab resistance,'' Otegi said, noting that Spain's government backed the Iraq war.
Until now, the highest death toll in ETA-linked attacks was 21 killed in a supermarket blast in Barcelona in 1987.
People streamed away from the Atocha station in tears Thursday as rescue workers carried bodies covered in sheets of gold fabric. The wounded, faces bloodied, sat on curbs and used mobile phones to tell loved ones they were alive. Hospitals appealed for blood donations. Buses were pressed into service as ambulances.
Rescue workers were overwhelmed, said Enrique Sanchez, an ambulance driver who went to Santa Eugenia station, about six miles southeast of Atocha station.
''There was one carriage totally blown apart. People were scattered all over the platforms. I saw legs and arms. I won't forget this ever. I've seen horror,'' Sanchez said.
Shards of twisted metal were scattered by rails in the Atocha station at the spot where an explosion severed a train in two.
''I saw many things explode in the air ... it was horrible,'' said Juani Fernandez, 50, a civil servant who was on the platform waiting to go to work.
''People started to scream and run, some bumping into each other and as we ran there was another explosion. I saw people with blood pouring from them, people on the ground,'' Fernandez said.
''Those responsible for this tragedy will be arrested and they will pay very dearly for it,'' Acebes said at Atocha station.
The attacks traumatized Spain on the eve of Sunday's general election.
The campaign was largely dominated by separatist tensions in regions like the Basque country, with both the ruling conservative Popular Party and the opposition Socialists ruling out talks with ETA.
The government convened anti-ETA rallies nationwide for Friday evening and announced three days of mourning.
''What a horror,'' said the Basque regional president, Juan Jose Ibarretxe, who insisted ETA does not represent the Basque people. ''When ETA attacks, the Basque heart breaks into a thousand pieces,'' he said in the Basque capital Vitoria.
''This is one of those days that you don't want to live through,'' said opposition Socialist party spokesman Jesus Caldera. ''ETA must be defeated,'' referring to the group as ''those terrorists, those animals.''
"I won't forget this ever. I've seen horror."
-Ambulance driver Enrique Sanchez
In London, British Foreign Secretary Jack Straw called the attacks terrorist atrocities and a ''disgusting assault on the very principle of European democracy.''
Straw said that Britain stood ''shoulder to shoulder'' with Spain and was ready to send any kind of material help needed.
Elsewhere, European Parliament President Pat Cox said the bomb attacks amounted to ''a declaration of war on democracy.''
''No more bombs, no more dead,'' Cox said in Spanish before a hushed legislature in Strasbourg, France. ''It is an outrageous, unjustified and unjustifiable attack on the Spanish people and Spanish democracy.''
Spanish officials had said ETA was against the ropes following the arrest last year of more than 150 members or collaborators in Spain and France, including the leaders of ETA's commando network. Last year, ETA killed three people, compared with 23 in 2000 and 15 in 2001.
03-11-04 09:32 EST
Copyright 2004 The Associated Press.
~~~~~~~~~~~~~~~
Spain Announces Five Arrests in Bombings
MADRID, Spain - Spain's interior minister Saturday announced the arrest of five suspects in the Madrid bombings, including three Moroccans.
The other two suspects had Indian passports, a ministry spokesman said.
The five were arrested in connection with a cell phone inside an explosives-packed gym bag found on one of the bombed commuter trains.
The suspects "could be related to Moroccan extremist groups," the minister said. "But we should not rule out anything. Police are still investigating all avenues. This opens an important avenue."
The 10 bombings on Thursday, which killed 200 people on Madrid commuter trains, amounted to the worst terror attack in Spanish history.
Families began burying their dead Saturday as a cold drizzle fell on Madrid on the eve of parliamentary elections.
In a show of national unity, massive crowds gathered in Barcelona, Seville, Valencia and even in Spain's Canary Islands off western Africa on Friday night to protest the attack. State TV said nationwide, more than 11 million marched — one-quarter of Spain's 42 million people.
In Madrid, black bows of mourning dotted the city, on shop windows, on flags draped from balconies, and on lapels.
Madrid's biggest funeral home, Tanatorio Sur, was so overcrowded that some coffins were placed in a room normally used for staff meetings. Outside, hearses carried coffins in and out all morning.
Investigators were focusing on a stolen white van found in the town of Alcala de Henares outside Madrid hours after the blasts. Police found detonators and an Arabic-language cassette tape with Quranic verses inside. Alcala de Henares is the town where three of the four bombed trains originated.
A doorman told police he saw three young men carrying knapsacks toward the station in Alcala de Henares, a senior police official said Saturday on condition of anonymity. Officials have said the bombs used in the train attacks were concealed in knapsacks.
The doorman saw the men get out of the van and "walk toward the train carrying backpacks and he was struck by the fact that they were wearing ski masks when the weather was not suited for that kind of clothing," the official said.
"It is one of the main focuses of the investigation," the official said. "It is very important."
A London-based Arabic newspaper also received a claim of responsibility in al-Qaida's name that called the attack "part of settling old accounts with Spain, the crusader, and America's ally in its war against Islam."
The attack's lethal coordination and timing — 10 explosions within 15 minutes — suggested al-Qaida. But the compressed dynamite used in the backpack bombs is an explosive favored by the Basque separatist group ETA.
ETA issued an apparently unprecedented denial Friday, saying it had nothing to do with the bombings. It has claimed responsibility for more than 800 deaths since 1968 in its fight for an independent state in the northern Basque region.
Debate on who is behind the attacks could sway voters in Sunday's election.
If ETA is deemed responsible, that could boost support for Mariano Rajoy, Prime Minister Jose Maria Aznar's hand-picked candidate to succeed him as prime minister. Both have supported a crackdown on ETA, ruling out talks and backing a ban on ETA's political wing, Batasuna.
However, if Thursday's bombings are seen by voters as the work of al-Qaida, that could draw their attention to Aznar's vastly unpopular decision to endorse the U.S.-led invasion of Iraq and deploy Spanish troops there.
Opinion polls have put Rajoy 3-5 percentage points ahead of Socialist candidate Jose Luis Rodriguez Zapatero. No surveys have been released since the attacks.
Aznar, in power since 1996, is honoring a pledge not to seek a third term, saying he wants renewal in government and his party.
Spanish radio station Cadena Ser broadcast a 12-second recording of an unidentified woman who had called a colleague's voice mail after an initial blast on a train at the Atocha station.
The woman, who survived, was in the process of fleeing as she frantically says: "I'm in Atocha. There's a bomb on the train! We had to _" and then two more blasts are heard.
309 Confirmed Dead in Iran Train Blast
Wyoming News - WY,USA
... Hashemabad resident Zahra Rezaie, 41, said the she thought the blast was an earthquake. "It knocked down and broke some dishes. ...
<http://www.casperstartribune.net/articles/2004/02/19/ap/Headlines/d80q9n700.txt>
Train explosion kills more than 200
NEYSHABUR, Iran -- Runaway train cars carrying a lethal mix of fuel and chemicals derailed, caught fire and then exploded hours later Wednesday in northeast Iran, killing more than 200 people, injuring at least 400 and leaving dozens trapped beneath crumbled mud homes.

Most of those reported dead were firefighters and rescue workers who had extinguished the blaze outside Neyshabur, an ancient city of 170,000 people in a farming region 400 miles east of the capital, Tehran.

The dead also included top city officials -- including Neyshabur's governor, mayor and fire chief as well as the head of the energy department and the director-general of the provincial railways -- who had all gone to the site of the derailment, the official Islamic Republic News Agency reported.

The explosion devastated five villages, where authorities rushed in blood supplies and appealed through loudspeakers for donors. Hardest hit was Hashemabad, where 41-year-old Zahra Rezaie, whose mud home was near the tracks, was cooking lunch for her family when she heard the explosion and felt the ground shake. Then the ceiling collapsed.
"It knocked down and broke some dishes. I was sure it was an earthquake, and my first thought was to rush to the school and save my children," Rezaie told The Associated Press. Her children were safe.

An AP photographer who arrived in Dehnow, one of the severely damaged villages close to the train tracks some 500 yards from the blast, said the village's homes were flattened.

"The houses are all built of clay, and nearly every one has been destroyed, like they had collapsed in an earthquake," Hassan Sarbakhshian said. "Everyone appears to have been evacuated," he said, adding he could see thick, black smoke billowing about 500 yards ahead.

Rescue workers, aided by cranes and giant floodlights, worked into the night shrouded in toxic fumes, as they searched for dozens of people thought to be trapped in their clay homes devastated by the blast.

The blast was so powerful that windows were shattered as far as six miles away. In an apparent indication of the explosion's force, Iranian seismologists recorded a 3.6-magnitude tremor in the area, IRNA reported.

Many of the buildings that collapsed in a Dec. 26 earthquake in Bam, in southeast Iran, also were mud-brick structures. That tragedy killed more than 41,000 people.

Authorities were investigating what caused the 51 cars to roll out of the Abu Muslim train station, outside Neyshabur, at 4 a.m. Forty-eight of the cars derailed on reaching the next stop at Khayyam, about 12 miles away, and caught fire.

Iranian TV showed footage of black plumes of smoke and orange flames billowing into the sky from the cars, 17 of which were loaded with sulfur, six with gasoline, seven with fertilizer and 10 with cotton. Dozens of people, some wearing face masks to protect themselves from the smoke, were seen walking around or putting out flames on the scene.

Firefighters -- apparently with little experience in handing industrial chemicals -- had extinguished 90 percent of the fire when the cars exploded at 9:37 a.m., Mohammad Maqdouri, head of the local emergency operations headquarters, told Tehran television.

More than 400 people were injured, said Vahid Bakechi, a senior official in Khorasan Province's Emergency Headquarters.

Eighty percent of them were injured when their homes collapsed, and the rest were either burned or hurt from the force of the explosion, said Syed Majid Taqizadeh, head of the 22 Bahman hospital. The hospital is named after the date in the Iranian calendar that coincides with Iran's 1979 Islamic Revolution.

The bulk of the injured were from the village of Hashemabad, Taqizadeh said. Other victims were found in surrounding villages, particularly Dehnow and Abdolabad.

Dozens of people remained buried under the rubble of their homes, said Saeed Kaviani, editor of the Sobh-e-Neyshabur newspaper. Iranian paramilitary Revolutionary Guards closed the immediate area, fearing more explosions.

After finding her children safe at the Hashemabad school, which was unscathed by the explosion, Rezaie went to a hospital.

"That's when I saw them bringing in many injured people ... wearing uniforms that firefighters or rescue workers wear," she said. "They told me there had been an explosion," she said.
Thirty Killed as Train Hits German Coach in Hungary
Thu May 8, 2003
By Krisztina Than
SIOFOK, Hungary (Reuters) - At least 30 people died on Thursday when a passenger train plowed into a German tourist coach in central Hungary, slicing it in half and dragging it down the track, police said.
Police spokesman Laszlo Gelencser said the coach was hit by the Budapest to Nagykanizsa train just after 8:30 a.m. (2:35 a.m. EDT) as it crossed a railway line near Siofok on the shores of Lake Balaton, Hungary's leading tourist area.
Gyorgy Heizler, head of the local disaster unit, said the coach had been carrying 38 passengers. Twenty-eight people were killed in the crash, two died later in hospital, and nine were injured, he said. The driver was among the dead.
'The train, which was going full speed, practically slit the bus in two and flattened one half, pushing it around 200 meters (yards) down the track,' Heizler said.
Gelencser said the coach had tried to cross the railway line even though hazard lights had warned of an oncoming train.
'The scene is just horrible,' he said.
The bodies of some of the dead, pulled out from under the train, were laid out beside the tracks while emergency services brought in wooden coffins.
Torn bus seats, wiring and debris littered the tracks.
Thirty ambulances and four emergency service helicopters ferried the injured to nearby hospitals.
Germany's Foreign Ministry said the passengers were believed to have come from the north German states of Lower Saxony and Schleswig-Holstein, but had no further details.
The German coach travel association said the passengers had booked their trip with travel operator Maxim Reisen in Cloppenburg, northern Germany. That firm had then chartered a coach from Ursel Reisen in Loehne near Bielefeld.
Ursel Reisen confirmed it had been operating the coach, but declined to give details of the passengers other than to say they were of mixed ages.
TOURIST REGION
Emergency service officials told Reuters at the scene they thought the Germans were staying at a hotel in Siofok, around 65 miles southwest of the capital and a popular destination for tourists from Hungary's ex-communist neighbors.
Hungarian Prime Minister Peter Medgyessy, due to visit the scene later on Thursday, expressed his shock.
'This is maybe the most horrific bus accident in Hungary's history,' he said, adding he had contacted German Chancellor Gerhard Schroeder about the crash.
Last July, 19 Poles were killed and 32 injured in the same part of Hungary when a bus taking them on a pilgrimage to Bosnia plowed into a roundabout and overturned.
In September 1992, 16 German holidaymakers died in a bus crash in Hungary.
Medgyessy said his government would now look into whether more safety barriers should be installed at rail crossings.
5-8-03
Woman struck, killed by Metrolink train
UPLAND — Street and rail traffic was held up for several hours Wednesday morning after a Metrolink train struck a woman who was standing on the tracks, police said.
The 50-year-old woman, whose name was withheld because her death appears to have been a suicide, was seen at 7:27 a.m. standing on the east side of Euclid Avenue about one quarter mile west of the train station, said Upland police Sgt. Jeff Mendenall.
Witnesses told police the woman stepped in front of an oncoming train as it approached. The train was traveling about 25 mph at the time.
She was pronounced dead at the scene, Mendenhall said.
The train had just left the Upland station and was headed toward Los Angeles.
- Jannise Johnson, (909) 483-8552
---
Pedestrian train death in Upland believed to be suicide
Wednesday, May 7, 2003
UPLAND, Calif. (AP) --
A Metrolink commuter train bound for Los Angeles from San Bernardino fatally struck a pedestrian Wednesday in what was apparently a suicide, police said.
Witnesses said the 50-year-old woman put down a bag and stepped in front of the train at 7:25 a.m. at the Euclid Avenue rail crossing, according to a police statement. She died at the scene.
The death was considered a suicide, said Sgt. Jeff Mendenhall.
The approximately 400 passengers on the train stayed aboard until the tracks reopened about 8:30 a.m., said Metrolink spokeswoman Sharon Gavin.
The woman's name was withheld, pending notification of relatives. The Upland resident tried to commit suicide at least once before. She tried to drive off a Mount Baldy cliff in 1994, Mendenhall said.
Upland is about 40 miles east of Los Angeles.
5/7/2003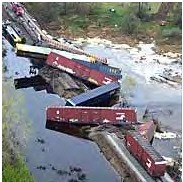 Flooding aids messy train wreck
HOLLY TOWNSHIP, Mich. (AP) — Bulldozers and semi-trailers rumbled down a subdivision street more accustomed to sport utility vehicles and sedans, headed for the wreckage of a freight train that derailed early Wednesday.
"It's just a big mess," North Oakland County (Mich.) Fire Authority spokesman Jeremy Lintz said of Wednesday's wreck.
By David Coates, AP via Detroit News
The train crashed into two ponds and a stream swollen by spring rains that also saturated and weakened the embankment on which the track lay. Diesel fuel spilled from the locomotives, but no hazardous cargo spilled, said Lt. Jeremy Lintz of the North Oakland County Fire Authority.
The engineer and conductor walked away from the wreck and were treated for apparently minor injuries. The accident severed nearby fiber optic cables, briefly interrupting local telephone service.
"All I can say is, 'Wow.' It's just a big mess," Lintz said.
Crews were working Wednesday to remove the wreckage. Repairs to the CSX Corp. track were expected to be completed sometime Thursday, spokeswoman Jane Covington said from CSX headquarters in Jacksonville, Fla.
The track is built over a culvert through which Swartz Creek runs. Normally a quiet stream that meanders through this community 50 miles northwest of Detroit and 15 miles south of Flint, days of occasionally heavy rains had made Swartz Creek fast-moving.
"The foundation of the tracks, for whatever reason, (had a) high build-up of water on the east side," Lintz said. The volume of water soaked and softened the embankment and the track bed it carried, he said.
A break in a beaver dam also may have contributed.
"Apparently, there was a beaver dam in the area that was backing up water in a field. For whatever reason it gave and the water rushed out," said Greg Hansmeier, police chief in the nearby Village of Holly.
CSX notified the Federal Railroad Administration about the accident, Covington said. The railroad would not speculate on its cause, she said.
The train originated in Saginaw and was on its way to Walbridge, Ohio, with a 22-car load consisting mainly of auto parts and finished automobiles when it derailed at 1:13 a.m. ET, Covington said.
The two locomotives rolled onto their sides, one on each side of the track. Seven railcars immediately behind them also derailed, Lintz said.
The first emergency responders reached the scene about 1:30 a.m., Lintz said.
"It was pitch black — there wasn't any sound," he said. "Basically we took out our flashlights and started walking down the tracks until we saw the locomotives. All you could see was the shadow of these steel cars piled on top of one another."
The engineer and conductor were "walking toward us, a little dazed and confused and cut up," Lintz said. The two crew members — the only people aboard — were taken to a local hospital. Covington declined to identify them or discuss the extent of their injuries.
Steve and Beth Rahn, who live several hundred feet away, slept through the crash. They awoke to find an assortment of fire trucks, state police cruisers and volunteer firefighters' cars and pickup trucks clogging their cul-de-sac subdivision street and television news helicopters buzzing overhead.
"We got up to the alarm and looked out the window and we're like, 'Oh, my God, there was a party and they didn't invite us?' " laughed Beth Rahn, who took the day off from her job as a secretary in Sterling Heights.
Steve Rahn, a frozen foods salesman, called his office to say he was missing work because the emergency vehicles blocked his driveway.
"My boss said, 'If I hadn't seen it on TV, I wouldn't have believed you.' "
Fifteen undamaged cars, including four tank cars containing propane gas, were pulled away from the scene by another locomotive.
Derailment contractors hauled heavy equipment down the Rahns' streut and to the accident site on a road bulldozed through a rolling field and a lightly wooded area.
Telephone service to the villages of Byron and Fenton was restored after SBC Communications completed repairs to fiber optic cables buried in the railroad right of way, SBC spokeswoman Denis Koenig said.
Copyright 2003 The Associated Press. All rights reserved
---
Article Published: Wednesday, May 07, 2003 -
Dam collapse likely derails train
The southbound CSX train, going from Saginaw to Walbridge, Ohio, went off its tracks about 1:15 a.m., according to CSX spokeswoman Jane Covington.
The engineer and conductor suffered minor injuries.
It had been raining heavily in the area, and a surge of water washed out the culvert running beneath the railbed, causing the soil and tracks to give way, said Lt. Jeremy Lintz of the North Oakland County Fire Authority.
"All I can say is, 'Wow.' It's just a big mess,' Lintz said.
Police Chief Greg Hansmeier said beavers may share the blame with the rainstorm.
"Apparently, there was a beaver dam in the area that was backing up water in a field,' Hansmeier said. "For whatever reason, it gave and the water rushed out.'
The torrent left water standing 2 feet deep on a road. Residents of two or three homes were evacuated but allowed to return later in the morning.
The two locomotives rolled onto their sides, one on each side of the tracks. The seven railcars immediately behind them also derailed, Lintz said. The cars carried auto parts and vehicles, he said. Fifteen undamaged cars were pulled away from the scene by another locomotive.
Some diesel fuel leaked from the locomotives, Wiegand said.
Contractors were sent to the scene with heavy equipment to start the cleanup, Covington said. She said it was too early to estimate how long that will take.
Janet Crittenden was sleeping when the train derailed near her home.
"So I didn't know what it was,' said Crittenden, 52. "Was I dreaming? In a half-hour, the fire department contacted us.'
Crittenden said the road to her home was washed out along with the tracks.
"It looks like a toy train someone set up,' she said. "The gravel and everything is gone.'
Holly Township is about 50 miles northwest of Detroit.
One killed in train accident
By:Patrick Donahue , Executive editor 05/07/2003
Amtrak train, lumber truck collide in McIntosh community. Most on train are not hurt.
By Patrick Donahue
Coastal Courier (Hinesville, GA) Executive Editor
pdonahue@coastalcourier.com
The driver of a tractor-trailer was killed when his rig collided with an Amtrak passenger train Tuesday morning at a crossing in the McIntosh community.
The accident occurred around 7:20, not far from the U.S. 84 overpass, built years ago to go over the CSX rail lines. The driver, Boyd James Van Horn, 41, of Richmond Hill, was killed. The train's engineer was badly injured and flown by LifeStar to Memorial Medical Center Health University in Savannah. He was listed in critical condition.
The 10 cars and locomotive derailed, but remained upright. The train, the Silver Star, was bound for Miami from New York City. Its next scheduled stop was Jacksonville, FL.
The truck was demolished, shredded into bits and pieces along the rails. The train cars were damaged and strewn in a zig-zag pattern across the tracks.
"We were shocked," said passenger Iona Locke of Detroit. "The car between us was crushed."
There were 150 passengers and 14 crew on the train, said Amtrak spokeswoman Karina VanVeen. Nineteen passengers were hurt and taken to area hospitals. The other 131 were taken to the Charles Shuman Gymnasium.
The train crew was just starting to make breakfast for the passengers when the tractor-trailer crossed its path.
"We were in our bedroom, we just got dressed when the train put on its brakes," said passenger Richard Swetits of Bay Head, NJ. "My wife was holding a toothbrush, brushing her teeth. I grabbed her and held on to her. The train rocked from one end to the other."
The truck, loaded with plywood and with a forklift device attached to the rear, belonged to Heritage Forest Products.
Mark Foster, who lives within yards of the rail lines, was getting his son Ryan ready to go to school at Joseph Martin Elementary. Ryan said he saw the truck headed toward the crossing on Cassels Road.
"I heard the impact," Foster said. "About a second before, I heard the horn blow. Then I heard an explosion. My son said, 'I wonder if that was that truck?' It was pretty loud."
Foster, who moved back to the area a month and a half ago after spending the last 10 years in Phoenix, AZ, called 911. Emergency crews were on the scene in 2-3 minutes, he said.
Foster worked with AirEvac, an air ambulance service akin to LifeStar, in Phoenix.
"I'm surprised there are no guard arms," he said. "I don't know why this (crossing) is even still here. It's just used as a shortcut instead of going over McIntosh Mountain."
"When it hit, I didn't know what happened," said Derrick Thompson, 15, who also lives near the tracks. "I heard a thump and the house started shaking. Then I heard an explosion and the house started shaking again. I couldn't believe it. (The driver's) body was all mangled up and hanging out of the truck. That freaked me out."
R.V. Sikes, the former longtime Liberty County sheriff, got to his office alongside the tracks about 40 minutes after the accident. Pieces of the demolished tractor-trailer were resting against the side of his Sikes Chevron Oil building.
"I saw one like this about 20 years ago," Sikes said of the accident.
His son, Steve Sikes, got a call from a friend who works with the railroad, wondering if the Sikeses were at their office at the time of the accident.
CSX owns the rail lines and crews were dispatched to begin cleaning up the wreckage. There has been one other accident at the crossing in the last five years, according to CSX spokesman Gary T. Sease. In the August 2000 incident, there were no injuries.
Workers started clearing wreckage early Tuesday afternoon and Sease said the railroad hopes to have one of the three lines open by this morning.
"If it goes smoothly," he said.
Work to repair the tracks will be done concurrently with the removal of the debris, Sease said.
"That's always a good sign when the cars stay upright," Sease added.
The only warning sign at the crossing is a sign.
"The states determine the level of warning signage at each crossing," Sease said. "We construct those to the state's dictates, based on traffic counters."
The uninjured passengers will be bussed to their destination, VanVeen said, with their luggage. The crew is being interviewed by CSX, Amtrak and Federal Railroad Administration officials as part of the investigation.
The Georgia Emergency Management Agency is in charge of the clean up at the wreck site and the National Transportation Safety Board will supervise the investigation.
©Hinesville Coastal Courier 2003
Posted on Wed, May. 07, 2003
Alcohol found in organs of driver in Burbank train wreck
Associated Press
LOS ANGELES - Traces of alcohol were found in the organs of a man killed when his truck was struck by a Metrolink commuter train in Burbank earlier this year, officials said.
Jacek Wysocki, 63, had a 0.09 percent alcohol level in his liver and 0.02 in his stomach at the time of the Jan. 6 crash that killed him and injured more than 30 people aboard the train, the coroner's office said Tuesday.
One of those passengers later died of crash-related injuries.
Wysocki drove his Ford F-350 truck onto the tracks at San Fernando Boulevard and Buena Vista Street, authorities said.
It couldn't be determined, however, if his driving might have been impaired by alcohol, said Joe Muta, a coroner's toxicologist.
"What it means is at the time of the accident, he had some alcohol in his system," Muta said. "The question is: Does the .09 accurately reflect bloodstream levels? In this particular case, you can make a case it doesn't necessarily."
By law, a blood-alcohol level of 0.08 percent defines a driver as legally intoxicated.
Burbank police Detective Paul Orlowski refused to comment on the test results, pending the completion of his investigation.
Fire Engine, Train Collide
One Firefighter Injured In Accident
POSTED: 6:33 p.m. PDT May 6, 2003
LOS ANGELES -- A firefighter was injured Tuesday when the engine he was in collided with a train in Hawthorne.
The fire engine, responding to a call, collided with the slow-moving freight train near Broadway and Oxford Avenue was reported at 4:22 p.m., said county fire Inspector Roland Sprewell.
The crash resulted in a knee injury to one county firefighter, an official said.
The three-person truck was headed to assist other crews with a van fire at 120th Street and Oxford, fire officials said.
An ambulance team sent to the collision scene took the injured firefighter to a hospital to be examined, said Inspector Ed Osorio.
The truck was "not driveable," Osorio said, so it had to be towed. The train, meanwhile, resumed its journey about 5 p.m., according to reports.
The cause of the crash was under investigation.
Copyright 2003 by NBC4.tv. All rights reserved.
Train derails; flooding blamed
By Randy Conat
Holly Twp. — (05/07/03)-- An engineer and conductor are safe after the train they were operating plunged into flood waters in northwestern Oakland County.
It happened about 1:30 this morning about three miles north of Holly near Holly Road. ABC12 reporter Randy Conat covered the story since it broke, this morning.
Two train engines and seven freight cars are in a jumbled pile after they derailed this morning. The two employees on the train are lucky to be alive. The cars and engines lay in a swampy mess.
CSX officials say there were 22 cars in the train that was on its way to Ohio, from Saginaw. The rail bed is built on an embankment that holds back a large pond. The water somehow breached the embankment and opened a 60-foot gap. When the train arrived, the rails sagged and the two engines and seven cars plunged into the flood waters.
(Lt. Jeremy Lintz, North Oakland Fire Authority) The engineer and conductor had to be rescued from the rising flood waters. Environmental clean up crews have been brought in to handle diesel fuel that spilled from the engines. No hazardous materials were involved in the cars that came off the tracks. They were carrying automotive parts and new cars.
CSX officials have brought in heavy equipment to begin removing the wreckage. (Thomas Drake, CSX)
On board the engines are black boxes that may help investigators as they piece together what happened.
It could be weeks before the embankment is rebuilt and the rail line restored.
The derailment has caused phone problems for Some residents in Fenton and Fenton Township.
The derailment cut a fiber optic cable and repair crews can't yet get to the damage.
Ameritech and 911 officials are urging those who are having trouble to use cell phones or pay phones if they need to call 911. The exchanges affected are 629, 714, and 750.
Ameritech isn't sure when full phone service will be restored.
Last Updated: May 7, 2003
---
Crews work to clean up derailment mess
Flooding caused train to lose control
By Courtney Chamberlin
Holly Township — (05/07/03)--Crews are working all though the night to clean up an early morning train derailment. It all happened when water flooded tracks in Oakland County's Holly Township.
For CSX crews, the derailment is especially tough to clean up. ABC12's Courtney Chamberlin had more from the scene. The thing that makes this so tough is that crews needed to find a way to get to the derailment to clean it up.
The solution: constructing a 15-foot wide 1,500-foot road to get to the scene. It's a neighborhood turned construction zone. The goal is to clean up the mess. Once the crews are able to get all of the machinery back to the scene, they can clear away the wreckage.
We're told it could take a couple of days and nights, but it's clear everyone is in it for the long haul. Fire crews say CSX hopes to have trains up and running again on the tracks by Saturday. The cause of the derailment is still under investigation.
Two Women Killed In Separate Train Accidents
Accidents Happen 2 Hours Apart
May 5, 2003
WINCHESTER, Ind. -- Two women were killed and a third was critically injured in two separate accidents in eastern Indiana involving freight trains, police said.
Julie Parks, 27, of Union City, was struck and killed by a CSX train about 2:20 a.m. Sunday at the crossing in the town of Harrisville, Randolph County sheriff's authorities said.
Coroner Duane Petry's preliminary investigation indicated Parks was walking across the tracks when she was hit by the train.
Parks apparently disregarded the crossing lights and train whistle and entered the train's path, Petry said.
Sheriff Jay Harris said there was no reason to believe the death was a suicide.
Six hours later, about 8:30 a.m., a van was struck by another CSX train in downtown Winchester about 60 miles east of Indianapolis (pictured, right).
Carolyn J. Phenis, 58, of Winchester was pronounced dead at the scene. A passenger in her van, Pam Lacy of Winchester, was thrown from the vehicle.
Lacy, who is Phenis' sister, suffered multiple fractures and internal injuries. She was listed in critical condition Sunday night at Methodist Hospital in Indianapolis.
A witness told Winchester police said the collision occurred as the van was maneuvering around the activated crossing gates.
The CSX train engineer told police the train, pulling 48 cars, was traveling about 55 mph when the collision occurred.
Police said the train was hauling hazardous materials, but there was no derailment and no spills.
Phenis and Lacy had been on their way to church at the time of the accident, police said.
Copyright 2003 by The Associated Press. All rights reserved.
Monday, May 5, 2003 ·
Elderly woman and her gardener dead in train-pickup crash
THE ASSOCIATED PRESS
VANCOUVER, Wash. -- An elderly woman who lived nearby and a man who worked for her as a gardener have been identified as the victims of a collision between a pickup truck and a train.
The engineer of an eastbound Burlington Northern Santa Fe freight train saw the older Chevrolet pickup rolling slowly over a private rail crossing Friday evening, sounded the whistle and threw the emergency brake, but it was too late to avoid the collision, railroad spokesman Gus Melonas said.
The pickup was thrown 200 feet and both people inside were pronounced dead at the scene.
On Saturday police identified the two as Barbara Luray, 77, who lived nearby in a house along the Columbia River, and Magdaleno Martinez Ortis, 33, address unknown, who did gardening and handy work for her.
All of Ortis' relatives apparently live in Mexico, police said.
Information from: The Columbian
Presentation Seems Unlikely to Sway Washington or Paris
Fri Feb 14, 2003
By TIMOTHY L. O'BRIEN The New York Times
UNITED NATIONS (news - web sites), Feb. 14 - In a mixed report to the Security Council today, Hans Blix, the United Nations' chief weapons inspector, said that his teams had found no weapons of mass destruction in Iraq.
His words seemed unlikely to change any member's firm opinions, with France calling once again for more inspections and the United States saying the issue was not inspections but disarmament.
Mr. Blix confirmed that an Iraqi missile called Al Samoud 2 exceeded its 93-mile range and said that only a small number of empty chemical munitions, ``which should have been declared and destroyed,'' had been discovered.
But he added: ``Another matter, and one of great significance, is that many proscribed weapons and items are not accounted for. One must not jump to the conclusion that they exist. However, that possibility is also not excluded.''
The French foreign minister, Dominique de Villepin, repeated the official Paris position that ``the use of force is not justified at this time,'' adding that the alternative was ``disarming Iraq via inspections.''
Inspectors, Mr. de Villepin said, should be allowed ``the time they need for their mission to succeed.'' A premature recourse ``to the military option would be fraught with risks,'' he added.
Secretary of State Colin L. Powell, who presented a laundry list of accusations against Baghdad to the Council last week, said today that the Council had not seen the level of compliance called for in Resolution 1441 and that Iraq continued to play tricks with the United Nations.
``Resolution 1441 was not about inspections,'' Mr. Powell declared. ``Let me say that again. Resolution 1441 was not about inspections. Resolution 1441 was about the disarmament of Iraq.''
Mr. Powell said a variety of biological and chemical weapons had not been accounted for by Iraq, and that as reluctant as Council members might be to confront the issue, now was the time to consider ``whether or not is is time to consider ``serious consequences of the kind intended by 1441.''
In a report that was considered crucial in determining whether the Security Council gives its support to the United States and Britain, which are urging military action against Baghdad, Mr. Blix said inspectors were free to visit any site of their choosing, including presidential palaces and private homes.
If banned materials exist, he said, Iraq should turn them over for destruction. He said it was not the job of the inspectors to find the evidence of banned material, but Iraq's job to turn it over.
Mr. Blix also referred to one of the points brought up at the council last week by Secretary Powell.
Mr. Powell used satellite photographs that he said showed Iraq had moved and evacuated materials from about 30 chemical weapons and other munition before weapons inspectors arrived.
``The reported movement of munitions at the site could just as easily have been a routine activity'' as one designed to hide banned materials before inspections. Mr. Blix declared.
``In no case have we seen convincing evidence that the Iraqi side knew in advance that the inspectors were coming,'' Mr. Blix asserted.
Later the Council was told by the head of the International Atomic Energy Agency, Mohammed ElBaradei: ``We have to date found no evidence of ongoing prohibited nuclear or nuclear-related activities in Iraq,''
``However,'' he added, ``a number of issues are still under investigation.''
Mr. Powell's accusations against Baghdad last week also included mobile weapons laboratories, ties to Al Qaeda terrorists, storehouses of deadly nerve agents and unmanned planes capable of sprinkling chemical toxins on enemies.
Prime Minister Tony Blair (news - web sites) of Britain, a staunch ally of the United States in its campaign to convince the world that Iraq must be brought to heel immediately or face war, said Thursday that Baghdad could be guilty of a ``serious breach'' by deploying Al Samoud.
``It would be not just a failure to declare and disclose information, but a breach of Resolution 1441,'' said Mr. Blair, making reference to a United Nations resolution adopted last fall that required Baghdad to comply with inspections aiming to show that Saddam Hussein (news - web sites)'s regime no longer possesses weapons of mass destruction. For its part, the White House, which said on Wednesday that it had begun work on a resolution authorizing military action against Iraq, labeled disclosure of the al-Samoud's range as ``serious and troubling.''
But Russia, which occupies a permanent seat on the Security Council along with Britain, France, China and the United States, said that Baghdad had disclosed Al Samoud's existence and that analysis of the missile's capabilities merely proved that inspectors were ferreting out valuable data and should be given more time to do so. President Vladimir V. Putin of Russia was quoted in the French press on Thursday as saying that his country would veto any war resolution by the Security Council.
``If it is necessary, we will use our veto, but I do not think it is helpful to get into debate about this at the moment,'' Mr. Putin said. China, France and Russia have all opposed a military strike against Iraq, while the United States and Britain have adopted a much more hawkish stance. Deputy Prime Minister Tariq Aziz of Iraq told reporters in Italy on Thursday that Baghdad was ``still within limits that are decided by the United Nations.''
Once again, as he did on Jan. 27, Mr. Blix waded into the middle of this tug of war. When he last appeared before the Security Council, Mr. Blix offered a scathing critique of Iraq, saying that Baghdad had not fully complied with his inspection team and had not fully accounted for what may be stockpiles of chemical arms. His presentation buttressed the United States' argument for war, especially after Mr. Blix declined to ask for more time for his team to carry out its duties.
Mr. Powell said on Wednesday that he would ask French and German representatives at the meeting if they opposed military action because they want to let Baghdad ``off the hook and no disarmament.'' So, with peace in the balance, Mr. Blix, who cited Al Samoud as a potential problem when he made his last report, was forced to navigate a very fine line in today's presentation.
John Ruggie, a former United Nations official who now is a professor of international affairs at Harvard University's Kennedy School of Government, described the ongoing United Nations debate as a ``bloody train wreck'' but said there might still be backroom diplomatic efforts under way to avert a war.
Other items under consideration today were Baghdad's recent acceptance of reconnaissance flights over Iraq conducted by U-2 spy planes as well as French Mirage and Russian Antonov aircraft. Iraq's previous unwillingness to permit such flyovers had been another complaint lodged by United Nations weapons inspectors.
Meanwhile, NATO (news - web sites) postponed a meeting on Thursday intended to resolve a brewing crisis at the 54 year-old European military alliance. Earlier in the week, France, Germany and Belgium halted efforts by NATO's 16 other member nations to send military defense assistance to Turkey, asserting that such aid amounts to hasty, and still unnecessary, preparation for war with Iraq.
The United States, which has warned that the split may lead to NATO's collapse, said on Thursday that other NATO members were looking for ways to circumvent France, Germany and Belgium by defending Turkey outside of normal NATO channels.
TRAIN NEWS
Alcohol May Be Factor In Fatal Train Crash
Tue Jan 28, 4:35 AM ET
Police say alcohol may have caused a man to drive his van into a train on Friday.
Two 25-year-old Romulus, Mich., men in a 1989 Chevrolet van traveling at Shook and Tobine roads in Romulus slammed into a train around 3 a.m., according to Romulus police.
Witnesses told Local 4 it was as if the driver didn't even see the train moving across the intersection.
The northbound train reportedly carried the van across the tracks until it tore apart.
Emergency crews transported one man to Annapolis Hospital in Wayne and he was pronounced dead at around 4 a.m., police said. The other man, who was ejected from the vehicle during the crash, was airlifted to the University of Michigan Hospital with serious injuries.
Seven tanker cars on the 70-car-train reportedly derailed, but were not punctured so it did not become a hazmat situation, according to Local 4 reports. The tanks were reportedly empty except for residue.
The engineer said he didn't feel the impact of the van and was not aware there was a crash until after the train had derailed, Local 4 reported.
The derailment was in the area of Van Born and Wayne roads in Wayne, Mich.
The fire chief closed off access to nearby businesses, including the GM Distribution Plant, Environmental Quality and a lumber company, Local 4 reported. Employees of those businesses and other nearby businesses were told to contact their employers.
Sgt. Clifford West of the Romulus Police Department said cranes would come in from Ohio from CSX, the railroad involved, to lift the cars back onto the track.
Van Born Road, between Wayne and Hannan Road remains closed as crews work to remove the debris and repair the train track that was damaged.
---
Motorist dies in collision at crossing with commuter train bound for Los Angeles
Mon Jan 27, 2:45 PM ET
GLENDALE, California - A driver was struck and killed at a railroad crossing Monday, apparently after trying to beat a commuter train across.
The Metrolink commuter train slammed into the sport utility vehicle. One passenger aboard the Los Angeles-bound train was treated at the scene for shoulder pain, Metrolink spokeswoman Sharon Gavin said.
The driver of the SUV was not immediately identified.
"According to witnesses, the driver tried to go over the tracks as the barriers were going down," police spokeswoman Leticia Chang said.
Earlier this month, a Metrolink train hit a pickup at a crossing in nearby Burbank, killing the truck driver and injuring 33 train passengers.
Last week, an Amtrak train collided with an SUV at an intersection 300 yards (meters) from Monday's crash, Chang said. A 53-year-old woman escaped from her car in time, and no one was hurt.
---
Elderly Couple Pulled to Safety Before Train Hits Their Car
Mon Jan 27, 9:23 AM ET
(Beltsville, Md.) - An elderly couple has two Good Samaritans to thank for pulling them to safety, just before a train ploughed into their stranded car.
Witnesses say Sunday's rescue was like something from a movie.
Shawn Meyers and his wife Eunice were stopped at a traffic light in Beltsville, when they saw an 80-year-old man lose control of his car, go through a guard rail on Route 1 and land on a CSX railroad track.
The Meyers and another motorist worked quickly to get the elderly couple out of the car before the train hit it.
"We took about two steps and had to dive into the embankment and the train hit the car at that time," said Eunice Meyers.
The elderly woman was flown to MedStar with a broken leg.
© Copyright 2003 WJLA-TV
---
Nine dead in Sydney train wreck
31.01.2003 2.45pm
UPDATE - SYDNEY - Nine people were killed and approximately 12 seriously injured when a train derailed in rugged Australian bushland south of Sydney this morning, trapping other passengers.
The driver is believed to be among the deceased.
About 70 people were on the four-carriage train when it derailed at about 7.30am (9.30am NZDT) near Waterfall station, 40km south of Sydney.
Two carriages overturned after the front carriage apparently hit stanchions, rail officials said.
Helicopter pilots reported seeing several bodies lying on the railway line.
Steve Leahy, from the Life Helicopter Service, said a pilot described "a most amazing scene" with people lying on the tracks.
"We have winched in two doctors, two paramedics already, we are about to put more medical personnel ... all indications are at this stage are that there will be numerous fatalities... there are numerous," he told ABC Radio a short time after the crash.
The train was travelling to Port Kembla. The passenger load would have been much greater if it had been travelling north, towards central Sydney.
Access to the accident site has been difficult.
"The pilot quite graphically says Granville was a walk in the park to what they are seeing here," said Mr Leahy.
The Granville train disaster claimed 83 lives when a commuter train struck an overhead bridge during peak hour on the morning of January 18, 1977.
---
Train wreck kills 46
Death toll mounts in African disaster
By Angus Shaw
Associated Press
Published Monday, February 3, 2003
HARARE, Zimbabwe -- The death toll in the head-on collision between a packed passenger train and a freight train in northwestern Zimbabwe rose to 46, police said Sunday.
A railway worker who might have given a wrong signal was arrested and tested for alcohol, media reports said.
Rudo Muchemenyi of the western Matabeleand province police department told state television four more bodies were retrieved from the wreckage Sunday.
Police had reported 42 people killed in the crash Saturday and 64 injured, many seriously. All the dead were found in the charred wreckage that was gutted by fire.
Only 11 of the dead have been positively identified, the Zimbabwe Broadcasting Corp. said in its nightly news.
The transport ministry blamed the crash on human error. State television reported the signals on that stretch of rail line -- the busiest in the country -- had been reported faulty since November. It said the state railroad company, troubled by shortages of equipment, also reported outages of electrically powered signals across the country, forcing some signalers to revert to handing written information cards to train crews on their scheduled stops.
About 1,100 people traveling on the passenger train were headed for the resort town of Victoria Falls.
Both locomotive crews died instantly when the trains collided on a curve in the track near the coal mining center of Hwange, about 190 miles from the western city of Bulawayo.
At the time of the accident, the freight train was at full throttle, while the passenger train was picking up speed after a recent stop, the state Sunday Mail reported.
The newspaper said a trackside signal official was arrested and his blood alcohol level was tested. The results of the test were not immediately known.
© Associated Press 2003
---
2-10-2003 Hundreds evacuated after southern Illinois train wreck
Tamaroa, Illinois-AP -- People in the southern Illinois town of Tamaroa hope they can go home soon.
As many as a thousand people were evacuated when a freight train derailed and spilled its dangerous cargo.
The train was carrying vinyl chloride, formaldehyde and hydrochloric acid when it overturned near the center of town yesterday morning.
The chemicals are hazardous to breathe and can be fatal in high concentrations.
Some of the vinyl chloride caught fire -- but the fire is out.
One resident taking shelter in a local community center says emergency workers told her it could be three days before she and her family will be allowed to return home.
Copyright 2003 Associated Press.
Train symbolism is related to enmasse belief systems, social life, destiny, journey, and fatalism.
Jung believed that to dream of taking a public vehicle often means that the dreamer is not finding his own way forward and is behaving like everyone else. From: The Hidden Meaning of Dreams (Hamilton-Parker)
DREAM EXCERPT FROM THE INTERNET: . I got my daughter on a small small kids train like an amusement ride. We rode to the house I grew up in; except all it had was a huge stone fireplace no windows in the front.
The dream analyst says: The train is a symbol for a physical organizational body. This could be a club, a church, a school, a governmental body, etc. The symbolism of the train being small and something from a child's amusement park suggests that this is something you do not take seriously and may have outgrown. It may be that you have turned to an organizational body for guidance, learning, support or knowledge that you have outgrown and that is no longer productive for you.
Train
From: http://www.dreammoods.com/dreamdictionary/t3.htm
To see a train in your dream, represents conformity and go along with what everyone else is doing. You have the need to do things in an orderly and sequential manner. In particular, if you see a freight train, then it refers to the burdens and problems that you are hauling around.
To dream that you are on a train, is symbolic of your life's journey and suggests that you are on the right track in life and headed for the right direction. Alternatively, you have a tendency to worry needlessly over a situation that will prove to work out in the end.
To see or dream that you are in a train wreck, suggests chaos. The path to goals are not going according to the way you planned it out. Or you may be lacking self-confidence and having doubt in your ability to reach your goals.
To dream that you are the engineer, signifies that you are in complete control of a particular situation in your waking life.
To dream that you miss a train, denotes missed opportunities or nearly escaping your death.
DEES MAGNIFICENT DREAM
A man came and asked me for help. He said he needed a train engine to perform a particular task. I told him that all the trains we had were too old for the task, but I'd get him a new modern engine to handle the job.
At that moment, I knew why I had spent the last 11 years learning how to problem solve, because no matter what the problem was, I knew how to find the solution to it. I asked the man to bring me the yellow pages from the phone book, intending to find a train engine manufacturer, to make a new engine for the man.
FROM: DREAM INTERPRETATION
Over time, working with my dreams, I witnessed the birth of the latter, of a more appropriate male Anima This Anima was born as twins, who, in the dreams that followed, grew from small infants into women of wisdom and strength. I recall getting on a train with the two of them, who were by then young children. I was especially protective of them, encompassing them in my arms as the crowd pressed upon us and as the train hurtled along. As my dreaming progressed, the Anima grew into a young woman, who I found to be sensually seductive. In later dreams, this anima manifest in the faces of mature women whose balanced perspectives on life, whose humour and whose personal maturity I admired.
FROM: A DREAM IS A WISH YOUR HEART MAKES
Beth's Dream Age: 36
When I was little I had a dream that my grandma was giving me a piggyback ride through a pine grove at night. I remember it being very dark, except for the glow of the moon. We were walking along train tracks and I remember dogs barking. It had to be a summer night because it was very warm. I remember feeling happy because I was with my grandma. I remember the train's horn and feeling the vibration of it going by.
Real Interpretation
Now:
Your grandma was always your protector and always watched out for you. The things that you have down in the past cannot be changed only del with. You must forgive yourself for your faults. You have matured into a young woman and have moved farther up the ladder to success.
Future:
The insecure feelings and guilt that you feel should be addressed and dealt with during the day when you are awake. Otherwise you will be emotional and moody towards others and yourself. There will be changes in your life that will lead to wealth and good luck. Something or someone wants to harm you in some way to be alert on the things around you.
Fake Interpretation
Now:
Your grandmother is very close to you and you think of her as somewhat of a mother figure. She paid a lot of attention to you and you felt happiness in her presence. Darkness is a sign that points to fear, but your grandmother made you feel safe.
Future:
There is an upcoming journey that means you will have to leave something behind. Something will be taken away from you and you will have to learn how to deal with that.
House of Seven Gables
Hawthorne uses the railroad to symbolize a "microcosm of society" (Arac 15). It is through the railroad that Clifford and Hepzibah try to escape into society. Clifford yearns to become part of life, and his transfusion into the life of the train seems to renew him (Arac 15). Upon entering the train Clifford tells Hepzibah, "Let you and I be happy! As happy as that youth, and those pretty girls, at their game of ball!" (Hawthorne 258). For a short time, Clifford tries to be like the others on the train. However, his attempts are in vain, because Clifford cannot join the train while he is still tied to the house.
Instead, he holds conversations that continue to return to the topic of the house. Clifford's mind is fixated on the house which arouses suspicion from his train companions. Eventually after prattling on, Clifford realizes that he can never really leave the house and join society. Thus, he gets Hepzibah, and they separate from the bustling life of the train at a station only to return to the dismal confines of solitude (Arac 16). Clifford once disassociated from life, the train, loses his vivacity and energy, and he no longer leads Hepzibah. Instead, he slumps down and needs help to find his way (Erlich 142). Hawthorne uses the entire railroad excursion to symbolize another attempt and failure by Hepzibah and Clifford to escape into life, but they end up only lonely with no where to turn but back to the dreaded house (Arac 16).
READER COMMENTS
From: Jan@xxx
To: Dee777@aol.com
Dee~Back in the mid-late '80s I had many transmissions about the 'train' that was on a 'routing home'..and gathering the souls that were ready
to catch the train. Some got on the 'caboose' at the last moments..It's a 'synching' with a fast track train of cosmic energy to bring this world
again to 'track' with the universal systems. Pathways are established for this transport that were not available in ages past. It has been being
prepared for the release through a cloudy system in illusion. It's called 'catch the wave'..or 'get your butt on this train!' :)
Luvs,Jan
---
From: Sheila@xxx
To: Dee777@aol.com
I found the dream -- the train in the dream was where I grew up -- Booneville, which is a smaller town near Van Meter and they have no school and have to go to school in Van Meter (Iowa). They have school buses to pick up the kids on the roads around the town. A lot of people move out there now from Des Moines to avoid taxes. Booneville was where a kid a couple of years older than me -- Randy F lived. He was killed in Vietnam and before I found that out by finding his name on the Wall I didn't know why I kept dreaming that I was trying to get back to Booneville. I'd try to cross the highway which had an electric fence that he couldn't cross (but I didn't see who was with me and didn't know it was him), wade across the river which was really scary when it got deep and I thought it was a puddle at first with a fountain in the middle in a beautiful courtyard. The train track in Booneville goes right along the highway (highway 90) to Des Moines and there used to be big turkey ranches there in the late 60s. But in the dream Booneville looked sort of like London with tea shops. Alice Engel, my mother's grandmother used to have tea every day.
8/31/01 Ace of Cups(R) I meet an actor named Hungwa; he has another character he plays--Grant W. Picture on the video box is blue and pink words in a circle on a black box. A voice keeps prompting me to look at the box with his other name and I see it written Grant W. Reminds me of Tony Clifton/Andy Kaufman but I don't see the actor. If I'm over there she'll sign out and go to her room. She went to pick up her kid. ... I'm working on an idea. I'm standing on some railroad tracks and the train goes right through me or over me. On the train are supplies for Leprechauns--the supplies I'm surprised, remark are Tupperware containers and something else that is brick red in color. The train goes over me and then a boat comes back the other way up the highway. It has a wood, carved Leprechaun about 6 inches tall carved in it. The Leprechaun is also rowing. "Oh, my gosh, it's Li or Ling." Blond woman tells me something is wrong. The Leprechauns have a dead body they're escorting; I make up a title The Leprechaun Train or The Leprechauns on the Train. "Bride she may be; couldn't have been out of bed more than a few minutes." "Herman Laughling or Lawthling." So the train stops and a shadowy man says to seize something; that's when I see the boat. I see a fish that is shiny green like a snake. Man says, "Don't fool with me, I'm going to give you a black eye." "See" gives you something (you are supposed to demand a gift from dream characters).
---
Date: 1/27/2003
From: TM@xxx
To: Dee777@aol.com
Dee
To me the train coming is unstoppable and what shall be shall be. The people on bicycles represent the tunability to what shall happen and they shall be accordingly overwhelmed by the circumstances.
A CHANNELING BY BASHAR
Date: 1/27/2003
A Symbol Is What You Make Of It
Q: I have a couple of different things I wanted to discuss. First of all, on my way over here tonight, the lights on my car have almost gone out. And I'm wondering what, on another level, this really means as far as my life goes. And you know…
B: First of all understand that everything in your reality, yes, is an extension of your consciousness, and can form a symbolic representation of an idea that you are willing to explore about yourself. But recognize that since it is an extension of your consciousness, then your imagination should be able to supply you readily with the idea you are exploring.
Simply extend yourself into the idea of the symbol you have created, and see what it brings to you. If you cease to judge and invalidate what comes to your imagination first, without needing to analyze, but simply feel it and act upon it, then you can know that you are always giving yourself accurate information to represent the idea that you are symbolizing and reflecting to yourself in your physical reality. Now, what for you was the first idea that came to your mind without judgment?
Q: Well, just that I've been lax about taking my car to the garage.
B: All right. It can be as simple as that. But the idea of being lax about anything that you have created then reflects the idea that you are exploring laxness within yourself.
Q: Mhmm.
B: Now, it also may be that you could, on a positive note, simply know that you no longer need to depend upon artificial illumination to allow yourself to know that you can move easily through what you previously considered to be abject darkness. Because now you can know that your senses can extend themselves in ways that will always allow you to know exactly where you are standing, exactly where you are stepping, exactly where you are walking, without the idea of outside illumination needing to provide something to support you. That all illumination comes from within, and even in the environment of absolute darkness, as you would call it, there is still the ability for you to know, to sense, exactly where you are at any given moment of time as you create time to exist. It can also be a symbol of that idea. What do you think? Which one do you prefer?
Q: Well, I prefer that I get home in one piece tonight, so I prefer that my senses will take me there without any problem.
B: All right. Very good! Now, this is simply to illustrate that a symbol is what you make of it. Recognize that many times you will create a symbol to reflect something which is already in your mind. But that does not mean you cannot allow yourself to change the meaning of the symbol even as you recognize it. For you are an unlimited creator and can allow any reflection to transform into positive effect the moment you conceive of it. You follow me?
Q: Um... well, not too well.
B: All right. Simply stated: when you give yourself a symbol, there is no need first of all to separate the idea of the symbol from you and wonder, wonder, wonder. Simply go into the center of your being and know that you can sense what the symbol may mean as you have already created it. Conversely, allow yourself to know that even as you perceive that a symbol exists, you can then recognize that, like any other symbol in your life, it is a reflection simply of the opportunity to create at any moment whatever type of reality you wish.
Thus you can use the symbol for whatever you desire to use it for. And your desire, the direction and indication of the type of method that you are willing to apply to the symbol, will change the symbol into one that reflects the positive attitude you have decided to create.
Thus any symbol that you give yourself is always going to contain the polarity. You can either use it for the negative idea within yourself, and that will be true, or for the positive idea within yourself, and that will be true. Because you have ultimate choice, and all choices, positive and negative, are equal. Therefore, in whatever way you decide to filter the symbol through you, will be the way in which it serves you.
So make your choice. How do you wish to look at the symbol? As you have already said, in a positive way. Then simply know that you can trust the higher conscious you that allowed you to create that idea, and the physiological conscious you that perceived the physiological symbol. You can trust that they are working in tandem, to give you symbols and messengers, and messages, that always serve you and do not interrupt you. Because you cannot be interrupted.
Q: Also I've been feeling lately that I'm searching so, and I'm looking so, for answers. And it seems that the more I search and the more I come here and the more I find out, the more confused I get about everything.
B: All right. Now, on one level that is very good and very creative, because the idea you call confusion to us is not negative. It is co-fusion, fusion with the idea of more possibilities. You are unlocking and disorienting yourself from the reality you have for so long allowed to be your habitual ritual. And now you are confused because you are unlocking and disorienting yourself. This means you are opening up the possibility to reorient to something that represents more of what you are.
Do not let depression and confusion be negative. Confusion is simply the recognition of more of yourself, and depression is simply a meditation where you go to the center of yourself to find the answers that you know do not exist outside. Because there is no outside, and as long as you continue to search outside, you will always allow yourself to feel that you are stumbling in the dark. You follow me?
Q: Yes.
B: Therefore, if the lights on the outside have gone out, turn on the one within.
Q: We were talking last week, and you said about our purposes... I stated last week that I'm doing a performance, and I need to have some help with it. I brought some cards tonight and would like to put them out if that's all right with everyone. If anyone is interested in participating in a performance, which has to do with spiritual involvement, I would appreciate your help.
B: Very good, for being bold enough to have the conviction to know that you can rely on the sources of information and interaction that are available to you upon your own planet within your own civilization. Very good. Thank you for sharing.
Q: Thank you.
EVENTS COMING
1-25-2003 - COMET C/2002 X5 COMING IN TOWARDS SUN
WILL IT SURVIVE?
updated 1-18-2003 - THE TUNING
updated 1-18-2003 - THE COMING POLE SHIFT
1-16-2003 - MORE LARGE QUAKES OFF COAST OF OREGON
updated 1-16-2003 - THE ELECTION 2000
IS THE PRESIDENT FACING DEATH THE DAY HE DECLARES WAR????
updated 1-20-2003 - THE PLUM TREE AND THE PALM TREE
ANOTHER TERRORISM THREAT???
1 -8-2003 PRINCE WILLIAM GROWS UP - WHAT WILL BECOME OF HIM?
SOME SHIFTING HAS ALREADY OCCURRED
PTAAH - HOW TO CHANGE YOUR FUTURE TOWARDS THE POSITIVE
updated 12-22-2002 - NATIONAL SECURITY - TERRORISM -