Britons back Prince William to be next king: polls
LONDON (AFP) - Britons are increasingly backing Prince William to inherit the throne ahead of his father Prince Charles, according to a series of polls.
A total 39 percent of respondents agreed that William, second in line to the throne, should succeed Queen Elizabeth II as Britain's next monarch, up 11 points since last year, a YouGov poll showed.
Those backing heir to the throne Charles to be the next king also stood at 39 percent, but represented a fall of nine points on a year ago, according to the survey published in The Mail on Sunday weekly tabloid.
The number in favour of Charles is in line with a separate survey of young Britons published Sunday, which showed that 38 percent of 16- to 24-year-old respondents wish to see him succeed the queen.
But young Britons overwhelmingly prefer William as the next monarch -- 60 percent according to an ICM survey.
The telephone poll of 502 young Britons was carried out last Wednesday and Thursday after the publication of a book by Princess Diana's former butler, Paul Burrell, which heavily criticises the royal family's treatment of William's mother while she was alive.
According to the ICM survey, 88 percent of young Britons believe William sets a "good example" on how to live, compared with 69 percent who say the same is true of the queen and 55 percent of Charles.
Both royal polls were published just months after a leading British think-tank, the Fabian Society, said the monarchy needed a radical shake-up to survive.
In the YouGov poll of just over 2,000 British adults, half of respondents said the monarchy should be retained only if reformed, up nine points from last year, while 21 percent said it should be abolished, a rise of three points.
Meanwhile, a quarter of young Britons predict that the monarchy will be dead within a decade, while 82 percent agreed that the royal family is "over-privileged" and 75 percent said it is "out of touch with ordinary people".
On a positive note for the royals, 81 percent of 16- to 24-year-old think they are good for tourism, 79 percent for charities and 71 percent said they give Britain prestige abroad.
Prince Charles spent Saturday revelling in former royal splendour Indian-style; visiting ancient palaces and meeting Indian ex-royalty in Jaipur, capital of the western desert state of Rajasthan.
He arrived there late Friday and was accorded a royal welcome by the Maharani (queen) of Jaipur Gayatri Devi and brigadier Bhawani Singh, former nobles from this state where princes ruled provinces for decades before the practice was scrapped in 1969.
Charles is on his first visit to India since a disastrous six-day trip in February 1992 with his then wife, the late Diana Princess of Wales. They divorced 10 months later.
His trip comes after publication of the tell-all book by Burrell, which has put the late princess back on the front pages of newspapers here.
Diana died in a car crash in Paris in 1997.
---
| | |
| --- | --- |
| | 21.06.2003 Prince William gives an interview to the Press Association to mark his 21st birthday. |
By Peter Archer, Court Correspondent, PA News.
Prince William learned his A-level results in August 2000, whilst in the jungle in Belize during the first stage of his gap year. He was preparing for survival exercises with the Welsh Guards, of which The Prince of Wales is Colonel.
"St James's Palace is pleased to announce Prince William's A-level results: History of Art - B; Geography - A; Biology - C," said The Palace statement.
"Accordingly, Prince William has been accepted to attend the university of his first choice, the University of St Andrews, on a four year course to study an MA (Honours), Art History degree."
The Prince left Eton College, Windsor, a month after his 18th birthday. His stay in Belize involved sleeping in a hammock strung between trees, wearing jungle combats, hats and boots, and eating British Army rations.
After the Belize visit, Prince William spent a private few weeks engaged in an educational project.
Prince William then spent the final stage of his gap year in southern Chile as a volunteer with Raleigh International. Pictures and reports
Prince William is second in line of succession to the throne, after his father, The Prince of Wales, who is heir apparent.
The 22-year-old Prince does not yet carry out his own public engagements, but he has accompanied his father on several official visits.
In September 2001, Prince William began a four-year degree course at St Andrews University in Scotland. In May 2003, he gave an interview and some photographs were released to mark the mid-point of his studies.
In June 2003, another interview and more photographs of Prince William were released to celebrate his 21st birthday.
To mark the special occasion, photographer, Mario Testino also took some photographs of the young Prince, who celebrated his birthday with a party held at Windsor Castle.
At this time he also accompanied The Prince of Wales on an official visit to Wales, where he chose to carry out both rural and urban engagements.

The Prince of Wales and Prince William visited the Anglesey Food Fair at the Anglesey Showground and then went on to Newport to open a new homeless charity day centre for Newport Action for Single Homeless (NASH).
Before Christmas 2003 Prince William took part in a photocall in St Andrews and another with his father at The Prince of Wales' Duchy Home Farm in May 2004.
In June 2004, Prince Harry and his brother Prince William attended the funeral of their maternal grandmother, Mrs Frances Shand Kydd in Oban, Scotland.
During the private service, Prince William read a lesson from the Jerusalem Bible, Romans Chapter 8; Verses 35 - 39.
Later, Prince William and his brother Prince Harry joined members of the Spencer family at a private burial at a cemetery at the edge of the town.
Prince William, Prince Harry and their father The Prince of Wales accompanied The Queen and The Duke of Edinburgh to the opening of the Diana, Princess of Wales Memorial Fountain in Hyde Park, London on July 6th 2004.

On July 10th 2004, Prince William and Prince Harry made a surprise appearance to show their support for Sport Relief's one mile charity event in London.

Prince William is currently in the final year of his geography degree at St Andrews University.
To mark his 21st birthday, Prince William agreed to be interviewed by the Press Association and posed for photographs by Mario Testino. In the second part of what is his frankest and most revealing interview ever, William answers questions about his life, girls, the monarchy, the media and his future.
William will do his duty and be King.
That is the clear message which, as he comes of age, William wants to send.
He unequivocally denied rumours that he would not accede to the throne after his father, the Prince of Wales, and take his place in the line of succession.
Straightening his back, William answered the question: Do you want to be King?
"All these questions about do you want to be King? It's not a question of wanting to be, it's something I was born into and it's my duty," he said.
"Wanting is not the right word. But those stories about me not wanting to be King are all wrong.
"It's a very important role and it's one that I don't take lightly.
"It's all about helping people and dedication and loyalty which I hope I have – I know I have.
"Sometimes I do get anxious about it but I don't really worry a lot. I want to get through university and then maybe start thinking seriously about that in the future.
"I don't really ever talk about it publicly. It's not something you talk about with whoever.
"I think about it a lot but they are my own personal thoughts. I'll take each step as it comes and deal with it as best I can."
William said he sometimes felt part of history, especially when he was with the rest of the Royal Family.
"I'm sure a lot of people would love to get me doing royal engagements already," he said. "But I will wait until the end of my education before I even think about doing solo engagements.
"I will obviously do the odd one or two with my father, like I did in Wales before my birthday. But I just think, for the moment, I should concentrate on university – it's quite hard enough as it is."
William praised the Queen and said, as he faces up to one day being King, she is his inspiration.
"I think particularly nowadays the monarchy plays a very important role. You only have to look at my grandmother and see the amazing things she's done," he said.
"That to me is a huge inspiration – the work she's done and the work my father's done and a lot of the family.
"The monarchy is something that needs to be there – I just feel it's very, very important - it's a form of stability and I hope to be able to continue that."
William said it was difficult to look far into the future and predict changes in the monarchy.
"Modernisation is quite a strong word to use with the monarchy because it's something that's been around for many hundreds of years," he said.
"But I think it's important that people feel the monarchy can keep up with them and is relevant to their lives.
"We are all human and inevitably mistakes are made. But in the end there is a great sense of loyalty and dedication among the family and it rubs off on me.
"Ever since I was very small, it's something that's been very much impressed on me, in a good way.
"People say it's not ambitious, but it is actually quite ambitious wanting to help people.
"Trying to keep that going is quite tricky and it's something that, without the whole family, is harder for just one person to do.
"It would be dangerous to look a long way ahead and predict changes in the monarchy.
"I think my grandmother is incredibly good at managing the different aspects of being sovereign and putting across the monarchy.
"She is able to really promote the monarchy without getting too involved in things that she almost definitely has a view on, an opinion of her own.
"But, frankly, she does what she feels is right and I think that's very impressive."
Along with his father, the Queen was a role model for William.
"I think of the Queen first and foremost as my grandmother and to me that's important," he said.
"She's a huge role model for me – she's incredible – and in the family she's one of the biggest role models I have, along with my father.
"My grandmother has achieved so much in her lifetime and she's just so experienced. For me she symbolises the monarchy.
"She's been put in some really difficult positions and yet she handles it very well. What she's done for this country is amazing."
William does not have a steady girlfriend.
But if the right girl comes along, he is ready to make his move.
However, the 21-year-old Prince, who is among the most eligible bachelors in the world, realises the media scrutiny his girlfriend would be subjected to and is protective towards any potential date.
"There's been a lot of speculation about every single girl I'm with and it actually does quite irritate me after a while, more so because it's a complete pain for the girls," he said.
"These poor girls, you know, who I've either just met and get photographed with, or they're friends of mine, suddenly get thrown into the limelight and their parents get rung up and so on.
"I think it's a little unfair on them really.
"I'm used to it because it happens quite a lot now. But it's very difficult for them and I don't like that at all."
William would not be drawn on media speculation about specific girls in his life.
But he said: "I don't have a steady girlfriend."
Not that he is uninterested in romance with the right girl.
"If I fancy a girl and I really like her and she fancies me back, which is rare, I ask her out," he said.
"But, at the same time, I don't want to put them in an awkward situation because a lot of people don't quite understand what comes with knowing me, for one, and secondly, if they were my girlfriend, the excitement it would probably cause."
William, who is modest about his appeal, joked: "Only the mad girls chase me, I think.
"No, I've never been aware of anyone chasing me but if there were, could they please leave their telephone number," he said, laughing.
It was his trademark gesture which infuriated photographers and earned him the reputation of being shy.
But William protested that he was never shy – just naive about how to avoid being photographed.
"I was never shy," he said. "But, it's very funny. I was called shy because I put my head down so much when I was in public.
"It was never because I was shy. It was a really naive thing that I hadn't picked up on.
"I know it's silly and that everyone will laugh at it. But I thought that, when I was in public, if I kept my head down, then I wouldn't be photographed so much.
"Therefore, I thought, people wouldn't know what I looked like so I could go about doing my own thing which, of course, frankly was never going to work.
"It was so that people wouldn't recognize me and I could still go out with friends and things like that.
"So they just saw the top of my head. But usually I was photographed with my eyes looking up through a big blond fringe. It was very silly.
"I wouldn't say I prefer to be unnoticed because that's never going to happen.
"But I'm someone who doesn't particularly like being the center of attention."
As he turns 21, William appealed to the media to continue to allow him privacy at university.
He thanked the media for giving him space to be himself and complete his formal education while he was at Eton and now at St Andrews University in Scotland.
"They have been really good about the whole thing and I'm sure they've been very frustrated at the same time," he said.
"I just feel it's better for both sides, St James's Palace and the media, that it happens this way.
"I don't think either side wants to return to the free-for-all of the old days.
"It's a really fine balance and it could be quite volatile if things get out of hand," he said.
"So I don't want to go back to that – I've seen it and I don't like it – and I hope that it all works out the way it is."
Since the death of their mother, Diana, Princess Of Wales, the media have agreed to leave William and his younger brother, Harry, alone to complete their education.
In return, William and Harry have been willing to give interviews and photocalls at significant points in their lives.
For someone, who when he was younger, was thought to dislike media attention, at 21 William is determined to act like an adult.
"The media can be tricky at times but so can most people," he said. "But it's something that I want to handle with the most maturity I can.
"So it is difficult but it's not impossible.
"The way it's been handled so far, particularly to do with me, has been amazing from both sides, St James's Palace and the media.
"I just really hope that continues because I've had such a good time in my first two years at St Andrews and I would be absolutely gutted if that disappeared."
As for his portrayal in the media, William said he just wanted to be seen as himself.
"My own portrayal has been something that I hope people take with a pinch of salt sometimes," he said.
"I don't want to be anything I'm not and I don't want to come across as being super-human or an idiot.
"I just want to come across as me – and I hope that's what will happen."
He was born His Royal Highness Prince William of Wales but at 21 still wants to be known as just William.
"This has been quite a confusing issue for a lot of people I think," he said.
"I am and always will be an HRH.
"But out of personal choice I like to be called William because that is my name and I want people to call me William – for now.
"I was HRH Prince William as soon as I was born. But I don't want all the formalities because they're not needed for the time being."
William has his own coat of arms, which was granted to him by the Queen on his 18th birthday, but he has not used it yet.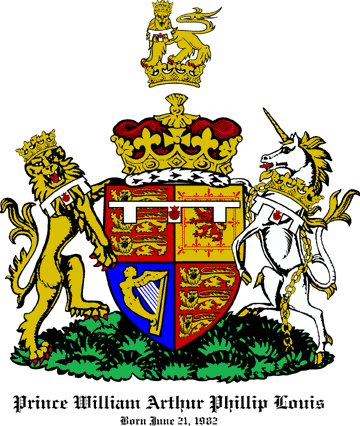 Prince William requested the addition of an "escallop gules"
(a red scallop shell, prominent in the Spencer ancestors' coats of arms)
to honor his Mother, Diana.