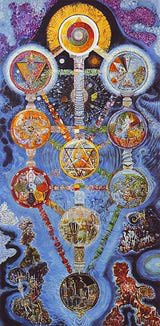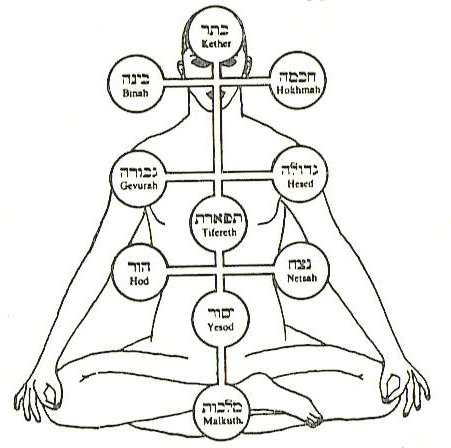 Dee's Finney's blog
start date July 20, 2011
today's date June 7, 2013
page 513
TOPIC: KINGDOM, POWER, AND GLORY
6-7-13 - DREAM - I was living in a house with Joe's grandmother Zora. I had a tree with me by the name of POWER, which I've been dragging around with me for years, and I finally planted it.
Then I was in a closet and found Joe's old baby shoes, full of dirt. I said, "Zora! Do we have to have a ceremony to throw away these old shoes, and she clearly said, "No!" so I did.
6-10-13 - DREAM - My husband and I were in bed at night, and a blonde woman drove around our house and hit the back of our house with her car.
She came running into our bedroom to tell us she had hit the house and I saw that it was the comedienne Joan Rivers.
She did this five times, increasing the damage each time. By then I realized she was doing it on purpose.
When I realized this on the 5th time, I saw her headlights coming up the driveway and decided I would run out there, catch her in action and shut off the lights to the house so we wouldn't get electricuted or something. I was then going to call the cops on her.
When I ran outside to shut off the electricity and came back in, I found her in bed with my husband where I had been laying. She was trying to take my place.
I woke up before I could say or do anything about that.
Joan: name meaning:
Joan is mainly a female name in the English language, but can be a male name in Catalan, Dutch and in French. It is related to the names John, Jane, Jean, Jeanne, Johan, Joanna, Juan, João, Ivan, Jovan, Ioan, Jan, Jann, Yanne, Jouan, Sean, Ioan, Siobhán, and Siwan.
The English female name is an English form of the Old French name Johanne, a female variant of the male name Johannes. The name ultimately derives from the Biblical Hebrew name יוחנן Yôḥānān, short for יהוחנן Yəhôḥānān, meaning "Yahweh is merciful". Some commonly known uses include:
Joan of Arc (French: Jeanne d'Arc, IPA: [ʒan daʁk]; ca. 1412 – 30 May 1431), nicknamed "The Maid of Orléans" (French: La Pucelle d'Orléans), is a folk heroine of France and a Roman Catholic saint. She was born a peasant girl in what is now eastern France. Claiming divine guidance, she led the French army to several important victories during the Hundred Years' War, which paved the way for the coronation of Charles VII of France. She was captured by the Burgundians, transferred to the English in exchange for money, put on trial by the pro-English Bishop of Beauvais Pierre Cauchon for charges of "insubordination and heterodoxy", and was burned at the stake for heresy when she was 19 years old.
Twenty-five years after her execution, an inquisitorial court authorized by Pope Callixtus III examined the trial, pronounced her innocent, and declared her a martyr. Joan of Arc was beatified in 1909 and canonized in 1920. She is – along with St. Denis, St. Martin of Tours, St. Louis IX, and St. Theresa of Lisieux – one of the patron saints of France. Joan said she had received visions from God instructing her to support Charles VII and recover France from English domination late in the Hundred Years' War. The uncrowned King Charles VII sent her to the siege of Orléans as part of a relief mission. She gained prominence when she overcame the dismissive attitude of veteran commanders and caused the lifting of the siege in only nine days. Several additional swift victories led to Charles VII's coronation at Reims.
Joan Rivers birthday:
Joan Alexandra Molinsky (born June 8, 1933), better known by her stage name
Joan Rivers, is an American television personality, comedian, writer, film director,
She just started a new comedy show on television as well.
April 26, 2013
Posted by John J. Moser at 02:30:00 AM on April 26, 2013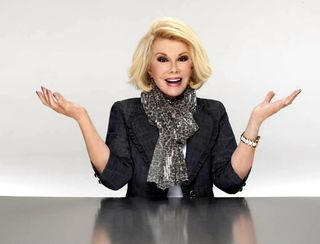 After more than 50 years in show business, comedian Joan Rivers says she found herself being the unwitting center of attention at every dinner party — people enthralled, and, of course, amused, by her stories.
That's what led to Rivers doing "My Life in Show Business: 135 Years and Counting," a lecture tour that comes to Reading's Sovereign Performing Arts Center Friday and Wilkes-Barre's F.M. Kirby Center for the Performing Arts Saturday.
In a recent call from Los Angeles, Rivers spoke about her busy life, her stage lecture – and some celebrities, too.
She talks about starting her career in the late 1950s in a short-run play called "Driftwood" in New York City's Greenwich Village playing a lesbian with a crush on a character played by a then-unknown Barbra Streisand.
And about working with Woody Allen and Bill Cosby and being "Tonight Show" host Johnny Carson's permanent guest host before a falling out over her getting a competing talk show on the then-fledgling Fox network. And why her coarse comedy as a guest on Barbara Walters' ABC-TV morning show "The View" kept her from a permanent seat.
What's hard to figure is how Rivers has time to do the tour, with the success of her WE Network TV show "Joan & Melissa: Joan Knows Best?" and their E! Network show "Fashion Police," as well as a hit Internet series, "In Bed With Joan."
She's also doing guest appearances on the new season of NBC-TV's "Celebrity Apprentice," had a recent best-selling book (her 11th) and a Showtime special.
Here's a transcript of the call: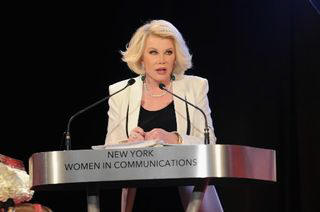 JOAN RIVERS: "Hello"
LEHIGH VALLEY MUSIC: Hi, is this Joan?
"Yes it is. How are you? You're right on time; that's very good."
[Laughs] Just fine thank you. Where are you? Where am I reaching you at?
"I'm staying in Melissa's house in California, and I'm getting ready to go do voice-overs for [the show] 'Joan and Melissa,' and also then do 'Fashion Police.'"
Oh, great. I won't keep you too long.
"That's fine. No problem."
I'll write a story to promote your show at Reading's Sovereign center on April 26.
"Very good. And I'm doing a lecture. It's not stand-up. It's like a lecture on my life in show business."
I read that. So tell me about that – what's the difference and why are you out on a lecture tour now?
"Well because every time you sit down at a dinner party and start telling stories, people are always saying 'That's funny, that's funny, that's funny, you should tell that story, you should write a book, blah, blah blah. So they said, 'You should go out and just tell all the stories going back to Barbara Streisand in Greenwich Village and Woody Allen and Bill Cosby, and moving on to Ed Sullivan and Carson, and the mix-up with Carson, and then going on to 'The View' and why I wasn't picked for 'The View,' and Barbara Walters, and going up into modern day with Kelly and Regis – just stories. And, of course, this whole thing now with late night wars – and with the morning wars, now.
"So it just became a thing – go tell the stories. And it's funny, and it's been very successful. Go figure."
[Laughs] Well, it's certainly something that interests me. So it's pretty much a retrospective?
"Well, it's just stories about everybody. It's gossip, and it's funny – the way 'Fashion Police' is funny. And it just tells about all the different things and the people I met in the business."
You know, just the fact that you are out on tour with so much already going on just speaks to me of how hard a worker you are. And I'm just wondering – why do you do it?
"Two reasons: One, I love the business. I love, love, love, love the business. And two, in our business, you go when they want you. We're a very fickle business and at the moment I'm in a very good spot. And I love doing what I do, so I'm taking advantage and enjoying it."
I'm going to run through just a couple of things that you have been doing lately and just get you to comment on them.
"Absolutely – whatever you want."
Your latest book – it's been out a little while, but …
"We're in paperback now. We just hit the paperback."
OK – it's 'I Hate Everyone, Starting With Me.' Tell me how it came about – why did you write another book?
"Well, I wanted to do a funny book. You know, all my books have been autobiographical or self-help … I've done a lot in self-help. Melissa and I – my daughter and I – we work very hard in suicide prevention and stuff. So I just wanted something funny and silly. And everything is so politically correct today [makings snoring sound]. I just wanted to write down what I really think and say to my friends, and that's how it started. Children on planes – you know, old people in line in front of you at Costco who can't remember their names."
[Laughs]
"And everything that just annoys me – expressions. You know [in a cheerful voice] 'My bad!' Go f--- yourself, you know, I don't want to hear that. [Laughs] So that's the kind of stuff. And the book was very successful."
Yeah. To prepare for the interview, I read several reviews, and pretty much every one of them starts out with, "This book is so offensive. But it's funny! And I can't put it down."
"Yeah, exactly. And that's what it should be. Comedy should be very, very … comedy should shake you up a little bit."
Yeah. Another thing that you are working on: A YouTube series?
"Oh, yes. Called 'In Bed with Joan.'"
Yeah, now tell me how that came about?
"That came through my reality show on WE-TV, 'Joan and Melissa,' I got very upset one day because I was being censored for some morning show. And I said, 'That's it!' That came out of the Costco [incident], where Costco wouldn't carry my book, 'cause we did the word 'bitch' on the back. For god's sakes. And I said, 'That's it! I want to do a show which I'm in control of. So I said I'm going to do something on the Internet, 'cause the Internet is wide open. So I started doing it – which Melissa is really thrilled about – out of my bedroom, in Melissa's house. She's really happy with her whole life here [laughs].
"And it was so cute and funny on the show, we just moved it into a real show. And so now it's on the Internet every week. www.Inbedwithjoan.com. And all the comics are coming over to do it – which I think is so wonderful. Nick Kroll, Margaret Cho came by, Sarah Silverman. I mean, it's an amazing group that just said, 'Yes, we're coming.' Jeff Ross – they've all been on the show already."
And then last fall, you had a new Showtime special.
"Yeah, I had a new Showtime special, and that was great, 'cause I like to do a special about every three years, when the material is new. George Carlin used to do one every year, but all he did was work on it, you know? And my material changes more slowly because I don't spend full time on the act. And so that was my third. I have another one coming up in two more years."
With all that you do, was it your choice not to be on the "Celebrity Apprentice" all-stars this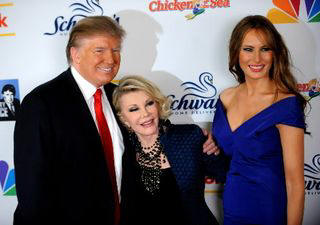 year?
"Yeah. And it's so cute: They wanted me to come back and do it, but … I won – why would I want to come back – to lose?"
Rivers with Donald Trump, left, and Trump's wife
[Laughs] Yeah, good point.
"I said, 'Uhhh,' I won. Now I 'm going to go on and lose? To Clay Aken? You know, or whomever. So I said no, and so Donald said, 'Would you come and be a judge?' So I'm a judge on it four times this year. And I loved it. That side is great."
Yeah, you get to be the …
"Oh, it's so much easier."
Um, at this point in your career, you've reinvented yourself so many times, I have to imagine you're reaching the point – and maybe more that once removed – where a generation knows you only as a reality TV star.
"And the younger ones know me only from 'Fashion Police.' And it's wonderful. It's so exciting to be … 'cause I feel very much a part of the current, totally the current scene. I mean that's totally what I talk about, what it's all about. And so I love it when people say, 'Carson? And then they give you a look – like, even who was Carson?"
Yeah, exactly.
"And that's fine with me."
Let me ask you how much, in the reality show with Melissa, how much of it is actually real?
"A lot."
Is it really?
"A lot more than a lot of the others. A lot of the others are so contrived, and we truly – we go out and we find real life things happening, and hen work around that. The only thing, we are very careful with [her grandson] Cooper. You know, my grandson. We don't need – we didn't want a stage brat. And so if he wants to be in the scene, he's in the scene. If you don't want to be in it, you're not in it. We're not going to make you, ever 'You have to do this,' you know? And that's Melissa. Melissa's an amazing mother."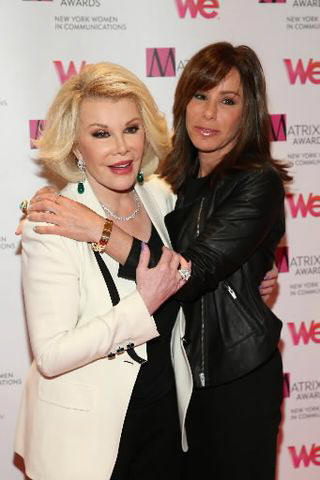 Yes, well. My only vantage point is as a viewer of the show, but what I see is what you say: For someone who has lived most of her life in front of a camera, Melissa seems to be very well adjusted as a mother.
"Yeah, and that goes – I have to say – to my husband [Laughs]. No, I think I was a very good mother – she said humbly. But I do – I think I was a terrific mother. As much as you can be."
Rivers with her daughter, Melissa
Right, exactly. You mentioned the late night wars. Do you have any thoughts – are you aware at all – about what's going on with Jay Leno [the call was before confirmation that Jimmy Fallon would take over the show in 2014, and Leno was publicly criticizing NBC] and do you have any thoughts?
"Uh, I think Jay Leno should shut his mouth and say 'Thank you' to NBC for taking him and giving him $500 million. I find this such ingratitude. He was an opening-act comic. He got 'The Tonight Show' because – I was there – Garry Shandling turned it down. Jay was not first choice. He campaigned to get it, and he's had some great life and some great run. Don't start making terrible remarks at the NBC people."
Yeah, especially after he got the second chance after Conan.
"Exactly. You got it. I mean, I find this just … come on. How about you look at your f-----g bank account."
[Laughs] Yeah! Really … well, I'll get off my soap box, but …
"No, stay on your soapbox – go ahead."
Well, it's like, come on, he's had such fortune with that, he should be walking away and smiling.
"Yes! Smiling and saying, 'Thank you – where and what previous life did I do good things that this life has been so terrific. He was a very ordinary comic. He wasn't Louis C.K. you know what I'm saying? Everyone wasn't talking about him. He was an ordinary comic and he got it because Garry didn't want it.
"And that's the stuff I talk about on stage."
Would it offend you if I asked you what it feels like looking at your 80th birthday coming up in a couple of months?
"No. It feels like nothing. I'm in very good health – great health. Nothing's going wrong – yet [Laughs]. So to me, I mention it all the time because I can't believe it."
Nor I. I mean, I've watched you now for …
"Forever."
Yeah, I won't say for how many years, and I can't believe I'm as old as I am, so ...
"And that's exactly it. I think, 'This is stupid.' And so I mention it a lot, because it's so stupid. You know when you say to people, 'I can't believe it?' It's like, I'm king now. If they called you up and said, 'You're king now,' you'd say 'I'm king?! OK, that's nice, I'm king. It means truly nothing. And my manager, they all want to make a big deal out of it, and I just keep going, 'This is so stupid!'
"You know, if the president is involved, why not?"
Are you and Adele having lunch today? [Rivers recently caused a stir by calling singer Adele fat]
"Adele? [Laughs] Adele, America is overweight. Let's start with that. Adele is doing very well. She is heavy. It's like the emperor's new clothes. They get made at me because I dare to say it's not. Adele is fat. She's a wonderful singer, she's a beautiful woman. She also lives in a castle now. I don't think Adele cares that Joan Rivers says she's fat."
NOTE: The Tree of Life has 10 Sephirah on it, which #5 is POWER.
The most common place we see that word is the Lord's Prayer:
Our Father, which art in Heaven
Hallowed be thy name
Thy Kingdom come
Thy Will be done
On Earth as it is in Heaven
Give us this day our daily bread
And forgive us our trespasses
As we forgive those who trespass against us
And lead us not into temptation
But deliver us from evil
For Thine is the Kingdom, and the Power and the Glory
Forever and ever.
Amen
I looked up how many pages I've done on this same topic:
KINGDOM = 965
POWER = 2440
GLORY = 605
TREE OF LIFE = 426
Some examples:
KINGDOM:
www.greatdreams.com/jesussd.htm

Matthew 5:3 Blessed [are] the poor in spirit: for theirs is the kingdom of heaven. .... Matthew 6:33 But seek ye first the kingdom of God, and his righteousness; and ...

www.greatdreams.com/sacred/nimrod.htm

His "kingdom" comprised Babel, Erech, Accad, and Calneh, in the land of Sinar, otherwise known as the land of Nimrod (Gen. x. 8-10; I Chron. i. 10; Micah v.

www.greatdreams.com/gospel.htm

Jesus said, "If your leaders say to you, 'Look, the (Father's) kingdom is in the sky,' then the ... Rather, the (Father's) kingdom is within you and it is outside you.
www.greatdreams.com/thebes/ramiii.htm

The New Kingdom burial grounds are in the remote valley where TUTANKHAMEN's tomb was found. Several large royal funerary temples survive at the edge of ...

www.greatdreams.com/sacred/age_kali.htm

Thou, O king, art a king of kings: for the God of heaven hath given thee a kingdom , power, and strength, and glory. And wheresoever the children of men dwell, ...

Luke 7:28 - "I say to you, among those born of women there is not a greater prophet then John the Baptist; yet the least in the kingdom of God is greater than he.".
POWER
www.greatdreams.com/covenant.htm

It was with its tremendous rays of power that the gigantic stones of the ... Contained within it were the "Tables of the Law," "rods of power," and a "vase filled with ...

Subj: Fw: The Power to Be. Date: 04/06/2000. From: t.james1@xxx (James Taylor ). Highest greetings, as always in love and light to All. Here's another gem from ...

www.greatdreams.com/healaff.htm

Spiritual Power is Man's Word ... Appeal to that power with infinite confidence, casting out all doubt; otherwise the arrow of your ... The God-Given Power of Man .
www.greatdreams.com/blog-2012/dee-blog131.html

Feb 8, 2012 ... oilprice.com/Alternative-Energy/Nuclear-Power/The-Fate. ... Obama Calls For Nuclear Power | Global Changes. US president Barack Obama ...

www.greatdreams.com/shamans.htm

Spiritual power is neutral; its use depends on the practitioner. ... It was the power from the outer world, and the visions and ceremonies had only made me like a ...

www.greatdreams.com/three/three.htm

The "fulness" was manifested visibly in Christ, and is communicated by the Holy Spirit, for it is a fulness of which we receive by His mighty power (John 1:16).
GLORY
www.greatdreams.com/Qabalah/hod.htm

PSALM 29:1 O give the Lord you sons of God [beney 'elim], give the Lord glory and power; 2 give the Lord the glory of his name. Adore the Lord in his holy court.

www.greatdreams.com/joestuff/interp/3rdsec/3rdsec.htm

As discussed in my 2005 update, entitled "The Glory of the Olive Tree, Revisited", the motto for Pope Benedict XVI, Gloria olivae, can be interpreted on several ...

Too, a morning glory vine entwined all the groups of these sticks...the flowers bloomed everwhere... I laid aside these sheets, in frustration, in my vision...there ...
THE TREE OF LIFE
www.greatdreams.com/treeol.htm

This article explains the extrordinary Kabalistic Tree of Life crop circle formation. The dates and coordinates had apparent connections to Crowley's New Aeon, ...

www.greatdreams.com/treelife.htm

THE TREE OF LIFE. 1-23-98 - VISION - As I was falling asleep, I was watching two little girls playing with a ball of light. They ended up standing on the ball of ...

www.greatdreams.com/Qabalah/hod.htm

TREE OF LIFE ... The Tree of Life is representative of both of these trees, and from the Ha Qabala is shown in .... these are the ten Sephiroth of the Tree of Life.
Ze`ir Anpin (Aramaic: זְעֵיר אַנפִּין meaning "Lesser Countenance/Small Face", called Microprosopus in the Kabbala Denudata) is a revealed aspect of God in Kabbalah, comprising the emotional sephirot attributes: Chesed, Gevurah, Tiphereth, Netzach, Hod and Yesod.
The Zohar's imagery expoundes its role in Creation, where it is the microscopic equivalent of Arich Anpin (Macroprosopus) in the Sephirotic tree of life. The Siphra Dtzenioutha portrays it as the revealed face of God, and the Idra Rabba elaborates on the Kabbalistic significance of its several attributes. Its Tetragrammaton is IHVH (יהוה), the traditional name of God in Judaism. In 16th century Lurianic doctrine it becomes systemised as one of the 6 Primary Partzufim Divine Personae, as part of the cosmic process of Tikkun Rectification.
Zeir Anpin, the emotional sephirot centred around Tiferet (Beauty), is the transcendent revelation of God to Creation ("The Holy One Blessed Be He"), a perceptible manifestation of the essential Divine infinity (the Tetragrammaton name of God). Nukvah ("Female" of Zeir Anpin) is the indwelling immanent Shekhinah (Feminine Divine Presence) within Creation, the concealed Divine finitude (the name Elokim). In Medieval Kabbalah, the sin of Adam, as well as later sin, introduces apparent separation (perceived from Creation) between the two, bringing exile and constriction on High. The task of man is restoring union (Yichud) to the Male and Female Divine manifestations. This is the origin of the Kabbalistic prayer formula recited before performing a Jewish observance. Within the tetragrammaton, the first two letters signify the Concealed World/Upper Unity with God, and the latter two signify the Created World/Lower Unity:
"For the sake of the union of the Holy One Blessed be He, and His Shekhinah, to unite the name Y-H with V-H in a perfect union, in the name of all Israel"
In Lurianic Kabbalah, the origin of disharmony in the Sephirot is located earlier, in the primordial Realm of Tohu before the creation of Man, though later sin brings further exile. The task of man, while also affecting Male-Female union on High, involves Messianic redemption of the exiled "Sparks of Holiness" (Birur) from Tohu that are scattered within Physical existence. Birur becomes the inner dimension of Yichud. Each indwelling spark is relatively female in relation to the person who redeems it from captivity. The collectivity of all sparks, similar to the collective People of Israel, also comprises the exiled Shekhinah, awaiting raising up to God.
Mystical Concepts in Chassidism, Jacob Immanuel Schochet, Kehot pub. Also printed as Appendix of Likutei Amarim-Tanya, Kehot. Chapter 8 etc.
S. L. MacGregor Mathers, The Kabbalah Unveiled, George Redway, London, 1887