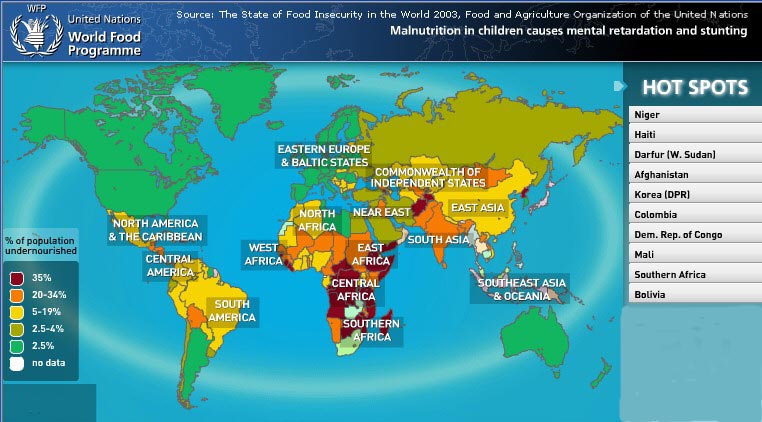 FROM: http://www.wfp.org/
Malawi facing serious food crisis
More than 4.2 million people in need of assistance
11 August 2005, Rome - Malawi is facing its worst food crisis in more than a decade, the result of a combination of factors, including drought, floods, consecutive poor harvests, endemic poverty and the effects of the HIV/AIDS pandemic, FAO said today.

More than 4.2 million people, or over 34 percent of the population, are unable to meet their food needs. Production of maize, Malawi's most important staple crop, is estimated at nearly 1.3 million tonnes this year, the lowest in a decade and around 26 percent less than last year's relatively poor harvest.

"Early and above average rains had raised hopes for a good crop, but the rains failed during the critical period from late January to end of February when the maize crop was pollinating and forming cobs," said Tesfai Ghermazien, FAO emergency coordinator in Malawi. "The dry spell also coincided with cassava and sweet potato planting in some areas."

In addition, exceptionally heavy rains in December and early January caused flooding and crop losses, especially in the southern and central part of the country.

"The impacts of the failed harvest won't be felt fully until the lean season sets in between October and April," said Ghermazien. "We need urgent assistance from the donor community to prevent a further escalation of the crisis and to avert widespread hunger and malnutrition, especially among children under the age of five."

Agriculture-driven economy

Agriculture, which is mainly rain fed, is the most important sector of the economy in Malawi, accounting for about 39 percent of gross domestic product and employing around 85 percent of the workforce. It contributes to more than 90 percent of the country's foreign exchange earnings.

Natural disasters

In recent years, there has been an increase in the frequency and severity of natural disasters such as droughts and floods, with serious repercussions on crop production. This year's drought is expected to result in a national cereal gap of between 300 000 to 500 000 tonnes.

"The challenge is to provide immediate relief supplies to the affected populations and to design long-term recovery strategies to avert similar situations in the future," said Ghermazien. "The promotion of drought-tolerant crops and crop diversification, for example, will help mitigate the impacts of droughts."

HIV/AIDS a major problem

The HIV/AIDS pandemic continues to be a major social and economic problem for the country, with around 15 percent of the population estimated to be HIV infected.

The impact on the agricultural sector has been significant, with loss of labour due to death, illness or the diversion of labour to care for the sick sharply affecting production and leaving a large part of the population without adequate food supplies.

Range of interventions needed

"Most of the areas affected by drought or flooding this year were already facing critical food shortages, and many families lost both their crops in the field and their food stores," said Ghermazien. "These households will need food aid, but also agricultural inputs, such as seeds and fertilizers for the next planting season, starting in October."

Assistance is also needed to help vulnerable households broaden their economic base. FAO is promoting crop diversification to reduce reliance on maize, small livestock production, small-scale irrigation and income-generating activities.

Interventions such as the promotion of home gardens and nutrition education for HIV/AIDS-affected households and malnourished children are needed to help improve the health and nutritional status of these most vulnerable groups.

Other proposed activities include the promotion of drought-tolerant crops, such as cassava and sweet potatoes, afforestation in flood-prone areas to improve soil structure, and establishment of fruit tree nurseries and primary school orchards to improve child nutrition.

Contact:
Teresa Buerkle
Information Officer, FAO
teresamarie.buerkle@fao.org
(+39) 06 570 56146
(+39) 348 14 16 671
---
"Food is power! We use it to change behavior. Some may call that bribery. We do not apologize." These are the threatening words of Catherine Bertini, Executive Director of the United Nations World Food Program. Ms. Bertini, was our very own former U.S. Assistant Secretary of Agriculture. Ms. Bertini was a featured speaker at the globalist UN World Food Summit in November of 1996.

Many believe the United Nations is the focal point for the global restructuring process. It is also believed by many that the coming crisis of food shortages, famine, and political and social turmoil will lead to Marshall Law allowing socialist directorates to proclaim a revamping and restructuring of the economic system which will solve the significant concerns facing humanity.

Both Hitler and Stalin taught and believed that true Socialism would begin in one country (Germany or Russia); then, like an octopus it would grow to encompass the entire globe. Larry Bates, astute publisher of Monetary and Economic Review journal, in his book The New Economic Disorder, touches on this plan. He writes, "I have said, for many years that the term 'New World Order' is merely a code word for one-world socialism, with an elite ruling class to govern the rest of us under their demonic system." Bates also believes that, "The mechanism that has been set up to manage us all is a world government, an antichrist system, headquartered in the United Nations."

Proclaiming that, "The New World Order will be founded on the rule, all for one and one for all," a World Goodwill bulletin summarized the Illuminati's blueprint for economic control by loftily declaring: "The New World Order will recognize that the produce of the world, the natural resources of the planet, and its riches do not belong to one nation but should be shared by all...A fair and properly organized distribution of the wheat, oil and the mineral wealth of the world will be developed...All this will be worked out in relation to the whole."

Colonel Edward M. House, the founder of the Council on Foreign Relations (CFR), was President Woodrow Wilson's top foreign policy advisor. Col. House was one of the men who first conceived the League of Nations, the U.N.'s failed predecessor. Col. House once exclaimed: "The goal is Socialism as dreamed of by Karl Marx."

In recent years, especially since FDR, more and more presidents have decided to exercise the powers they derive from un-Constitutional Executive Orders either to bypass Congress entirely or to speed up the process of wielding governmental powers. [Executive Orders are outrageously unconstitutional!] President Clinton and President Bush have been the most flagrant violators. Mr. Clinton and Mr. Bush have issued Executive Order after Executive Order. As a result, the United States is now ruled directly from the White House and the stage is set for the restructuring of America to act in full accord under the control of One World Government operated by the Illuminati. Among the Executive Orders already in existence providing for control of people's everyday lives and seizure of private property are the following:

E.O. 13010 - Seizure of the "Critical Infrastructure." Seizure of computer systems, the Internet, satellite systems and telephone and communications systems, by the federal government. Empowerment of the U.S. Armed Forces to perform the functions of government in event of national emergency.

E.O. 10995 - Seizure of the communications media.

E.O. 10997 - Seizure of all electric power and utility systems, fuels, and minerals.

E.O. 10998 - Seizure of all food supplies and resources and all farms and farm equipment.

E.O. 10999 and E.O. 11005 - Seizure of all means of transportation, including company and personal cars, trucks, trains, airlines, river and ocean vessels, and vehicles and conveyances of any kind, and control over all highways, waterways, and air routes.

E.O. 1100 - Mandatory induction of any and all America workers for government projects or missions, placing the entire U.S. work force under the federal government.

E.O. 1101 - Seizure of all health, education, and welfare facilities and equipment.

E.O. 11002 - Empowers the Postmaster General to register all U.S.A. men, women, and children and to issue a national I.D. card.

E.O. 11004 - Seizure of all housing and finances and the power to direct the relocation of people and resources into designated communities.

E.O. 11051 - Empowers the Federal Emergency Management Agency (FEMA) with the authority to independently put Executive Orders into effect in event of increased international tension or economic, financial, or military crises.

E.O. 13083 - Centralizes all government powers and authority – national, state, and local – in the federal government. Overrides the 10th Amendment to the U.S. Constitution and makes all state and local laws and regulations subservient and inferior to those of the federal government. Also empowers the federal government to control the social and religious behavior of the people by stating that federal law shall "define the moral, political, and legal character of their lives."

This hideously sinister Executive Order (13083), issued May 14, 1998 by President Clinton, undoubtedly one of the most shocking of all. It totally undermines and destroys the Bill of Rights and gives the federal government the awesome power even to define the "moral character" of peoples' lives!

The general public was told little or nothing about this Executive Order by either the media or their representatives in the Congress. A small group of determined patriots caused an uproar about this Stalinist oriented infringement on the peoples' rights and liberties. On Internet and on radio talk shows they complained with a mighty voice. Amazingly, possibly because the biannual federal election for the Congress was only a few months away, the Congress moved quickly to nullify Executive Order 13083. Shortly after the November 1998 elections, the White House announced that the President intended to reissue the nullified Executive Order.

On November 14, 1998, World Net Daily, a global news service published on the World Wide Web, carried this astonishing news article:

"The National Governors Association would like to have a national ID system, and plans to work with the White House to reinstate Executive Order 13083 to make that a reality."

WAKE UP AMERICA!!! We have 50 governors of the states coming together and agreeing to trash the Constitution, to decimate the people's precious historical heritage of freedom and liberty against federal encroachment, and to turn over all governing power throughout America to the absolute rulers of the federal government. This is DICTATORSHIP! This is TREASON!, and America is sound asleep refusing to get involved because it trusts the elected. You think nothing like this could happen in America!? Folks, it's happening today right under our own noses. Our society has been dumbed down to the point we do not know how to react, what to do, where to go, or how to save our great nation. If you're looking for answers watching ABC, NBC, CBS, FOX, CNN or other controlled media-hype, you'll not likely find anything. You will know only what they want you to know when they decide it's time for you to know.

Most Americans don't want to get involved because they are afraid of the government, they are too caught up enjoying the "good times",or that they don't want to be labeled as a patriot or some weird Christian.

The Marxist-Leninist-Socialist Liberals in Congress and other levels of governments have had over 50 years to overturn this nation into a Socialist welfare paradise, and they are now calling in their notes/favors.

"The age of nations must end. The government of nations have decided to order their separate sovereignties into one government to which they will surrender their arms." - The UN World Constitution

"To achieve world government, it is necessary to remove from the minds of men their individualism, loyalty to family, traditions, national patriotism, and religious dogmas." - Brock Chisolm, Director, UN World Health Organization

"The UN is the greatest fraud in history. Its purpose is to destroy the United States." - Congressman John E. Rankin

"Fundamental, Bible-believing people do not have the right to indoctrinate their children in their religious beliefs because we, the state, are preparing them for the year 2000, when America will be part of a one-world order global society and their children will not fit it." - Peter Hoagland, Nebraska State Senator stated on radio in 1983

"It is in the American interest to put an end to Nationhood." - Walt Rostow, Council on Foreign Relations and UN Spokesman

"My vision of a new World Order foresees a UN with a revitalized peacekeeping function. It is the sacred principles enshrined in the UN Charter to which we henceforth pledge our allegiance." - President George Herbert Walker Bush stated on February 1, 1992.

"We must get the New World Order on track and bring the UN into its correct role in regards to the United States." - Warren Christopher, Secretary of State under Bill Clinton, stated on CNN, January 25, 1993.

"The overall goal of the UN is a free, secure, and peaceful world of independent states adhering to common standards of justice and international conduct and subjecting the use of force to the rule of law; a world which has achieved general complete disarmament under effective international control; and a world in which adjustment to change takes place in accordance with principles of the UN." - The U.S. Program for General and Complete Disarmament in a Peaceful World, introduced September 25, 1961 to the UN by John Fitzgerald Kennedy (State Department Document 7277)

"The New World Order under the UN will reduce everything to one common denominator. The system will be made up of a single currency, single centrally financed government, single tax system, single language, single political system, single world court of justice, single state religion...Each person will have a registered number, without which he will not be allowed to buy or sell; and there will be one universal world church. Anyone who refuses to take part in the universal system will have no right to exist." - Assessment of the New World by Dr. Kurk E. Koch

The modern roots of the New World Order go back before the time of our Declaration of Independence, and stems from a secret Luciferian society which espouses "illuminism." On May 1, 1776, the Order of Illuminati was established, a quest for total world rule by a select group of "enlightened ones." Rooted in satanic worship, the Illuminati's stated agenda includes:

1. The destruction of Christianity.

2. The abolition of private property.

3. The abolition of inheritance.

4. The breakup of the family unit.

5. The destruction of patriotism.

6. The abolition of all national government.

7. The creation of a one world government.

WAKE UP AMERICA!!! Get America out of the United Nations, and get the United Nations out of America! America is not about One World Government, and One World Government is not about America! The Constitution is not about the UN Charter, nor is the UN Charter about the Constitution!!! Nor was President Bush designated a King or a dictator by the Founding Fathers.

---

"http://www.biblebelievers.org.au/1a.htm"
---
Mission to Yemen reveals extent of tsunami damage
Losses estimated at $2.2 million - FAO proposes project to help 2 000 families
10 August 2005, Rome - Fishing communities in Yemen were much more seriously affected by the December 2004 tsunami than had been originally thought, with damages totalling around US$2.2 million and 2 000 families affected, a fact-finding mission carried out jointly by FAO and the Yemeni Government has reported.

The mission, undertaken in July 2005 after a request was made to FAO by Yemeni authorities, surveyed 34 coastal communities in the Al Mahara district and on the Socotra Islands, situated south of Yemen's mainland off the north-eastern tip of Somalia.

"We found that while the damage was less than in countries closer to the epicentre of the earthquake, there were significant impacts on the livelihoods of local people, especially fishermen," said FAO expert Hans Båge, who led the mission.

High waves damaged boats, engines and fishing gear as well as infrastructure vital to the fishing sector, such as ice plants, storage sheds and jetties, with 653 boats, 569 engines 1 625 nets and 16 980 fishing traps either damaged or completely destroyed, according to the latest estimates made by the joint FAO/Government mission. Many landing beaches and natural harbours were also destroyed.

These losses have severely affected the livelihoods of 2 000 fishing households and left many of them without any means of income. Most of them have not received any assistance to help them resume fishing and livelihood activities.

The halt in fishing has in turn had an economic impact on buyers, sellers, processors and others who make a living in fisheries-related activities, Båge noted.

The fishery sector plays an important role in the Yemeni economy and provides employment to more than 53 000 fishers and workers in related sectors.

Lack of financial and technical expertise, shortcomings in coordination and difficulties reaching the remote affected villages meant that initial estimates of the tsunami's impacts did not provide a full picture of damage, and authorities did not immediately perceive the need for international assistance.

Donor support for rehabilitation project needed

FAO is urging donors to support a US$2.2 million post-tsunami fisheries rehabilitation project it is proposing for Yemen.

"Many fishermen have not been fishing for six months now," said Båge. "They will only be able to start again in September when the present monsoon stops, and if they receive proper assistance."

The project would provide essential fishing inputs, such as nets, hooks, fishing line and spare engine parts and repair or replace boats, engines and fishing gear.

FAO also proposes conducting an assessment of the feasibility of reconstructing eroded beaches and natural harbours on which many Yemeni fishers depend.

Contact:
George Kourous
Information Officer, FAO
george.kourous@fao.org
+39 06 570 53168
+39 348 141 6802
FROM: http://www.fao.org/
---
$9.978 Billion Transferred to Development Fund for Iraq
Transfers of $1 billion each were made on 28 May, 31 October and 18 November 2003 from the United Nations Iraq escrow account, at the request of the Security Council contained in paragraph 17 of resolution 1483 (2003) of 22 May 2003. Another $2.6 billion was transferred on 31 December 2003, a further $2 billion on 31 March and $0.5 billion on 19 April 2004. Three more transfers, totalling $1.128 billion, were made in 2004 and three transfers totalling $0.75 billion have been made in 2005.
UN Secretary-General Praises
Work of Oil-for-Food Programme
United Nations Secretary-General Kofi Annan has praised the Oil-for-Food Programme for accomplishing one of the largest, most complex and unusual tasks ever entrusted to the Secretariat.
In a statement to the Security Council (20 November 2003), he noted that the Programme, which closed on 21 November was the only humanitarian programme ever to have been funded entirely from resources belonging to the nation it was designed to help.
He said that in nearly seven years of operation, the Programme had been required to meet "an almost impossible series of challenges", using some $46 billion of Iraqi export earnings on behalf of the Iraqi people. Under the Programme, nine different United Nations agencies, programmes and funds developed and managed humanitarian operations in Iraq, meeting the needs of the civilian population across some 24 economic and social sectors.
The Secretary-General paid tribute to the national and international staff of the Programme and said that in accordance with Security Council resolutions, the UN would hand operational responsibilities, together with remaining funds and assets ranging from schools to electrical power stations and some $8.2 billion worth of food, medicines and other essential supplies – to the Coalition Provisional Authority.
He noted that the actual delivery of these items would continue well into next year and that any unspent or undispersed amounts would be transferred to the Development Fund for Iraq after the Programme closes.
He said that although the UN was closing the Oil-for-Food Programme, it "remained determined to continue helping Iraq's long-suffering people" in whatever ways were still open to it. (Posted 22 November)
Oil-for-Food Programme Ready
for 21 November Handover
The Executive Director of the Oil-for-Food Programme, Mr. Benon Sevan, updated the Security Council today (19 November) on arrangements for the handover of programme operations and responsibilities to the Coalition Provision Authority (CPA) on Friday. Termination of the Programme is effective as of midnight 21 November, 2003.
Mr. Sevan said that the CPA should ensure that appropriate arrangements are in place from 22 November for the effective management of the billions of dollars worth of supplies and equipment destined for Iraq from the Programme's delivery pipeline and for authenticating the arrival of these goods to facilitate payment to the suppliers.
Mr Sevan noted that the CPA has been in close discussions with the UN independent inspection agent, Cotecna with a view to the retention of its services for a limited period after termination of the Programme and has given assurances that a final decision in that regard will soon be taken, thus ensuring the continuation of authentication arrangements beyond 21 November 2003.
Goods and supplies in the pipeline currently total some $8.2 billion and will continue to be delivered to Iraq well into 2004. (Posted 19 November 2003)
The Office of the Iraq Programme regrets that it is unable to respond to requests for information from companies or their representatives. The primary point of contact for companies is the Permanent Mission of their respective countries to the United Nations.
_____________________________________________
Iraqi Oil Sales Fund Humanitarian Action
The Oil-for-Food Programme was established by the Security Council on 14 April 1995. Some 3.4 billion barrels of Iraqi oil valued at about $65 billion were exported under the Programme between December 1996 and 20 March 2003. Of this amount, 72 per cent of the total was allocated towards humanitarian needs nationwide after December 2000. The balance went to: Gulf War reparations through a Compensation Fund (25 per cent since December 2000); UN administrative and operational costs for the programme (2.2 per cent) and costs for the weapons inspection programme (0.8 per cent).
About $31 billion worth of humanitarian supplies and equipment were delivered to Iraq under the Oil-for-Food Programme between 20 March 1997 and 21 November 2003, including $1.6 billion worth of oil industry spare parts and equipment. Additional goods and supplies from the Programme's multi billion dollar humanitarian pipeline are being delivered on a priority basis in consultation with the Coalition Provisional Authority, Iraqi representatives and UN agencies and programmes. (21 November 2003)
---
Oil-for-Food Scandal Draws Scrutiny to U.N.
Monday, September 20, 2004
By David Asman
NEW YORK — It began as a U.N. humanitarian aid program called "Oil-for-Food," but it ended up with Saddam Hussein (search) pocketing billions to become the biggest graft-generating machine ever and enriching some of America's most forceful opponents at the United Nations (search).
Plus, some evidence suggests that some of the money ended up in the hands of potential terrorists who are opposed to the United States.
[Editor's Note: This is one in a series of articles about the U.N. Oil-for-Food program. Check back tomorrow for the next installment. For background information mentioned on FOX News Channel's "Breaking Point," click here.]
The roots of the scandal date back to 1991, when a U.N.-backed and U.S.-led coalition expelled Saddam from Kuwait following his hostile takeover of the neighboring country. Although Saddam lost the war, he walked away with one important victory -- he got to stay in power in Iraq.
Thirteen years later, a second U.S.-led coalition made of a smaller group of nations than the first effort finally knocked Saddam out of business. And it did so without the help of the United Nations, which failed to pass a resolution backing the U.S. effort.
As the death toll rises in Iraq -- the number of U.S. military casualties is now above 1,000 and Iraqi citizens continue to die daily from insurgent attacks -- the question arises: Can the United Nations help now?
A new FOX News poll finds that 54 percent of the U.S. public believes the United Nations does not reflect the values of average Americans. Only 29 percent say that U.N. policies reflect said values.
"I believe the U.N., parts of it, have been corrupt for years. But this went to a whole new level," said Rep. Christopher Shays (search), R-Conn., chairman of the House Subcommittee on National Security, Emerging Threats and International Relations.
Shays is leading one of several Oil-for-Food probes by the federal government. The General Accountability Office has already pegged Saddam's Oil-for-Food take at $10.1 billion. It could end up being a lot more.
Shays says Iraqis aren't the only victims -- Americans are too.
"We're talking about American lives that are being lost in an attempt to bring democracy to Iraq," Shays said. If France, Russia, China and Germany had told Saddam it was time to back down and honor his commitments, Shays said it's possible the United States may not have needed to go to war against Saddam.
But why did these countries really object to a second U.S.-led war against Iraq?
Some evidence suggests that those countries that said they were opposing the Bush administration on principle were actually making billions from Oil-for-Food.
"I think clearly, American blood is in the hands of a number of European countries, who could have put pressure on Saddam, who could've looked him in the eye and said, 'the United States is coming in,'" Shays said. "And to me, some of the explanation clearly has to be the Oil-for-Food program."
Shays added that there is a chance some of the insurgents now operating against the United States and the new Iraqi government are using Oil-for-Food money in their terror campaign.
"I think it's not only possible that insurgents are using Oil-for-Food money -- I think it's very likely," Shays said.
One casualty was Ihasan Karim (search), the Iraqi official heading an inquiry into the Oil-for-Food program. On July 1, a bomb placed under his car exploded in Baghdad, killing him, and U.S. officials in Iraq told FOX News that they believe Oil-for-Food was the motive in the assassination. That wouldn't surprise Shays.
"I don't know who murdered him. But I can tell you this: There are a lot of people who don't want this story to come out," Shays said.
Shays places part of the blame on people inside the United Nations, even though U.N. officials authorized an independent investigation into the scandal.
"They're doing this investigation, but only after they were outed by an Iraqi free press, and a government leak from the Iraqi governing council," Shays said.
Shays said the man heading up the probe, former Federal Reserve Chairman Paul Volcker (search), has a tough job ahead.
"Paul Volcker is going to succeed or fail based on his power of persuasion and the good will of the U.N., but you're basically asking the member states to sign their own death warrant, and so it's kind of hard for me to imagine he's going to get the cooperation he wants," Shays said.
Volcker said it will take until at least next spring to finish his report, and in the meantime, he doesn't seem willing to give Congress the cooperation it wants.
"There is a lot of smoke," Volcker told FOX News on June 23, when asked if he thinks the Oil-for-Food program was corrupt. "There are obviously big problems, and we want to see how big they were and why did they happen. Why did all this happen, in some sense, under everybody's noses?"
Shays and Sen. Norm Coleman (search) -- leaders of two of at least five federal Oil-for-Food investigations -- have started firing off subpoenas.
"We have just begun this process," said Coleman, R-Minn. "But we're trying to sort out this hornet's nest of corruption, of evil. And it's going to take a little bit of time [and] patience."
The problems at the United Nations have led some to question its value. A FOX News poll found that 64 percent of Americans say the United Nations has not been an effective partner in the War on Terror.
Yet Shays and Coleman both said in interviews they believe a role exists for an organization like the United Nations.
"I think we need the U.N. But we need it to be an honest institution," Shays said. "When there are mistakes made, you have to uncover them and deal with them."
Shays said that the very least, a major shakeup needs to take place.
"The U.N. is so important, we've been willing to look the other way when we see things we don't like. I think the Oil-for-Food program busted that."
Coleman said he believes the United Nations had redeemable qualities, and he hoped the investigation would lead to greater transparency and more credibility for the world body.
"I'm not willing to kind of cash it in … they're not the Evil Empire, the United Nations," Coleman said.
For more information — including government documents, U.N. audits and past stories — click here.
FROM: http://www.foxnews.com/story/0,2933,132832,00.html
---
Ex-U.N. official admits taking bribes
Separate oil-for-food probe also accuses former contracts officer
From Phil Hirschkorn
CNN
Tuesday, August 9, 2005
Paul Volcker announces the latest findings Monday of the oil-for-food investigation.
UNITED NATIONS (CNN) -- A former U.N. official pleaded guilty to corruption charges Monday in the first case involving a U.N. staff member stemming from investigations into the defunct Iraq oil-for-food program.
Alexander Yakovlev, a former senior contracts officer, admitted he received several hundred thousand dollars in bribes from companies that sought to do business with the world body.
Yakovlev, a 52-year-old Russian, pleaded guilty to three counts in U.S. District Court in Manhattan -- conspiracy to commit wire fraud, wire fraud and money laundering.
The bribes came from three unidentified companies -- all U.N. vendors -- between 2001 and 2005, prosecutors said.
His attorney, Arkady Bukh, said Yakovlev agreed to plead guilty in the hopes of receiving a more lenient sentence. Bukh would not say whether Yakovlev is cooperating with investigators.
Yakovlev surrendered to authorities Monday after the United Nations lifted the diplomatic immunity that protects its employees from prosecution. He has no prior criminal record.
The move by prosecutors came just as a panel appointed by the United Nations to probe the oil-for-food program issued a harsh report on Yakovlev's actions. (Full story)
The Independent Inquiry Committee investigation, led by former U.S. Federal Reserve Chairman Paul Volcker, found that more than $1.3 million was wired into an account for a dummy firm called Moxyco that Yakovlev established in 2000 in the Caribbean island of Antigua.
Volcker reported that "more than $950,000 of these payments came from various companies or persons affiliated with such companies that collectively won more than $79 million in United Nations contracts and purchase orders."
Volcker told CNN in an interview, "Mr. Yakovlev received bribes." He said the payments were not necessarily associated with oil-for-food business.
A law enforcement source said the timing of Volcker's report and the plea was "coincidental," noting that Volcker was originally going to report Tuesday.
Yakovlev was initially investigated for soliciting a bribe from a French company that bid for a key U.N. contract to monitor Iraqi oil exports made under the oil-for-food program, which supplied Iraq with food and medicine during years of international sanctions.
That company, Societe General de Surveillance, did not win the contract; it went instead to Saybolt, which bid slightly less. Nor did the Volcker committee find evidence that the company paid a bribe.
Prosecutors, meanwhile, said Yakovlev's illicit funds landed in bank accounts he controlled in New York City and Yonkers, the city in New York's Westchester County where he lives.
Yakovlev resigned his U.N. job in June amid allegations that he helped his son get a job with a firm doing business with the world body.
U.N. officials lifted Yakovlev's diplomatic immunity Monday afternoon at prosecutors' request, said Mark Malloch Brown, chief of staff for Secretary-General Kofi Annan.
Brown said the United Nations brought the allegations to the U.S. attorney's office in New York "more than a month ago" and has been sharing information with prosecutors as part of efforts to reform the world body.
Yakovlev was released on $400,000 bail after pleading guilty. No sentencing date has been set.
Federal and state prosecutors also are investigating Benon Sevan, who ran the oil-for-food program for seven years.
Volcker's panel said Monday that Sevan received more than $147,000 in kickbacks from oil sold under the program. (Full story)
Sevan resigned Sunday from the United Nations. In his resignation letter, he called his management of the program "transparent" and denied any wrongdoing. (Full story)
One company involved in oil-for-food probes, Texas-based Bayoil, and three of its officers were indicted previously on charges they paid illegal kickbacks to the Iraqi regime, which controlled who could buy its oil.
Two other people have been indicted on charges of illegally lobbying for Iraq. One of them, Samir Vicent, pleaded guilty.