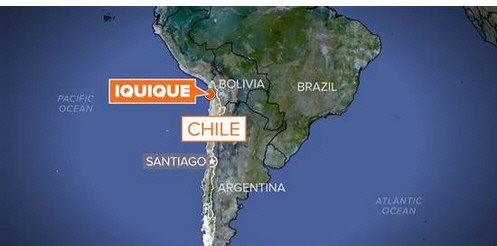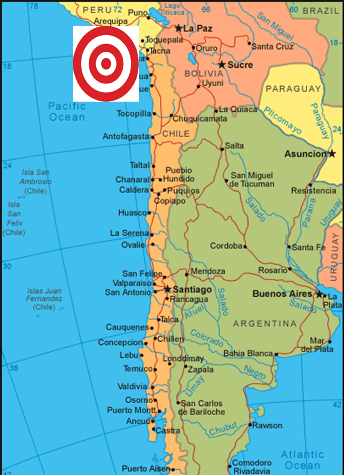 EARTHQUAKE 8.2
PLUS LARGE AFTERSHOCKS - 6.5
Dee Finney's blog
start date July 20, 2011
today's date April 1, 2014
page 662
TOPIC: HUGE QUAKE FOLLOWED BY TSUNAMI AND MULTIPLE LARGE AFTERSHOCKS
Powerful earthquake strikes off Chile, triggers tsunami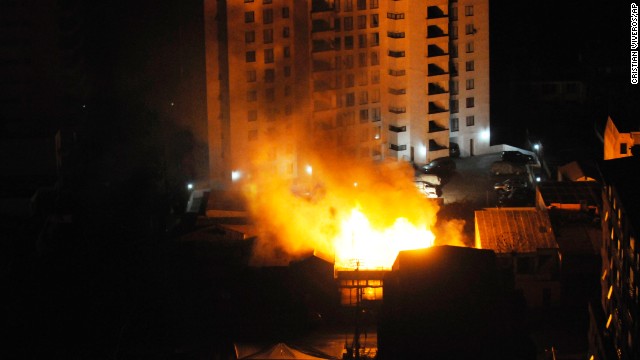 FIRE BURNS IN RESTAURANT
(CNN) -- A mighty 8.2-magnitude earthquake struck off the coast of northern Chile late Tuesday, triggering small landslides, sapping power and generating a tsunami.
Four men and one woman died -- two due to heart attacks and three crushed to death, said Interior Minister Rodrigo Penailillo.
About 300 prisoners escaped from the northern port city of Iquique in the immediate aftermath, he said.
The quake struck about 8:46 p.m. local time, some 60 miles northwest of Iquique. It had a depth of 12.5 miles, the U.S. Geological Survey said.
Chile's National Emergency Office asked everyone to evacuate the South American nation's coast. And residents complied.
"The fact is, we will know the extent of the damage as time goes by and when we inspect the areas in the light of day," Chile's President Michelle Bachelet said early Wednesday morning. "The country has faced these first emergency hours very well."
Residents in the port city of Antofagasta,calmly walked through the streets to higher ground as traffic piled up in some places.
"Many people are fearful after experiencing the powerful earthquake in 2010, so they immediately fled for higher ground when they heard the tsunami warning," said Fabrizio Guzman, World Vision emergency communications manager in Chile.
"There have been multiple aftershocks and communications have been cut off in many of the affected areas. So people are waiting in the dark hills not knowing what is to come, and hoping they will be able to return to their homes safely."
At one point, the Pacific Tsunami Warning Center issued several tsunami warnings. All of them, including for Chile and Peru, were canceled early Tuesday morning. All tsunami watches, which once extended as far north as Mexico's Pacific coast, were called off as well.
Tsunami waves of more than 6 feet generated by the earthquake washed ashore on the coast of Pisagua, according to Victor Sardino, with the center.
Iquique, with a population of more than 200,000, saw waves 7 feet high.
Danger averted
An earthquake of the scale that struck Tuesday night is capable of wreaking tremendous havoc.
So, if the initial reports stand, Chile may have dodged a major catastrophe.
Landslides damaged roads in some regions. Power and phone outages were reported in others.
Chile is on the so-called "Ring of Fire," an arc of volcanoes and fault lines circling the Pacific Basic that is prone to frequent earthquakes and volcanic eruptions.
On March 16, a 6.7-magnitude earthquake struck 37 miles west-northwest of Iquique. A 6.1-magnitude hit the same area exactly one week later.
About 500 people were killed when a 8.8-magnitude earthquake struck Chile on February 27, 2010. That quake triggered a tsunami that toppled buildings, particularly in the Maule region along the coast.
According to researchers, the earthquake was violent enough to move the Chilean city of Concepcion at least 10 feet to the west and Santiago about 11 inches to the west-southwest.
'No hazards' to U.S. coastline
The U.S. National Tsunami Warning Center worked Tuesday to determine the level of danger for Alaska, Washington, Oregon and California, as well as Canada's British Columbia.
Gerard Fryer, a geophysicist with the Pacific Tsunami Warning Center, told CNN there is "clearly not going to be any hazards to the coastline of North America."
The Pacific Tsunami Warning Center was "still evaluating" whether to issue a tsunami warning for Hawaii, said Charles McCreery, the center's director.
He said an advisory could be issued indicating threats for swimmers due to strong currents, "but no real flooding of the land."
CNN's Erica Harrington, Dave Alsup and Greg Botelho contributed to this report.
Chilean television broadcast images of traffic jams as people scrambled to evacuate.
Some houses were destroyed in the nearby city of Arica, according to Mayor Salvador Urrutia. And some older structures were ruined in the village of Huara, according to Mayor Carlos Silva.
The town of Iquique is a key copper exporting port, close to Chile's main copper mines. State-owned miner Codelco reported no harm to its workers or mines, and said its operations in northern Chile were normal.
Tuesday night's earthquake came on the heels of a March 16 quake with a magnitude-6.7, also off Iquique, which is home to 180,000 people.
A monstrous 9.0-magnitude quake that hit Japan in 2011 triggered a tsunami that reached heights of up to 133 feet, leaving 16,000 dead, 6,000 injured and more than 3,000 missing, according to NOAA.
And the Chile quake comes nearly a decade after a Dec. 26, 2004 quake with a magnitude of 9.0 triggered a horrific tsunami in the Indian Ocean that killed at least 216,000 people in one of the world's worst natural disasters on record.
Chile is vulnerable to quakes: A magnitude-8.8 earthquake and subsequent tsunami in central Chile in 2010 killed more than 500 people, decimated 220,000 homes and washed away docks, riverfronts and seaside resorts.
The strongest earthquake ever recorded on the planet also struck Chile — a magnitude-9.5 quake in 1960 that killed over 5,000 people.
Julmary Zambrano, Becky Bratu and Carlo Dellaverson of NBC News, as well as Reuters, contributed to this report.
OTHER LARGE QUAKES
THIS IS WHERE I POST WHAT I'M DOING AND THINKING
BLOG INDEX 2011
BLOG INDEX 2012 - page 1
JANUARY THRU APRIL 2012
MAY THRU AUGUST 2012
SEPTEMBER THRU DECEMBER
BLOG INDEX 2013
BLOG INDEX - PAGE 2 - 2013
BLOG INDEX - PAGE 3 - 2013
BLOG INDEX - PAGE 4 - 2014