DIRTY POLITICS
compiled by Dee Finney
10-19-03 - I had two dreams in a row about a bright orange piece of paper that had to be filed at the court house in Arkansas.
It was about a place called A _____________.
I thought I had to file it at the court house on State St. in Milwaukee, WI by 7 p.m., then I realized that the court house closed at 5 p.m. on the dot and it was already too late.
When I finally looked at the paper, it said to send it directly to Arkansas State Capitol.
I had to go the bathroom before I mailed it which led to other conversations with women I've known many years ago, one named Sue who I worked with in 1973 and other one I can't remember her name who was an executive secretary whom I also worked with in 1973. She said she had worked at the court house on State St. for many years.
I told her my parents wouldn't allow me to work there because of how difficult it was to ge there from my house on 16th St.
She said, "I just took the bus."
Sounds so simple, but I recall my father not allowing me to take the bus when I was young because he was afraid of the danger of busses having accidents.
But, I got back to the office where I had left my young son sleeping on a chair next to another woman's desk. (This was Elizabeth - an professor of criminology law) My son had woken up and was sitting at another desk reading some text in a book. He complained that it took me so long to get back.
At the same time, I was told by another secretary that DISCOVER had called and wanted to publish my letter in their magazine.
I wondered why they would want to publish my letter and then figured it was because I was charging my filing fee on their credit card.
They wanted to know what type style I wanted a particular word done in. I said I wanted it to be 1/2 an inch high but narrow lettering in block style. This word was E________________ (Maybe Elizabeth - the criminologist)
On my way out of the office, I accidentally stepped on the edge of a cat's water dish and spilled the water because I was carrying an armload of papers, books and on top was a stick sugar donut.

NOTE: When I researched the symbols in this dream, I found an Arkansas law magazine that published all new court cases and it was called the Orange Pages.
See: http://www.applieddiscovery.com/lawLibrary/courtRules.asp

10-25-03 - DREAM - I went with my friend to the library and while we were there, some short stocky politicians came in and tried to force us to sign some long forms that were several pages long without reading them. I told him that I not only wouldn't sign such a thing, I threw it at him and walked out of the place.
In another place we went oto, we met a little short man who looked like Michael J. Fox who was going to some political work. We found out from him that everything one does in life goes on their record - everything.
At the end of the dream, I was looking down into the library again through a wide door from a balcony and saw a lineup of maps of the United States and though my daughter-in-law was telling me about her son coming into this building with a bouquet of flowers, there were large dirty splotches of black dirt on the U.S. Map. The largest dirty splotch was on the state of Texas.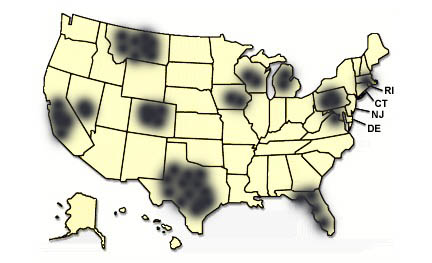 I knew the next election was going to involve dirty politics.

10-26-03 - DREAM - It was dinnertime and the family was gathering for dinner. But I wasn't cooking dinner myself. I was sitting on the bed upstairs - knitting a sweater.
The sweater bottom was dark blue - then there were 6 yellow rows, but underneath the arm was a triangle of gold and that was what I was working on.
Something had happened to me and the doctor had told me to take it easy for awhile. (It wasn't anything like a heart attack or broken bones, but I don't know what had happened that I had to rest from)
My daughter came up to seem and to find out how I was doing. She was carrying a tiny black baby, dressed in a bright purple hand-knit sweater. The baby was a preemie size and her name was 'April 1973'.
My daughter and I were then looking at a newspaper ad to see where she had to go to buy something. The ad was for a tire shop, but I knew it was one of those places where you could buy marijuana or other drugs from the back door and they sold tires out the front door. They also sold donuts and ice cream bars and soda pop from a rack inside as well.
The baby was beautiful but it was a black baby with white baby features - perfectly tiny round face. I was sure it was a girl.
I continued to knit the armpit of the sweater while I talked to my daughter and just before I woke up, I saw the baby's name again.
April Harp 1973
NOTE: While researching the symbols for this dream, I came upon a news article that contained all the words from my search which were April Harp 1973 Arkansas gold:
ARKANSAS - 1973 INVESTIGATIONS
On this page, part of the article said:
Fort Smith lawyer Matthew Horan once investigated the case in connection with a client he was defending. He tracked it back to a break-in at a south Fayetteville auto shop.
Baker declined to discuss the case, referring all questions to the empty court file.
"I confessed to nothing," he said.
Baker was driving a lumber truck and working as a bouncer at the Red Fox Lounge in Springdale when former Sheriff Fred Crumbley made him a deputy in 1971.
A year later, with Crumbley retiring, Baker won office as part of a slate of political newcomers, defeating Republican Johnny Reed 2,844 - 2,681.
It was a curious election, with allegations of widespread voter fraud. The ensuing court fight reached the Arkansas Supreme Court twice before Republicans accepted the ruling of Circuit Judge W.H. Enfield that there were not enough illegal votes to change the results.
Enfield discarded 79 absentee votes that Democratic campaign worker and then-state Rep. Steve Smith had gathered from the residents of the Meadowview Nursing Home. But Enfield rejected claims by Republican attorney Erwin L. Davis that Baker and first-term Treasurer Bolinger had gotten votes from Oklahomans and the dead.
Enfield also rejected a five-page "friend of the court" brief filed by William Jefferson Clinton, a young University of Arkansas law professor. Clinton argued that Smith was within the law when he circulated absentee ballots around the nursing home and then mailed them back to the courthouse.
Testimony showed that, in one precinct, 140 people signed in to vote, and 155 cast ballots. As the votes were being counted, Republican poll watcher Dorothy Hoskins swore in an affidavit, a Huntsville man conducted a dollar-a-chance gun raffle and a drunk wandered in and out of the room.
Another poll watcher, Derice Davis, signed an affidavit saying that Baker spent most of election day on the porch outside the Hilburn precinct. There, Davis said, one man arrived drunk, signed his ballot, and handed it to a Democratic judge to fill out.
In all, Enfield tossed out 150 votes, and Democrats admitted to 19 defective ballots.
Enfield, now retired in Benton County, said the election challenge was significant "only from the fact that Clinton ended up as governor and as president. That's after the fact. At the time, it didn't seem all that much of a case to me."
But Enfield did say the trial helped illustrate that Madison County is a "different world."
He said the most memorable testimony came from a man who said that Bolinger, who still serves as county treasurer, personally delivered forms to voters allowing Bolinger to take their ballots back the courthouse.
The man "had a brother out of his mind or a total drunk all the time," Enfield said. "The lawyer asked about his brother and whether he signed one too. He asked how come [his brother] couldn't go into town to vote, and the man responded, `Well, I tell you, friend, he were loud and drunker than hell.'"
Now I'll relate our last voting experience which took place October 7, 2003. This was about the recall of Gray Davis, Governor of California and there were 135 Republican candidates against him, with only 1 Democrat running - just in case the recall went through, which it did according to the vote the same night we saw the results on TV.
So, they say that Schwarzenegger won that election fair and square. But did he? This is why I question it.
Joe Mason and I went to vote early in the morning to beat the crowds. When we got to our polling place, it was closed. There was a sign on the door saying that the new polling place was listed on the sample ballot we had received in the mail. I didn't remember receiving a sample ballot, but I remembered getting a absentee ballot, which we didn't open - intending to vote in person.
Well, we didn't feel like driving all the way back home (3 miles) I suggested that we go to the fire department and see if they would know where the polling place moved to. When we got there, that was where the voting was going on.
We went inside and tried to register to vote. They couldn't find our names on the list. They didn't even have our street on their list. They acted stunned because we recognized these people as workers from the other place and we had been voting at the same place for 6 years at that point.
They told us we could fill out provisional voting ballots, after proving who we were, they put our completed ballots into bright pink envelopes, which they placed into a plastic bag along with dozens of other bright pink envelopes. One of the workers said he had been stuffing the bright pink envelopes into the ballot box along with the regular ballots also, so there were more than what we could observe ourselves.
After we got home, we both opened up the envelopes with the sample ballots in. Here is the letter that was in the envelope along with the absentee ballots:
STANISLAUS COUNTY
Office of County-Clerk Recorder
Lee Lundrigan
County-Clerk Recorder, Registrar of Voters
Commissioner of Civil Marriages
Elections: 1021 "I" Street, Suite 101,
Modesto, CA 95354
Phone 209-525-5200
STATEWIDE SPECIAL ELECTION-OCTOBER 7, 2003
RE: NO POLLING PLACE REQUIRED - ABSENTEE VOTER OFFICIAL BALLOT
Dear Stanislaus County Registered Voter,
Stanislaus County currently has 71 precincts that have fewer than 250 voters, or, are within the boundaries of federal property. Election law mandates 'no polling place' be established for these precincts. You are a resident of one of these precincts.
When a precinct is established as a 'no polling place', each eligible voter shall receive an absentee voter ballot. Enclosed please find the Absentee Voter's Official Ballot. Please use this ballot to cast your vote for the upcoming election, and return it to the Elections Division.
Returning Your Ballot:
Prior to Election Day - by mail:
If you wish to return the ballot by mail it must be received in the Elections Divisions Office on or before October 7, 2003. Regardless of the postmark date, a ballot is late and not counted if it is not received in the office on Election Day.
Prior to Election Day - by personal delivery:
You or a member of your immediate family or household may return your ballot in person to the Elections Division at 1021 "I" Street, Suite 101, Modesto, between the hours of 8:00 a.m. to 4:00 p.m. MOnday through friday before Election Day.
On Election Day - by personal delivery:
You or a member of your immediate family or household may return the ballot in person to any official polling place in Stanislaus County between 7:00 a.m. and 8:00 p.m. (See the reverse side for a partial list of polling places0 Otherwise, you may return it to the Elections Divisions Office at 1021 "I" Street, Suite 101, Modesto, CA 95354.
If you have any questions, please contact the Elections Divisions (209) 525 5200 or 525-5230 for assistance in Spanish.
Sincerely,
(signature)
Lee Lundrigan
Clerk-Recorder & Registrar of Voters
xxxxx
NOTE: We had been voting at this polling place for 6 years prior to this letter stating that we had no polling place. We are 30 miles from the Elections Office stated in the letter. Fortunately, we speak English and didn't need their Spanish telephone. I wonder what other elderly people or Spanish voters did that day if they didn't have a car to drive to Modesto - or couldn't read or understand the letter - even if they did open it up - like we didn't - expecting to vote the regular way we always had.
If you all remember - prior to the election, lawyers on the Democratic side of the election were trying to stop the election and even did so for one day until another judge said the election would go on as scheduled. At that time, we saw on TV, boxes and boxes of absentee ballots they had already received. We wondered what they were going to do with those. We got our absentee the ballot on the day they said there would be no election until next March.
Three weeks later, after the election, after declaring Schwarzenegger the winner of the election, they announced that they hadn't counted any of the absentee or provisional ballots yet. What? Three weeks later, all those thousands of voters had not had their votes counted yet and they had already declared Schwarzenegger the winner. They assumed that all those absentee ballots were for Schwarzenegger and that they were all for the recall?
I got news for them. At this point, 10-26-03, we still haven't heard what the final vote was - and Schwarzenegger is already touring the Sacramento governor's offices and buying a house to live in.
Who really won? How many people couldn't vote at all because of this screwy election?
If there were 71 precincts who suddenly had no voting place in this county, how many precincts were suddenly without a place to vote in other counties? I heard on TV that HALF of the voters had no place to vote that day. What? Were all those voters able to get to the polls and straighten this out that day like we did? Were their votes counted. Was Schwarzenegger really the winner of this election?
ANOTHER POINT:
Certain politicians already have written up a change to the Constitution which they are going to try to push through Congress to allow 'foreign-born' citizens who have lived in this country 20 or more years to run for President - with Schwarzenegger in mind.
Mind you, he was interviewed when he was younger as being an admirer of Hitler.
GEORGE W. BUSH RESUME
RESUME
George W. Bush
The White House, USA
EDUCATION AND EXPERIENCE
LAW ENFORCEMENT: I was arrested in Kennebunkport, Maine in 1976 for driving under the influence of alcohol. I pled guilty, paid a fine, and had my driver's license suspended for 30 days. My Texas driving record has been "lost" and is not available.
MILITARY: I joined the Texas Air National Guard and went AWOL. I refused to take a drug test or answer any questions about my drug use. By joining the Texas Air National Guard, I was able to avoid combat duty in Vietnam.
COLLEGE: I graduated from Yale University. I was a cheerleader.
PAST WORK EXPERIENCE:
I ran for U.S. Congress and lost.
I began my career in the oil business in Midland, Texas in 1975. I bought an oil company, but couldn't find any oil in Texas. The company went bankrupt shortly after I sold all my stock.
I bought the Texas Rangers baseball team in a sweetheart deal that took land using taxpayer money.
With the help of my father and our right-wing friends in the oil industry (including Enron CEO Ken Lay), I was elected Governor of Texas.
ACCOMPLISHMENTS AS GOVERNOR:
I changed Texas pollution laws to favor power and oil companies, making Texas the most polluted state in the Union.
During my tenure, Houston replaced Los Angeles as the most smog-ridden city in America.
I cut taxes and bankrupted the Texas treasury to the tune of billions in borrowed money.
I set the record for the most executions by any Governor in American history.
With the help of my brother, the Governor of Florida, and my father's appointments to the Supreme Court, I became President after losing by over 500,000 votes.
ACCOMPLISHMENTS AS PRESIDENT:
I invaded and occupied two countries at a continuing cost of over one billion dollars per week.
I spent the U.S. surplus and effectively bankrupted the U.S. Treasury.
I shattered the record for the largest annual deficit in U.S. history.
I set an economic record for most private bankruptcies filed in any 12-month period.
I set the all-time record for the biggest drop in the history of the U.S. stock market.
I am the first president in U.S. history to enter office with a criminal record.
I set the all-time record for most days on vacation in any one year period.
After taking-off the entire month of August, I presided over the worst security failure in U.S.history.
I am supporting development of a nuclear "Tactical Bunker Buster," a Weapon of Mass Destruction.
In my State Of The Union Address, I lied about our reasons for attacking Iraq, then blamed the lies on our British friends.
I set the record for most campaign fundraising trips by a U.S. president.
In my first year in office over 2-million Americans lost their jobs and that trend continues every month.
I set the all-time record for most foreclosures in a 12-month period.
I appointed more convicted criminals to administration than any president in U.S. history.
I set the record for least amount of press conferences than any president since the advent of television.
I presided over the biggest energy crisis in U.S. history and refused to intervene when corruption involving the oil industry was revealed.
I presided over the highest gasoline prices in U.S. history.
I have cut health care benefits for war veterans and support a cut in duty benefits for active duty troops and their families -- in war time.
I have set the all-time record for most people worldwide to simultaneously protest me in public venues (15 million people) shattering the record for protest against any person in the history of mankind.
I've broken more international treaties than any president in U.S. history.
I'm proud that the members of my cabinet are the richest of any administration in U.S. history. My "poorest millionaire," Condoleeza Rice, has a Chevron oil tanker named after her.
I am the first president in U.S. history to order an unprovoked, preemptive attack and the military occupation of a sovereign nation. I did so against the will of the United Nations, the majority of U.S. citizens, and the world community.
I created the Ministry of Homeland Security, the largest bureaucracy in the history of the United States government .
I am the first president in U.S. history to have the United Nations remove the U.S. from the Human Rights Commission.
I withdrew the U.S. from the World Court of Law.
I refused to allow inspectors access to U.S. "prisoners of war" (detainees) and thereby have refused to abide by the Geneva Convention.
I am the first president in history to refuse United Nations election inspectors (during the 2002 U.S. election).
I am the all-time U.S. and world record-holder for receiving the most corporate campaign donations.
My largest lifetime campaign contributor, and one of my best friends, Kenneth Lay, presided over the largest corporate bankruptcy fraud in U.S. history. My political party used the Enron private jets and corporate attorneys to assure my success with the U.S. Supreme Court during my election decision. I have protected my friends at Enron and Halliburton against investigation or prosecution. More time and money was spent investigating the Monica Lewinsky affair than has been spent investigating one of the biggest corporate rip-offs in history.
I garnered the most sympathy for the U.S. after the World Trade Center attacks and less than a year later made the U.S. the most hated country in the world, the largest failure of diplomacy in world history.
I am first president in history to have a majority of Europeans (71%) view my presidency as the biggest threat to world peace and security.
I changed the U.S. policy to allow convicted criminals to be awarded government contracts.
I have so far failed to fulfill my pledge to bring Osama Bin Laden and Saddam Hussein to justice.
RECORDS AND REFERENCES:
All records of my tenure as Governor of Texas are now in my father's library, sealed, and unavailable for public view.
All records of SEC investigations into my insider trading and my bankrupt companies are sealed in secrecy and unavailable for public view.
All records or minutes from meetings that I, or my Vice-president, attended regarding public energy policy are sealed in secrecy and unavailable for public review.
Please consider my experience when voting in 2004 -
Send this to every voter you know.
THE 2000 ELECTORAL VOTES - STATE BY STATE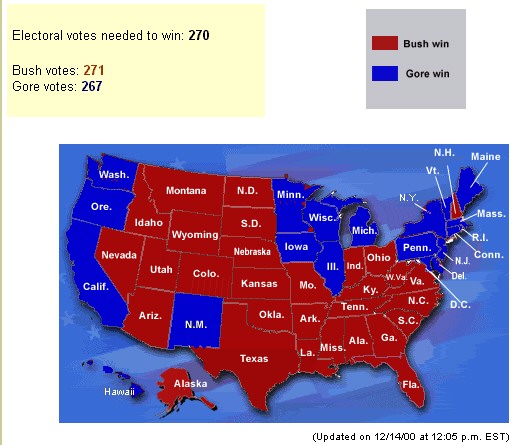 ---
Subj: A Brief History of Computerized Election Fraud in America
Date: 10/26/2003
A Brief History of Computerized Election Fraud in America By Victoria ollier
Saturday 25 October 2003
http://www.truthout.org/docs_03/102503C.shtml
"*Eternal vigilance is the price of liberty"-Jefferson*
In the 2000 election, George W. Bush stole the presidency by combining various forms of vote fraud, not all of which could be concealed from the American public.
The month-long battle in Dade County ended with open slaughter of the democratic process, and the occupation of the country by a regime of what may be accurately described as corporate fascists. That's the bad news.
The good news is, the 2000 election also marked a turning point in American consciousness. Or, I might venture to say, an awakening. Before W's coup, most Americans were, for lack of a better metaphor, asleep at the wheel. This metaphor works just fine, because our electoral process is the wheel that guides our nation, the mechanism that allows us to control the engines of power, and to turn our country in a new direction if, for instance, we're nearing the edge of a cliff. /Nothing/ is more important to an American citizen than the right to cast a ballot.
But modern Americans have been abandoning the voting booth in droves. Over the past fifty years, less than half of all eligible voters went to the polls, sometimes less than 25%. However, far more astounding is that those who voted rarely bothered to wonder if their vote was counted accurately.
A vote cast but not counted is meaningless. The only way to know that your vote is properly counted is to watch the 'entire counting process', which is why election law requires an open, public vote count, and makes secret ballot counting illegal. However, most voters have eagerly abdicated the responsibility of overseeing their vote count to a handful of extremely dubious "experts" and "officials." Human nature is largely to blame. November election night in most states is cold -- and often wet. Those who manage to make their way to the polls after work want only to go home, turn on the TV, and let their local newscaster tell them who won. And yet, our natural instinct to curl up on the couch cannot be wholly to blame. Recent history has shown that the most avid political junkies – even candidates themselves -- have demonstrated a profound disinterest in how the gears and levers work behind the scene on election night, or who is controlling them. It should not surprise us that vote fraud has flourished in this vacuum of electoral vigilance.
Criminals of every stripe have slithered through the unwatched gates and into positions of power in America. It has not taken them long to corrupt the entire electoral process itself, securing for themselves the gates of power. As I write this article, America is on the verge of losing the last shreds of its democracy, with the rise of ballot-less computerized voting machines. *One Machine to Rule Them All*
Thanks in part to the recent Bush approved Help America Vote Act (HAVA), squadrons of shiny new Touch Screen Trojan horses are being rolled into precincts across America. Not, as we are told, to make voting easier or more accurate, or to help disabled people vote privately, or to save America from the dangers of hanging chad and butterfly ballots -- no.
The real reason America is being flooded with billions of dollars worth of paperless computerized voting machines is so that no one will 'ever again' be able to prove vote fraud.
These machines are not just unverifiable, they are secretly programmed (their software is not open to scrutiny by election officials or computer experts), equipped with modems, accessible by computer, telephone, and satellite. They are the final product of decades of work by the election rigging industry. When they are installed in every precinct in America, our elections will finally become completely meaningless, nothing more than charades behind which criminal thugs will wield the power of this nation.
That is the plan for America. But there's a glitch. The blatant and multi-faceted fraud of the 2000 election -- in which the ultimate poster boy for corporate corruption stole the highest seat in the nation -- woke the American people from their dangerous slumber. The issue of election fraud is now smoldering in the minds of millions. Of course the Touch Screens were immediately offered as the solution to all our voting problems, but thanks to the wonderful work of many new computerized vote fraud researchers, most notably Bev Harris (author of Black Box Voting), Americans are quickly recognizing that the "solution" is worse than the problem.
Despite the best propaganda efforts of corrupt voting machine corporations like Diebold and ES&S, even those with the worst butterfly ballot jitters are coming to understand that destroying the ballot altogether, erasing any verifiable record of the vote count and making a recount impossible, is /not/ the answer to our problems. And, as the Touch Screen systems continue to openly malfunction, increasing numbers of voters will begin doubting their safety and accuracy. It's becoming clear to Americans that, just like the aftermath of the Enron scandal, no real government reform is forthcoming in the area of election security. The news is out that the same company that was used in Florida to purge voter rolls of millions of African American votes is now being hired by other states across the country /for the same job/. As you will soon see, many of our Boards of Elections and Secretary's of State will continue to blindly defend their collusion with shadowy corporations, and spending billions of tax-payer dollars on unreliable machines that patently subvert the democratic process. Why? Because they have sold out. They have been bought by corporate interests. It happened a long time ago.
As political events at home and around the world continue to unfold in one devastating disaster after another, our cry for honest elections will only grow louder. The movement toward real election reform, and what will, in the end, amount to a revolution by the American people, is only just beginning.
We the People are responsible for taking back the control of our democratic process. No one else will do it for us. We cannot afford to be naive, or uneducated, at this time in history. In order to fully understand the extent of the corruption we are dealing with, and to avoid making dangerous mistakes based on ignorance, we must understand the history, and the power structure, behind vote fraud in America.
*Votescam: The Stealing of America*
*"One of the most mysterious, low-profile, covert, shadowy, questionable mechanisms of American democracy is the American vote count." --- Votescam*
I grew up with two men who spent twenty-five years investigating vote fraud in America: James and Kenneth Collier, my father and uncle. Their book, "Votescam: The Stealing of America" was published in 1992 and immediately banned by the major book chains, which listed the book as "out of print" and actively worked to prevent its sale. Votescam chronicles the Collier brother's groundbreaking investigation into America's multi-billion dollar election rigging industry, and the corporate government and media officials who control it. Before the 2000 election, Votescam was widely read (thanks to independent bookstores and the Internet) by the minority of Americans still engaged in the political process, mostly members of independent and third parties trying to break the chokehold of the two party system. The corporate media will not give their causes or their candidates adequate press coverage -- if any. This censorship alone effectively controls the first stages of our political races. If a candidate can't get T.V. coverage, he or she has little chance of even making it out the gate. These citizens were not surprised to learn that the media has been complicit in rigging the final stages of our elections – our vote counting and the reporting of results -- for decades.
* Down the Rabbit Hole*
The Votescam investigation began in 1970, in – surprise!-- Dade County, Florida, where Ken ran for Congress (with Jim as his campaign manager) against Claude Pepper, the "Father of Social Security." The Colliers were researching a book they were writing for Dell Publishing titled: "Running Through the System: Ballots Not Bullets," an idea born from their involvement in the social upheaval of the sixties. Jim and Ken proposed that if our Declaration of Independence, Constitution and Bill of Rights were indeed the rule of the land, real change could be made in America by working within the system -- more effectively, and much more safely, than waging bloody revolution in the streets. Putting their ideals, love of country, and political savvy to the test, the Colliers began their grassroots Congressional campaign – and discovered exactly /why/ the bullet, not the ballot, was being used to change the power structure in America.
Ken was rigged out of the election through a vote scam, which the Colliers later discovered was used throughout the country for decades. It went like this: The local newscaster would announce during the broadcast of election returns that election "computer has broken down." Instead of giving official returns from the County courthouse, the networks would be running vote "projections" for the rest of the night.
Jim and Ken, who had garnered 30 percent of the vote and were excited about running again, noticed that when the vote totals came back on the screen after the announcement, they had mysteriously lost 15 percentage points. They didn't get another vote for the rest of the night. This piqued their interest.
When they examined the "official" election results from the Secretary of State's office for the September primary, October run-off and November final election in Dade County, the record listed a total of 141,000 votes cast for the Governors race – in each election. The exact same number of total votes were cast for three elections with a different number of candidates running each time./ The same identical figures were listed for the Senate race – 122,000 votes cast in the primary, run-off and final election. This, of course, is a statistical impossibility. When they compared the "official" vote results with a print-out of the vote "projections" broadcast by the TV networks on the final election night, they found that channel 4 had "projected" with near perfect accuracy the results of 40 races with 250 candidates only 4 minutes after the polls closed.
Channel 7 came even closer; at 9:31 pm, they "projected" the final vote total for a race at 96,499 votes. When the Colliers checked the "official" number . . . it was also 96,499. "In hockey, they call that a hat trick," the Colliers write. "In politics, we call it a fix." The networks then made the astonishing claim that the results from a /single voting machine/ somewhere in Dade County were run through a computer program in order to get these vote projections. Elton Davis was the computer programmer responsible for the magic formula that could convert one machine's vote results into near perfect projected vote totals for 40 races and 250 candidates. When Jim and Ken confronted Davis in his office at the University of Miami, he responded: "You'll never prove it, now get out."
Finally the networks claimed that members of the League of Women Voters were out in the field on election night, calling in vote totals to channels 4 and 7.
When the Colliers confronted the head of the League, Joyce Deiffenderfer, she admitted that there were no LWV members out in the field that night. She broke down crying, saying "I don't want to get caught up in this thing."
But there's more.
According to the print-out of the TV network's election night "projections," the networks were not receiving any actual voting results at any time during their broadcast, but had been using their own projections from the moment the polls closed. When they claimed that the courthouse computer had broken down, and they would no longer be reporting actual vote totals, they were lying. They had never been reporting actual vote totals.
However, the final shoe dropped months later when an official press release appeared from Dade data processing chief, Leonard White, which stated emphatically: /The county computer at the courthouse was never down, and it was never slow.
This was the beginning.
The Collier brothers had slammed their boat into the tip of a giant iceberg. As they continued to investigate, they were horrified to discover vote fraud collusion among key individuals in every branch and on every level of the American political system. Those who were not benefiting from the fraud were too afraid to fight it. Their search for justice led to dead-ends. Their lives were threatened, they were vilified as conspiracy theorists by the mainstream press, Dell publishing cancelled their book contract . . . and yet they persevered.
The next quarter century was spent compiling a wealth of FBI documented evidence proving that elections in the United States have come under the tight control of a handful of powerful and corrupt people: Secretaries of State, Election Supervisors, Judges, owners and editors of the major media outlets, voting equipment corporations, and assorted key members of the elections establishment, including the League of Woman Voters. These groups have assured the dominance of the two party system, unfettered corporate control over government, and media censorship of issues most important to the American people, including the cover-up of vote fraud evidence.
*"Now we understand why things have gone so terribly wrong in this country. It's due to the corrupted vote. It is the stolen vote that perpetuates corrupt city, state and federal governments. When those corrupt power brokers in your town weed out that up-and-coming politician, they are looking for a person who is willing to 'play ball.' Politics is 'playing ball.' Suddenly you find property decisions going against nature; land and water needed for the perpetuation of life on our earth suddenly disappear. A handful of developers get richer while the land, and the quality of life, get poorer." -- Votescam* Jim and Ken both died young during the 90's, as heroes to many thousands who read their book and heard them speak on the radio and at political meetings across the country. They helped to guide individuals and groups working for clean elections in their communities -- some of them fighting against the first wave of computerized voting machines. The Collier's last hope was that Votescam would be used as evidence in a serious Congressional investigation into election fraud, if we should ever see the day. Many people still in power have yet to be held accountable for their role in aiding and abetting vote fraud. I'll give you two important examples.
When the famous Miami lawyer Ellis Rubin agreed to be Ombudsman for the original Votescam evidence, he brought it to the Florida assistant State Attorney at the time, Janet Reno. The evidence included the shaved wheels of lever voting machines, forged canvass sheets (the sheets that poll workers sign to verify the final vote count), and pre-printed vote tally sheets that were used in conjunction with a lever machine vote rigging device called the Printomatic.
Reno refused to prosecute, claiming falsely that the statue of limitations had run out on the crime. Years later, Rubin would tell my father that behind closed doors Reno had stated that she 'could not' prosecute. Why? Because she would bring down many of the most powerful people in the state.
Would the 2000 election fiasco in Florida have been avoided if Reno had agreed to do her job thirty years earlier and root out the vote fraud thieves?
Another notable Votescam criminal can now be found sitting on the bench of the highest court in the nation. Supreme Court Justice Antonin Scalia, while still a Federal Appeals Judge, single handedly destroyed what would have been an historic lawsuit filed against Justice Department lawyer Craig Donsanto, who had refused to prosecute the extensive vote fraud evidence brought to him by the Colliers. The evidence included videotape of the League of Women voters tampering with ballots in a close door vote "counting" session. The women were illegally punching holes in already cast ballots. When confronted by Jim and Ken, just minutes before the two were bodily thrown from the building (which they had snuck into), the women claimed they were only trying to remove . . . the hanging chad.
Votescam states, "Because the League of Women Voters has about it a perfume of volunteerism and do-goodism, the fact that it is actually a political club with a political agenda and a hungry treasury is shrouded by the false myth that it is a reliable Election Day watchdog." It's no surprise to me that the League of Women Voters has recently come out strongly in favor of the diabolical ballot-less Touch Screen machines.
And even less shocking was the role Antonin Scalia played so willingly in the selection of George W. Bush to office.
* The Rise of Resistance/ Knowledge is Power* *"Ignorance is preferable to error; and he is less remote from the truth who believes nothing, than he who believes what is wrong." --- Thomas Jefferson*
Thanks to the 2000 fiasco, election reform is now growing as a public battle cry . . . but who is leading the army? This is a question that every American has the responsibility to ask. Various individuals and groups are seeking to guide the reform process, including politicians, government officials, voting machine companies, computer experts, activists, and members of the elections establishment. It is very safe to assume they do not all mean well. Many have agendas of their own, some obvious, others hidden. Many are corrupt, others are ignorant. And some, who have the very best interests of America at heart, are in the difficult position of having to make serious and potentially damaging compromises in their quest for safe elections, in order to push the issue in Washington.
Before I explore this issue in more depth, I'd like to offer a brief list of important lessons learned from twenty-five years of fighting vote fraud in the trenches.
1) If there is any conceivable way to tamper with or rig an election –someone will attempt it. This includes average citizens as well as officials charged with protecting the process.
2) Every voting system is open to tampering, but paper ballots counted in public are the easiest system to protect and monitor. (It's estimated that only 2% of Americans still vote on a hand-counted paper ballot).
3) Secret vote counting is illegal. Remember : counting them faster is not a justification for counting them secretly.
4) When machines began to take over our vote counting systems, election rigging became an exciting new national industry.
5) Lever machines were the first to appear, and they were riggable in a number of ways. One could rig the lever machine itself, or, much more easily, the electronic scanning machines that counted the ballots. (See the Votescam video for footage of ballot rigging under the supervision of both parties and the Dade County Election Supervisor).
6) Computerized voting machines are the easiest to rig. Their software is not open to public scrutiny, or the scrutiny of Election Supervisors (rendering their title meaningless). There are nearly infinite ways to program the machines to count votes fraudulently. Since they are accessible by modem, they can be controlled from a remote, centralized location.
7) Voting machine companies operate with no federal oversight, certification process, standards or restrictions. Controlling members of some of the most powerful voting machine corporations are convicted criminals, some are politicians with obvious conflicts of interests, others are not even American citizens. Just two companies -- Election Systems and Software (ES&S) and Diebold Voting Systems – now control about 80% of the vote count in the U.S.
8) Vote fraud on a statewide and national scale is not possible without the complicity of (among others) corrupt Election Supervisors, Secretaries of State, Judges, voting machine corporations, and top officials of the major media outlets.
9) Both the Democratic and Republican parties have been complicit in vote rigging for decades, to their mutual benefit. Vote rigging is NOT a partisan issue (though recent evidence suggests Republicans might be gaining the upper hand in the race to control our elections).
10) The corporate major media networks play a vital role in perpetrating and covering up vote fraud. Media methods of vote rigging are explored in the Votescam book, including the role of Voter News Service (VNS).
(VNS was a consortium of all the major media outlets. It recently closed up shop and scurried off into the shadows, but for decades, under two different corporate names, it controlled the compilation and dissemination of national vote totals, with the power to alter the reported results. The networks have actually not competed for vote totals, as they claim to have done, since 1965. They got all their numbers from VNS , which operated behind an iron curtain of secrecy. Any questions regarding their operation were met with the ubiquitous response: "This is not a proper area of inquiry." Most people erroneously thought they were simply a polling organization, though no evidence of their supposedly massive polling operation could be found by investigators). See my interview with Bill Headline, former head of VNS, at http://www.votescam.com/articles.html
11) Election Day media polls are untrustworthy at best, and very likely fabricated to influence voter decisions and to support phony vote results.
Now that I've provided the minimal context for understanding the current threats we face, we can begin to talk about strategies to win back the control of our government.
Not all strategies currently on the table are acceptable. Do not take anyone's word on the reform that is needed. Do not cede your power to government officials and so-called experts any longer. Educate yourself. It's up to us, the American people, to decide what strategies to support, and our goal must not fall short of what will truly restore democracy to this sinking nation.
* The Nuts and Bolts of Computerized Voting* The gravest error of judgment these days comes from those vote reformers who honestly believe that the answer to the butterfly ballot and hanging chad problems in the 2000 election is to embrace the ballot-less computerized voting machine.
Let's make this clear. These machines are 'nothing' but Trojan horses built by and for election thieves. With the ballot-less computer, there is no way to recount, no way to prove any discrepancy, inaccuracy or fraud. Just the fact that companies like ES&S, Diebold, and Sequoia would even /make/ a ballot-less machine should be cause for a Congressional investigation. (There are also many other reasons to investigate them. For a detailed examination of these sinister corporations, check out http://www.blackboxvoting.com.) That said, the next error of judgment comes from those who believe that all we need to make computerized voting machines safe is a paper receipt.
Many intelligent, well-intentioned and hard working vote reformers are supporting *HR 2239, proposed by Rep. Rush Holt* (D-NJ), requiring all computerized voting machines to produce a receipt for each individual voter. While I support the effort that has gone into creating this bill, and I recognize the monumental struggle it will face in Congress, I am unable to support it at this time, for many reasons. The first of which is that, while calling much needed attention to the dangers of ballot-less machines, this legislation does not require actually hand-counting the receipts altogether in each election. Why is this a serious problem?
First of all, individual receipts are meaningless. They're worth nothing if not counted altogether. A person's vote might be verified by the slip of paper, but that person has no idea whether the computer accurately tallied her vote along with all the other votes. The final count still takes place inside the infamous computerized "black box," beyond the reach of public scrutiny. An individual receipt in 'no way' guarantees the safety of the final vote count. It is at best a meaningless gesture that I am deeply afraid will provide an extremely false sense of security for voters.
As for recounting disputed elections, the obvious question is, which ones? /Every election is in dispute when counted by a secretly programmed, modem-equipped computer!
Most of the supporters of this bill agree that the receipts should be counted across the board in each election, which would be the equivalent of a good old-fashioned paper ballot count. But so far there is little incentive to demand that the provision be added because it won't get any support in Congress. What does this mean? Are we interested in actually making our elections safe, accurate and verifiable, or are we willing to play political ball to the point where we lose sight of our goal completely?
I am told that perhaps, over time, the legislation will be strengthened. But history has repeatedly shown that as a bill makes its way through Washington channels, its effectiveness is more often than not watered down. Whatever teeth it might have to begin with get filed into nubs that have no strength to tear into corruption. HR 2239 proposes surprise "random" recounts, where a small percentage of jurisdictions are chosen for verification in each election. Unfortunately, this is completely inadequate. Individual machines can be manipulated, and election thieves can buy off the people in charge of the random recount. Anyone who thinks that is far fetched or impossible is very new to this issue.
And what if discrepancies are found? Then everyone will call foul –rightly so -- a glut of confused and disputed recounts will ensue, and the entire elections machine will become hopelessly tangled in its own mechanized parts. Meanwhile every election criminal in the country will descend like vultures on the chaos.
Folks, let's look at this honestly. We are already deep into a horrible and expensive mess that could all be avoided by skipping the computerized middleman and /simply counting paper ballots.
* Paper Ballots – A Radical Idea*
The last, and to my mind, most grave error of judgment comes from those who think that returning to a hand-counted paper ballot system is somehow impossible, that we can't go back to a simple process that works once we've stupidly and recklessly abandoned it. I don't know about you, but that strikes me as an extremely dangerous perspective. An MIT/Cal Tech study done in 2001 shows that manually counted paper ballots are the most accurate system out of the 5 systems used in the last 4 presidential elections. They are totally verifiable, and first-world nations across the globe still use them, including Canada which counted their last presidential election in four hours. And yet I am told repeatedly by vote reformers that there is no hope of America ever returning to paper ballots because too much money has been spent on the machines, and because the public is being sold on their benefits. My argument is that the public must be immediately educated on their /dangers/ -- that should be the top priority of every serious vote reformer in the country.
My argument is that we should /stop playing ball/ with these corrupt voting machine corporations and the sold-out government officials who support them.
My argument is that we should remember we're Americans -- we don't ask for 'permission' to secure our own freedom. We should take these Trojan horses and burn them in the public square before our whole damn country crumbles before our eyes!
But all this debate is misleading.
The bottom line is that a computerized vote count is a secret vote count – and that's illegal. Technology cannot supercede the constitutional and mandatory provisions of election law, which require open and verifiable elections. There is no way to do a public vote count with computers.
Listen, here's my idea. After the public Touch-Screen bonfire (we really need more community minded events, don't you think?), we should march to our Secretary of State's office and demand the restoration of a hand-counted paper ballot system.
(abridged)
Hand counted paper ballots /and eternal vigilance/ are the only hope left for us. The corporate fascists are taking over, and we will never depose them non-violently as long as they control our elections. Victoria Collier , a long time writer and political activist, she continues to educate the public on the subject of vote fraud in place of her father and uncle. She is the editor of http://www.votescam.com. She can be reached at 1-866-280-909 and editor@votescam.com
---
Subj: TAR BABY:: "The Chosen" versus Common Sense that's Uncommon
Date: 10/26/2003 6:06:01 AM Pacific Standard Time
To: Dee777
----------------
Forwarded Message:
Subj: MUST READ: "The Chosen" versus Common Sense that's Uncommon
Date: 10/25/2003 3:33:52 PM Pacific Standard Time
From: safetrek@mcn.net
To: GeoNotes@mcn.net
Tar Baby II
by Edgar J. Steele
October 25, 2003
`Ef you don't lemme loose, I'll knock you agin,' sez Brer Rabbit, sezee,
en wid dat he fotch 'er a wipe wid de udder han', en dat stuck.
Tar-Baby, she ain'y sayin' nuthin', en Brer Fox, he lay low.
-- "The Tar Baby Story," (from Uncle Remus: His Songs and His Sayings), Joel Chandler Harris (1881)
Like father, like son.
-- Proverb
EXCERPT:
GeorgeGeorge II finds himself stuck to the very same tar baby that snared his father. Of course, in the classic Uncle Remus story (written by a white man, incidentally, as were all the Uncle Remus tales), the tar baby was set out by Brer Fox specifically to ensnare Brer Rabbit. II is in trouble. Yes, in Iraq, but that isn't his real problem. Yes, domestically, but that isn't his real problem, either. Little George is in trouble with the Chosen. You know...them. The people that really run things hereabout.
----------- article follows:
You can tell because George II has begun to get some bad press (and we all know who owns the press, don't we?), just like Clinton before he was impeached. Yes, Clinton was impeached. That's what happens in the House of Representatives. Removal from office then follows if the Senate convicts the one impeached. Of course, the fix was in, as preannounced by Trent "I wish I was black" Lott, and Clinton walked. Why? Because, finally, Clinton gave in and bombed an aspirin factory, among other strategic targets dictated by them.
George II, it turns out, does have a mind of his own, though it appears to be warped. George thinks he's on a Mission From God. Somehow, that line played better coming from the mouth of Dan Ackroyd in The Blues Brothers. George believes, along with a great many other American religious fundamentalists, that Israel's Chosen people are entitled to all of Palestine, just like it says in the Bible. Besides, George doesn't get raptured along with the rest of the righteous, until Biblical prophecy is fulfilled. George seems torn between getting reelected, so he can do more of God's work, and doing God's work right now, as enunciated by Ariel Sharon, Israel's Prime Minister.
According to The Plan, America was to have invaded both Iran and Syria by now. George II agrees with The Plan, basically, but wants to wait until after the election next year. Little George is not so stupid as to miss the fact that Afghanistan and Iraq were his first two strikes at bat, you see. Israel finally went on a bombing mission of its own, in Syria the other day, and thereafter received George's blessing (picture a dog wagging his tail).
This past week, George II also was quick to add his voice to the Chosen chorus that the Indonesian Prime Minister is an antisemite for stating the obvious: jews rule the world. Little George isn't as stupid as he looks (more tail wagging).
In a remarkable moment of candidness, Ariel Sharon said it best: "Every time we do something you tell me America will do this and will do that . . . I want to tell you something very clear: Don't worry about American pressure on Israel. We, the Jewish people, control America, and the Americans know it." (To his cabinet, on October 3, 2001).
Problem is, we Americans don't know it, by and large. Blame MTV. Otherwise, we would rise up, march on Washington and hang all the politicians from lamp posts.
The Plan, in case you haven't figured it out, is to vanquish Israel's enemies and establish it as the undisputed ruler of the Middle East. Well, the World, actually, but everybody agrees that can wait until after the next American election.
Jewish Middle East hegemony is consistent with Biblical prophecy, by the way. Along the way, the jews are supposed to get religion and accept Jesus Christ as their savior, but that fact conveniently gets ignored by George and the rest of the neocons. These little details have a way of working themselves out when you are on a Mission From God, after all.
George II now finds himself between Iraq and a hard place (ahem). Does he invade Iran and/or Syria and risk not being reelected because of an instant replay of (take your pick) Afghanistan or Iraq? Or does he wait and risk not being reelected because the Chosen intensify the media campaign now under way against him?
George's current dilemma is a classic Hobbesian choice, which is no choice at all, the name of which derives from Thomas Hobbes' belief that man must choose between living in a state of nature (a life which is "solitary, poor, nasty, brutish, and short") or suffering under an arbitrary and absolute government (Thomas Hobbes, The Elements of Law: Natural and Politic , 1640).
George One got the same treatment, you may recall, when he declined to enter Baghdad and root out Saddam during Gulf War I. He reasoned that evicting Iraq from Kuwait accomplished his objective, which was clearly stated at the outset of that little dustup ("This invasion will not stand," is what he said, if memory serves).
However, Israel didn't care a fig for Kuwait, per se, and saw emasculation of its main military rival in the Middle East (Iraq) as being the true objective (just like now). George One saw things differently, thinking he couldn't possibly squander the lead he then possessed over a broad field of Democrat contenders for the Presidency (just like George II now).
So, George I saw his poll numbers plummet (just like George II now) and faced mounting criticism in the controlled press (just like George II now).
And the economy took a sudden turn for the worse (just like now).
And, of course, George I lost to Clinton, the man who now makes me yearn for the days when I merely was ashamed of America's President.
Just like George II will lose when the time comes, if he doesn't invade Syria and/or Iran soon. And the Chosen couldn't care less, since nobody is allowed to run for President without first plighting his troth to Israel.
But, if George II invades Syria and/or Iran, he will lose the next election anyway because even more Americans will die meaningless deaths (just like now), deaths which cannot be kept from the public (like most of the American deaths in the Middle East are kept from us now).
George II finds himself stuck to the very same tar baby that snared his father. Of course, in the classic Uncle Remus story (written by a white man, incidentally, as were all the Uncle Remus tales), the tar baby was set out by Brer Fox specifically to ensnare Brer Rabbit.
"Did the fox eat the rabbit?" asks the youngster in the story. "Dat's all de fur de tale goes," replied the old man. "He mout (might've), an den agin he moutent."
Trust me, he did. What worries me is wondering if, four years from now, I might be yearning for the days when the American President merely foisted the Patriot Act, John Ashcroft and Gulf War II on America.
New America. An idea whose time has come.
-ed
"I didn't say it would be easy. I just said it would be the truth."
- Morpheus
Copyright ©2003, Edgar J. Steele
Forward as you wish. Permission is granted to circulate among private individuals and groups, post on all Internet sites and publish in full in all not-for-profit publications. Contact author for all other rights, which are reserved.
On-Line link to this article in HTML format: http://www.conspiracypenpal.com/columns/tar.htm
---
POLITICAL INTRIGUE
DREAMS AND THE REALITY
updated 3-12-2003 - POPULATION EXPLOSION - DEPOPULATION - EUGENICS
2-20-2003 - PATRIOTISM - WHAT IS IT?
A THINKING MANS PAGE!!!
2-8-03 - CODE ORANGE - SHOULD BE RED
updated 1-16-2003 - THE ELECTION 2000
IS THE PRESIDENT FACING DEATH THE DAY HE DECLARES WAR????
updated 1-20-2003 - THE PLUM TREE AND THE PALM TREE
ANOTHER TERRORISM THREAT???
1 -8-2003 PRINCE WILLIAM GROWS UP - WHAT WILL BECOME OF HIM?
2003 - THE LADY IN GREY - DEATH IN THE OFFICE
Dr. Leonard Horowitz
Dr. Horowitz shares his most chilling evidence; government contracts under which numerous viruses were manufactured by biological weapons contractors. He also covers chemtrails, West Nile Virus outbreak, and the small pox vaccine. Dr. Horowitz received his doctorate from Tufts University, postdoctoral masters degree from Harvard University in public health and a fellowship in behavioral research at the University of Rochester.

Book:Death in the Air: Globalism, Terrorism & Toxic Warfare
Book: Emerging Viruses: AIDS and Ebola: Nature, Accident or Intentional?
Website: www.tetrahedron.org
Gulf War Illnesses: http://www.tetrahedron.org/articles/gulf_war.html
Website: www.healingcelebrations.com
updated 12-20-2002 USURPER TO THE THRONE OF ENGLAND
WILL SOMETHING HAPPEN TO PRINCE CHARLES?
11-22-2002 - 4 COUNTRIES - ROYAL BIRTHS
10-31-2002 - WASHINGTON'S PICNIC
updated 10-23-2002 - IS THE INTERNET BEING DISABLED OR DESTROYED
FROM OUTSIDE THE COUNTRY?
A PROPHECY? OR JUST A QUESTION?
updated 10-23-2002 JAIR FARM - ARTIFICIAL INTELLIGENCE
CORPORAL PUNISHMENT IN SCHOOLS
8-20-2002 - DIASPORA COMES TO VISIT - WORK AND RACE RIOTS
I HOPE THIS IS NOT FUTURE PROPHECY
THE HORRORS OF WAR - PEACE AT ANY PRICE?
THE LAW - DISENFRANCHISED WOMEN
THE BLACK SUN
6-11-2002 - IMPRISONED AND FREEDOM
6-2-2002 -THE BLOODY WAR OF JOEL FOR WARREN
A PROPHETIC VISION
5-9-2002 - FIRST WOMAN EXECUTED IN ALABAMA SINCE 1945
SHOULD WE ABOLISH THE DEATH PENALTY?
5-7-2002 - Terrorism - The Pipe Bomber - The Militias - Hate Groups
5-2-2002 - D-DAY - HISTORICAL OR FUTURE?
THE DREAM AND THE REALITY
4-26-2002 - MIND CONTROL DATABASE
4-18-2002 - KENT STATE MASSACRE- IS ANOTHER ONE COMING?
A CONNECTION TO THE MILAN PLANE CRASH?
THE DREAM AND THE REALITY
I MAY HAVE JUMPED TO CONCLUSIONS ON THIS
AND MISSED THE FULL IMPLICATIONS
4-13-2002 - ASSASINATIONS AND BRIBERY -
DOES THIS HAPPEN IN AMERICA?
updated - 4-12-2002 - USURPER TO THE THRONE OF ENGLAND
WHO IS IT?
4-5-2002 - CORNPLANTER - SENECA PEACE MAKER
MODERN NATIVE AMERICAN POLICY
BIOLOGICAL WARFARE
A PROPHECY
3-16-2002 - THE BLITZ - IS THIS A PROPHECY?
3-16-2002 - PEACE! NOBODY WANTS ANY - WHO CAN DECLARE WAR?
THE DREAM AND THE REALITY
3-7-2002 - THE COMING WAR(S) vs the PAST WARS
JAMES GARNER
2-19-2002 - WE WERE WARNED
AMERICANS BEING HAULED AWAY IN BOXCARS?
RED LINEBLUE LINE
WHAT ARE WE IN FOR NEXT?
2-18-2002- THE DREAM OF 33 - NORTH AND SOUTH
DREAMS AND PROPHECY OF IRAQ AND SADDAM HUSSEIN
2-12-2002 - HOSTAGES, HOSTAGES, HOSTAGES, HOSTAGES

2-5-2002 - HEZBOLLAH - MY EXPERIENCE
AND THE NEWS
12-28-2001 - INDIA AND PAKISTAN CLOSE TO WAR
THE DREAM AND THE REALITY
DONATE LOCALLY TOO!!!!
THERE ARE MORE HOMELESS PEOPLE THAN EVER
THESE MAY NOT BE BOMBINGS, BUT THEY ARE JUST
AS BAD TO THOSE WHO SUFFER FROM THE TERRORISM
CHURCHES - ARSON FIRES
12-14-2001 - Osama bin Laden tape transcript with dreams referenced
10-3-2001 - AN ACT OF TERROR OR A LONE KOOK?
BUS DRIVER THROAT CUT IN TENNESSEE
10-2-2001 - ANTHRAX
WHAT TO DO IN AN EMERGENCY
10-02-2001 - The American Tragedy - A Symbolic Event
9-30-2001 - WIDOWED MOTHER WINS HER KIDS BACK IN COURT
9-27-2001 - THE NEW WORLD ORDER - A GOOD THING?
updated 1-4-2002 -
THE NEW WORLD ORDER - THE OTHER SIDE
Attack on America
Attack on America - Part 2
CHECK OUT THE NUMERICAL SYMBOLISM OF THE FLIGHT NUMBERS!!!!
9-11-2001 - BOTH WORLD TRADE CENTER BUILDINGS SUICIDE
BOMBED BY AIRPLANES -
THIS WAS THE SEPTEMBER 11TH, 2001 NEW YORK BOMBING
8-17-2001 - IS THERE ANOTHER PEARL HARBOR IN OUR FUTURE?
ARE WE BEING WARNED WITHOUT KNOWING IT?
THE DREAM AND THE REALITY
8-27-2001 - IS THE INTERNET BEING DISABLED OR DESTROYED
FROM OUTSIDE THE COUNTRY?
A PROPHECY? OR JUST A QUESTION?
8-20-2001 - THE PRESIDENTIAL CABINET
HILARY CLINTON AND CLONING
THE DREAM AND THE REALITY
7-16-2001 - 1260 - Chandra Levy Address -
The Connection to Revelation?
UPDATED 4-22-2001
SHADES OF WACO???
About 6,700 police officers and 1,200 troops
were deployed in advance of the summit, at
which 34 hemispheric leaders are expected.
PRESIDENT GEORGE W. BUSH FLIES TO QUEBEC, CANADA
RIOTS FOLLOW!!! PROTESTERS GASSED
3-1-2002 - President George W. Bush admits he started a
SECRET GOVERNMENT ON 9-11-2001
IS HE KIDDING - WE'VE KNOWN ABOUT THE
SECRET GOVERNMENT FOR MUCH LONGER THAN THAT
OR DO WE NOW HAVE TWO SECRET GOVERNMENTS?
political intrigSEPARATION OF CHURCH AND STATE
THE CONTROVERSY
THE WAR WE WATCHED ON TV
AND MORE
8-20-2001 - THE PRESIDENTIAL CABINET
HILARY CLINTON AND CLONING
THE DREAM AND THE REALITY
8-14-2001 - OIL PIPELINES TO EXPAND
GWB ISN'T THE ONLY GAME GOING ON
The Dream and the Reality
THE FEDERALIST PAPERS
THE WAR OF 1812
CONSTITUTIONAL AMENDMENTS 2 and 13
THE MASONIC CONNECTION
CAN WE TRUST OUR GOVERNMENT?
OR THE CHURCH?
2-10-2001 - DREAM OF A FUTURE PRESIDENTIAL EVENT?
ELECTION 2000
DREAMS AND VISIONS
PATTERN FOR FREEDOM
THE DREAM AND THE REALITY
USURPER TO THE THRONE OF ENGLAND
WHO IS IT?
THE VISION AND THE REALITY
7-18-2001 - TAILHOOK
THE NAVY INVESTIGATION
THE DREAM AND THE REALITY
8-31-2001 - ATF GETS THEIR MAN !!!!!
POLITICAL DREAMS FOR 2000/2001
THE ELECTION AND MIND CONTROL
THE DREAM AND THE REALITY
THE DEATH OF THE PRESIDENT
THE CURSE!!!!!
THE CURSE AND THE ASTROLOGY OF THE 2000 ELECTION
PRESIDENTIAL CANDIDATES