---
Police Investigate Texas Chemical Port Shooting


Sat January 24, 2004 04:10 PM ET

HOUSTON (Reuters) - U.S. and Texas law enforcement agencies are investigating the shooting of a security guard outside an ammonia terminal on the Texas Gulf Coast, a law enforcement official said on Saturday.

A security guard at the BASF Corp. ammonia terminal in Freeport, Texas, 60 miles south of Houston, was shot late on Friday by a man in a pickup truck parked outside the terminal's fence and within sight of a multistory ammonia tank, said Henrietta Gonzalez, chief of the Freeport Police Department.

The guard was listed in good condition on Saturday at an area hospital where he was recovering from a gunshot wound to the shoulder, said BASF spokesman Tim Fitzpatrick.

Agents from the FBI, U.S. Department of Homeland Security, Texas Department of Public Safety and U.S. Coast Guard were in Freeport investigating the shooting, Gonzalez said.

Chemical plants and refineries have tightened security since the Sept. 11, 2001, attacks for fear they may be targets in a future attack.

An FBI spokesman was not immediately available to comment.

The guard spotted the pickup truck while making his rounds outside the terminal's grounds. When confronted, the truck driver, whom the guard described as having a heavy Middle Eastern accent, said he was taking pictures of the lights of the ammonia terminal and adjacent port, Gonzalez said.

The guard said he turned away to make a radio call and then looked back to see the driver pointing a handgun at him. He was shot as he moved to run away and the driver sped off.
---
HOMELAND INSECURITY
Texas plant guard
sticks to story
Man shot near port facility
says FBI doesn't believe him

---
Posted: January 28, 2004
1:00 a.m. Eastern

© 2004 WorldNetDaily.com
The guard shot at a chemical plant near a Texas port is sticking to his story about a Mideast gunman, but he says the FBI doesn't believe him.
The shooting in Freeport at a BASF ammonia depot occurred late Friday night in a muddy lot outside the plant.
Robert House was working security when he said he noticed a suspect in a white pickup truck taking pictures of the facility's lights.
House says when he confronted the driver, a Middle Easterner with a thick accent, the unarmed guard was shot in the shoulder.
Hours after the incident, FBI agents came to the hospital and gave House a lie detector test.
"The test was telling him that I shot myself," said House. "And I told him no, that I didn't, and he said that he could see it in my eyes that I was crying out for some type of help."
On the record, investigators said House has no criminal record, and that police are still investigating his initial story.
The FBI has insisted from the beginning the shooting does not have any connection to terrorism.
House is recuperating at home and has hired an attorney.
The mystery continues to raise questions about terrorism. Despite the FBI's assurances, investigators from the Department of Homeland Security, U.S. Customs, the U.S. Coast Guard, state police and local law enforcement are all involved in the probe.
Some of those sources have told Joseph Farah's G2 Bulletin they suspect the guard stumbled into a terrorism reconnaissance operation.
The gunman, described as a mustachioed man with a dark complexion, dark hair, heavy 5 o'clock shadow and a thick Middle Eastern accent, was driving a white, club cab, half-ton Chevrolet pickup with black trim at the bottom and dark-tinted windows. The truck had no front license plate.
House said he questioned the driver of the truck about why he was in the vicinity of a large, multi-story ammonia tank. He told police the truck driver explained that he was taking pictures of it. When the guard turned to radio for help, the driver pulled out a handgun and shot House in the shoulder.
Freeport is about 60 miles south of Houston, but only a few miles from Texas City on the gulf coast, where one of the worst disasters in the history of the United States took place April 16, 1947, when the French ship SS Grandcamp, carrying ammonium nitrate, exploded at the docks. The entire dock area was destroyed, along with the nearby Monsanto Chemical Company, other smaller companies, grain warehouses, and numerous oil and chemical storage tanks.
Smaller explosions and fires were ignited by flying debris, not only along the industrial area, but throughout the city.
Fragments of iron, parts of the ship's cargo, and dock equipment were hurled into businesses, houses, and public buildings. A 15-foot tidal wave caused by the force swept the dock area.
The concussion of the explosion, felt as far away as Port Arthur, damaged or destroyed at least 1,000 residences and buildings throughout Texas City. The ship SS High Flyer, in dock for repairs and also carrying ammonium nitrate, was ignited by the first explosion; it was towed 100 feet from the docks before it exploded about 16 hours later, at 1:10 a.m. the next day.
The first explosion had killed 26 Texas City firemen and destroyed all of the city's fire-fighting equipment, including four trucks, leaving the city helpless in the wake of the second explosion. No central disaster organization had been established by the city, but most of the chemical and oil plants had disaster plans that were quickly activated. Although power and water were cut off, hundreds of local volunteers began fighting the fires and doing rescue work. Red Cross personnel and other volunteers from surrounding cities responded with assistance until almost 4,000 workers were operating; temporary hospitals, morgues, and shelters were set up.
Probably the exact number of people killed will never be known, although the ship's anchor monument records 576 persons known dead, 398 of whom were identified, and 178 listed as missing. All records of personnel and payrolls of the Monsanto Company were destroyed, and many of the dock workers were itinerants and thus difficult to identify. Almost all persons in the dock area – firemen, ships' crews, and spectators – were killed, and most of the bodies were never recovered; 63 bodies were buried unidentified. The number of injured ranged in the thousands, and loss of property totaled about $67 million.
The Texas City incident was the result of an accident. Terrorism experts have been examining the tragedy to determine the potential damage in a deliberate attack on a port city by a ship laden with chemicals, explosives – even, perhaps, a nuclear weapon. And that was before this latest, highly suspicious attack.
Other gulf ports have been on heightened terrorist alert.
G2 Bulletin sources say a mysterious armada of al-Qaida ships has been purchased to target, among other things, civilian ports, cruise ships and oil rigs.
Chemical plants and refineries have tightened security since the Sept. 11, 2001, attacks for fear they may be targets in a future attack. Ammonia can be explosive when mixed with air. In addition, it should be noted that BASF is the second largest producer in the world of ammonium sulfate, a fertilizer with explosive tendencies.
The Ludwigshafen, Germany-based BASF is one of the world's largest chemical manufacturers. The Freeport complex includes 16 plants, including an ammonia plant next to the deepwater cargo port. The facility produces adhesives, super absorbers, paints, nylons and plastics.
"We don't believe we have any kind of a terrorist threat or that there was any way any kind of a terrorist planning or organization was going on with what occurred last night," said Bob Doguim of the FBI's Houston office immediately following the attack.
But other law-enforcement sources say common sense dictates that, in this case, with this extraordinary set of circumstances, "terrorism is everyone's first guess."
One law enforcement source said the signs point to this incident being a "terrorist reconnaissance operation."
"There are no signs of any explosives," he said. "There are no signs of any renegade ships in the area. But there is a strong likelihood this shooter and any companions that may have been with him were scoping out a possible target for terrorism."
---
Airlines Cancel Flights Amid Security Fears
By JENNIFER C. KERR, AP
WASHINGTON (Jan. 31, 04) - Five U.S.-bound flights from Britain and France were canceled Saturday because of security concerns. The U.S. government said it had fresh indications of al-Qaida's continued interest in targeting commercial planes flying to the United States.
British Airways grounded the same flight scheduled Sunday and Monday from London's Heathrow Airport to Dulles International Airport outside Washington, as well as the return flights. Also canceled was a flight from London to Miami on Sunday.
Air France scrubbed the same flight set for Sunday and Monday from Charles de Gaulle Airport in Paris to Dulles. As a result, the outbound flights were canceled.
A U.S. government official, speaking on the condition of anonymity, said there were concerns about a handful of flights on those foreign carriers and a U.S.-based airline that flies internationally. The official declined to identify the third carrier.
Officials from U.S. airlines contacted Saturday that fly abroad said they were aware of any security threats against their companies or of any flights canceled. Those carriers were American, Delta, United, Northwest and US Airways.
"We continue to receive threat reporting that indicates al Qaida's desire to target international aviation,'' said Brian Roehrkasse, spokesman for the Homeland Security Department.
Despite those threats, Roehrkasse said the department had no plans to raise the nation's terror alert level from yellow, or elevated risk of terrorist attack. Yellow is in the middle of the five-color coded scale.
The decision to cancel the flights was made jointly by the U.S., British and French governments, according to a senior U.S. law enforcement official speaking on condition of anonymity.
The U.S. government official said the threat information picked up by intelligence agencies specifically mentioned British Airways flight 223 from London to Dulles; British Airways flight 207 from London to Miami; and Air France flight 026 from Paris to Washington.
An official close to French Prime Minister Jean-Pierre Raffarin told The Associated Press that the Air France flights were canceled because of "serious threats.'' The official, who spoke on condition of anonymity, declined to elaborate.
A British Airways spokeswoman said the airline acted on the advice of the British government.
The U.S. government official said the three countries discussed a variety of aviation security steps, such as sky marshals on the U.S.-bound flights, but that Washington placed no demands on the French or British.
The official said there was no direct intelligence to indicate any threat to Sunday's Super Bowl game in Houston.
A White House spokesman, Trent Duffy, said the cancellations show that "the administration is going to stand guard and protect the American people.''
The law enforcement official said that for weeks, intelligence sources have picked up indications of al-Qaida's continued interest in using airlines as weapons. But the official said that in the past week the intelligence became more specific, singling out certain flights and airlines.
Flight 223 did take off Saturday from London for Washington, with an evening arrival expected. No extra security measures were visible around the jet when it left Heathrow.
As Dennis Lopez, a lawyer from Tampa, Florida, boarded the flight, he said the talk of all the cancelations was unnerving.
"I'm a little worried and if I had another flight arrangement right now that could take me there I would definitely take advantage of that,'' he said.
He said he had just arrived from Kuwait and "breathed a sigh of relief'' when he landed in London, thinking he was out of the area of most concern. "It hadn't occurred to me that this flight could be a possible target,'' he said.
Some of the flights that have raised concerns are the same as those that drew increased attention when the U.S. terror alert was raised temporarily to orange, or high risk, before Christmas.
It returned on Jan. 9 to yellow, though government officials said heightened security would remain at some airports and in some cities, such as New York, Washington and Los Angeles.
01-31-04 1644EST
Copyright 2004 The Associated Press.
---
Truck Explosion Leaves Huge Crater On Highway
Crater Is 80 Feet Wide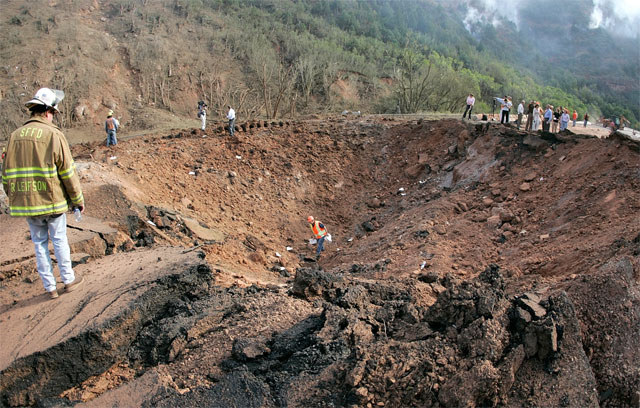 Red Leifson (L) a firefighter from Spanish Fork, Utah stands at the edge of a 30 foot plus deep crater on U.S. Highway 6 at mile marker 191 in Spanish Fork Canyon as a Utah Department of Transportation worker walks in the bottom after a truck reportedly carrying blasting caps and cord overturned and exploded Wednesday August 10, 2005. The explosion took out both lanes of the highway which will be closed indefinitely to both west and east bound traffic. (AP Photo/George Frey)
POSTED: 3:13 pm EDT August 11, 2005
SPANISH FORK, Utah --
A truck carrying more than 35,000 pounds of explosives overturned and exploded on a Utah highway.
---
A huge crater marked the spot on Highway 6 where Wednesday's explosion took place.
Utah Highway Patrol officials said the crater is about 30 feet deep and 80 feet wide.
The driver was able to get out of the truck and warn other motorists to stay away before the blast happened.
The rig had just left a commercial explosives maker in the area.
---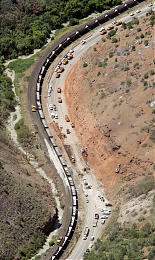 A train passes on repaired tracks in Spanish Fork Canyon as crews fill the crater left by Wednesday's truck blast.
Jeffrey D. Allred, Deseret Morning News
U.S. 6 reopening
A major, concerted effort refills blast crater and removes debris
By Nicole Warburton and Jeremy Twitchell
Deseret Morning News
SPANISH FORK CANYON — At midafternoon Thursday, crews were still battling spot fires caused by a massive explosion along U.S. 6.
The 35-foot deep crater in the highway? Nearly filled.
The road will be open this morning, less than 48 hours after the blast occurred.
"I think it's another example of how Utahns can pull together in a crisis situation and make things happen," said Nile Easton, spokesman for the Utah Department of Transportation. "When we get our back up to the wall, we can do amazing things."
About 2 p.m. on Thursday, Easton was standing about a quarter-mile from the blast site, watching as crews hauled dirt up the canyon, dumped it, then removed debris. UDOT officials were first allowed on the site about 4 p.m. on Wednesday. By 10 p.m. Wednesday, crews had begun the tedious process of hauling dirt and removing debris.
Less than 20 hours later, crews were waiting to begin paving operations. In total, about 4,500 tons of gravel were used to fill the crater. About 350 loads were taken up the canyon.
The fact that fill work was nearly done within 24 hours of the explosion, said Easton, is a testament to quick action by volunteers and a joint effort with contractors and the state. When work is completed this morning, it will be permanent, he said.
"What we did is rally the troops from all around the county," said Easton. "We have trucks and crews from Nephi, Eureka, all over Utah County here."
Seventeen UDOT snowplow trucks were used to haul fill material. Staker Paving and Construction provided other heavy equipment including backhoes, tractors and asphalt.
Tracy Conti, UDOT Region 3 director, said no major road projects were delayed by the shuffling of UDOT equipment and workers to the blast site. Workers — who were offered overtime pay — were taken from small maintenance projects, he said. The snowplow trucks were not being used at other sites.
As for the cost of repairs, contingency money in UDOT's maintenance budget will be used to pay the contractor. Efforts are being made to seek reimbursement for costs through insurance.
"My supervisors are very, very good at economically doing some amazing things," said Conti. "They love it when they get a situation like this — a real project where there is a lot to do in a short amount of time."
One of the primary challenges UDOT faced was damage to the sandstone wall on the north side of the road. The blast jarred several large boulders loose, so a track-hoe was used to knock them loose, then jackhammers to break them up.
At the work site, crews and machinery were working in a tight area, something that made the job difficult, said Easton. Officials were also on-site from the U.S. Forest Service, railroad and fiber-optic companies.
CentraCom, an independent telephone company, had to replace 416 feet of copper wire and 600 feet of fiber-optic cable that serve the residents of Scofield.
Union Pacific crews had one of the two tracks damaged in the explosion reopened Wednesday evening. The westbound track, which was more heavily damaged, was expected to be completed Thursday evening.
However, the crews with arguably the most difficult job in the wake of the explosion were the firefighters from the U.S. Forest Service.
Debris from the truck showered along the mountainside around the blast area over a radius of as much as 200 yards. Chris Church, the incident commander for the Forest Service, said crews were dealing with about 200 different hot spots. Fortunately, he said, the fires were not spreading.
"Because of all the snow we had last winter, most of the fuels that are higher on the mountain, like the sage and the oak, have a high moisture content," Church said.
The fires spread so slowly, in fact, that the Forest Service didn't put crews on the scene until Thursday morning, citing the potential danger of undetonated explosives. A helicopter began battling the blazes Wednesday night, and 30 firefighters and two engines arrived on the scene Thursday morning.
Church said the fires would be contained by this afternoon at the latest.
The incident remains under investigation by police.
"Speed was definitely a factor," Utah Highway Patrol Lt. Ken Peay said. "We know how fast he was going, but we're not ready to release that at this time."
Peay said UHP will be working with the Utah County Attorney's Office to screen possible charges against Travis Stewart, the truck's driver.
The findings of UHP's investigation will be turned over the County Attorney today, and UHP will wait to see what charges, if any, are filed before issuing any citations.
"We don't want to issue anything right now," Peay said. "You don't ever file a lesser charge that's part of a larger charge."

---
Truck explosion causes traffic mess on I-35
Watch Video
Updated: Jul 29, 2005 4:52pm
A truck driver is lucky to be alive after his 18-wheeler malfunctioned and exploded on the Interstate Friday morning. The incident caused major delays and other minor accidents.
An 18 wheeler exploded on the interstate Friday morning, shooting flames and smoke into the air for miles. That fire on I-35 in Bell County caused major traffic delays and a number of other accidents from the backup.
It happened near Highway 190 in Belton, backing up traffic on both highways.
The driver was hauling metal from Laredo to Little Rock, Arkansas when he suddenly saw smoke and then flames coming from his truck.
Belton Fire Chief Roy Harmon says, "He then pulled off the highway, exited the service road got out without injury, the truck then became fully involved and the front of the truck exploded."
Investigators aren't sure what caused the initial truck fire, but believe several diesel explosions blew two tires off the 18-wheeler. It only took firefighters about eight minutes to put it out, but because of heavy smoke and spilled fuel in the area, the north and southbound lanes of I-35 and the eastbound lane of 190 had to be shut down.
Belton Police Commander Michael Rhoden says, "With accidents of this type, the biggest thing is to prevent other accidents from happening because onlookers coming, but I heard a lot of tires screeching out there."
Rhoden says at least two more accidents happened because of the explosion. He says drivers simply weren't paying attention and rear-ended each other. Police say it's amazing no one was seriously injured in the fire and subsequent wrecks.
Emergency crews remained on the scene hours after the explosion to clean up the mess.
Chris Leiato of Temple was right behind the truck when it caught fire. He sent NBC 6 pictures taken with his camera-phone. Leiato was coming down the ramp from Highway 190 heading north toward Temple on I-35 when he saw the smoke and flames. He pulled over just in time to catch some shots of the powerful explosion, before the first fire trucks had even arrived at the scene. Leiato was not injured by the blast, but he did spend a lot of time stuck in the resulting traffic jam.
---
Tanker Truck Explosion Closes Part Of Route 7
(New York -WABC, July 12, 2005) — A tanker explosion in Ridgefield, Connecticut has closed a portion of Route 7.
Images from the Story
All Mass Transit Links
Route 1 Live Cams
NYC Live Traffic Cams
Traffic Conditions- 24/7
Newscopter Seven was over the scene and Shannon Sohn joins us live with the story.
The incident happened about 3:30 p.m. just south of Route 35. The tanker was traveling north when an SUV apparently darted out in front of the tanker.
When the tanker swerved to avoid the vehicle and ended up on its side, bursting into flames. Smoke could be seen for miles.
The Ridgefield Fire Department tells us the tanker is believed to have been fully loaded, though its precise capacity, origin and destination is unknown. The fate is the driver is unknown.
That part of Route 7, near Route 35, is closed indefinitely and a state bridge inspector is en route to the scene to determine the integrity of the bridge.
The fire is contained and a large hazmat cleanup is underway.
Fatal crash closes Route 7 (link not working)
Stamford Advocate, CT - Jul 13, 2005
... temporary bridge similar to the one used after the Howard Avenue overpass on Interstate 95 in Bridgeport was destroyed by a oil tanker truck explosion in March ...
---
Chemical reaction blamed for garbage truck explosion, fire
05:36 PM CDT on Tuesday, July 19, 2005
A Houston garbage truck exploded into flames in northwest Houston Tuesday afternoon. The force of the blast blew off one of the truck's tires which flew into a nearby home.

It broke a window of the home at Marcella near Apollo, but no one inside was hurt.

A spokesperson with Solid Waste said they believe the explosion was touched off by a chemical interaction. They think someone threw away some trash containing a chemical that interacted with something else already inside the truck.

It is against the law to dispose of hazardous wastes in your regular trash.

The city has two household hazardous waste facilities. The northside location is open to Houston residents every second Thursday of the month from 9 a.m. to 3 p.m. It's located at 5614 Neches, Building C. The southside location, at 11500 South Post Oak, is open Tuesdays and Wednesdays from 9 a.m. to 3 p.m. and the second Saturday of each month from 9 a.m. to 1 p.m..

The Environmental Service Centers provide a drive through, drop-off location for household hazardous waste such as anti-freeze, batteries, fuel, oil, paint, pesticides and other household cleaners.

Residential electronic scrap items (monitors, CPUs, televisions, VCRs, etc) are also accepted.

There are some materials the ESC cannot accept. These include: ammunition, explosives, medical wastes, radioactive wastes (smoke detectors), wastes from businesses, and compressed gas cylinders.
---
Aug. 12, 2005, 1:12AM

Train hits gas tanker, igniting deadly fireball
Explosion just south of Mexican border kills two, injures scores and destroys houses
By JAMES PINKERTON
Copyright 2005 Houston Chronicle Rio Grande Valley Bureau

LUCIO BLANCO, MEXICO - A tank truck laden with liquefied propane was hit by a freight train Thursday afternoon and exploded in the center of this agricultural town, killing at least two and injuring 44 residents who sprinted for safety as roaring flames shot down the main street.

More than a dozen homes and businesses, along with 17 cars, were destroyed, police said.

"It looks like a war zone, doesn't it?" said Joseph Horn, deputy chief of the Brownsville Fire Department, as he directed a pair of firetrucks sent to help control the fire.

As darkness fell, the tops of the power poles in the town were still burning, along with trees and sections of several roofs, as firefighters were using the available water to dilute the spilled propane.

Rolando Garcia Conte, director of civil protection in nearby Matamoros, said the two people confirmed dead were the engineer of the train and the truck driver.

"There were a lot of people burned here, some seriously, some with minor burns," he said.

"I was told there were three more (victims) they are going to bring out," Horn said.

The majority of the injured were taken to Mexican hospitals while two American citizens were taken to the Harlingen Medical Center.

Witnesses and local police said the driver of a tandem tanker truck attempted to beat a freight train at a crossing next to a gas station shortly after 3 p.m.

"This happened, unfortunately, because the truck was trying to beat the train across the crossing," said Matamoros Police Commander Crecensio Esquivel.

City officials identified the tanker as belonging to a Monterrey firm, Techno Gas.

"Really, the explosion was very strong," said Ezequiel Fuentes, a 40-year-old resident whose masonry home two blocks from the crossing was destroyed by flames.

"I was inside when I heard the sound of the train hitting the truck, and I went out and was walking to the crossing when there was an explosion, and then came huge flames," Fuentes said. "We turned around and ran away.

"I thank God that nothing happened to us," he said, referring to his wife, 6-month-old son and mother, who were in the home when the tanker exploded.

At the crossing, one of the charred propane tanks could be seen lying alongside a freight car, while the truck cab was on the other side of the tracks. The second propane tank was thrown hundreds of yards into the air, hit a house and landed on top of a car, witnesses said.

The explosion and resulting fires destroyed a two-story seed store next to the crossing, along with four other businesses down the same side of the street. Across the street, all the homes and businesses for two blocks were destroyed.

"I came here to get my (car) windows tinted at this shop, and I was standing here when the guy said, 'We've had it,"' said Armando Perez, 25, who lives in nearby Valle Hermoso.

Perez, whose arm was bandaged from burns he suffered, said he was standing outside the small automotive shop next to the railroad tracks when he saw the tanker truck driving over the rail crossing. He turned and saw the freight train hit the truck between the tanks, and was knocked to the ground by the explosion.

"When it happened, I was thrown down, and then I ran over there (down a side street) to get away," said Perez.

His charred 1987 Ford pickup, which contained all his documents and his wallet, lay a few feet from the propane tank.

Firetrucks and emergency vehicles from Brownsville, Harlingen, San Benito, Los Fresnos and eight water tankers from Cameron County helped Mexican units battle the blaze.

james.pinkerton@chron.com
---
Mexican border town hit by truck crash
Texas emergency services join rescue efforts
LUCIO BLANCO, Mexico (AP) -- A small settlement near a bridge to the United States was reduced to little more than rubble when a tanker truck collided with a train, killing two people and injuring at least 44.

Witnesses said they heard two large explosions Thursday followed by a series of smaller ones, with gusts of fire ripping through cement-wall homes and blasting off corrugated metal roofing.

"It was like an earthquake," said Jorge Batres, describing how flames spread to nearby cars, shops and houses.

The truck owned by Techno Gas of Monterrey, Mexico, was hauling two tank loads of liquid petroleum gas. Witnesses say the truck failed to stop when the train sounded.

Orlando Garcia, director of emergency services for Matamoros, Mexico, said the driver of the truck and the train's engineer died. He said the most severely injured were taken to hospitals in Monterrey. Others were taken to hospitals in Matamoros and across the border to Harlingen, Texas. It took several hours to find all the injured.

Teresa Guerrero said her sister, Nancy, was working at a nearby gas station when a fireball erupted. Her sister tried to flee, but she was burned on her arms, feet, back and hair.

With no water lines, Texas fire crews had to ferry water trucks back and forth to a hydrant near the international bridge at Los Indios, filling portable tanks to keep the hose filled.

Mexican crews worked the southern side of the wreck.

"It's a mutual aid agreement -- we help each other out," said Joseph Horn of the Brownsville Fire Department.

At least a dozen structures were gutted by the blasts, with blackened stoves and wash tubs left standing amid crumbling walls.

Copyright 2005
---
Dynamite found in curbing at construction site
Friday, August 12, 2005 pjohnson@repub.com

SPRINGFIELD - Interstate 91 was shut down for about 20 minutes yesterday afternoon after construction workers discovered a stick of dynamite protruding from a granite slab left under the highway at West Columbus Avenue near State Street.

Traffic along West Columbus Avenue and northbound and southbound lanes of I-91 came to a halt while members of the city Arson and Bomb Squad removed the slab containing the explosive.

Squad members Lt. John Friberg and Brian Strout donned protective suits and secured the slab onto the arm of a crane, which gently lifted it into the bed of a Water Department dump truck. The bed was filled with sand.

The dump truck was driven to Bondi's Island in West Springfield so the dynamite could be detonated, said Fire Department spokesman Neil Hawley.

The highway and West Columbus Avenue were reopened at 4 p.m.

The dynamite apparently was brought to Springfield inside the slab from a quarry in Georgia, Hawley said.

It could not be determined if a blasting cap, which could trigger an explosion, was attached, he said. All the bomb squad could see was a piece of dynamite and some wires sticking out of the slab.

It was also not clear how long the slab had been piled under the highway.

Police were called to the scene shortly after 2 p.m. The bomb squad arrived about 20 minutes later.

The granite slab with the dynamite was lying in a pile with other slabs just under the highway overpass at West Columbus Avenue and State Street, near the entrance to Riverfront Park.

It was discovered by city Water Department workers who parked their truck next to the pile.

Water Department employee Joseph Connor said he noticed the wires sticking out from a hole in the slab and went to take a closer look.

Connor, who said he used to drill holes for dynamite demolition at a previous job, said he recognized it as a single stick with a blasting cap attached.

"It must have come from the quarry like that," he said. "If they cut it with a saw or hit the cap, it could explode."

Connor said he tried to warn a fork truck driver who was about to start moving slabs from the pile, but the driver did not believe him.

After that he ran to find a supervisor, who took him seriously, he said.

"If he hit it (with the fork truck) and it exploded, we'd be dead," he said.
---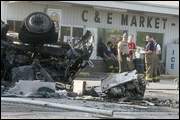 Tenneesee Highway Patrol Trooper Chris Copeland, left, talks with Christiana volunteer firefighter Chris Moorehead, right, and other volunteer firefighters at the scene of a fatal accident in which a tractor-trailer crashed into gas pumps at the C&E Market in Rutherford County's Christiana community.
THE DAILY NEWS JOURNAL


Thursday, 08/11/05

Man killed when semi plows into gas pumps

Early-morning blast shakes Rutherford County market



CHRISTIANA COMMUNITY — June Jones was making biscuits and bacon for a regular customer at C&E Market yesterday morning when she heard the "kaboom."

"I heard the explosion and I seen the truck fly by," Jones said.

The explosion was the impact of a tractor-trailer crashing through the store's gas pumps, killing a customer and injuring three others, including the driver of the truck.

The accident happened about 6:30 a.m., just an hour after the store had opened. The tractor-trailer plowed into the store on a straight, mostly residential stretch of Shelbyville Pike. It dragged with it a pickup truck and scattered cars in the lot as it overturned.

Jones saw her own car totaled, but that was the least of her concerns. The truck leveled the gas island and sent shards flying through the parking lot before resting across the road and catching fire.

"Just like that," Jones said, snapping her fingers. "There was no time. The truck blew up, our diesel tank was dragged across the road … and I knew my friend was out there."

The friend, Sammy L. Pruitt, 63, of Bell Buckle was one of a handful of customers whose order Jones knows by heart. She was pouring coffee and readying his breakfast when he pulled into the lot. A married father of two children and two stepchildren, Pruitt was pumping gas and was killed when the tractor-trailer hit.

Pruitt worked at Contractors Heating and Cooling Inc. in Nashville. He was a quiet man who mostly kept to himself, but he loved to play golf, his stepdaughter Anita Hargrove said.

"He had some hole-in-ones around here that he was pretty proud of. He really loved to golf," Hargrove said. "And he loved C&E Market. He was there just about every day."

The store, about a mile from Christiana's elementary and middle schools, serves breakfast in the morning and pizza in the afternoon. The store suffered a broken window but, aside from the gas pumps, remained mostly untouched. Thankfully, early morning is not the store's busiest time, owner Bansi Patel said. She and her husband, Neal, bought the store 2½ months ago after graduating from the University of Tennessee at Chattanooga. They are expecting a child.

Police said a tractor-trailer going north on U.S. 231 got on top of the tailgate of a pickup truck also traveling north, State Police Lt. Robert Brown said. The two vehicles swerved off the road onto a grassy area, and the truck continued to skid through C&E's gas pumps. The driver, Robert Peyton, 37, of Kentucky, told paramedics at the scene that he had fallen asleep, Brown said.

At least five cars were struck in the parking lot as the truck skidded through, dragging a diesel tank across the lot before stopping in the middle of Ellis Drive and catching fire. The tractor-trailer, leased by Diamond Logistics, was transporting air-conditioning units for Honda cars.

Christiana Fire Chief Tony Snook said the flames were put out in about 20 minutes, but firefighters stayed on the scene through the morning to keep an eye on the scene.

Peyton was transported by LifeFlight helicopter to Vanderbilt University Medical Center's burn unit, where he was listed in critical but stable condition last night. Stacy Luna, 33, of Bell Buckle, who was driving the pickup truck, was admitted to Middle Tennessee Medical Center in Murfreesboro.He was listed in good condition. David Johnson, 53, of Bell Buckle, who was in a parked car, was treated at MTMC's emergency department and released.
---
TOPAZ LAKE, CA

8-11-05

The California Highway Patrol says excessive speed caused a tanker truck crash that resulted in a brush fire near Topaz Lake Wednesday afternoon.

The accident happened around 1:00 PM on eastbound California SR-89 from Monitor Pass, just west of US 395 near the state line.

Officials say the driver, Thanh Doung, was carrying a combination of gasoline and diesel fuel when he crashed. They say the crash caused the tanks to rupture, spilling 8,800 gallons of fuel.

The fuel on the ground immediately ignited and also ran into a small creek.

That fire also started the brush fire that consumed around 35 acres. Officials say they now have a handle on the fire.

The California Division of Fish and Game and the Environmental Protection Agency were on the scene to monitor clean-up efforts.

Doung was flown to Washoe Medical Center with burns over 80 percent of his body. He was eventually transferred to the UC Davis Medical Center burn unit.

Highway 89 is still closed and the California Highway Patrol says they expect the road to be closed for most of the day.
---
Foreman yells before explosion: 'Get out!'
August 11, 2005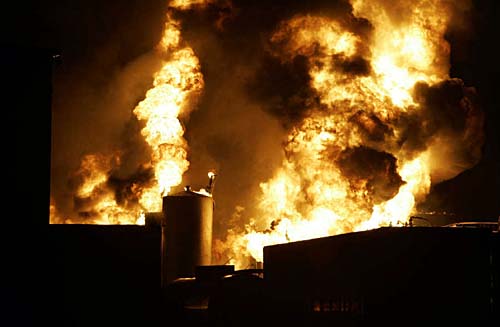 Plant explosion rocks Romulus

Chemical fire at waste recovery firm forces evacuations as blaze leaps from tank to tank.

ROMULUS -- Hundreds of residents from Romulus and Wayne hoped to return home today after a massive overnight fire at a nearby chemical plant.

The residents spent the night at two high schools and a church hall as authorities waited for the blaze at E.Q. Resource Recovery Inc. to burn itself out.

Michael Woods, 55, of Wayne spent the night with about 30 other evacuees in the lunchroom of Romulus High School, worrying about his wife, who refused to leave their home when officials told them to evacuate.

"I'm going home in a couple hours to check on my wife and my house," Woods said.

The cause of the blaze wasn't immediately known.

Joe Bova, 53, also spent the night at Romulus High School, but by early morning he was getting nervous because he had left his medication at his home in Wayne.

"I'm a diabetic, and I need my insulin," he said. "I hope the cops will let us back (into our homes.)"

Workers in the plant, which treats hazardous and industrial waste, fled from it just before it burst into flames about 9:15 p.m., said Charles Kirby, director of Romulus Public Safety.

By 3 a.m., 16 people had been treated for minor respiratory problems at Oakwood Annapolis Hospital in Wayne, said hospital spokeswoman Amy Middleton.

The hospital also provided a decontamination unit for anyone who needed to clean the smoke off of them.

The residents, who had difficulty breathing, were expected to be treated and released.

"I think I'm OK," said one patient, Judy Brennan, 58, of Wayne. "I don't think I was exposed too much; I was only outside for a short while."

The plant, with its tall metal tanks ablaze, resembled a birthday cake whose candles flared violently. A series of explosions rocked nearby homes and businesses as the fire spread from one tank to another.

As the flames reached high into the nighttime sky, public safety officials were more concerned about the heavy billowing smoke that changed direction several times in the tossing winds.

Worried that the black smoke might be toxic, authorities evacuated people from homes and businesses within a half mile of the plant. Among the firms were several auto plants, including GM Powertrain and Ford's Wayne Stamping and Assembly.

Among the residents evacuated was Angela Bradley, 24, of Wayne.

"The explosion shook the whole house," she said. "I thought the air conditioner blew up."

Bradley and her 8-year-old son, Tyler, went to Wayne Memorial High School, but had to leave someone behind.

"I'm really worried about my dog," she said. "Who knows what the chemicals will do to him."

More than 100 firefighters gathered to fight the blaze but were kept away by the wind-tossed smoke. So they decided to allow the fire to burn itself out.

"We've got a fire that's contained, and the fire chief thinks the best thing to do is let it burn," he said, adding he believed that was the safest thing to do.

By 2 a.m., the tanks, which contained acetone among other things, had melted half way down, Kirby said.

He thought the fire should run its course by 9 or 10 a.m.

"This is a serious danger to your health," Kirby said.

The plant hasn't had any recent problems, said Romulus Mayor Alan Lambert.

Nine workers were at the plant at the time, employees said.

Worker Carl Arasi Jr. told his father that the first explosion at the plant was the loudest noise he had ever heard, the elder Arasi said.

"He said, 'We were told over the loudspeaker, "Get out. It's going to blow.".'."

Carl Sr. was driving to the plant to pick up his son because the younger Arasi was too shaken to get home by himself.

Wayne resident Robert Eller, 50, who lives behind the plant, said he was watching television when he heard the explosion.

"I opened my door, and I could see nothing but red," he said. "I thought it was a nuclear attack."

The Salvation Army and the American Red Cross helped assist residents who went to the shelters. A Sally food truck brought hot dogs, s'mores, coffee and lemonade.

Olivia Ross, 45, a Romulus resident who lives near the plant, also was evacuated from her home.

"They came with bullhorns, told us we had to go," said Ross, who works on the midnight shift for GM Powertrain.

After the explosion, plant workers called relatives from their cell phones.

Amy Douglas, 29, of Detroit and others waited for the workers in a party store parking lot at Ecorse and Wayne roads.

Her husband, Leaveil, a plant lab technician, told her father he was working in the lab just before the explosion.

"My father could tell in his voice that he was scared," she said. "He was shaken up. All he said was that the plant blew up."

The Associated Press and Detroit News Staff Writer Douglass Dowty contributed to this report. You can reach Francis X.Donnelly at (313) 222-2300 or

fdonnelly@detnews.com.
---
BY PATRICIA MONTEMURRI, JOEL THURTELL and NAOMI R. PATTON
FREE PRESS STAFF WRITERS
An alarm sounded. Then a foreman shouted over the company's two-way radio: "Get out, get out, get out!"
Carl Arasi III, a lab technician on the night shift at EQ Resource Recovery Inc. in Romulus, hesitated a moment as he began to peel off his work gloves. But a coworker grabbed his arm. There was no time to waste.
As they and six other workers rushed from the complex of vats, cylinders and trucks loaded with chemical solvents, they heard the first of several explosions that rocked the plant around 9 p.m. Tuesday, causing an evacuation and environmental health scare that lingered through Wednesday.
In recalling the harrowing escape to his father, Arasi said he felt a burning sensation on his neck as the plant exploded and went up in a fireball that roiled the night sky.
"They all dove under a trailer to keep the debris from falling on them," his father, Carl Arasi Jr., told the Free Press on Wednesday.
As details emerged, local and federal officials started an investigation that turned up few answers to the many questions surrounding the explosion, its cause and the aftermath for hundreds of worried residents who were evacuated and told to stay away from their Wayne and Romulus homes for a second night Wednesday. The evacuation could last for another 48 hours, officials said.
Romulus Public Safety Director Charles Kirby said it was too early to say what triggered the explosion, and a company spokesman, Dan Gilbert, said any investigation would have to wait until the flames were completely out.
The eight employees inside the plant all escaped, Gilbert said.
Arasi Jr. said his shaken son called home at 9:30 p.m. to ask his parents to pick him up. The 60-year-old Belleville resident and his wife, Linda, drove as close as police would allow them, to a liquor store at Ecorse and Wayne roads. Nearly two hours later, their son, 32, walked a mile to meet his family there. His parents took him to Oakwood Hospital in Dearborn when he complained of a burning sensation in his chest.
"I sat there and waited, and in the course of that wait, there were three or four more explosions," said Arasi Jr., an unemployed blackjack dealer. He said law enforcement agents kept employees "in harm's way" when they should have been taken to hospitals and checked for contamination.
"They weren't too worried about the employees. They wouldn't allow them to leave," Arasi Jr. said.
City of Wayne Deputy Fire Chief Mel Moore said Wednesday, "I'm not aware of that."
Protocol requires emergency personnel to ask if any one is injured and to get them help if needed. "To our knowledge, there were no injuries," he said.
Sandy Dotson, 45, who lives on Williams Street, came to the evacuation center at Wayne Memorial High School on Wednesday with her husband, Mitch, and material they collected from the ground around their house and driveway.
The black, gray and brown granules smelled faintly tar-like and resembled fertilizer pellets. She said a neighbor who lives behind them had larger chunks of it in his backyard.
"I want to know what it is. If they are not going to tell us, I'll have it tested myself," Sandy Dotson said.
By late Wednesday afternoon, 38 people had sought emergency medical attention at Oakwood Annapolis Hospital in Wayne. One person was seen at Oakwood Hospital in Dearborn, said Tom Worobec, the hospital's director of communications. All were treated and released.
Most people complained of chest tightness, Worobec said. Eleven people who complained about itchy skin were sent to the Annapolis hospital's decontamination tent, which was set up Tuesday night and taken down Wednesday. In the tent, they were told to undress and wash with a mild soap. After they dried off, they were given hospital scrubs to put on and later were seen by a doctor, Worobec said.
Some firefighters received treatment for heat exhaustion, Worobec said. There were no reports of burns.
Firefighters from Wayne and Romulus spent Wednesday dousing the fire with foam from a Detroit Metro Airport emergency truck, but it continued to burn into the evening. Firefighters were hampered by winds that blew the smoke into their faces at the building's entrance, Kirby said. A high railroad grade also created a barrier, he said.
Once the fire is out, investigators from the U.S. Environmental Protection Agency will look over the debris in their search for a cause, Gilbert said. Afterward, company investigators will take over. Investigators from the EPA and the federal Bureau of Alcohol, Tobacco, Firearms and Explosives were on the scene but were unable to begin their investigation.
Many residents who left pets behind were worried about their safety.
Pat and Kara McIntyre took their boxer-great Dane Sadie and pug Missy with them to the high school evacuation center. But the Dotsons, their next-door neighbors, left their 13-year-old dog at home, reasoning that a closed environment would be safer. Wayne City Manager John Zech allowed residents to return to their homes to check on pets.
But worries about the effects on their own health were never far from residents' minds.
Mitch Dotson complained of a sunburn-like rash on the back of his neck. He said gravelly residue from the explosion settled on homes, vehicles and people who were outside when the fire started.
"I just want to know what that was that was falling on us," he said. "All night we've been itching."
Contact JOEL THURTELL at 248-351-3296. Staff writers Melanie D. Scott and Cecil Angel contributed to this report.
---
Fire still burning, questions too
August 11, 2005
BY HUGH McDIARMID JR.
FREE PRESS STAFF WRITER
The inferno that tore apart a Romulus chemical plant kept burning throughout Wednesday night, prolonging a public health scare and evacuation order that forced thousands to seek shelter at motels, a school, and with friends and relatives.
Protect yourself
Fallout: Don't disturb it unless you have to.
Debris: If you have to touch it, wear disposable gloves.
Cleanup: Hose or sprinkle dust and particles to keep potentially dangerous fibers from becoming airborne.
Kids, pets: Keep them out of affected areas.
Hygiene: Wash your hands often.
Houses: Try not to track in dust.

See your doctor for:

Rashes.
Wheezing.
Shortness of breath.
Burning sensations on the skin or in your lungs.
Plant's chemicals
EQ Resource Recovery Inc., is the nation's third-largest facility that blends toxic wastes for use as fuels in cement kilns and other incinerators licensed to burn hazardous materials, according to federal documents. Here are a few of the chemicals known to be stored at the plant:
Aircraft deicing fluid.
Acetone: Used to make plastic, fibers, drugs and other chemicals. It also is used to dissolve other substances.
Methanol: Also known as methyl alcohol or wood alcohol, it is a chemical compound as an antifreeze, solvent, fuel, and as a denaturant for ethyl alcohol.
Xylene: Used extensively as a solvent, obtained from coal tar, wood tar and sometimes from petroleum.
If you have questions
The EPA has set up a Web site for information about the accident and the subsequent testing and investigation at www.epaosc.net/site. Click on Web sites, then Region 5, then EQ Resource Recovery.
Potentially toxic soot was strewn across neighborhoods surrounding the plant, and dangerous chemicals stewed in the hot rubble left by a series of explosions that jolted EQ Resource Recovery Inc. Tuesday night.
Fire officials were not sure when the fire would be extinguished and the evacuation orders for Romulus and Wayne would be lifted. Officials said areas outside the evacuation zone were not at risk from fallout from the plant fire.
City of Wayne Deputy Fire Chief Mel Moore said Wednesday evening, "We could have it out at the end of the night or it could take two, three more days."
Romulus Fire Chief David Allison said today would be the earliest the fire would be extinguished. The problem stems from a hot solvent-type chemical leaking from the tanks, Moore said.When the water is put on the chemical the fire flares up so it's better to let it drain into a contained area, and once it cools, the company will remove it, Moore said.
Once the fire is out, people likely will be allowed to return home, both fire chiefs said.
More than 24 hours after the industrial meltdown, local and federal officials still could not provide answers to anxious residents about potential health risks, or offer explanations as to the cause.
The stubborn fire prevented investigators from starting a full probe. In the meantime, they began testing the fallout. They urged residents to avoid contact with the grit and soot, but to be cautious if they did begin cleaning homes and cars. There is no certainty that today will bring concrete answers to questions about the potential for toxic hazards in neighborhoods near the plant.
That's not much help for residents like Angie Loop, 38, who planned to hose the dark sand-like residue off her driveway in Wayne. Returning to check on her cats and a hamster Wednesday afternoon, she surveyed the scene and wondered how careful she should be.
It "seemed like hail" when the charcoal-colored bits rained down in the dark Wednesday, said Loop. "The kids were freaking."
She'd already made sure not to track any fallout inside, and said she was awaiting word from authorities on whether the grit was toxic.
Results from complex tests on the materials that spewed from the fire at EQ Resource Recovery Inc. likely won't be available until late today or Friday, said federal emergency response officials. Until then, no one knows whether the area is embedded with dangerous levels of toxics like polycyclic aromatic hydrocarbons (PAHs), a group of chemicals that are probable carcinogens and also may damage skin, body fluids and inhibit ability to fight disease after even short-term exposure.
"We don't know what metals, PAHs, solvents or other compounds might be there," said EPA on-scene coordinator Jeff Kimble.
Dr. Michael Harbut, a Royal Oak-based environmental and occupational medicine expert, said people who inhaled the vapors should be vigilant about their health.
He said it's possible microscopic metal particles suspended in the solvents that burned could be released in the air, lodging in lungs of people nearby and settling on lawns and cars.
"The general rule is, if you can smell it, don't breathe it. There can be a delayed response of 24, 36, even 48 hours in which you might experience coughing, wheezing or shortness of breath." If that happens, get to a doctor, Harbut said.
In addition to the grit, federal officials were scanning the air around the plant -- using pole-mounted monitoring boxes, a specially-equipped twin-engine plane crammed with scientific instruments for infrared and thermal imaging, and a mobile lab that was expected to arrive just after midnight.
Initial test results showed that levels of contaminants in the air, even during the height of the blaze's fury, were not an imminent threat to those who breathed it.
The intense heat likely destroyed many potentially dangerous chemicals before they could waft through the neighborhood, said Charles Kirby, chief of the Romulus Department of Public Safety. "That may be the reason the EPA hasn't given us any negative signs," he said Wednesday afternoon.
The uncontrolled mixture of chemicals, heated at uneven temperatures throughout the inferno, can create entirely new compounds, making it even harder to predict what sort of residue is left behind, say scientists.
The toxic soup of chemicals, firefighting foam and water left on the site will be extracted by HAZMAT crews in coming days -- but EQ spokesman Dan Gilbert said he believes the mess is well contained.
Emergency responders were quick to block off nearby sewer lines where toxic liquids might have flowed.
Federal and state records showed the company paid a $32,000 fine to the EPA for an alleged 1999 violation involving improper control of storage tank emissions. The company also received nine informal notices of violation from state regulators since 2003 -- all minor problems the company quickly corrected, said Bob McCann, spokesman for the Michigan Department of Environmental Quality.
The problems aren't uncommon for an operation of EQ's magnitude, said regulators.
Maura Campbell, a spokesman for the Michigan Department of Labor & Economic Growth, which oversees workplace safety, said there is no history of workplace safety violations at the Romulus plant, which employed about 50 workers on three shifts.
Attorneys and politicians wasted no time reacting to the disaster. Even as the fire burned, Macuga & Liddle P.C. of Detroit announced a class action, and U.S. Rep. John Dingell, D-Dearborn, promised a full investigation, declaring "the federal government has dropped the ball" on safety regulation.
Meanwhile, several families were taking up the EQ company's offer to put them up free in local hotels.
Contact HUGH McDIARMID JR. at 248-351-3295 or mcdiarmid@freepress.com. Staff writers Naomi R. Patton, Cecil Angel and Niraj Warikoo contributed to this report.
---
Mason County, Michigan
US 31 Open After Tanker Fire
8-12-05

US 31 is open again Friday after a gasoline tanker truck explosion is blamed on a locked brake that caused a tire to burst into flames and damaged the highway. The driver of a Great Lakes Petroleum gasoline tanker truck pulled over on US 31 when he realized the tire was burning. He exhausted his fire extinquisher and it appeared to be out. When it burst into flames again he ran to a nearby house and called 9-1-1. The tanker then became fully involved. The siding melted on a home nearly a hundred yards away. The couple who lie here were awakened by the explosions. The grant twp fire chief says 8 fire department worked to keep the blaze under. Several times firefighters had to move out of the way as the burning cinders and debris from the fire roared past them.
---
3 charged in Newton industrial explosion allowed into PTI program Link not working)
Newsday, NY - Jul 27, 2005
... seriously damaged another. Investigators eventually determined the explosion was caused by an illegal truck-to-truck propane transfer. ...

Posted on Thu, Jul. 14, 2005
NORTHEAST TARRANT BRIEFS
Star-Telegram
Repairs finished after explosion at Texas 183
IRVING -- Emergency repairs on Texas 183 at MacArthur Boulevard are complete, a little more than six weeks after a tanker truck explosion caused extensive damage, Texas Transportation Department officials said.
All the freeway's main lanes are open, and access to northbound MacArthur Boulevard has been restored.
The $636,000 emergency roadwork contract was awarded to Gibson and Associates.
The crash occurred May 28 when a pickup collided with a gasoline tanker on the eastbound side of Texas 183, also known as Airport Freeway. The truck, which was carrying about 3,000 gallons of gas, was forced off the freeway and exploded on the intersection below.
The truck driver was killed, and the pickup driver was arrested on suspicion of intoxication manslaughter.
The explosion incinerated the truck and destroyed several concrete bridge columns and horizontal beams.
-- Gordon Dickson
American's flights from D/FW delayed
American Airlines flights out of Dallas/Fort Worth Airport were delayed for more than an hour Wednesday by weather, officials said.
Heavy thunderstorms passing through the Northeast caused about 21 flights to be canceled and others to be rerouted, American Airlines spokesman Billy Sanez said.
About eight other flights were canceled because of Tropical Storm Emily, Sanez said. The storm was about 135 miles east-southeast of Grenada, an island nation in the southeastern Caribbean Sea, Wednesday evening. Earlier this week, many flights were delayed because of airport closures due to Hurricane Dennis, officials said.
-- Melissa Sanchez
---
Editorials/Op-Ed
Jihadists v. fools on the bench
August 1, 2005
One would hardly know it from the tendentious political speech delivered by federal District Judge John Coughenour Wednesday in sentencing al Qaeda terrorist Ahmed Ressam to 22 years in prison for plotting to bomb Los Angeles International Airport, but the Ressam case shows what is wrong with a strategy of using the courts as our primary means of fighting terror -- as the Clinton administration did for eight years. The case also serves as an illustration of the potentially catastrophic consequences to Americans that can result from lax border-enforcement, asylum and welfare policies in countries like France and Canada.
In sentencing Ressam, Judge Coughenour rejected the government's request for a 35-year sentence; prosecutors had sought to use the threat of more prison time as leverage to persuade Ressam, who has stopped cooperating with the government, to testify against two alleged co-conspirators who plotted with him to bomb the airport at or around Jan. 1, 2000. Ressam had originally faced up to 130 years in prison for his role in what has become known as the "millennium bombing" plot.
Without Ressam's testimony, it is unlikely that either the British or the Canadian government will extradite either man to the United States. But with credit for time served and good behavior behind bars, Ressam, 38, could be released from prison in as little as 14 years for his role in plotting to murder hundreds if not thousands of Americans and foreign travelers.
To many people, this scenario might seem somewhat troubling, but apparently not to Judge Coughenour, who was too busy congratulating himself and like-minded people to notice. "I would like to convey the message that our system works," the judge, appointed to the court by President Reagan in 1981, said in sentencing Ressam. The government, he added, did not need "to detain the defendant indefinitely as an enemy combatant, or deny him the right to counsel." Moreover, "despite the fact that Mr. Ressam is not an American citizen and despite the fact that he entered this country intent upon killing American citizens, he received an effective, vigorous defense, and the opportunity to have his guilt or innocence determined by a jury. Most importantly, all of this occurred in the context of a public trial. There were no secret proceedings."
Now, to be sure, there will always be cases where it will be necessary to try suspected terrorists in open court. (This is especially true when the accused is an American citizen.) But acknowledging this reality is a far cry from accepting Judge Coughenour's implicit suggestion that these decisions are little more than morality plays involving good and evil: On one side are the enlightened, virtuous progressives like the judge who understand that trying terrorists in open court is always the right way to go. On the other side, as the judge frames the issue, are backward people like President Bush and many of those who voted for him, who believe that fighting the current war will require us to 1) kill as many terrorists as possible on the battlefield, and 2) capture the rest of the jihadists and interrogate them for as long as necessary at facilities like Guantanamo Bay in order to gain intelligence about future terrorist attacks.
According to Andrew McCarthy, a former assistant U.S. attorney who successfully prosecuted the organization of Sheik Omar Abdel-Rahman a decade ago for its role in bombing the World Trade Center and plotting to bomb other New York landmarks, trying jihadists in court in some instances can be a useful component of a larger anti-terror strategy. But he adds that fighting terrorists this way entails huge risks for American security.
"Trials are an intelligence trove for al Qaeda," says Mr. McCarthy, a senior fellow with the Foundation for the Defense of Democracies. "The government has to turn over all prior statements as testimony -- anything that is potentially exculpatory. It is an unbelievable amount of information that must be turned over: The government gives more than it has to give to stay out of trouble" that will result when a defense attorney complains that the government has not turned over some item he believes might help his client.
Sometimes, as a trial goes forward and prosecutors sense that they are well on their way to winning a conviction in a terrorist case, the incentive to disclose information to defense counsel increases exponentially, as prosecutors -- not wanting to take any chance of withholding any piece of evidence that some judge might conclude should have been turned over to defense counsel -- relinquish large amounts of intelligence information to terrorists' attorneys. The "information we turn over tells them substance -- means for getting information" about what the terrorists are doing, Mr. McCarthy tells us. "If we have a wiretap, we have to disclose it. That's shut down. You can sometimes protect this stuff, but not always."
Ressam's personal story should also serve to remind us of the dangers that lax immigration and asylum policies in other nations can pose to our own security. After a civil war broke out in Algeria, Ressam's home country, in 1992, he fled to France, along with other Islamist radicals. He lived there illegally until 1994, picking oranges and working at a tourist resort. Using a fake French passport, he flew to Montreal and requested political asylum. Although his appeal for asylum was rejected, Ressam disappeared and was never deported by Canadian authorities. He created a new identity for himself by stealing someone else's baptismal certificate and using it to create a fake Canadian passport. While in Canada, Ressam didn't work. Instead, he supported himself by robbing tourists and pocketing $500 a month in welfare payments he received due to his status as a potential refugee.
In March 1998, Ressam travelled to Afghanistan for terrorist training at camps administered by Osama bin Laden. Eleven months later, he returned to Canada. On Dec. 14, 1999, Ressam was captured in Port Angeles, Washington, after taking a ferry from Victoria, B.C. with 100 pounds of explosives in his car. On April 6, 2001, a federal jury in Los Angeles convicted him on nine counts, including conspiracy to commit an international terrorist act. After his conviction, Ressam began cooperating with prosecutors and testified against an al Qaeda terrorist. But in 2003, Ressam abruptly ended his cooperation. As a result, two of his alleged co-conspirators -- one held in Britain and the other in Canada -- are unlikely to be extradited to the United States. One of the men, Samir Ait Mohamed, currently held in Vancouver, is also alleged to have discussed arranging a gasoline truck explosion in a Montreal neighborhood he thought to be predominantly Jewish. Because of Mr. Ressam's unwillingness to testify, he may go free. Unfortunately, Mr. Ressam's efforts to commit mass murder and his continuing refusal to cooperate with investigators did not move Judge Coughenour to hit the terrorist with a longer, more appropriate prison sentence.
The case of the would-be millennium bomber has also complicated Bill Clinton's efforts to create a positive political legacy for himself as a leader in the fight against terrorism. Mr. Clinton and senior aides like National Security Adviser Sandy Berger have suggested that heightened vigilance on their part helped prevent Mr. Ressam from committing mass murder. The bipartisan September 11 commission, by contrast, concluded that "it appears the heightened sense of alert at the national level played no role in Ressam's detention." The real credit goes to U.S. Customs Inspector Diana Dean, who, observing that Ressam appeared nervous, referred Ressam for a "secondary inspection" that resulted in his capture in Port Angeles.

Copyright © 1999 - 2005 News World Communications, Inc.
http://www.washingtontimes.com/op-ed/20050731-093550-3547r.htm

---
Explosion and fire rock Texas industrial plant, injuring four
Friday, July 29, 2005
FORT WORTH, Texas (AP) — A series of explosions rocked a chemical plant Thursday and set off a raging fire, injuring four people and sending up a pillar of black smoke that could be seen 30 miles away.
The cause of the fire was under investigation. Workers at the Valley Solvents & Chemicals plant told authorities they heard an explosion and then noticed a fire near a tractor-trailer that had just pulled in to deliver chemicals, said fire Lt. Kent Worley.
Company President Bill Davis said late Thursday that there were indications the unloading truck may have sparked the fire.
The driver suffered a burned leg, one employee had arm burns and another hurt his back trying to flee, Worley said. Specifics of the fourth person's injuries were not available.
Firefighters battled the blaze for about three hours after the blast, and the fire had diminished by late afternoon.
It raged in and around more than a dozen large metal and plastic tanks containing 2,000 to 4,000 gallons of methanol, sulfuric acid, hydrochloric acid, ethanol and other chemicals.
Davis said none of the chemicals posed a threat to resident: "People don't need to be worried about any extreme toxicity."
The Environmental Protection Agency has sent an official to the scene with air-monitoring equipment to provide information to local officials, said Cynthia Fanning, an agency spokeswoman said.
Officials said there were no evacuations, but residents in nearby neighborhoods and businesses were told to stay indoors with their windows closed. Those voluntary restrictions were lifted about 6 p.m., said Eileen Houston-Stewart, a city spokeswoman.
The blaze was in a large industrial area not close to any residential neighborhoods.
"It shook all the buildings here," said Angela McCollum, who works at a cement plant about 100 yards away. "All I can see is just tons of fire and tons of smoke, and it's really kind of scary."
http://www.cantonrep.com/index.php?Category=23&ID=234831&r=0
---
Posted on Fri, Jul. 29, 2005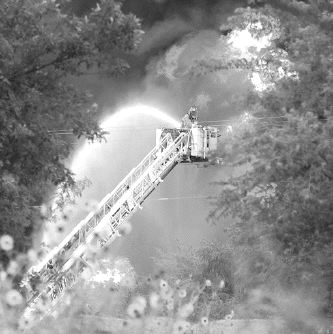 STAR-TELEGRAM/MARK ROGERS
One of more than 100 firefighters works to contain the blaze. Toxic chemicals ignited and shot fireballs into the sky.
More photos
'Like a tornado'
Cause of huge blast is unknown - Explosions at Fort Worth plant send up toxic smoke visible for miles
Star-Telegram Staff Writers
FORT WORTH -- A series of explosions rocked a chemical plant in north Fort Worth on Thursday afternoon, unleashing a five-alarm fire and an enormous pillar of black smoke that could be seen in Denton and Dallas.
"It sounded like and looked like a tornado," said Jeff Maxwell, who was eating lunch at a nearby restaurant.
At least five people were taken to hospitals for treatment of injuries that were not life-threatening. Officials did not order evacuations but asked people who live or work within a five-mile radius to stay indoors until early evening to avoid the toxic smoke.
The initial explosion at Valley Solvents & Chemicals on Northeast 33rd Street sent employees scrambling for cover.
"We barely made it out alive," said one visibly shaken employee, who identified himself only as Josh. "Others, we don't know how they are doing. Maybe they're still inside.
"It was so loud. I was scared as hell and I didn't think I would make it. The whole building shook and the ground outside."
Witnesses told firefighters that the first explosion happened about 1:30 p.m. near where workers had been unloading methanol from an tractor-trailer.
Fire department officials said Friday that one truck remained at the scene overnight as the fire continued to smoulder. A small amount of smoke continued to rise from the scene early Friday morning.
Police officials said two streets, Northeast 33rd Street and Sylvania, remain closed Friday morning.
Bill Davis, president of the company, which is based in Combes in South Texas, told The Associated Press that the cause of the explosion is being investigated but that there was some indication that the ignition source was the truck.
Three people, including the truck driver, were burned. A plant employee injured his back while diving for cover under a tractor-trailer. And a woman who lives about eight blocks away was taken to a hospital after she began coughing up blood.
Jimmy Kearns, who lives in the Bonnie Brae neighborhood, close to the explosion, said his entire house shook.
"I was in my house watching TV and thought one of the neighbors' homes had exploded," Kearns said, adding that he got into his truck and drove closer just as another explosion erupted, lifting into the air what looked like a large tanker.
"It was a big piece of steel flying across the road," he said. "It was bigger than my truck."
The fire could be seen across the Metroplex. In downtown Fort Worth, curious onlookers took to the streets to watch the smoke move across the sky.
Many streets in the area were closed. Interstate 35W was backed up for miles in both directions as motorists slowed to look at the bright orange blaze.
More than 100 firefighters raced to the scene and worked for hours to contain the blaze, which was fueled by toxic chemicals that ignited and shot fireballs into the sky.
It quickly became clear that the best course was to let the blaze burn itself out to protect firefighters, said Lt. Kent Worley, a spokesman for the Fort Worth Fire Department. The amount of water it would take to quench the fire would also create an environmental hazard because of runoff from the site.
"If you were to put it out, I think you would create a bigger problem," Worley said.
Some of the burning chemicals are toxic -- methanol, sulfuric acid, hydrochloric acid, phosphoric acid, naphtha and isopropyl alcohol -- and were stored in vats holding up to 4,000 gallons.
Although no one was evacuated in the largely industrial area, 13 Fort Worth schools, where staff members were preparing for the school year, and the Diamond Hill clinic on Deen Road were closed over concerns about air quality.
Officials said the clinic and schools should reopen today.
The Riverside Community Center and Meacham Airport terminal were being used as temporary shelters by the American Red Cross for those concerned for their safety. Among those who went to the Riverside center was Evalee Russell, 66.
Russell had just returned to her home on Mesquite Street -- about eight blocks south of the explosion -- when she stepped out of her car and felt her chest tighten. Within minutes, Russell, who suffers from chronic obstructive pulmonary disease, began coughing uncontrollably and felt lightheaded.
"I always cough," she said. "But I started coughing up blood. ... It really scared me and I didn't know what to do."
Concerned that she may have inhaled chemicals from the explosion, Russell was taken by ambulance to Baylor All Saints Medical Center, where she was treated and released.
Two others were treated and released from John Peter Smith Hospital in Fort Worth, and another was sent to Parkland Memorial Hospital in Dallas, which specializes in burn treatment, said Lynsy Purl, a Parkland spokeswoman.
Patrick Blanchard, 37, of Arlington was treated for back pain and released from Harris Methodist Fort Worth hospital, a spokeswoman said.
Valley Solvents & Chemicals has 16 trucks and employs 18 drivers, according to U.S. Transportation Department records.
The most recent problems noted at the site by federal workplace safety investigators occurred 12 years ago. Valley Solvents ultimately paid a $3,660 fine for 11 violations, most involving safety documentation and one for leaving flammable liquids uncovered.
Light winds helped minimize the potentially hazardous conditions by dissipating the toxic smoke and carrying it upward, Worley said.
By 5 p.m., the fire was largely under control, and officials were monitoring and surveying its aftermath.
The Environmental Protection Agency's regional office in Dallas sent an on-scene coordinator to the plant to determine what chemicals were in the air and at what concentrations, said Cindy Fanning, an EPA spokeswoman.
Foam trucks from Alliance and Dallas/Fort Worth airports and Naval Air Station Fort Worth -- usually used in aircraft crashes -- were brought in to shoot a layer of foam on the fire to keep it from flaring up.
City workers used sand to block off potentially dangerous runoff until it could be vacuumed by a hazardous-materials team.
By 10 p.m., fire crews had pulled back from the plant, leaving four firefighters and an engine overnight to watch for flare-ups, Worley said.
"It was a total loss," Worley said. "There is nothing left in there."
Five people are treated for injuries
The first explosion occurred about 1:30 p.m. when workers were unloading methanol from a truck at Valley Solvents & Chemicals on Northeast 33rd Street in north Fort Worth. At least five people were treated for injuries. By 10 p.m., four firefighters and an engine were left to watch overnight for flare-ups.
Toxic chemicals
The plant had the capacity to store 1.9 million pounds of chemicals in more than 35 aboveground tanks. Among the toxic chemicals on site were naphtha, toluene, sulfuric acid and hydrochloric acid.
Health concerns
No evacuations were ordered, but city and health officials asked people within a five-mile radius to stay indoors until early evening. Anyone with breathing problems or skin irritation should contact a doctor.
At the scene
Residents compare the scene to a mushroom cloud or an erupting volcano.
Valley Solvents & Chemicals
• A wholesale distributor of industrial solvents and chemicals to a variety of industries, including automotive, cosmetics, electronics, oil and gas, and pharmaceuticals
• Founded in 1952 in Harlingen
• Has plants in Fort Worth, Corpus Christi and near Harlingen to serve Texas and northern Mexico
SOURCES: Star-Telegram research, www.valleysolvents.com
Health and safety concerns
• Anyone with breathing problems or skin irritation should contact a doctor.
• Elvin Adams, health authority for Tarrant County Public Health, said people probably weren't exposed to the smoke long enough to suffer any lasting health effects. "I think the health risk to the citizens of Fort Worth is really minimal," he said.
• If rain fell on your vehicle in the area near the fire, it should be washed because chemicals in the rain could be caustic to the vehicle's finish.
Staff Writers Alex Branch, Anna M. Tinsley, Aman Batheja, Bill Miller, Martha Deller, Mitch Mitchell, Amie Streater, Scott Streater, Jack Douglas Jr., and Jeff Claassen, News Researcher Adam Barth and Correspondent Caren M. Penland Contributed to This Report.
---
Deanna Boyd, (817) 390-7655 dboyd@star-telegram.com
Melody McDonald, (817) 390-7386 mjmcdonald@star-telegram.com
---
Chemical company in business despite fire
After an explosion and fire that rocked Fort Worth's north side July 28, Valley Chemicals and Solvents said it is making deliveries to its customers and looking forward to rebuilding.
Bill Davis, Valley Solvents and Chemicals chief executive officer, said the company was back at work Aug. 1, delivering products to local customers with the help of the organization's branch plants, located in Harlingen and Corpus Christi.
"We have mobilized other branches from our company, and we've got our people working very hard to continue to service our customers in this area," Davis said. "We are making deliveries today, in fact."
Davis said the company, which has less than 25 employees and annual sales of $7.5 million, is focused on not letting the explosion ruin its Fort Worth business.
"Our plan is to continue on, take care of our customers now and to rebuild and come back stronger than we were before," Davis said. "Once we get through this immediate situation, we will be back full strength."
Valley Solvents is a privately owned, wholesale industrial solvents and chemicals distributor based in South Texas.
The local plant burst into flame after an explosion at 1:30 p.m. on July 28. Several subsequent explosions kept the fire blazing for hours, and by early evening the building and storage units, located at 2573 N.E. 33rd St., were completely destroyed.
In a release, Fort Worth Fire Department spokesman Lt. Ken Worley said employees reported a blast in an area outside of the main building where an 18-wheeler was unloading methanol. Fire officials have identified the transport truck as a potential source of the fire.
Four Valley Solvents employees were sent to the hospital after the explosion, one with severe injuries. That employee was released from the hospital Aug. 1.
Contact Claunch at aclaunch@bizpress.net.
---
By STEVE BAUER
© 2005 THE NEWS-GAZETTE
Published Online August 3, 2005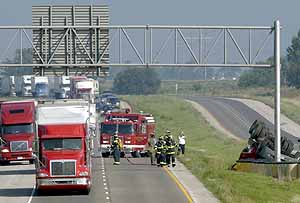 MAHOMET – Traffic on Interstate 74 was rerouted for several hours after a tanker truck filled with ethanol overturned east of Mahomet this morning, spilling the flammable liquid.
The accident occurred east of the Prairieview Road interchange at 8:47 a.m. when a Remco Transportation tanker carrying nearly 8,000 gallons of ethanol rolled over and into a ditch, according to State Police Sgt. Bill Emery.
The driver – Ted Ceiminski, 34, of Clinton – was injured and had to be removed from the cab of his truck. He was taken to Carle Foundation Hospital in Urbana, where he was listed in fair condition at noon.
Both the eastbound and westbound lanes of I-74 were closed between the Prairieview exit and Interstate 57 in Champaign, Emery said. Later in the morning, eastbound traffic was blocked farther west at the Illinois 47 exit at Mahomet.
Eastbound traffic was rerouted onto U.S. 150, according to Emory. Westbound traffic was detoured south on Interstate 57 to Interstate 72, he said.
The tanker truck was upside down in the median of I-74, resting against a post for an overhead highway sign.
Fire crews and hazardous materials teams from the Cornbelt Fire Protection District and the Champaign Fire Department were on the scene, preparing for a contractor to unload the fuel, according to Dena Schumacher, spokeswoman for the Champaign Fire Department. An 800-foot area around the crash was cordoned off, she said.
Cornbelt Chief John Jay said 25 firefighters and command officers were on the scene.
"The interstate is all blocked off and will be for quite a while," he said.
Ethanol fumes and vapor are very flammable, Jay said.
"That's the big reason everything is being blocked off," Schumacher said. "We don't want any spark causing any fire or explosion."
A controlled burn of a ditch by a nearby farmer was put out as a precaution, she said.
The Department of Transportation was advised of the accident and signs were posted, Emery said.
---
Gas Tanker Explodes On Pa. Turnpike
Driver Air-Lifted To Nearby Hospital
POSTED: 4:18 pm CDT August 22, 2005
PLYMOUTH TOWNSHIP, Pa. --
An accident on the Pennsylvania Turnpike looked like a towering inferno at rush hour Monday morning.
"The tractor-trailer, filled what we believe to be fuel -- gasoline -- failed to negotiate the curb coming off the eastbound (ramp) and overturned, and it was, I guess, (there was) an explosion and then a fire," said Cpl. Harvey Johnson of the Pennsylvania State Police.
The fiery accident happened on the ramp from the turnpike to the Northeast Extension. In addition to the fire, the thick, heavy black smoke that clouded the skyline could be seen as far away as south New Jersey.
Traffic was heavy in the area at the time.
"All of the cars evidently got out of the way before it lit off. The (tractor-trailer) driver said he was just brought out and started running before it lit," said Chief Kevin Lawrence of the Harmonville Fire Company.
A PennStar Helicopter airlifted the driver to the Hospital of the University of Pennsylvania for treatment of a head injury.
With the fire so intense, the big problem was water. There are no standpipes along the interchange, so firefighters had to truck in supplies.
Firefighters used special trucks from the Willow Grove Naval Station to pour mounds of thick foam on the tractor-trailer to quell the flames. Other firemen hosed down the burning grass nearby.
The truck wreckage had to be pried apart and loaded on to two flatbed trailers after the flames were extinguished. The charred road was swept and checked for damage before the eastbound ramp reopened at 10:30 a.m. and the ramp to the Northeast Extension opened at 12:45 p.m.
Copyright 2005 by NBC5.com. All rights reserved. This material may not be published, broadcast, rewritten or redistributed.
---
Executive Order: Blocking Property of Certain Persons Who Threaten Stabilization Efforts in Iraq
Message to the Congress of the United States Regarding International Emergency Economic Powers Act

By the authority vested in me as President by the Constitution and the laws of the United States of America, including the International Emergency Economic Powers Act, as amended (50 U.S.C. 1701 et seq.)(IEEPA), the National Emergencies Act (50 U.S.C. 1601 et seq.)(NEA), and section 301 of title 3, United States Code,
I, GEORGE W. BUSH, President of the United States of America, find that, due to the unusual and extraordinary threat to the national security and foreign policy of the United States posed by acts of violence threatening the peace and stability of Iraq and undermining efforts to promote economic reconstruction and political reform in Iraq and to provide humanitarian assistance to the Iraqi people, it is in the interests of the United States to take additional steps with respect to the national emergency declared in Executive Order 13303 of May 22, 2003, and expanded in Executive Order 13315 of August 28, 2003, and relied upon for additional steps taken in Executive Order 13350 of July 29, 2004, and Executive Order 13364 of November 29, 2004. I hereby order:
Section 1. (a) Except to the extent provided in section 203(b)(1), (3), and (4) of IEEPA (50 U.S.C. 1702(b)(1), (3), and (4)), or in regulations, orders, directives, or licenses that may be issued pursuant to this order, and notwithstanding any contract entered into or any license or permit granted prior to the date of this order, all property and interests in property of the following persons, that are in the United States, that hereafter come within the United States, or that are or hereafter come within the possession or control of United States persons, are blocked and may not be transferred, paid, exported, withdrawn, or otherwise dealt in: any person determined by the Secretary of the Treasury, in consultation with the Secretary of State and the Secretary of Defense,
(i) to have committed, or to pose a significant risk of committing, an act or acts of violence that have the purpose or effect of:
(A) threatening the peace or stability of Iraq or the Government of Iraq; or
(B) undermining efforts to promote economic reconstruction and political reform in Iraq or to provide humanitarian assistance to the Iraqi people;
(ii) to have materially assisted, sponsored, or provided financial, material, logistical, or technical support for, or goods or services in support of, such an act or acts of violence or any person whose property and interests in property are blocked pursuant to this order; or
(iii) to be owned or controlled by, or to have acted or purported to act for or on behalf of, directly or indirectly, any person whose property and interests in property are blocked pursuant to this order.
(b) The prohibitions in subsection (a) of this section include, but are not limited to, (i) the making of any contribution or provision of funds, goods, or services by, to, or for the benefit of any person whose property and interests in property are blocked pursuant to this order, and (ii) the receipt of any contribution or provision of funds, goods, or services from any such person.
Sec. 2. (a) Any transaction by a United States person or within the United States that evades or avoids, has the purpose of evading or avoiding, or attempts to violate any of the prohibitions set forth in this order is prohibited.
(b) Any conspiracy formed to violate any of the prohibitions set forth in this order is prohibited.
Sec. 3. For purposes of this order:
(a) the term "person" means an individual or entity;
(b) the term "entity" means a partnership, association, trust, joint venture, corporation, group, subgroup, or other organization; and
(c) the term "United States person" means any United States citizen, permanent resident alien, entity organized under the laws of the United States or any jurisdiction within the United States (including foreign branches), or any person in the United States.
Sec. 4. I hereby determine that the making of donations of the type specified in section 203(b)(2) of IEEPA (50 U.S.C. 1702(b)(2)) by, to, or for the benefit of, any person whose property and interests in property are blocked pursuant to this order would seriously impair my ability to deal with the national emergency declared in Executive Order 13303 and expanded in Executive Order 13315, and I hereby prohibit such donations as provided by section 1 of this order.
Sec. 5. For those persons whose property and interests in property are blocked pursuant to this order who might have a constitutional presence in the United States, I find that, because of the ability to transfer funds or other assets instantaneously, prior notice to such persons of measures to be taken pursuant to this order would render these measures ineffectual. I therefore determine that for these measures to be effective in addressing the national emergency declared in Executive Order 13303 and expanded in Executive Order 13315, there need be no prior notice of a listing or determination made pursuant to section 1(a) of this order.
Sec. 6. The Secretary of the Treasury, in consultation with the Secretary of State and the Secretary of Defense, is hereby authorized to take such actions, including the promulgation of rules and regulations, and to employ all powers granted to the President by IEEPA as may be necessary to carry out the purposes of this order. The Secretary of the Treasury may redelegate any of these functions to other officers and agencies of the United States Government, consistent with applicable law. All agencies of the United States Government are hereby directed to take all appropriate measures within their authority to carry out the provisions of this order and, where appropriate, to advise the Secretary of the Treasury in a timely manner of the measures taken.
Sec. 7. Nothing in this order is intended to affect the continued effectiveness of any rules, regulations, orders, licenses, or other forms of administrative action issued, taken, or continued in effect heretofore or hereafter under 31 C.F.R. chapter V, except as expressly terminated, modified, or suspended by or pursuant to this order.
Sec. 8. This order is not intended to, and does not, create any right, benefit, or privilege, substantive or procedural, enforceable at law or in equity by any party against the United States, its departments, agencies, instrumentalities, or entities, its officers or employees, or any other person.
GEORGE W. BUSH
THE WHITE HOUSE,
July 17, 2007.
http://www.whitehouse.gov/news/releases/2007/07/20070717-3.html
---
MORE PAGES ABOUT TERROR ON THIS SITE
It's been two-and-a-half weeks since the first "Terror in the Skies, Again? ... of terror will come from the skies. This has been interpreted ... ...
www.greatdreams.com/terror_in_the_skies.htm
THE KING OF TERROR COMES TO SALT LAKE CITY?
The King of Terror was said to be Jesus Christ. Jesus Christ overturned the merchants tables in the Temple. So, was the tornado... the whirlwind.... the ...
www.greatdreams.com/terror.htm -
THE GRAND CROSS OF AUGUST 17-18, 1999
This is the "sign of the King of Terror" referred to above. The "leader of the Mongols," in the opinion of many, refers to a "Lord of Darkness" or ...
www.greatdreams.com/grand.htm -
ARE WE ABOUT TO SEE THE KING OF TERROR? SEE BELOW FOR THE WHOLE STORY! ... WHAT'S IN THE PICTURE BELOW? IS THIS THE KING OF TERROR? ...
www.greatdreams.com/sun73099.htm
Transcript of President Bush's Speech
And finally, please continue praying for the victims of terror and their families, ... Some speak of an age of terror. I know there are struggles ahead and ...
www.greatdreams.com/bush_speech_92001.htm
Clinton Unveils Cyber-Terror Plan .c The Associated Press. WASHINGTON (Jan. 7, 00) - Saying technology has brought with it too much ''power to create havoc ...
www.greatdreams.com/cybor.htm -
TWO STREAMS OF FUTURE PROBABILITY
You have fallen out of balance, and war, suffering, division, and terror now fill the Earth. The "mystics", in their own quiet way, have held out a light ...
www.greatdreams.com/streams.htm
So part of the war on terror is to deny terrorist weapons." ... The State Department, though, says Pyongyang maintains links with terror groups. ...
www.greatdreams.com/33drm.htm
Sylvester the Cat and Speedy Gonzales - May 5, 2003
Regarding the famous Quatrain 10.72 (King of Terror quatrain): My viewpoint is that "Mars reigns by good fortune before and after" 1999 seventh month means ...
www.greatdreams.com/sylvester.htm - 49k - Cached - Similar pages
Putin's warning as terror deaths top 360 written by: Nick Paton ... School Number One: the full horror of Russia's 9/11 written by: Andrew Osborn - Sep 05, ...
www.greatdreams.com/red_warning.htm
'We are considering an act of terror as one possibility, especially after ... Friday's claim did not refer to al-Qaida, the international terror network led ...
www.greatdreams.com/russia-terrorism.htm
TERRORISM - WORLD TRADE CENTER - 9-11-2001 - MILITARY PAGE 2
Both are in response to last week's terror attacks, and both require a call-up of the National Guard ... US and Britain to strike terror camps within days ...
www.greatdreams.com/trade_military2.htm -
What the outside world calls terror, Saddam calls expediency. ... ''We've got to win the war on terror, we've got to stabilize Afghanistan,'' Senate ...
www.greatdreams.com/d-day.htm
US and Islamic Holidays 2002 - 2004 - Dream of Terrorism
The terror attack occurred in an ultra-Orthodox neighborhood as people were returning to the streets at the end of the Jewish Sabbath. ...
www.greatdreams.com/holidays_2002_2004.htm -
TERROR ATTACKS ON LONDON - BUT BY WHOM? THOSE THE GOVERNMENTS AND MEDIA WILL ... Fox News' Brian Kilmeade: London terror attack near G8 summit "works to . ...
www.greatdreams.com/london_bombing.htm -
SUSPICIONS OF THE SEPTEMBER 11, 2001 EVENTS AT THE WORLD TRADE CENTER
capitalism to the September 11th terror attack, to legitimize their ... FEMA in NYC prior to 9-11 for Project TRIPOD terror drill, scheduled for 9-12 . ...
www.greatdreams.com/suspicions.htm -
BOMBING OF THE WORLD TRADE CENTER - 9-11-2001 - DAY 4
Their pact had been sealed in the terror world's wedding of the century last ... None of the terror experts in the US, Russia or Israel imagined that Bin ...
www.greatdreams.com/trade_day4.htm
TERRORISM - WORLD TRADE CENTER - 9-11-2001 - PAGE 10
From: posse@penn.com (Pastor August & Karley Kreis). 4000 JEWS "ABSENT" FROM JOBS AT WORLD TRADE CENTER ON DAY OF TERROR ATTACK. Published by: AL-MANAR TV ...
www.greatdreams.com/trade_day10.htm
BANGKOK, Thailand (AP) - Linking the threat of terror to their economic ... Washington has pushed the fight on terror into a more prominent place in the ...
www.greatdreams.com/political/electric-octopus.htm -
''The deadly combination of outlaw regimes, terror networks and weapons of mass ... ''The regime of Saddam Hussein cultivated ties to terror while it built ...
www.greatdreams.com/iraq-part2.htm -
To Chaos She brings terror and a swathe of destruction. By means of Love She comes to re-establish those conditions which alone can preserve the human race ...
www.greatdreams.com/lion.htm -
Subj: Terror Alert 2.7.03 - NATIONAL THREAT LEVEL INCREASED ... The Bush administration raised the national terror alert from yellow to orange Friday. ...
www.greatdreams.com/portents.htm
THIS MUST BE WHAT HELL IS LIKE - SAVED BY OUR LADY OF GUADALUPE
All who had spread terror in the land of the living are slain, ... The punishment for their sins rested on their bones, though the terror of these warriors ...
www.greatdreams.com/sacred/hell_saved.htm
A WARNING OF TERRORISM - UPS TRUCKS
FBI Issues Terror Warning for Calif., NM. 54 minutes ago. By TED BRIDIS, Associated Press ... HERE IS THE CURRENT TERROR CELL ARSENAL (what I know of). ...
www.greatdreams.com/UPS-terrorism-warning.htm
BOMBING OF THE WORLD TRADE CENTER - 9-11-2001 - PAGE 8
We are now learning that the terror claimed victims from dozens of countries. ... Any military action in retaliation for the terror attacks on the US would ...
www.greatdreams.com/trade_day8.htm -
BOMBING OF THE WORLD TRADE CENTER - 9-11-2001 - NUMBER SYMBOLISM
WERT A CREDENT LORD, LET RED RENT A CROWD, TERROR DANCE DWELT. DECANT LEWD TERROR, TEN DRACO DWELT ERR, TOWER LENT RED CARD. WE'D ROT RED CENTERAL ...
www.greatdreams.com/trade_numbers.htm
Hezbollah Proud to Be on Terror List. NewsMax.com Wires Sunday, November 4, 2001 ... It was the deadliest Mideast terror attack in five years. ...
www.greatdreams.com/hezbollah.htm
BOMBING OF THE WORLD TRADE CENTER 9-11-2001 - PAGE 6
The agency will have to move fast into the area of terror prevention, ... It also indicated that the masters of international terror intend landing their ...
www.greatdreams.com/trade_day6.htm -
Homeland Security ???? You Are a Suspect You Are a Suspect 11/14 ...
... terror alert level from yellow, or elevated risk of terrorist attack. ... when the US terror alert was raised temporarily to orange, or high risk, ...
www.greatdreams.com/homeland-security.htm
TERRORISTS COMING FROM THE NORTH IN CROP DUSTING PLANES?
(Source: Washington Post, September 23, "Borderless Network of Terror, Bin Laden Followers Reach Across Globe," by Doug Struck, Howard Schneider, ...
www.greatdreams.com/north.htm -
BOMBING OF THE WORLD TRADE CENTER 9-11-2001
"It takes a logistics operation from the terror group involved that is second to none. Only a very small handful of terror groups is on that list. ...
www.greatdreams.com/trade.htm -
THE NEW WORLD ORDER - A GOOD THING?
... but also witnessed real terror and I was always surrounded by fear. ... although there is no longer that kind of terror or fear, I still remain a ...
www.greatdreams.com/nwo_good.htm
THE ELECTION - 2000 - DREAMS AND VISIONS
BEHAVIOR OVER POLICY IN HIS PHONY, STAGED 'WAR ON TERROR!' – By Teresa Hampton, Editor, Capitol Hill Blue Wednesday, July 28, 2004, 08:09 pm ...
www.greatdreams.com/elec2000.htm -
KENT STATE - PROTEST - A DREAM
"Telling Israel it has a right to fight terror but must withdraw before destroying ... It is not the first time Washington has issued a terror warning about ...
www.greatdreams.com/kent.htm -
TERRORISM - WORLD TRADE CENTER - 9-11-2001 - PAGE 9
FBI to question 'terror chief' arrested at Heathrow. By David Bamber, Chris Hastings and Rajeev Syal. (Filed: 16/09/2001). A SUSPECTED leader of a terrorist ...
www.greatdreams.com/trade_day9.htm
THE SNIPER CASE - THE FRENCH CONNECTION
11, 2001, terror attacks in the United States, "these are things we follow very closely." The 25-year-old second lieutenant, who was not identified, ...
www.greatdreams.com/sniper.htm -
THE TRAIN IS COMING - THE DREAM AND PROPHECY
Officials blamed Basque separatists for the worst terror attack in Spanish history. ... Largest Terror-Related Death Toll. Blast Blamed on Separatists ...
www.greatdreams.com/train-coming.htm -
3-15-00 - NEW ANALYSIS OF NOSTRADAMUS KING OF TERROR? IS IT COMING IN THE YEAR 2000? Comet Impact Could Happen At "Any Moment?" ...
www.greatdreams.com/lostland/pole2.htm
Michael Ledeen, author of The War Against the Terror Masters who believes the ... "This is not a civil war, it is part of the broad war against the terror ...
www.greatdreams.com/war/1715-war.htm -
NEW PROPHECIES FROM JUST REGULAR PEOPLE
Sympathy will be widespread, but will not dull the terror of those involved in these incidents. We welcome any feedback from those who would read these ...
www.greatdreams.com/regular_prophecy.htm
TERRORISM - WORLD TRADE CENTER - DAY 2 - 9-12-2001
Organized terror has shown what it can do: execute the single greatest massacre in American ... Subj: [RMNEWS2] World must fight terror threat - Straw ...
www.greatdreams.com/trade_day2.htm -
My children, you have seen new terror, new destruction. ... To you my children I say: There will come terror from the sky and thunder besides, ...
www.greatdreams.com/sacred/dire_jesus5.htm
SOME SHIFTING HAS ALREADY OCCURRED
created an air of terror along with a loss of civil liberties. Though this is most prevalent in the United States, this energy has spread throughout the ...
www.greatdreams.com/shifting.htm -
TERRORISM - WORLD TRADE CENTER - 9-11-2001 - PAGE 11
11 terror attacks in New York and Washington. ... We found out the total scope of the terror back home only after getting to our hotel and turning on the TV ...
www.greatdreams.com/trade_day11.htm
TERRORISM - WORLD TRADE CENTER - 9-11-2001 - PAGE 3
The FBI says the identities of many of those involved in the terror ... Zionists want to create terror in the minds of American people when they hear Islam, ...
www.greatdreams.com/trade_day3.htm -
BRUTALITY AND TERROR. For Hitler terror, brutality and violence were favorite tools, and he admired brutality in others, even in his enemies. ...
www.greatdreams.com/syphilis.htm -
There is great terror, the day of the Lord affects all men from the highest to the lowest, see the similar description of those in Rev 19:17, ...
www.greatdreams.com/solar/black-sun.htm
However, his temper was so violent that soon every creature in the world lived in terror of him. Consequently, Earthmaker had to recall him. ...
www.greatdreams.com/sacred/blue-bear.htm
Revelation 19 - War of Armegeddon
In January 1984, a terror cell was arrested while trying to scale the walls around ... Saturday's disclosures about possible Temple Mount terror plans were ...
www.greatdreams.com/sacred/rev-19.htm -
10-3-2001 - AN ACT OF TERROR OR A LONE KOOK? BUS DRIVER THROAT CUT IN TENNESSEE. 10-2-2001 - ANTHRAX WHAT TO DO IN AN EMERGENCY ...
www.greatdreams.com/political/political_dreams.htm
... fruits of the powers of darkness; he invades the earth with hate, terror, cruelty, heresy, blasphemy and corruption in wars and revolutions without a ...
www.greatdreams.com/smoke_in_the_catholic_church.htm -
TERRORISM - WORLD TRADE CENTER - 9-11-2001 - MILITARY PAGE
... terror attacks could include nuclear, chemical and biological weapons. Israel has voiced strong support for the formation of an anti-terror coalition. ...
www.greatdreams.com/trade_military.htm -
... not yet been barked is obviously the Coming One... the Great King of Terror, which is always the most hated man in the world when he comes in the flesh! ...
www.greatdreams.com/treelife.htm
Other attributes associated with it are terror and wrath. According to some myths, the eye took on a personality of its own, swooping down out of the sky to ...
www.greatdreams.com/horus/eyehorus.htm -
PROPHECIES ABOUT THE NEW MILLENIUM
1999-JUL: Nostradamus predicted that a great king of terror will come from the skies. This has been interpreted by some as referring to a nuclear missile ...
www.greatdreams.com/proph.htm
... and escalation of targeting civilians as much or more than military objectives under the assumptions that terror would break the enemy's will to fight. ...
www.greatdreams.com/blitz.htm -
8: Terror will seize them, pain and anguish will grip them, they will writhe like a woman in labor. They will look aghast at each other, their faces aflame. ...
www.greatdreams.com/judah.htm
... television channels seek out the most pessimistic and sinister forecasts in the belief that provoking terror among the public is a profitable business. ...
www.greatdreams.com/greece-quake-2003.htm
KIARA WINDRIDER - YEAR OF TRUTH - A GLOBAL CALL
The planetary initiation began in that very week, with the events of September 11, and the reign of global terror that has followed. ...
www.greatdreams.com/kiara5.htm - 18k - Cached - Similar pages
WEATHER WARS - RADIO INTERVIEW WITH THE EXPERTS
So there are plenty of ingenious minds out there that are at work finding ways in which they can wreak terror upon other nations…It's real, and that's the ...
www.greatdreams.com/weather/weather-wars-radio.htm
Our war against terror is a contest of will in which perseverance is power. ... Today, the gravest danger in the war on terror, the gravest danger facing ...
www.greatdreams.com/political/blackened-whitehouse.htm
Prophecies on the end of the millennium - on 1999-2000
In that period of terror, there will be great spiritual poverty. (...) Many kings will lose the throne and some kings will recover the throne. ...
www.greatdreams.com/prophen2.htm -
The King of Terror Comes to Salt Lake City? We thought that if the 11:11 was what we thought previously, people would stop seeing it, but they didn't. ...
www.greatdreams.com/brigid-11-11.htm
Timeline: Russian Terror. The hostage takers are threatening to blow up the school if security forces ... WashPost: First day of school was study in terror ...
www.greatdreams.com/russia-terrorism2.htm -
BLACK AND WHITE - THE PROBLEMS IN GUATEMALA
... troops would be disguised with mock United Nations insignia in order to spread propaganda rumours regarding the actual source of this state terror. ...
www.greatdreams.com/guatemala.htm -
BOMBING OF THE WORLD TRADE CENTER - 9-11-2001 - PAGE 7
US push for terror coalition sparks rift with Israel ... FBI were hunting terror two. THE FBI was hunting two of the kamikaze hijackers for a fortnight ...
www.greatdreams.com/trade_day7.htm
Number of the seven official US "State Sponsors of Terror" that Halliburton contracted with: 2 out of 7 Pages of Energy Plan documents Cheney refused to ...
www.greatdreams.com/political/french-connection.htm -
His Horus name was Ka-Waf-Taw (Bull who conquers the land) and his "Two Ladies" name was Aa-nerw (He who inspires great terror). ...
www.greatdreams.com/blue_man.htm -
PROPHECIES BY REGULAR PEOPLE LIKE YOU AND ME
There will be terror and heartache, blistering heat. ... As people are gripped by terror, they will turn to a source of answers. Stay close to Me and I will ...
www.greatdreams.com/regular_prophecy2.htm
... hath waved His hand over the river, In the terror of his wind, And hath smitten it at the seven streams, And hath caused [men] to tread [it] with shoes. ...
www.greatdreams.com/sacred/eight_pointed_star.htm
GREATDREAMS - EARTHCHANGES - NEWS OF TERRORISM
US officials said Mr. Ressam is linked to the Osama bin Laden terror network, ... ''If this proves to be a terror attack we totally condemn it,'' he said. ...
www.greatdreams.com/terrsm.htm -
www.greatdreams.com/terror.htm. Tidal Waves. - Dreams - Unsolved Mysteries ... I have had tornado dreams before but nothing as realistic feeling as this one ...
www.greatdreams.com/superstorm.htm
PEAS, BEANS, AND BARLEY ... OHHHH!
And anti-terror chiefs begged anyone who saw anything suspicious to come forward. The search is likely to continue for several days. ...
www.greatdreams.com/peasbns.htm -
MY FATHER COMES TO VISIT - A DREAM AND PROPHECY- 5-30-99
(8): Terror will seize them, pain and anguish will grip them, they will writhe like a woman in labor. They will look aghast at each other, ...
www.greatdreams.com/father.htm -
DREAMS AND MYTHOLOGY OF CATS AND OTHER FELINES
He thinks the King of Terror will appear as a great war. There was a clue in the date the Barbury Castle Crop Circle pattern appeared, July 17, 1991. ...
www.greatdreams.com/cats/cats.htm
God of Atlantis = Terrible/Terror God = Thuderbolt/Lightening. 37. Asteroid arrives when Earth-Moon-Venus align. 38. Moved records of wisdom to temples of ...
www.greatdreams.com/thoth.htm -
The war on terror, he claims, is like the Civil War: a rich man's war and a poor man's fight. Still, it's a tough sell. Memories of Vietnam haven't dimmed ...
www.greatdreams.com/political/unarmed.htm
WHAT WOULD YOU DO IF THE ELECTRICITY WENT OFF?
No Evidence Blackout Was Act of Terror. by Associated Press. Seattle Post-Intelligencer - August 14, 2003. WASHINGTON -- Law enforcement officials quickly ...
www.greatdreams.com/blackout.htm -
TERRORISM AT THE WORLD TRADE CENTER, PENTAGON, AND PENNSYLVANIA 9 ...
... said he could give neither a time nor a date for full resumption of air service, stopped by unprecedented government order after Tuesday's terror attacks in ...
www.greatdreams.com/passengers.htm
DREAM GATES - THE IMPORTANCE OF DREAMS
It was the absolute recall upon awakening that got to me, plus what the children told me about the way they died and the terror they felt as they sank in ...
www.greatdreams.com/dream-gates.htm
NATIONAL SECURITY - HOLIDAY TERRORISM
Radical states with reputations for supporting terror, such as Iran and Libya, ... Two Killed, Many Maimed in Terror Attack Monday on Gaza School Bus ...
www.greatdreams.com/wacovst.htm -
That which is rotten will fall, and that which fall will never rise again. The Church will be darkened, and the world will be overturned by terror. ...
www.greatdreams.com/booth/booth.htm
"And make it clear that he had outlined some very specific plan for the future, not only on the management of the war on terror but on the economy, ...
www.greatdreams.com/political/clinton-heart.htm
The Symbolism and Spiritual Significance of the Number Three
ÆgishjalmaR: Literally, the "Helm or Awe (in its meaning as "terror")". The Helm of Awe is sometimes found beside figures of warriors and is an important ...
www.greatdreams.com/three/three.htm -
Star Wars: The Next Generation
Only one thing has ever ended a terror campaign -- denying the terrorist ... The battle against terror must be waged with intelligence and realism, ...
www.greatdreams.com/war/starwars.htm
THE PYRAMID AT GIZA AND THE MAGNETIC NULL ZONE
KING OF TERROR - SALT LAKE CITY? 8-11-99 · KING OF TERROR - 7-30-99 · LATE BREAKING NEWS JUNE 9, 1999 · HONORING THE ANCIENT ONES ON THE GREAT PYRAMID ...
www.greatdreams.com/null.htm -
Jesus Christ overturned the merchants tables in the Temple. So, was the tornado... the whirlwind.... the ... www.greatdreams.com/terror.htm - ...
www.greatdreams.com/21.htm -
Other groups would just go into total terror and fall apart, knowing that we ... There are a lot of people who would sit there and go into terror with this ...
www.greatdreams.com/shadow.htm
DIRE MESSAGES OF JESUS AND MOTHER MARY - PAGE 10
In the midst of all the terror,. I AM YOUR HAVEN OF PEACE. Reside in My Sacred heart, My mother's Immaculate heart and Joseph's gentle, humble, pure heart. ...
www.greatdreams.com/sacred/dire_jesus10.htm
SMALL POX - THE DREAM AND THE REALITY
Jon Cohen, the author of Shots in the Dark, writes for Science magazine. You can e-mail him at joncohen45@hotmail.com. UN'S SMALLPOX TERROR ALERT ...
www.greatdreams.com/smallpox.htm -
ANOTHER PEARL HARBOR IN OUR FUTURE?
... chemical or nuclear terror attack on the GOP and its nominees — the kind of attack that might force a declaration of martial law. ...
www.greatdreams.com/land_forces.htm
SUSPICIONS OF THE SEPTEMBER 11, 2001 EVENTS AT THE WORLD TRADE CENTER
capitalism to the September 11th terror attack, to legitimize their pre-existing foreign policy agenda, and to establish and ...
www.greatdreams.com/suspicion.htm -
ON THE BEACH - IT'S JUST A MOVIE - RIGHT?
... print.12 Another movie to cash-in on the early atomic mystique was Shadow of Terror (1945), ... Nuclear Terror and the Cult of Secret Agents ...
www.greatdreams.com/atomic.htm
SOLAR ECLIPSE 1999 - FINAL QUEST FOR THE HOLY GRAIL
Nostradamus & the King of Terror - Franks Casket, by William Henry · King of Terror = Peacemaker & Christ - On The Trail Of The Peacemaker. --------------- ...
www.greatdreams.com/eclipse.htm
DREAM - THE KEEPER OF THE TRUMPETS
Underneath the picture were the words: KING OF TERROR. 1-6-02 - DREAM - I was in a city but don't know where. It seemed like it was Milwaukee. ...
www.greatdreams.com/trumpets.htm
BOMBING OF THE WORLD TRADE CENTER - 9-11-2001 - DAY 5
It has created this vast terror state, through which you cannot travel with a ... But for every "terror network" that is rooted out, another will emerge ...
www.greatdreams.com/trade_day5.htm
DIRE JESUS MESSAGES - PART 7 - FEBRUARY, 2002
All the universe will be struck with terror and many will let themselves be led astray because they have not worshipped the true Christ who lives among ...
www.greatdreams.com/sacred/dire_jesus7.htm
I cannot describe the terror of it. I was forced to forgive Hitler. It seemed to be a little ridiculous at the time, but I came to see this as an important ...
www.greatdreams.com/puzzles.htm -
Radical states with reputations for supporting terror, such as Iran and Libya, are seeking germ weapons. -- Terrorists ... BOMBING OF THE WORLD TRADE CENTER ...
www.greatdreams.com/war/tulghur-iran.htm
Carol Brouillet says she believes Bush used the September 11 terror attacks as a ... The war on terror was a clear point of contention among the protesters. ...
www.greatdreams.com/political/ bush-protests-inauguration.htm
Guardian Unlimited | Special reports | Heathrow terror puzzle ... One is titled, "Is This Building The Next Terror Target?" ...
www.greatdreams.com/crop/lazarus/laznotes.htm -
... in the midst, which were for entering into a covenant, a deep sleep fell upon Abraham, and behold a terror of great darkness falling upon him. ...
www.greatdreams.com/sacred/red-heifer.htm -
11 terror attacks against the US However, many Croats are Muslim and Osama bin Laden did provide both money and manpower for fighting in the region some ...
www.greatdreams.com/bus_crash.htm -
Clearly, what you are witnessing is a well organized terror campaign carried out by mostly well-meaning, yet grossly ignorant, 'authorities' medically ...
www.greatdreams.com/sars.htm -
... government by Islamic fundamentalist groups opposed to Pakistan's cooperation with the US-led coalition against terror: "The demonstrations organized by ...
www.greatdreams.com/india.htm -
1260 - CHANDRA LEVY ADDRESS - A CONNECTION TO REVELATION?
Rev. 11:11-12 -- But after the 3-l/2 days a breath of life from God entered them, and they stood on their feet, and terror struck those who saw them. ...
www.greatdreams.com/sacred/levy.htm
Still other observers believe the "King of Terror" refers to electromagnetic pulse ("EMP) mood management and mind control weapons that can affect the moods ...
www.greatdreams.com/pakistan.htm -
DIRE MESSAGES FROM JESUS AND HIS MOTHER MARY - PAGE 4
You again are facing terror from the militant Moslems as in years ago. I tell you now to rely more on prayer than your military weapons. ...
www.greatdreams.com/sacred/dire_jesus4.htm
WEAPONS OF WAR - REVELATIONS 9:13-21
So part of the war on terror is to deny terrorist weapons. ... the Treaty on Nonproliferation of Nuclear Weapons, says extending the war on terrorism by . ...
www.greatdreams.com/war/weapons_of_war.htm
ATF GETS THEIR MAN!!!! 8-31-2001
A Family's Siege of Terror in Shootout. Violence: While bullets flew, a neighbor couple cowered for safety with their infant. The husband describes the ...
www.greatdreams.com/atf_8-31-2001.html -
The Changing of the Guard: Part III: Illuminati Life and Propaganda
I have been feeling little cold trickles inside me lately, twinges of terror. Sometimes, I hear a child inside, deep inside, screaming, and I sweat as I ...
www.greatdreams.com/political/media03.html -
25 - Go not forth into the field, nor walk by the way; for there is the sword of the enemy, and terror on every side. 26 - O daughter of my people, ...
www.greatdreams.com/sacred/daughters_of_zion.htm
GREAT DREAMS - EARTHCHANGES - CONSPIRACIES
The Oklahoma City Bombing and the Politics of Terror: Book Review ... Robespierre, Napoleon, Jacobin Terror, and the Committee of ... The Universal Way ...
www.greatdreams.com/consp.htm
But a Samara employee told Davis he saw them cheering the terror attack and vowing to die in Saddam's service. Davis then used surveillance camera to take ...
www.greatdreams.com/john-doe-2.htm
DREAMS OF BASEBALL GAMES WITH INTERPRETATION
... the "King of Terror" in Nostradamus C10, Q72, about "1999 and seven months." The King of Terror is Jesus. The meaning is that, when enlightenment comes, ...
www.greatdreams.com/baseball.htm -
The Mental Destruction of Paul Bennewitz
There is no reason why they should have to endure the additional terror of being inundated by sensationalized rumors about aliens that began ten years ago ...
www.greatdreams.com/Falcon-Richard-Doty.htm -
ARE YOU GIVING UP YOUR FREEDOMS FOR SECURITY???
NUCLEAR ARMS TALKS AND A PROPHECY

RED LINE BLUE LINE

CONCENTRATION CAMPS IN THE U.S.
DON'T BE IN DENIAL - THEY EXIST

DR. JOHN COLEMAN
A PROPHET IN OUR OWN TIME
THE COMMITTEE OF 300
FIND OUT HOW OTHER COUNTRIES ARE TAKING OVER THE U.S.
WITHOUT FIRING A SHOT

NOAM CHOMSKY - AMERICAN DISSIDENT

SURVIVAL
++