.
DO YOU HEAR COLOR OR SEE SOUNDS?
LETTER, NUMBER-COLOR SYNAETHESIA
4-20-2002
BY Ciprian Pater
I believe this matter is very important for those who seek to establish a faith beyond the perceptions of common natural man, since a new heaven and a new earth will come forth it will so do within the senses we have inherited from all times past, then one may ask , just why have we these powers of being aware of things, especially light, whom we all seek to follow even to the extent that we believe we are able to distinguish between the light of Jesus and Lucifer. This point stands out from this fact I found:
OVERVIEW:
With A=100, B=101, etc.,
'MESSIAH' = 767 = 'LUCIFER.'

MESSIAH = M (112) + E (104) + S (118) + S (118) + I (108) + A (100) + H (107) = 767

LUCIFER = L (111) + U (120) + C (102) + I (108) + F (105) + E (104) + R (117) = 767
Now I believe the knowledge of Synaesthesia may help us faithful followers of truth to seek this matter out not just by the way we perceive words that are written in the 66 books of the Bible but also because of Light is the same from all stars , be them smaller or greater than our Sun , thus we may find the origin of our own beings of stardust and spirits of light .
All of this amazed me again since I remembers what I've learned with something an old lady told me before. Until now she was the only one I knew had this ability of being .
Yet in a matter of spirits , I believe we all humans dwell sealed within this type of sensory selves, unaware of our conscious perceptions of reality .
There is an old woman in Sweden who is 72 years old. She told me that all her life she sees a color each time she hears or sees a number , and the positions of these attributes have never changed as she remembers it very clearly. I will once again write these for others to see, and perhaps memorize and use later in all day life of searching for God.
This ability she owns by creation is a God made thing to her eyes; it's a gift which not all have, even if one learns. Her eyes are natural born with this capability. yet I wonder how it can help us ?
1, white
2 ,yellow
3, green
4, red
5, blue
6, orange
7, violet
8, greygreen
9, brown
0, lightgrey

In science of colors ,red (4) , green (3), and blue (5), are primary additive colors, mixing the three together gives white light. When two primary colors are mixed, the eye sees a mixture of colors that the brain interprets as a single color.

4+3+5 = 12 invisible Tribes

Notice that black is not one of the numbers , neither is 10 as last number but zero .Technically speaking, white is not a color at all, but rather the combination of all the colors of the visible light spectrum. If all the wavelengths of the visible light spectrum give the appearance of white, then none of the wavelengths would lead to the appearance of black. Once more, black is not actually a color. How were her eyes created to see this which other men can never see, even unto knowing the limits of darkness ?
So even others see the same or do they see otherwise ?
Letter-Color Synaesthesia

Cassidy Curtis

For as long as I can remember, I've had this implicit sense of a relationship between letters and colors. To me, every letter seems to have a color of its own. When I think of a word, I am aware of its color and the color of its component letters. The phenomenon is consistent enough that I can rely on it to help me remember things like phone numbers and proper names. I call it my letter-color synaesthesia.

Webster's Dictionary defines synaesthesia as "the production of a mental sense-impression relating to one sense by the stimulation of another sense." In my case, the sense-impression (color) comes from a purely mental event (thinking of a word), not from any external sensory stimulation.

The effect is completely involuntary. It's a bit like what happens when you think of a word like "banana": maybe you see the spelling in front of your mind's eye, or maybe you hear the way it sounds in your mind's ear. But it's pretty likely that you are also at least faintly aware of the color yellow. That's pretty much what it's like: a faint awareness that can be brought to my full attention under certain circumstances.

Here's an approximation of the basic mapping of the letters and numerals, taken individually, to colors:


Here they are again, over a dark background:


This may seem odd, but it gets stranger. What you see above are the colors of the letters taken in isolation. But when placed in the context of a word, a letter's color can change quite dramatically.

First of all, vowels almost always fade into the background in the presence of consonants. They also tend to pick up some of the color of letters nearby. For example, the "A" in my name is overwhelmed by the strong green of the letters around it:

In longer words, the repetition of a single letter can even influence the other consonants, as in this case:

However, this is less often the case in a word that begins with a vowel. The letter "I" can give an entire word a luminescent quality, and the consonants often lose some of their power in its presence: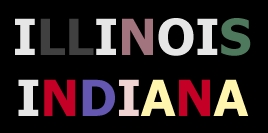 The color effect has very little to do with the pronunciation of a word. It has everything to do with the spelling. The first letter in particular has enormous influence: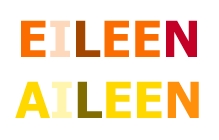 The meaning of a word also has an undeniable influence on its color. For example, the word "banana" is as yellow for me as I imagine it is for anyone else, despite the fact that its letters are predominantly red. This fact was brought to my attention most recently when I encountered a new word:

Later, when I learned what the word meant, its color changed accordingly. Phthalocyanine turns out to be the name of a vivid blue-green pigment used in paint. Now the word looks something like this:

As I mentioned, I sometimes use my synaesthesia to help me remember difficult proper names. Here's a Thai chef who wrote a terrific vegetarian cookbook:

Unfortunately, this method can backfire too, because I confuse similarly-colored names easily: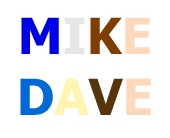 This is especially problematic at parties.
Frequently Asked Questions
Q: How and when did you get this synaesthesia?

A: I can't remember ever not having it, but then I also can't remember ever not being able to read. I suspect that both of these things happened at the same time. Judging by the strong primary colors of the first five letters, I'm inclined to think that maybe refrigerator magnets are to blame. (Although the refrigerator magnets I currently own are all wrong!)

Q: Do other people have it too? If so, are their colors the same as yours?

A: Apparently this type of synaesthesia (chromatographemic) is one of the most common forms, affecting about 1 in 2,000 people. At the time when I wrote this page, I had never met another synaesthete-- or so I believed! Now that the page has been up for a while, a few of my friends have "come out" as synaesthetes, and I've met several others via email lists. We're everywhere!

There are some other folks who have put up similar pages on the web, and their colors are in fact completely different from mine (and from each other's!) For example: Robert Cailliau, Andreas Liesche, Carol Steen and Karen Chenausky.

Q: Why are the first few numbers the same colors as the first few letters?

A: I have no idea. Maybe it's those darn magnets.

Q: What do Hebrew, Arabic, and Chinese look like to you?

A: Writing systems I can't read look like little black shapes on a white background. They have no color effect whatsoever. However, when I learn to read a foreign alphabet like Hebrew, each letter acquires the color of its English transliteration. So, for example, mem becomes dark blue like 'm', and chet becomes green-and-pink like 'ch'. When I'm struggling to read a line of Hebrew text, the letters start out black-and-white, but then they leap into full color as I begin to understand them. The effect is really quite dramatic!

Q: How about diacritical marks? Accents, punctuation, etc.?

A: They add little flecks of spice to the word, but don't change its color appreciably. Grave, acute, and circumflex accents are all flecks of dirty brown-black, and the little circle over the letter A is milky white like the letter O.

Q: Any resources on the web about this stuff?

A: It turns out there's a terrific website by a group of scientists studying exactly this phenomenon! Check out The International Synaesthesia Association. Also, MIT has a good site.

More from others .

One odd brain experience frequently linked with artistic genius is synaesthesia - "seeing" sounds, "hearing" colors. Some have claimed the cross-referencing of one sense to another as a source of inspiration for creative brilliance. In fact it may be an "ability" any number of us have, artists or not.

The great Russian psychologist A R Luria spent many years early in this century studying the phenomenal memory of a man called S. In his classic book 'The mind of Mnemonist', Luria recalls how he first uncovered the key to S's extraordinary abilities. S was recounting a huge table of data - reading off the numbers from a mental image he had created - when someone coughed. S faltered and complained that the cough had shown up as a puff of steam on his mental image and interfered with his ability to recall.

S's experience was a typical example of synaesthesia - he perceived an input in more than one sensory mode. On being presented with a high-pitched tone S said, "It looks something like fireworks tinged with a pink-red hue. The strip of color feels rough and unpleasant, and it has an ugly taste - rather like that of a briny pickle. You could hurt your hand on this."

Russian composer Alexander Scriabin included his experiences of synaesthesia in a work called 'Prometheus or the poem of fire', which includes an instrument called a color organ, whose keyboard projected colors on to a screen. Other composers who have used synaesthesia in their work include Liszt, Rimsky-Korsakov, Messiaen and Scriabin. You may detect synaesthesia in the paintings of Kandinsky and Hockney, and Vladimir Nabakov writes about his own and his mother's experience of synaesthesia in his autobiography.

The phenomenon also interested film-maker Sergei Eisenstein and poets such as Rimbaud and Baudelaire, but despite the role synaesthesia may have played in creativity and culture, it has been regarded as little more than a psychological curiosity until recently.

Over the last few years, however, Simon Baron-Cohen and John Harrison of Cambridge University have used a mixture of brain imaging and interviews to discover whether synaesthesia is a genuine sensory experience - or just the product of a fertile imagination. you might describe music as 'green' or 'purple' - but that doesn't mean you are actually perceiving colors.

The psychologists presented 100 words to people who experienced synaesthesia and asked them which colors they associated them with, months later they were retested - and came up with the same colors. If you do the same test on people who don't experience synaesthesia, the associations don't persist. The test also showed that there are two sorts of synaesthesia, for some people, the color depended on what letter the word began with, for others, the color depended on the word itself.

About one person in 2000 experiences synaesthesia and it is about four times as common in women than in men. Surprisingly, there's little evidence that it's commoner in creative people or artists. Most synaesthetics had experienced it for as long as they could remember - although they tended to keep it to themselves. indeed it was difficult for synaesthetic subjects to describe the experience at all.

To find out what happens in the brain when someone has a synaesthetic experience, Harrison and Baron-Cohen turned to 'pet' scanning. They found that there is increased blood flow in the parts of the brain concerned with color perception in subjects with synaesthesia when they are listening to words. Control subjects do not show the same pattern of blood flow - which suggests that synaesthesia is a genuine phenomenon taking place in the brain. It may be that people with synaesthesia have extra connections in their brains between areas concerned with auditory and visual perceptions.

Now Baron-Cohen and Harrison are extending their studies away from audible color in the direction of 'colored smell' and are working with young people to see how the acquisition of synaesthesia may be linked to learning to read. they are also looking into the possibility that synaesthesia has a genetic basis...

(taken from focus magazine)

~~~~~~~~~~~~~~~~~~~~~~~~~~~~~~~~

FROM 60 Minutes II - August 14, 2002 on www.cbs.com


Ray McAllister sees music: "A bright flash of lavender getting dimmer and dimmer; now we're going over a pink staircase, some lavender violins."

Carol Crane feels music: "I always feel guitars on my ankles and violins on my face."

For Carol Steen, every letter has a color: "Z is the color of beer, a light ale."

And James Wannerton tastes words: "New York is, it's runny eggs. London is mashed potato, but it's extremely lumpy mashed potatoes."

They're not on drugs, they don't have any brain disease. They haven't had a stroke. They're born this way, and they're different from the rest of us, reports correspondent Vicki Mabrey.

Neurologist Richard Cytowic explored this surreal world of synesthesia in his book, "The Man Who Tasted Shapes." He's documented hundreds of cases of synesthesia.

"You know the word anesthesia, which means no sensation," explains Cytowic. "Synesthesia means joined sensation, and some people are born with two or more of their senses hooked together so that my voice, for example, is not just something that they hear, but it's also something that they might see or taste or feel."

He says it's a condition that it's been known to medicine and psychology for 300 years.

For as long as he can remember, words have triggered the part of Wannerton's brain that responds to tastes and flavors.

"I can remember being in a big school assembly hall - listening to the Lords Prayer recitals," he says, "and it was while listening to that, I used to get flavor after flavor coming in. It was mostly bacon, funnily enough, now I remember."

He didn't know what to think about it. "It wasn't unpleasant. So I just lived with it. It didn't occur to me that it was different," he says.

While most people simply hear a concert, Carol Crane actually feels it - every instrument, every note. She says it's very pleasant, for the most part, "But I notice that every time leave a symphony, I feel as if I've just been run over or something, like I'm just drained."

For New York artist Carol Steen, synesthesia is inspiration. She translates music into art, but she says all sounds produc color for her.

"It's like putting on sunglasses and being able to see the world through the sunglasses," she says.

Though there are dozens of forms of synesthesia, Carol Steen has the most common: seeing letters and numbers in color. The colors never change. She's seen the same letters in the same colors her whole life.

But Carol Crane sees those letters in different colors. Synesthetes may disagree on what color the letter "A" is, but there's one thing they share - a sense of isolation. Many are embarrassed, afraid of being ridiculed, so often they keep their condition to themselves.

"I remember over the years," says Crane, "having discrete experiences with people such as asking them, 'What color is your three or five' or something like that, and I would get a look like 'Are you crazy?' So I stopped asking the question."

About four years ago, she discovered that it was normal and that there was a name for it and that there were other people who had the same experiences. She also discovered that people close to her were keeping the same secret. Her sister, niece and son all have synesthesia; it runs in families.

Although most people have never heard of synesthesia, it is hardly a new discovery. By 1910, scientists had written dozens of papers describing the condition. It was a curiosity, believed to affect creative types - the writer Vladimir Nabokov had it, and so does the painter David Hockney.

Now, medical technology can now reveal what happens inside the synesthete's mind.

Dr. Vilyanur Ramachandran, a neurologist who studies quirks of the brain, was imaging the brain of 27-year-old McAllister, the man who sees music.

During the scan, music stimulated McAllister's audio cortex - and his visual cortex. "That area lit up in him," says Ramachandran. "So you know there was activity in the visual area of his brain even though he was only listening to music."

McAllister describes it as a "Fantasia-"like experience: "Explosions of color all over the place. It looks very beautiful."

This is all the more surprising since McAllister is blind. He lost his sight when he was 12, the result of a degenerative eye disease. But he never lost his synesthesia.

"I may actually be seeing more beautiful colors than most sighted people," he says.

Though scientists can prove synesthesia exists, they still don't know what causes it. Some think it's cross-wiring in the brain; others believe we're all born with synesthesia, but our senses separate as we grow older.

Wannerton says his synesthesia has caused him more than a few problems in his personal life. "I've had girlfriends with names I couldn't stand saying. I'll give you an example. Tracey is a very strong flavored name and it's flaky-pastry. Whenever I was in her company, that's what I thought of constantly."

It sounds amusing, but for Wannerton, synesthesia is a constant battle and at the end of the day, he suffers from sensory oerload.

But still he wouldn't want a cure. "I've had it since I can remember, and taking it away, I wouldn't like the thought of that," he says.

And researchers like Cytowic aren't looking for a cure; they're studying synesthetes for the remarkable clues it offers to the mysteries of the human mind.

"These people experience the world in a different way," he says. "Their senses are wired together differently."

Crane wouldn't have it wired any other way. "I just think the world would be rather flat," she says.

© MMII, CBS Worldwide Inc. All Rights Reserved.

~~~~~~~~~~~~~~~~~~~~~~~~~~~

SYNESTHESIA SEARCH ON WWW.GOOGLE.COM

Magical Healing Sounds - Click on your color choice ... People can heal themselves with color, sound, and cell cleansing no matter what kind of ...
www.greatdreams.com/sound.htm

COLOR ENERGIES AND HEALING THE COLOR RAYS OF CREATION · SOUND/COLOR TABLE ... frequencies of color, light and sound through a series of harmonically ... ...
www.greatdreams.com/hertz.htm -

In a previous vision earlier this week, I had been told that we are all 'color, sound, and light' so that rather fit with it. ...
www.greatdreams.com/fibonaci.htm

A rustling sound preceded his appearance and then he was suddenly there. ... has a sound and a color with a nuance of tone according to how it is spoken. ...
www.greatdreams.com/soundrm.htm

http://www.greatdreams.com/sound.htm ... LAVENDER: is the color of equilibrium, it helps with spiritual healing. It is used as a tranquilliser and it will ...
www.greatdreams.com/color-energies.htm

matrix of frequencies that can be experienced as color, sound, matter, and ... www.spiritofmaat.com/archive/jan4/williams.htm -. exposure of the truth . ...
www.greatdreams.com/gem13.htm

Awesome spider web lightning with no sound, rainbow colors in the clouds. ... Except the Ship did not make any sound - it is a silvery lavendar color - 3 ...
www.greatdreams.com/joydlt.htm -

Its predominant harmonic is balanced by the lesser color of green, aligned to the bio-genesis of the Tribe ... The Rainbow of Creation · Healing With Sound ...
www.greatdreams.com/himalayan/meridians.html

He radiates waves of sound and through his work will come much sound ... He endeavours to bring colour into the fashion world, into hospitals and schools. ...
www.greatdreams.com/masters/paul-venetian.htm

Think in terms of one octave of color, sound and frequency vibrations harmonically aligned to its descending and ascending ladder. ...
www.greatdreams.com/chin.htm -

... field with vibrational radiance, which translates into the seven main colors of the rainbow. These unique sound vibrations emitted by the crystal bowls, ...
www.greatdreams.com/bowls.htm

Sound and Color Table · Color Energies and Healing - The Color Rays of Creation · Chakra Balancing · Christ and the Kundalini ...
www.greatdreams.com/crpchk1.htm

I had also had two dreams that involved the color yellow. ... A horn can amplify sound. It can be put to the ear to better hear sound, or to the mouth to ...
www.greatdreams.com/plpath2.htm -

Another angel/entity came and told me that each word spoken has a sound and a color with a nuance of tone according to how it is spoken. ...
www.greatdreams.com/gapvis.htm -

... the sound is heard that is not made by any two things striking together." ... Above the heart center, the path remains single, the color of pollen. ...
www.greatdreams.com/plpath1.htm -

The colors were 33 1/3% each of Red, Orange, and Yellow - in a curved ... was in charge of laying down strips of carpet to deaden the sound of the drummer. ...
www.greatdreams.com/myth/weaving.html

It is also called the udjat eye or utchat eye, which means "sound eye". ... When we Hear a sound or combination of sounds we find this to be pleasing or ...
www.greatdreams.com/horus/eyehorus.htm -

... a third horn - there is an unprecedented depth of orchestral color. ... The first movement has an abundance of such "new" orchestral sounds and ...
www.greatdreams.com/eroica.htm -

The tiniest noise was greatly amplified to a roar, and bright colors were so strong and ... Harry listened to the swishing sound of him brushing his teeth. ...
www.greatdreams.com/harry.htm -

The liquid substance was a different color in each cylinder. ... I kept calling his name and slowly inched my way towards the sound of his cries. ...
www.greatdreams.com/shasta.htm

It's voice had a wondrous sound. It sounded a little like the buzzing of a ... It was so black that I could begin to see colors in it, like the rainbow. ...
www.greatdreams.com/sacred2.htm

... diamond with the color coded sets of five groups of four circles. ... The concepts conveyed in The Tantric Way speak of the vibration "as sound. ...
www.greatdreams.com/plpath3.htm

He couldn't tell where the sound was coming from and it was fading quickly. ... I drew the picture in different colors to differentiate the different parts ...
www.greatdreams.com/et.htm -

Each of the seven rays activates the Light of God on a specific color and frequency. Each ray can also manifest as a flame of the same color and vibration. ...
www.greatdreams.com/grab.htm

COLOR ENERGIES AND HEALING ... and. http://www.greatdreams.com/sound.htm. Color Visualization ... More about Blue. Blue and Health. ...
www.greatdreams.com/channeling.htm

There is a slight blurring and color offset along the grid lines. ... 24And when they went, I heard the sound of their wings like the sound of many waters, ...
www.greatdreams.com/joeufo/ufosdcc.htm -

... on a white wall with the various colors and when you stood in front of the color, ... SOUND AND HEALING · DOWSING - THE MASTER RESOURCE PAGE · KUNDALINI ...
www.greatdreams.com/wired.htm -

We will say to you that this frequency also has color and sound, too, but at this time, this is only an aside. If you will look at situations in your life ...
www.greatdreams.com/ptaah.htm -

Pink is one of the colors of the Heart Chakra which is a positive sign. ... Kriya Mantra Yoga: the mental repetition of subtle sounds to awaken the ...
www.greatdreams.com/sacred/144.htm

I heard the sound of a rooster down the street, but embedded within the sound, in my mind it said, ... It reminded me of people, all segregated by color. ...
www.greatdreams.com/tx.htm -

It was glinting colors of red, white, and blue. ... The one on the left corner had three arm movements and three sounds. The one on the right had two arm ...
www.greatdreams.com/nine/nine.htm

My skin is mainly of a green-beige colour - more pale green - and we have some ... The following may again sound unbelievable and even shocking to you, ...
www.greatdreams.com/lecerta.htm -

1, 1970, I became a walk-in and my whole personality changed as well my eye-color from blue to ... These word sounds have meanings, not sounds that match. ...
www.greatdreams.com/extra.htm -

The Mandelbrot Set Crop Circle Formation

Based on the number of computations, a chosen color is placed at that coordinate ... The power of the sound is like the huge hand of the Creator strumming ...
www.greatdreams.com/crop/mndlbrt/mandlbrt.htm -

THE SYMBOLISM AND SPIRITUAL SIGNIFICANCE OF THE NUMBER 72

The one on the right had two arm movements and two sounds. ... The color green uniform of the solider was the same color green which was the color walls of ...
www.greatdreams.com/72.htm -

Princess Diana - the aftermath dream and events

The color black symbolism: Sable or black - Constancy, sometimes grief. ... And when they went, I heard the sound of their wings like the sound of many ...
www.greatdreams.com/Princess2.htm

DEES DREAMS AND VISIONS - NOVEMBER, 2004

... or fir tree/bush that was the most brilliant red color I've ever seen. ... Then I heard a popping sound like a gun shot and then a girl screaming. ...
www.greatdreams.com/nov2004.htm -

THE CHANGING OF THE GUARD - Part Two: Illuminati Revealed

I have yet to find an image that precisely matches the colors that we saw, ... While this may not sound like many, imagine 1% of the population highly ...
www.greatdreams.com/political/media02.html

WEATHER WARS - RADIO INTERVIEW WITH THE EXPERTS

You'll get other weaker colors represented from the spectrum, but those are ... SS: Sounds good. MH: Alright cool, back in a minute, this is Mike Hagen and ...
www.greatdreams.com/weather/weather-wars-radio.htm

DEES DREAMS AND VISIONS - FEBRUARY, 2000

All the clothes were sorted by color, slacks and skirts and there were colored ... When I saw the words close up, it said, "Voice is the edge of Sound" ...
www.greatdreams.com/feb2000.htm -

ANIMALS, BIRDS, AND INSECTS AND THEIR MEANINGS

The sound denotes 'elevated' poetry, immortality or life after death. ... A symbol for the souls of the world, ash-grey is the color of penitence, ...
www.greatdreams.com/animals.htm -

KNITTING A STORY - THE NUMBER 26 - THE MAYAN CONNECTION

If the first sign in dog glyph had the sound value tzu, the second sign ... It was rather a golden pink color ... a shade I can't recall ever seeing before. ...
www.greatdreams.com/26.htm -

Dream centre' of the brain found

I dream in living color sometimes so real that I can't tell if they are a dream or a memory. ... 3.4, Sound sleep, 3.5, Feeling of unity with everything, ...
www.greatdreams.com/brain-dreams.htm -

DREAMS OF JESUS - HIS SECOND COMING

It was beautiful, and it was the sweetest sound and I felt so happy there. ... The man said it held crystals of three colors. He named the colors and I ...
www.greatdreams.com/jesus4.htm

MASTER NUMBER 555 - 500 TRUMPETS and 250 DRUMS

The color was blue-grey, but it was soft like kitten fur - and thick plush. ... The Hathors were teachers of sound healing. They say: "Our own nature is ...
www.greatdreams.com/500-trumpets.htm

... in many aspects of physics, in color, in sound, the spectrum; in chemistry, ... The sound of Hummingbird's wings reminds The People of little bells ...
www.greatdreams.com/alex/sacred-birds.htm

WHAT IS A WALK-IN AND WHAT DO THEY DO?

... by running different frequencies of color, light and sound through a ... If this sounds ridiculous and confusing, I can assure you that is a valid ...
www.greatdreams.com/walkin.htm -

DONUT (DOUGHNUT) SHAPED CLOUDS - THE DREAM AND THE REALITY

Her dress was a similar golden color. She was lightweight, not heavy. ... Your cloud sounds to me like a lenticular (lens-shaped) cloud. ...
www.greatdreams.com/donut.htm -

DEES DREAMS AND VISIONS - - MAY, 2003

It was an old CD with old hokey songs, and the sound was fuzzy besides so I ... There were 6 colors of jello in this bowl - each color individually placed ...
www.greatdreams.com/may2003.htm -

DREAMS OF THE RIDER ON THE WHITE HORSE

Stedmans medical dictionary says it is white in color. ... I was awe struck at the sight and sound of this, and by the feelings that seemed to be in the air ...
www.greatdreams.com/horse.htm -

... and the TV was already on, showing me a picture of Dick Cheney in full color. ... Despite the fact that the practice looks and sounds a bit sleazy, ...
www.greatdreams.com/political/french-connection.htm

That's the color of the puppy I dreamed about." The siamese cat was now a dog ... I'm thinking 'cheese' because that sounds good to me, but it may have been ...
www.greatdreams.com/potatoes.htm -

THE SYMBOLISM AND SPIRITUAL SIGNIFICANCE OF THE NUMBER FIVE

Just as a mantra is a sound equivalent, the yantra is a diagrammatic equivalent of the ... m Garnet Star which is called this because of its deep red color. ...
www.greatdreams.com/five/five.htm -

THE NEXT POPE - THE ANTI-POPE - THE HANGED MAN

Date: October 01, 2004 at 16:25:53 From: Stardanya, Subject: Papal Election process. But the ending of the dream sounds like the Anti Pope is on the way. ...
www.greatdreams.com/sacred/hanged-man.htm -

133.33 - THE MAGIC NUMBERS - THE DREAM, THE MYTHOLOGY, AND THE SCIENCE

... and next the sense of sight, sounds passing into colors. Clairvoyants can see sounds and detect every note and modulation far more distinctly than they ...
www.greatdreams.com/133.htm -

The colors of the fish were vivid and the water where the fish was was ... When I dream of propane tanks I usually get them as sound-alike symbols that ...
www.greatdreams.com/water.htm

Though three of the stars of the Summer Triangle are all white in color and ... (That may not sound like much of a reward, but then you haven't met him.) ...
www.greatdreams.com/sacred/return_of_the_feminine.htm -

USURPER TO THE THRONE OF ENGLAND

His computer screen was flashing a beautiful blue color (a hue of blue halfway between sky blue and dark blue). 8-12-99 - VISIONS - (This was a set of ...
www.greatdreams.com/usurper.htm -

LIGHT UP THE NET WITH VIRTUAL LIGHT

Just as there is the One Soul, so there is the one sound. ... A Horse of a Different Color · A key to life: The Silent Friend by Giulio Credazzi ...
www.greatdreams.com/meditate.htm -

Black bears can be found in not only their nominal color, but white, gray, blue, and cinnamon as well. ... Sound, the most sacred of all the Divine ... ...
www.greatdreams.com/sacred/blue-bear.htm -

IMPRISONED - THE FIVE LAWS OF FREEDOM

I was wearing a dress of a color I would call 'light old rose', with matching shoes and stockings. I kept taking time out to play a game with my toddler son ...
www.greatdreams.com/imprisoned_and_freedom.htm

GLOBAL WARMING - 2003 - 2004 - 2005 compiled by Dee Finney DO NOT ...

The berg initially drifted toward McMurdo Sound and grounded near Cape Crozier ... The false-color image from February 7 shows the entire top of the iceberg ...
www.greatdreams.com/warming3.htm -

... and telling her about the house, and there were the sounds of a birthday party ... The right-most sun was extremely bright, almost blue-white in color, ...
www.greatdreams.com/sky.htm -

SOME SHIFTING HAS ALREADY OCCURRED

... the perfect cloak due to Mar's red color and heightened luminosity (it's ... We realize that these scenarios sound a bit frightening but keep in mind ...
www.greatdreams.com/shifting.htm

I looked where she pointed and the cabinet was the same color as the letter K was ... The sound waves are unaffected by wind direction or time of day/night. ...
www.greatdreams.com/mayan/mayan-games.htm

THE SEVENTH TRUMPET BEGINS TO SOUND (THE THIRD WOE): THE MYSTERY OF GOD SHOULD ... Simultaneously, people of every race, religion and color.. kneeling and ...
www.greatdreams.com/sacred/third-fire.htm

It is multidimensional and covers all the information, sound, colors, etc. to give the receiver the complete information that would take libraries full of ...
www.greatdreams.com/holograms.htm -

He will be able to hear sounds which are not presently heard. ... Dee and I have found that the color blue seems related symbolically to Perez, ...
www.greatdreams.com/twosuns.htm -

THE GIFT OF PROPHECY - JEANE DIXON

In approximately ten seconds, she say, she head "a tiny crackling sound. ... Simultaneously, peoples of every race, religion, and color (black, yellow, red, ...
www.greatdreams.com/dixon.htm -

Alien Abduction Classifications

There is sometimes a sound with the onset of paralysis, like a series of beeps, ... I might try to trick them, too, by asking what color hair they have. ...
www.greatdreams.com/ufos/alien-abduction-technology.htm -

DREAMS ABOUT THE TRIPLE GODDESSES

The sound echoed in my head really loud. Then the other two women saw the tube and ... I can't remember what color clothes he wore, but I'd describe him as ...
www.greatdreams.com/drmgds.htm

Phi - Sound and Healing (chakras) http://www.greatdreams.com/sound.htm ... [Note: These are also the colors associated with the seven chakras. ...
www.greatdreams.com/numbers/1111/1111.htm

The Ascended Master Afra Biography

Now, this may sound like science fiction. But truth is often stranger than fiction. ... We would seek the equality of all souls whatever their outer "color. ...
www.greatdreams.com/masters/afra.htm

MINNIE MOUSE & MICKEY MOUSE - DREAMS, CROP CIRCLES AND SYMBOLISM

The color of the new sun is gold, and the totem animal is usually the golden eagle, ... The Rabbit symbolizes graciousness, good manners, sound counsel, ...
www.greatdreams.com/crop/mickey_mouse.htm

A NEW PERSPECTIVE ON SELF-SUFFICEINCY - A dream and links

Changes can be as simple as a change of decision, or of a location or even hair color. ... (Jonathan Goldman's Sound Healers Network) ...
www.greatdreams.com/perspective.htm -

Ascended Master Hilarion, Chohan of the Fifth Ray

The Fifth Ray is related to the third-eye chakra while the ray's color is an ... of the inner spheres and of sound, which brings forth all of creation. ...
www.greatdreams.com/masters/hilarion.htm

WHY ARE WE SO AFRAID OF THE SUN?

Detection of sound waves reverberating through the Sun opened its gassy ... When the colors change (in this case from blue to yellow or vice versa) it means ...
www.greatdreams.com/solar/sun.htm -

Lucid Visit to the Great Hall and Dreams of Fire

I was awe struck at the sight and sound of this, and by the feelings that seemed to be ... These are warning colors and indicate a return to something or a ...
www.greatdreams.com/hallfire.htm -

The color charts were issued under state law requiring property sellers to ... Waterbody Name:, EAST BAY. State Basin Name:, ATLANTIC-LONG ISLAND SOUND ...
www.greatdreams.com/weather/tsunami_in_our_future.htm

DEE DREAMS AND VISIONS - JANUARY, 1998

As I got to the back door, I heard a squawking like bird sounds to the north of the ... The words in print on the computer screen were also that color. ...
www.greatdreams.com/jan98.htm -

able to shoot away "in the blink of an eye" with "no sound whatsoever. ... radar stimulation and can change reflectiveness, radar absorptiveness, and color. ...
www.greatdreams.com/ufos/Triangle-ufos.htm

The colors were 33 1/3% each of Red, Orange, and Yellow - in a curved triangle of each color spiraling ... He didn't sound like he was in a very good mood. ...
www.greatdreams.com/spirals.htm -

DEES DREAMS AND VISIONS - FEBRUARY, 1990

... We picked out white, quilted pajamas that had tiny flecks of color woven in. ... 2-21-90 - DREAM - I was playing a big brown organ, but no sound was coming out. ...
www.greatdreams.com/feb90.htm -

... cloud... it was in absolute silence, because the sound had not reached me yet. ... Next, all of the leaves began turning color; green to black to white, ...
www.greatdreams.com/treelife.htm -

DREAMS OF DOING THE LAUNDRY These are dreams of cleansing the cells of your body in your subconsious body. PHI - HEALING WITH SOUND ...
www.greatdreams.com/patti.htm -

Sacred Numbers to Resuscitate the Dead - Lazarus and Awakening the ...

It is represented as a twelve petaled lotus flower and the color green. ... the heart chakra, which has the color green, and is symbolized ...
www.greatdreams.com/crop/lazarus/lazarus.htm

The Bleeding Heart of Jesus - My Funny Nose -

It says there, "All that is sacred will appear in these colors: ... SPIRITUAL SOUND WORLDS · UNIVERSAL LAW AND MORAL ORDER · DREAMS AND VISIONS OF THE POPE ...
www.greatdreams.com/sacred/jesus_heart.html

Institute of Sound and Vibration Research (ISVR) ... Atlapedia - full color physical and political maps and key facts and statistics on countries of ...
www.greatdreams.com/spiritbk.htm -

The word or name is also a sound alike symbol in dreams. ... No mater what his color is we should recognize him as the man of bondage, the spirit which ...
www.greatdreams.com/snakes2.htm

Pole Shift - When, Where, and How

The sky was an odd grayish color. My daughter was playing outside in the yard by herself. ... Is Sound Creating Crop Circles ? Incoming Asteroids ...
www.greatdreams.com/poleshift.htm

feeling like this, feeling alive! (To hear the sounds click here) ... The images themselves were lit up like neon in various colors and continued to ...
www.greatdreams.com/anger.htm -

The Symbolism and Spiritual Significance of the Number Three

Three Primary Colors - using the three primary colors all other colors can be ... is pictured as having the Conch (symbol of the Primeval word or Sound), ...
www.greatdreams.com/three/three.htm

BLACK AND WHITE - TWO TIMELINES - IS IT TIME TO MERGE?

1953 Jacqueline Cochran- First woman to break the sound barrier. ... "For communities of color there are issues that are less measurable — hope, happiness, ...
www.greatdreams.com/blkwht.htm -

THE CURE FOR CANCER - WE SHOULD ALL KNOW THIS

http://www.greatdreams.com/sound.htm. THE ULTIMATE DREAM - THE ELECTION AND ... Color Visualization ... Sunlight contains all the colors of the rainbow. ...
www.greatdreams.com/cancer-cure.htm

DIRE MESSAGES OF JESUS AND MOTHER MARY - PAGE 10

Yet I am every race, color, and nationality. You and all creatures and all ... September 8, 2002 Theriot, Louisiana From Claire Rose: The sound of a "Shot" ...
www.greatdreams.com/sacred/dire_jesus10.htm -

DREAMS OF THE GREAT EARTHCHANGES - MAIN INDEX