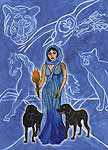 Dee Finney's blog
start date July 20, 2011
today's date September 16, 2013
page 559
TOPIC: TWO BLACK DOGS - WHO IS GOING TO DIE?
9-16-13 - DREAM - I was sitting at my desk, and I saw a couple little black balls moving back and forth at the back of the desk. I couldn't figure out what they were there for, so I reached back there and pulled the little black balls towards me.
The more I pulled on them, the bigger they got, and when I got them all the way to the front of the desk, I discovered they were big black dogs like black labs of Doberman pinchers - but larger.
They seemed gentle, so I put them on the floor and pulled them over to where my Mother was laying on the sofa.
I said, "Mom! Look what I found behind my desk.!"
She didn't really say anything - just looked at them.
I decided they were too big to put back on the desk now, so I opened the door and put them outside to fend for themselves.
Hmmm! Wonder where they will go!
THE DOG STAR
As an Animagus form, a black dog suits him perfectly. The name "Sirius" comes from the name of a star often referred to as the Dog Star. It has that nickname because it is in the constellation known as the Great Dog. (The star was given the name "Sirius" because it is the brightest star in the sky. The Greek word seirios means "burning.")
That star has great significance in the magical world. As the symbol of the goddess Isis,
The Egyptian goddess Isis.
Magical creature expert Carol Rose says some black dogs, such as two supposedly living near Somerset, England, are said to guard treasures or holy places.
it was central to the religion and philosophy of Egypt, where most magic originated.
The Egyptians used Sirius to set their calendar, because its movements are linked to the seasons. On the first day of summer, it rises just before the sun. That was New Year's Day in ancient Egypt. It forecast the annual flooding of the Nile River, which gave vital nourishment to the growing fields. We refer to the long, hot days of summer now as "dog days" because Sirius marks their arrival.
According to the Egyptians, Sirius was not merely significant to life on Earth. The star was where the souls of humans traveled after death. The star was so important that temples were built to align with its path across the sky. An archaeologist determined that the long tunnels or airshafts in the Great Pyramid make the stars visible in daytime, and that the view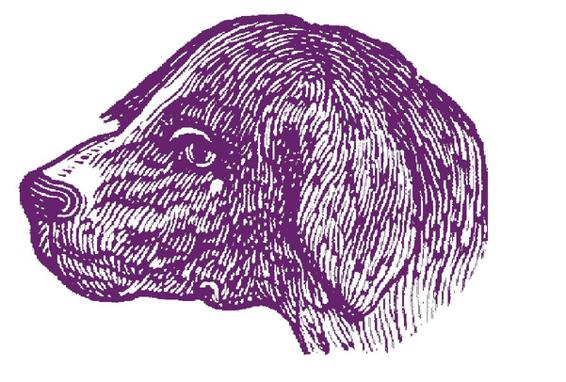 is that part of the sky where Sirius appears. One Egyptologist says those shafts were meant to guide one's soul to Sirius.
PADFOOT
The Animagus form of a black dog is appropriate to Sirius Black in more than name alone. Magical black dogs appear mysteriously throughout Europe and North America. There have been many sightings in Britain, where they are known by names like Black Shuck (from the Anglo-Saxon scucca, meaning "demon"), Old Shuck, Shucky Dog, the Shug Monster, and Shag Dog. The residents of Staffordshire gave it the name Sirius uses: Padfoot.
Some say the dogs guard churchyards or certain roads; others say they roam the countryside at night. Eyewitnesses say they appear suddenly, sometimes right alongside a person walking alone. They tend to be larger than usual dogs. They may vanish in an instant, or slowly fade from view while standing still. Occasionally they appear without heads. Their eyes are almost always described as huge and "blazing." Surprisingly, they tend to be silent.
Scholars were once convinced that the black dog was the preferred form of the Devil. Even among people with less anxious minds,
In Harry Potter and the Order of the Phoenix Rowling reveals that names taken from astronomy are a Black family tradition: Sirius's cousin Andromeda is named for a constellation; her sister Bellatrix is named for a bright star in the constellation Orion; and Sirius's late brother Regulus is named for the brightest star in the constellation Leo.
It was once believed that the Greek goddess of sorcery, Hecate (HEK-uh-tuh), roamed rural Britain with two black dogs as companions. She was thought to be invisible, so two black dogs with no owner in sight were a bad sign.
See also: Animagus Egypt
Black dogs are widely feared. Many consider them an omen of death. This is precisely what Professor Trelawney tells Harry his early sightings of Sirius mean. (She refers to the black dog as the Grim, another common name.)
The eyewitness reports go back many hundreds of years. One vivid account from 1577 describes the arrival of a black dog in church: "There appeared in a most horrible form a dog of a black colour, together with fearful flashes of fire which made some in the assembly think doomsday was come. This dog, or the Devil in such a likeness, ran the length of the church with great swiftness and incredible haste, passed between two persons as they were kneeling and wrung the necks of them both at one instant."
That may have been an especially horrible incident. Not every encounter is so awful. In more recent sightings the black dog seems to have become less malevolent. Simon Sherwood, an expert on the subject, says, "There is rather more evidence that black dogs are friendly (or at least harmless) than that they are dangerous. Indeed the dogs are often positively helpful."
Why Does the Black Family Appear on a Tapestry?

CONSIDERING J. K. ROWLING'S INVENTIONS include moving photographs and talking paintings, some readers of Phoenix may guess Rowling created the Black family tapestry at Grimmauld Place entirely from her imagination. But ornate storytelling tapestries have existed for thousands of years, going back to early Egypt and Asia. In Europe all the great medieval castles had tapestries, which were needed to help keep out drafts and to keep in heat. Naturally, wealthier people had more decorative tapestries, and the wealthiest had versions specially designed to show a family crest or a scene from family history. Churches also had them.
Some tapestries were woven from designs drawn by famous artists. Raphael (1483-1520), one of the greatest artists of the Renaissance, was asked by Pope Leo X to design tapestries for the Vatican showing scenes from the Bible.
"Toujours Pur," the Black family motto, means "Always Pure" in French. Of course it refers to pure wizard blood, the obsession of so many generations of Blacks before Sirius.
The art of telling stories with tapestries never disappeared. Artist William Morris designed some in the 1800s. More recently, the Bayeux Tapestry inspired the Overlord Embroidery in Portsmouth, England. It shows the Second World War effort to send armies back across the English Channel that William I crossed in 1066.
NOTE: IF BLACK DOGS ARE OMENS OF DEATH, THEN TWO PEOPLE ARE GOING TO DIE SOON.
I'VE BEEN DREAMING MULTIPLE TIMES ABOUT DELETING WEB PAGES OFF MY COMPUTER ABOUT KINGS AND QUEENS.
IN REAL LIFE, BOTH QUEEN ELIZABETH AND HER HUSBAND - THE DUKE OF EDINBURGH HAVE BEEN VERY ILL MULTIPLE TIMES. IS IT THEM?
IN A DREAM A COUPLE OF DAYS AGO, A FRIEND OF MINE CAME TO VISIT ME, AND WE WERE GOING TO GO SHOPPING AND WE WERE DELAYED BY A LONG LINE OF CARS FROM A FUNERAL WHERE THE MEN WERE WEARING TOP HATS. SUDDENLY WE WERE IN ENGLAND, BECAUSE THE CAR WAS ON THE LEFT SIDE OF THE ROAD, AND THE MAN DRIVING THE CAR WAS ENGLISH:
9-13-13- MIKKI'S NAP DREAM
Mikki came to visit me in California and we went through the house a bit. I showed her my bookcases and Joe said, "Hi" and went about his business.
Then we decided to go shopping and we ran into a funeral where the men in the funeral were all wearing top hats.
All of a sudden, Paul and Amanda was in the car and Amanda was driving (she's only 12) and we were driving on the left side of the road like in England, and all of a sudden Jimmy was in the car too.
Mikki said I wasn't saying anything at this point. Mikki was arguing with Jimmy and Paul about who was driving.
Jimmy said he was driving.
At one point, Mikki and I were looking at a photo album of Arnie's daughter's wedding and Jimmy said the divorce was going to cost way more than the wedding did, which was very expensive with like 400 people attending which was whitled down from like 800 people. They have lots of friends apparently.
Then Mikki and I started shopping, going from store to store, looking at fabric a lot for quilts, and then we went back to Mikki's house and she showed me her long arm quilting machine.
Mikki told me to try it out, and I laughed and said, "No you don't. Don't try to get me to like it because I can't afford it and I don't have the space for it, but we were laughing, and she kept urging me to try it anyway, and laughing.
NOTE : I started to get nervous about the funeral with the men in top hats, and seeing that we were in England, I'm assuming either the Queen or her husband the Duke of Edinburgh is going to die. He is in his 90's and has been ill. She has been ill several times also and has alzheimers and they are hiding that fact.
**********************
9-15-13 - NAP DREAM - I was trying to delete all previous pages about Kings on my computer. I would point to them and they would blink out, but I couldn't press down on the links because they were gone. It was like they were hidden.
This was at least the fifth time I dreamt this same thing - deleting pages about Kings.
Yesterday, I was meditating and again deleting pages about Kings, and my dream computer suddenly went black screen like the power had blown out.
THAT is very meaningful - as are all these other dreams put together.
~~~~~~~~~~~~~~~~~~~~~~~~~~~~~~~~~~~~~~~~~~~~~~~~~~~~~~~~~~~~~~~~~~~~~~~~~~~~~~~~~~~~~~~~~~~~~
HECATE
(3 syl. in Greek, 2 in Eng.). A triple deity, called Phoebe or the Moon in heaven, Diana on the earth, and Hecate or Proserpine in hell. She is described as having three heads—one of a horse, one of a dog, and one of a lion. Her offerings consisted of dogs, honey, and black lambs. She was sometimes called "Trivia," because offerings were presented to her at cross-roads. Shakespeare refers to the triple character of this goddess:
And we fairies that do run




By the triple Hecate's team.
Midsummer Night's Dream, v. 2.
Hecate, daughter of Perses the Titan, is a very different person to the "Triple Hecate," who, according to Hesiod, was daughter of Zeus and a benevolent goddess. Hecate, daughter of Perses, was a magician, poisoned her father, raised a temple to Diana in which she immolated strangers, and was mother of Mede'a and Circe She presided over magic and enchantments, taught sorcery and witchcraft. She is represented with a lighted torch and a sword, and is attended by two black dogs.
Shakespeare, in his Macbeth, alludes to both these Hecates. Thus in act ii. 1 he speaks of "pale Hecate," i.e. the mother of Medea and Circê, goddess of magicians, whom they invoked, and to whom they made offerings.
Now ... [at night] witchcraft celebrates




Pale Hecate's offerings.
But in act iii. 2 he speaks of "black Hecate," meaning night, and says before the night is over and day dawns, there
Shall be done




A deed of dreadful note;
i.e. the murder of Duncan.
N.B. Without doubt, sometimes these two Hecates are confounded.
Read more:
Hecate | Infoplease.com
http://www.infoplease.com/dictionary/brewers/hecate.html#ixzz2f2tad0M3
Qamari's father pursued the pair (cf. Aeetes and Absyrtus), and in desperation Amirani commits suicide, only to be resurrected by a magic herb provided by Qamari (cf. Medea's cauldron and herbs) on the advice of a mouse.
The final stage of Amirani's career parallels that of Bellerophon with the punishment of Prometheus:
Stories of giants who are chained on mountains are still current in the Caucasus. Thus in the district of Kabarda, on the northern slope of the Caucasus, a story goes that a giant is chained to the rock on Mt. Elburz for having tried to hurl down God. Seldom has it been given to mortal men to see him; but no man may see him twice. He lies in a sort of swoon, but from time to time he wakes up and asks his guards if the rushes still grow on earth and the sheep still drop their young. When they say 'Yes,' he falls into a fury and clanks his chains; that makes thunder. He rages and howls; that makes storms. At last he weeps in helpless fury; that makes the rain and swells the torrents that come rushing down from the high hills and tell the world of his woes.
The Georgians say that a giant called Amiran lies chained in a cave upon Mt. Elburz. But he has two black dogs that lick his fetters; so the fetters grow thinner and thinner, till every year on Good Friday they are as thin as a leaf, and next day they would snap in two, if it were not that on the Friday evening or the Saturday morning all the smiths in Georgia give some swingeing blows on their anvils; that rivets the giant's chains once more.
Source: J. G. Frazer, commentary on Pausanias, Description of Greece, vol. III, trans. J. G. Frazer (London: Macmillan and Co., 1898), 542.
PREVIOUS KING PAGES ON THIS SITE
THERE ARE ACTUALLY 844 KING PAGES ON THIS SITE:
HERE ARE JUST A FEW OF THEM
8-24-08 - OF CAPTAINS AND KINGS
www.greatdreams.com/war/captains_and_kings.htm
MAIN WEB SITE: http://www.greatdreams.com