A. J. Jacobs is an Esquire editor who specializes in dubious achievements, and not just the kind that make that magazine's year-end list. In order to write "The Know-It-All" Mr. Jacobs performed the parlor trick of reading his way through the entire Encyclopaedia Britannica. Eventually he is liable to sample every product at Wal-Mart or travel cross-country on a gas-station tour. But for now the Bible is his gimmicky plaything.
Skip to next paragraph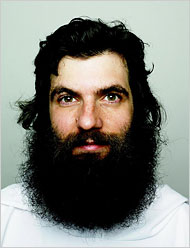 Michael Cogliantry
THE YEAR OF LIVING BIBLICALLY
One Man's Humble Quest to Follow the Bible as Literally as Possible
By A. J. Jacobs
388 pages. Simon & Schuster. $25. $29.95.