1-month snowfall a 113-year high
$28m more asked to clear streets
The dazzling oceanside setting that makes Cape Cod a tourist destination contributed yesterday to another furious onslaught of snow that fell from Falmouth to Provincetown, as Massachusetts endured a winter storm that helped set a record for the highest monthly snowfall in 113 years -- and left everyone from public-works crews to shop owners and motorists frazzled and fatigued.
More than 6 inches fell across Central and Eastern Massachusetts, but additional snow and blizzard conditions continued overnight on the Cape. Cold air from the north and northwest blew across the warmer waters offshore, increasing that area's snow total. The Cape also received more snow than many other areas of Massachusetts last weekend, which had left shoulder-high snow banks and all but major arteries draped in snow three days later.
Crankiness, irritability, and cabin fever were taking hold on this windswept peninsula, better known for its grin-and-bear-it attitude toward winter weather.
''Oh, I hate it," said Sue Oliva, 40, a tire store employee, who said she had played countless games of Yahtzee and Scrabble to keep herself occupied at home. ''My son's in college in Alabama, and he's complaining it's 60 degrees there."
In Boston, the parents of some public-school children, as well as teachers living outside the city, deluged school and city transportation phone lines yesterday morning, similarly exasperated after schools reopened despite heavy snow that started just before daybreak. At midafternoon, School Superintendent Thomas W. Payzant decided to close schools today and tomorrow. Payzant and Mayor Thomas M. Menino said it would allow public-works crews to clear the fresh snow and the final remnants of the weekend blizzard. The earlier storm had closed schools Monday and Tuesday.
Snow was expected to end a little after midnight in Greater Boston, but residents can look forward to a 30 percent chance of more snowfall Monday, according to the National Weather Service.
The recent snowfall not only pushed Massachusetts past the previous record total for a January -- 39.8 inches, set at Logan in 1996 -- but it also broke the monthly snowfall record at Logan -- 41.6 inches, set in February 2003, according to statistics kept since 1892 by the National Weather Service. As of 9 o'clock last night, 4½ inches of snow was reported at Logan International Airport. That brought the total snowfall for January to 42.2 inches.
In addition, the record totals caused the state to deplete its $37.6 million snow- and ice-removal account, prompting Governor Mitt Romney to seek a $28 million supplemental appropriation from the Legislature to pay plow crews responsible for clearing state highways and government property.
Before yesterday's storm, the state had accrued $57.9 million in snow-removal expenses. Romney's request would exceed that total by $7.7 million. The extra money is targeted to pay the new bills and additional plowing expenses this winter, said Jon Carlisle, spokesman for the Executive Office of Transportation.
The governor asked President Bush to declare an emergency in 10 Massachusetts counties so they could receive federal assistance to recover from the weekend storm. At its height, there were 41,000 power outages, snowdrifts topped 7 feet, and wind gusts reached 83 miles per hour.
''This event was a record or near-record snowfall impacting the Commonwealth, accompanied by hurricane-force winds and extraordinary drifting, contributing to the cumulative effect of snow already present on the ground," Romney wrote in his two-page letter.
Counties needing aid are Barnstable, Bristol, Dukes, Essex, Middlesex, Nantucket, Norfolk, Plymouth, Suffolk, and Worcester. In one example, the City of Boston, which is part of Suffolk County, had already overspent its $7.7 million snow budget by $1.7 million as of yesterday.
Wendy Northcross, chief executive officer of the Cape Cod Chamber of Commerce, said she also planned to ask Romney to seek federal disaster-relief funds for hard-hit Cape businesses. Of the 9,000 businesses there, 95 percent have five to 10 employees. Northcross hoped they would qualify for low-interest loans.
Sunday's blizzard had knocked out power for some 25,000 Cape residents. Early yesterday evening, NStar reported about 300 outages scattered across the Cape, Plymouth, and New Bedford, but but by 8:30 that number was down to 100.
Mark Ells, Barnstable's director of public works, said he was grappling with another looming question raised by the snow: where to haul it all.
After clearing major intersections, Ells said, he was considering trucking it to empty lots by Barnstable Municipal Airport or beach parking lots, now bereft of summer autos. One concern, he said, was to make sure the snow didn't leech road salt or chemicals into sensitive ecosystems.
''It's a challenge," Ells said. ''Especially down here. Cape Cod doesn't get these sorts of storm events that regularly."
The state Department of Environmental Protection sent out a statewide notice urging municipal officials and residents to refrain from disposing of snow in waterways, wetlands, or other surface waters.
The advisory said: ''Snow disposal in water may seem benign and even tempting, but the mixture of salt, sand, oil, pollutants, and trash carried along with the snow (sometimes surreptitiously) will degrade the water quality of wetlands, surface waters, and harbors that so much money, time, and effort has already been expended to improve and protect."
Northcross, the chamber CEO, lives in West Barnstable and said she was typical of many people living on the Cape, where normally mild winters often make it possible to golf year-round.
''There's a little bit of cabin fever going on," said Northcross, who considered herself fortunate after she was able to snow-blow a single path to the front door of her home. The unusually large amount of snow left neighbors competing for the services of a limited number of driveway plows, most of whom were deluged with service calls from their regular customers.
''It's a lost week," Northcross said. ''People are now just finally realizing they either have to dig themselves out or wait till spring."
In Chatham, police Detective Lieutenant Michael Walker was sleepy after beginning work at 7 Saturday night and not returning home until 4 p.m. Monday. He was back at the town's emergency operating center the next morning, and has worked standard eight-hour shifts since.
''Today's Thursday, right?" he asked yesterday.
School will be canceled in Chatham again today, with 12-foot-high snow piles at intersections preventing school buses from making basic turns.
''I've been here 30 years, and I've never seen this," Walker said.
But the arctic conditions had some dreaming of summer seaside vacations.
''Surprisingly, when it snows throughout New England, people start thinking, when they're housebound, about their summer getaways, and it does make our phone ring," said Bob DuBois, executive director of the Yarmouth Area Chamber of Commerce, who was working late yesterday even as the rest of the Cape was virtually shut down.
Globe staff writers Mac Daniel and Tracy Jan contributed to this story, as did correspondent Jack Encarnacao. Glen Johnson can be reached at johnson@globe.com.
Thursday, January 13, 2005. Page 3.

Moscow Melts in Record Warm Spell

By Anatoly Medetsky
Staff Writer

Moscow is enjoying the warmest January in recorded history, and the weather is expected to continue to look more like April for the next few days as balmy Atlantic winds sweep across European Russia and keep temperatures comfortably above freezing.

"These have been the warmest first 10 days of January since the beginning of weather monitoring in the country in 1879," Tatyana Pozdnyakova of the Moscow weather bureau said Wednesday. "Usually air temperatures begin rising above zero after March 27. This temperature is characteristic of the first days of April."

The average temperature from Jan. 1 to Jan. 10 was 0.5 degrees Celsius, while the normal temperature would be minus 8.5 degrees, Pozdnyakova said.

Temperatures hit a high of 5.2 degrees on Sunday, breaking a record of 2.9 degrees set for Jan. 9 in 1976, she said. A record was also set Saturday when temperature rose to 5.1 degrees. The previous record for Jan. 8 was 3.7 degrees in 1932.

The first 10 days of 2005 may be the warmest spell in more than a century, but the temperature never reached the record high of 5.6 degrees set in 1992.

The warm weather is expected to last through Saturday, with a chance of snowfall Sunday and Monday. By the middle of next week, temperatures will be fluctuating between minus 5 and minus 15 degrees, Pozdnyakova said.

Warm air traveled to Russia with the same Atlantic storm that brought gale-force winds and flooding this month to large swaths of Europe, including St. Petersburg and the Pskov and Kaliningrad regions, Pozdnyakova said.

A low pressure front drew air from North Africa and the Equator over the Atlantic and spread it over Europe so quickly that the air was prevented from cooling, she said.

This winter is so warm that a bear in St. Petersburg Zoo has woken from her hibernation two months early, while another has not gone to sleep at all, Interfax reported Wednesday. A major hockey match was postponed in St. Petersburg on Tuesday because the rink melted, Sovietsky Sport reported.

In Moscow, several ice sculpture exhibitions have melted, including the Olimpiiskaya Simfoniya on Vasilievsky Spusk that opened Jan. 5 to tout Moscow's bid to host the 2012 Olympics.

Similar warm spells occur every five to seven years, the Federal Weather Monitoring Center said Tuesday.

Pozdnyakova said the warmth this year may be an effect of global warming. "Climatic changes chiefly affect winters," she said.

Moscow is better known for its bitterly cold winters, which are credited with helping Russians defeat Nazi troops when temperatures dropped to minus 43 degrees during the Battle of Moscow on Jan. 3, 1942, and for driving Napoleon's army out of Moscow in 1812.

Moscow's coldest spell for January was recorded in 1893, when the temperature averaged minus 23 degrees.

Thursday, January 13, 2005 · Last updated 5:18 p.m. PT

Despite recent snowstorm, snowpack levels near record lows

SPOKANE, Wash. -- Snowfall has been so light this winter that the snowpack in Washington's mountains is near record lows, setting the stage for drought this summer.

The Natural Resources Conservation Service reported that January snowpack readings across the state ranged from 25 percent of average to 72 percent of average. Statewide, the snowpack was just 40 percent of average.

"While recent snows have been helpful for the skiing industry, they have been less helpful for the water business," said Scott Pattee, NRCS water supply specialist in Mount Vernon.

The Snoqualmie River Basin snow survey reported the lowest readings at 25 percent of average. The highest readings were reported in the Okanogan River Basin, with 72 percent of average.

The state received only 75 percent of normal precipitation in November and December, the conservation service said.

It is still possible for heavy snowstorms to erase the deficit, but that prospect diminishes as the winter progresses, Pattee said.

"If the pattern of below-normal precipitation continues, it could be a difficult water year," he said.

Weather forecasters are predicting the current pattern of below-normal precipitation and above-average temperatures will continue for the next 90-days.

The water supply forecasts are developed using current and historic average snowpack, precipitation and stream flow data. Information is collected at 120 locations across the state.

The agency said that since the present system started in the late 1970s, only 1981 and 1990 had a similar lack of snowpack by this time.

---

On the Web:

http://www.wa.nrcs.usda.gov/Snow/.
Survivor recalls running from falling mountain
'We looked up and the mountain just spewed'
Thursday, January 13, 2005 Posted: 4:59 PM EST (2159 GMT)

A search dog assists rescue workers as they search for survivors at the mudslide site.

VIDEO

A search for a missing mom and three children ends in heartbreak.

---

The California coast is an inviting -- and potentially deadly -- place to live.

---

Rescuers have been working night and day in La Conchita, California.
VENTURA, California (AP) -- What Greg Ray remembers is seeing a mountain come down on him.
What he doesn't understand is why he survived while two of his friends died in a torrent of liquid earth that buried homes in the hamlet of La Conchita.
"I lost people that I love and the only reason that I'm alive ... I don't know," Ray, 61, said Wednesday from his bed at Ventura County Medical Center.
The death toll had risen to 10 early Wednesday with the discovery of the bodies of a mother and her three children buried in the mud. Later in the day, authorities announced that all those on a list of those reported missing were finally accounted for.
A search for anyone else who might have been in the area was halted Thursday after a muddy area at the base of the towering bluff shifted 6 feet during the early morning, workers said. A geologist was inspecting the area. (Search ends)
Ray had stopped to help a friend move out from a home at the base of the hillside. After five days of drenching rain, residents were worried: A mudslide in 1995 buried nine houses in 600,000 tons of mud.
"We knew the mountain was coming down," Ray said, but no one knew when.
He could see trailer gaining on him
Ray said he was helping load camera gear into a car Monday when another neighbor, John Morgan, suddenly shouted a warning.
"He yelled at us and said, 'The mountain's coming down -- get out of there now!' We looked up and the mountain just spewed. He saved my life," Ray said.
Dirt and boulders spilled down the hillside, hit a berm and exploded back up into a plume of earth towering 100 feet over the three friends, Ray recalled. The men sprinted down the street and turned into a second street, desperately trying to outrun the roaring mudslide.
Ray said that as he ran down the street, he could see a trailer was gaining on him, pushed along by the flowing debris.
"It was up in the air and turned over. The top of the trailer was coming down on me," he said.
He dove into a space between two parked cars seconds before the trailer and mud overtook him, crushing the cars "down to the wheels," Ray said.
In the tiny, pitch-dark crawl space, Ray realized his right leg was seriously injured -- he would later learn that a giant splinter of wood from a broken two-by-four had torn into it.
The leg was numb and "I didn't know whether it was pulverized," he said. His chest was bruised, he had trouble breathing and he had lost a front tooth.
'It tears these cars up like they're toys'
Rescuers found Ray within minutes, but it took three hours to dig him out, he said. During the agonizing wait, Ray snapped a photo of himself with a disposable camera.
He didn't learn until Tuesday -- after surgery to repair his leg -- that his companions, Morgan and Tony Alvis, were found crushed to death in the debris.
The massive mound of mud covered several blocks and stood 30 feet high in some spots. One man, Jimmie Wallett, lost his wife and three of his daughters.
Wallett dug for hours in the rain around where he thought his family might be. He helped rescue two people before his wait finally ended Wednesday.
His wife, Mechelle, was the first to be found. Two hours later, his youngest daughter, 2-year-old Paloma, was taken out on a stretcher. Her sister Raven, 6, was next, soon followed by 10-year-old Hannah.
A distraught Wallet returned to La Conchita late Wednesday even after his family was recovered, saying he wanted to continue helping with the search. He was turned away by officers who said they feared for his safety.
The scene Wednesday was of devastation.
Scattered in the mud were a variety of household items, including surfboards, dish towels, golf clubs and canceled checks. A pickup truck looked like it had been in an explosion. Other cars and mobile homes were crushed.
"It tears these cars up like they're toys," Los Angeles County fire Capt. Greg Cleveland said.
Ray said that he was devastated by the loss, but added that he was cheered by the way La Conchita and rescue workers pulled together in crisis.
"They made a really good situation -- how they helped each other," he said. "Everyone involved was just like angels."
Gov. Arnold Schwarzenegger, who visited La Conchita on Wednesday, also praised residents, saying, "It's extraordinary the way people have come together here from the moment the mudslides hit. People rushed to the aid of their neighbors, helping each other escape the danger and trying to find survivors."
Ray, who has lived in La Conchita on and off for 10 years, said Wednesday he blamed an irrigated avocado farm at the top of the hillside for the mudslide's devastation.
Angry homeowners sued the bluff-top ranch owner, La Conchita Ranch Co., after the 1995 mudslide, alleging the farm weakened the bluff by overwatering its avocado groves.
Conchita Ranch Co. settled the suit two years later for an undisclosed amount.
The county eventually put up a $400,000 retaining wall. The wall collapsed immediately under Monday's slide, but officials said it had only been intended to stop debris, not another mudslide.
"My gut feeling is that my best friend died and a lot of really good people died and there was no reason for them to die," Ray said.
---
Copyright 2005 The Associated Press All rights reserved\
---
Search ends in wake of California mudslide
Geologists warn hillside may be moving
The Ventura County fire chief announces the end of rescue efforts in La Conchita on Thursday.
LA CONCHITA, California (CNN) -- Ventura County Sheriff Bob Brooks declared Thursday that the rescue mission has ended at the site of a mudslide that killed 10 people this week in the coastal community of La Conchita.
Brooks said authorities believe they have accounted for everyone involved in the mudslide that plowed through a residential neighborhood Monday in the town of 260 people about 65 miles north of Los Angeles.
The next goal will be to re-establish the community, Brooks said at an afternoon news conference.
Authorities don't want residents to return to the area yet because it is considered geologically hazardous, but Brooks said officials have no legal authority to keep people from their homes.
Earlier in the day, searchers for victims and bodies in the 30-foot pile of mud and debris stopped work after geologists warned that the hillside above the town might be moving.
Geologists painted a stripe on the hill Thursday where the mudslide had ended, officials at the scene said. A few hours later, they discovered that the line had moved almost six feet.
Authorities ordered rescue workers to stop digging and move themselves and their equipment from the site until more analyses can be done.
Before leaving the scene, the workers -- many of whom are inmates at the Ventura Youth Correctional Facility -- held an impromptu memorial service at the debris pile.
"The geologists have studied the hill," Ventura County Fire Chief Bob Roper said. "They have seen some additional areas that they have severe concerns about, and they're putting together a plan now on what to do as far as the recovery effort and allowing people to return to their homes."
Ventura County Supervisor Steve Bennett urged caution.
He said geologists would conduct intensive analyses on the area's topography to determine if it's safe to continue living there. A large mudslide in 1995 also caused extensive damage in La Conchita.
Roper said the last three people remaining on the official list of the missing called authorities Wednesday night to report they were fine, and there were no bodies known to remain in the debris.
Officials have released a second list of people who had connections to the area, Roper said, hoping to rule out that they were in the community when the mudslide hit.
"We have an additional list of about 19 people that we've checked with the post office, Internet searches and so forth, that may have been getting mail or lived in the area," Roper said.
State of emergency
Mudslides across the main thoroughfare of Highway 126 have cut off Piru, another town in Ventura County, The Associated Press reported. Residents there tried to make the best of their isolation.
"It brings everyone together," Richard Aries, 42, told the AP. "We're relatively lucky -- fortunate compared to other people."
California Gov. Arnold Schwarzenegger toured La Conchita on Wednesday, pledging to do everything possible to help residents affected by the disaster.
Schwarzenegger declared a state of emergency for Ventura County, opening the door for more state funds for the region to help with damage expenses.
"In the past few days, we have seen the power of nature cause damage and despair, but we will match that power with our own resolve, and we will come together as Californians and neighbors," he said.
Schwarzenegger said he was impressed by the strength shown by the residents he spoke to during his tour.
"The first thing they said was, 'We'll be back,' " he recounted. "They said they wanted to rebuild."
The slide brought down tons of mud, sand and debris onto more than a dozen homes. Roper said 15 homes were destroyed and 16 damaged.
Bodies of mother, 3 daughters recovered
Early Wednesday morning, rescue crews pulled the bodies of a mother and her three daughters from the debris.
The father, Jimmie Wallet, had gone out to get ice cream at the time of the mudslide, an official with the Ventura County Sheriff's Department said.
Wallet assisted in the search overnight and was there when a search dog led rescue personnel to where his wife, Mechelle, and daughters Paloma, Raven and Hannah were buried in debris, according to a report by CNN affiliate KCAL. (Full story)
In all, 10 people were pulled out alive, eight of whom were taken to hospitals, Roper said. Two of them were in critical condition.
Parts of Southern California recorded nearly 2 feet of rain in the past week, prompting Los Angeles Mayor James Hahn to declare a state of emergency Wednesday.
The declaration allows the city to seek state and federal disaster aid, Hahn's office said.
Authorities blamed the weather for the deaths of more than 20 people, including the 10 in La Conchita.
The storm that caused the mudslide moved east, bringing flooding that has destroyed more homes and washed out roads in other Western states, the AP reported. (Full story)
CNN's Chuck Conder, Rusty Dornin, Kimberly Osias, Ted Rowlands and Peter Viles contributed to this report.
Oddball weather could bring floods, icy quick-freeze
CHRONICLE STAFF WRITERS
A mid-winter thunderstorm that dumped more than an inch of rain and melted snow Wednesday in West Michigan could cause flooding in some low-lying areas over the next three days.
That's only half the story. A blast of Arctic air headed toward Michigan today will quickly freeze any standing water left over from the heavy rains, according to the National Weather Service.
The temperature in Muskegon Wednesday peaked at 59 degrees, which surpassed the previous record of 55 degrees recorded in 1975. Added to that was a rapid-fire series of weather events that included hail, fog, torrential rain, thunder and lightning.
The thunderstorm was being blamed for a power outage in downtown Muskegon Wednesday night that left 1,400 customers in the dark for 9 hours. Left in the dark was the Amazon apartment building and Nelson Place Apartments for seniors.
The usual January offerings -- snow and ice -- will return over the next three days as temperatures plummet into the teens and freeze any water that hasn't already soaked into the ground.
"Thunderstorms in January are pretty rare, but it has happened before" said Bob Dukesherer, a meteorologist at the National Weather Service office in Grand Rapids. "It happens about once every five to 10 years."
Heavy rainfall in the middle of winter creates a double whammy for rivers and streams, according to weather service officials. More rain drains off the land in the winter because the soil is saturated and there isn't as much vegetation to absorb the moisture. A sudden drop in temperatures can quickly freeze rivers, creating ice jams that back up water.
It's a perfect recipe for a winter flood.
The good news, according to weather service officials, is that most area rivers were not frozen before the rain Wednesday. That will reduce the risk of flooding to some degree.
"We're watching the rivers closely. We're expecting significant rises in water levels all along the Muskegon River," said Mark Walton, a weather service hydrologist. "The fly in the ointment will be the cold temperatures, which will send more runoff into the rivers."
A flood watch is in effect for all of West Michigan through Friday. The only area facing imminent flooding is Rogers Heights, near Big Rapids, where an ice jam in the Muskegon River is causing water levels to rise.
The water level in Bear Creek, in North Muskegon, was rising rapidly this morning. The creek rose one foot from Wednesday to Thursday morning, according to stream data collected by the U.S. Geological Survey.
"Bear Creek is the canary in the coal mine for flooding in the Muskegon area because it's small and responds rapidly to storm water runoff," Walton said.
Low lying areas along the Muskegon River below Croton Dam -- at Devil's Hole and Old Woman's Bend near Newaygo, and Maple Island -- are not expected to flood, Walton said. He said the ability to hold excess water in the Croton Dam reservoir will probably prevent flooding downstream of the dam.
"Consumers Energy (which owns the dam) is going to store some water for us behind the dam," Walton said. "The river is going to rise below Croton Dam, but I don't see it getting above flood stage."
Nelson Place Apartments manager Sandy Drabczyk spent the night in office on the phone to Consumers Energy.
"Every hour they told her it would be another hour before power was restored," maintenance supervisor John Sidock said.
The senior apartments at 350 Houston Avenue had been without power since lightning struck a downtown substation at 10:30 p.m. Wednesday.
Approximately 1,400 residents and businesses in a widespread area downtown were without power until just before 8 this morning.
Sidock and janitor Wendy Carter wrestled to reboot a balky alarm system which refused to cooperate after almost nine hours without power.
As Sidock left to call off the fire department and call the alarm company, Alice Grevious trotted into the lobby clutching a flashlight and a bag of ice.
Grevious didn't know there was problem until she woke up shortly after 5 a.m.
"There wasn't a light on in the place," said Grevious. "I was running around trying to dress with a flashlight."
An unidentified early visitor opted to take the stairs up to her grandmother's fourth floor apartment, "just in case" there were problems with the elevator.
"I had to help one resident go up the stairs earlier," said Carter.
The completely drained battery packs on the computers at Borgeson Architects told Tom Aardema the Amazon building had been without power for a long time.
"The batteries are supposed to last about two hours or so," said Aardema.
The Amazon's emergency stairwell lights were the only ones visible for blocks up and down Western Avenue.
Posted on Thu, Jan. 13, 2005

Rivers near record levels

Residents watch nervously as water rises; sandbagging begins


The Journal Gazette

The city of Fort Wayne called for volunteers Wednesday to fill 50,000 sandbags, crews began constructing clay dikes and sandbagging operations began across the city as officials prepared for rivers to hit near-record levels today.
Pumps, sand and sandbags began appearing around the city as muddy waters lapped over riverbanks and started what the National Weather Service predicted would be a rise toward some of the highest levels ever recorded after overnight rain.
Forecasters predicted the St. Marys River in Fort Wayne would hit 20 feet tonight, second only to the 21.2 feet recorded in the Flood of '03. The massive 1982 flood was 19.6 feet on the St. Marys.
By 6 p.m. Wednesday, the river was at 15.9 feet, up 1.3 feet in six hours. Flood stage is 14 feet.
Residents along Junk Ditch said they were moving possessions to higher ground as the stream left its banks. Most of the streets in the Junk Ditch area were closed Wednesday evening.
"I figured it would be a little later this year to start this, …" said Ron Bauer, who lives at Fillmore Street and Covington Road. "We're starting the new year out wrong."
Along Fairfield Ditch in Waynedale, Billie Rykard was watching the water nervously. The Belle Vista neighborhood where she lives was a major battleground during the Flood of '03.
Rykard said the water had risen a foot during the day and was almost to the bottom of the bridge.
"People are scared, but the water is still moving," she said. "When the water sits dead still, then the St. Marys is full, and then it starts backing up. Then you're in trouble."
Rykard said water was coming out of a manhole in front of her house, just like it did in 2003, despite a large pump already operating nearby.
"Hopefully they're going to get us another pump out here," Rykard said.
Sandbagging began Wednesday night along Spy Run Creek in the Eastbrook-Westbrook neighborhood, and officials expected to sandbag several areas along the St. Marys River. Clay dikes were being constructed in the area of Pauline and Phenie Streets and at the Easter Seals ARC facility on Thompson Avenue.
Sandbag-filling volunteers were asked to park at Anthis Career Center, 1200 S. Barr St., and take a shuttle to the Street Department where the sandbag-filling operation was taking place. Sandbags are also available for residents to fill and use themselves.
On Anthony Boulevard between Lake Avenue and the Maumee River, storm sewers were overflowing most of the day Wednesday until crews installed two pumps at Anthony Boulevard and Columbia Avenue and three more on the Pemberton Dike.
Even then, crews did not expect to keep up with the water when the rain started falling and planned to build sandbag dikes along Anthony to channel water down the street.
The area is protected from the Maumee River by the massive Army Corps of Engineers levee project, but water has been overflowing the storm sewers, flooding streets and approaching homes.
Brian Panzer, maintenance manager for the sewage treatment plant, said the problems were caused by a pinch valve on the Pemberton Dike that closes when the river is high to prevent water from inundating the storm sewers. But that means water can't drain out of the system, which drains about 400 acres of already saturated neighborhoods, Panzer said.
"I've had one pump running for two weeks. I brought the second one in a week ago," he said. "The third one came today; last night's rain just kicked me in the butt."
Rivers in Decatur and Bluffton are expected to approach record levels today after melting snow and overnight rain swelled them out of their banks and onto city streets Wednesday.
The National Weather Service was predicting the St. Marys in Decatur will hit 24.7 feet tonight, second only to the record-breaking Flood of '03 at 26.9 feet, which wiped out 52 homes and devastated much of the city. The second-highest flood, 24.4 feet, was in 1982; flood stage is 17 feet.
On the Wabash River in Bluffton, the river was at 14.3 feet, four feet over its flood stage, but is expected to hit 17 feet tonight. That would make it the third-highest flood recorded there, behind the 18.3 feet recorded during the Flood of '03 and the 21 feet recorded during the apocalyptic 1913 flood.
"I just have a bad feeling about this," Decatur Mayor Fred Isch said.
When Isch went home at lunch, the water was approaching the bridge over the river. A half-hour later when he returned to work, it was three inches deep across the bridge.
U.S. 224 was not closed Wednesday afternoon, but Isch said it was underwater by noon and impassable for smaller vehicles.
"I wouldn't take my little Chevy Cavalier through it," he said.
Volunteers had begun sandbagging, and city officials were planning how to fight the flood.
"If the water comes where it came the last time, that's going to be a great help," Isch said. "But the water is rising in places I've never seen it rise before."
In Bluffton, Mayor Ted Ellis said officials had decided not to fill the 100,000 sandbags on hand until the river hit 15.5 feet. But the river was rising an inch an hour, and at that rate, Ellis said, sandbagging would begin by 8 a.m. today.
"I'm a little concerned," Ellis said, noting that city officials would be monitoring the river all night.
Across the state, flooding closed numerous roads in Blackford, Grant and Jay counties between Fort Wayne and Muncie. Neighborhoods flooded in Kokomo and Tipton, authorities said.
U.S. 27 and other streets in Portland were flooded Wednesday after the Salamonie River overflowed its bank, Mayor Bruce Hosier said.
In southwest Indiana, the towns of Washington and Hazleton saw extensive flooding along the White River, which reached 31.5 feet, far above the river's flood stage of 16 feet.
The Associated Press contributed to this report.
Thursday, January 13, 2005

By Tom Hrach

Flooding continues to be major headache for Marietta as the Ohio River remains above flood stage and is not expected to fall below flood stage until Sunday.

As of late Thursday, the Ohio River at Marietta stood at 36 feet, and it was holding steady. The most recent crest predictions call for a slow rise to 38.6 feet by Saturday afternoon.

The flooding is causing major traffic issues around the city. Pike Street between Seventh and Acme streets remains closed today. The main traffic artery is expected to remain closed until the Ohio River drops below flood stage.

This second flood comes one week after the Ohio River reached 43.3 feet and affected an estimated 500 businesses and 400 homes in Washington County.

Pike Street between Seventh and Acme streets was closed to traffic around 10:30 a.m. Thursday, which quickly brought traffic to a halt. By early afternoon Marietta Police officers were attempting to keep traffic flowing along the posted detour, which is Seventh Street to Greene to Acme to Pike streets.

About 22,000 vehicles use the road each day, according to a 2002 study conducted by the City of Marietta.

The most recent round of flooding is being blamed on record rain that fell across the region Tuesday and water that was released from area reservoirs. As much as 2 inches of rain fell Tuesday.

Complicating matters, additional rains are falling across the region, which is forcing river levels even higher.

Although the Ohio River was at flood stage and holding relatively steady for most of Thursday, officials spent most of the day just waiting to see how much rain would fall.
70-degree days in January has sun shining on some businesses
BY SHAUN LOCKHART : The Herald-Sun
slockhart@heraldsun.com
Jan 12, 2005 : 10:37 pm ET
DURHAM -- The Triangle basked again Wednesday in unseasonably warm weather, but a big change is in the air for people and businesses enjoying the false spring.
The high hit 74 degrees, breaking the old record of 69 degrees set in 1969, according to the National Weather Service at Raleigh-Durham International Airport. Today's forecast calls for another 70-degree day before a sharp cool-down for the weekend. The average high for this time of year is 49.
The unseasonably warm weather has been a boon to some businesses. Henry Brathwaite, marketing director for Goodberry's Frozen Custard, said that since its locations do not have indoor seating, nice weather is a big help for business.
Goodberry's has eight locations in the Triangle area -- including one on North Roxboro Road in Durham.
"To get this kind of weather in January definitely hasn't hurt things," Brathwaite said. "Compared to a normal January, it's been better [than normal]."
While people have been enjoying their custard, they've also been getting their exercise on area golf courses.
Kevin Ward, pro-shop manager at Occoneechee Golf Club in Hillsborough, said play at the course is up roughly 40 percent to 50 percent compared with what it is normally this time of year.
Chip Stallings, head golf professional at Lake Shore Golf Course on Lumley Road in Durham, said he's also seen business increase.
Both Ward and Stallings said the warm weather hasn't required them to take on any additional workers. They said they are just shifting employees around to meet demand.
Ward said behind-the-scenes maintenance projects that get done during the winter when times are slow are just getting delayed a week or two now that the course is busy.
The warm weather could create problems for area fruit crops, however.
Carl Cantaluppi, horticultural agent in Granville and Person counties for the N.C. Cooperative Extension, said strawberries are the crop most likely to be hurt by the unseasonably warm weather.
Cantaluppi said the warm weather has accelerated the growing cycle of strawberries. A sharp dip in the temperature a few months from now could kill the vulnerable young fruit, he said.
"The first flowers can have the largest berries," Cantaluppi said.
Farmers can prevent damage to some degree by using a complex system of irrigation once frost occurs, he said.
Joan Holeman, co-owner of Flat River Nursery in the Timberlake area of Person County, said she's confident this strawberry crop will be a good one.
Even if the weather caused some problems, it's unlikely the whole crop would be harmed, she said.
"You can still have a very successful crop," Holeman said.
Winter of 2004/05 may break records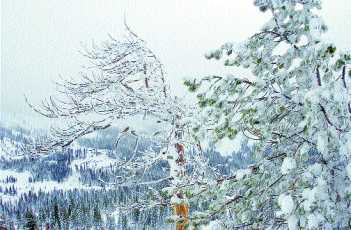 Bent and bowed, snow-covered branches are tested by massive amounts of snow that fell steadily through two storms over the past two weeks at Donner Ski Ranch at Soda Springs. Photo by Karina Williams/Auburn Journal
With the weather bureau forecasting blue skies and no snow for much of the next week, high-country residents are digging out while weather experts are digging into old records to see just how the Storm of '05 stacks up in the record books.

On the surface, what is being described as two separate storms packed a punch felt around the state, with Southern California receiving the brunt of the wet wallop.

But California State Climatologist Bill Mork said Wednesday that while the storms have been impressive, they're no record for snowfall along the Interstate 80 corridor and into the North Lake Tahoe area.

On a local level, Placer County Water Agency Power Systems Manager Steve Jones said that while totals appear impressive, people have had few big storms in recent years to compare the most recent ones to.

"We're not used to getting snowed on like this," Jones said. "But we've had so many below-average years, we haven't seen a big one in a long time."
Mork said the benchmark with his office for storms dates back to 1982, when the Norden weather station 1½ miles west of Donner Pass accumulated 129 inches between March 28 and April 8. The county Office of Emergency Services also bases its record storm total from that 1982 snowfall, but uses a 186.6-inch measurement recorded at Donner Summit.

By comparison, the Dec. 27 to Jan. 3 storm brought 93 inches and the latest round of winter, from last Friday to this Tuesday, dumped another 62 inches, Mork said.

Mork, who retires this spring after 22 years as state climatologist, said snowfall totals are more impressive in the southern Sierra Nevada. Snow totals are 191 percent of normal amounts for this time of year in the central Sierra and 172 percent of average in the north. In the south, where coastal areas have been ravaged by rain, Sierra Nevada snow levels are 251 percent of average.

In Los Angeles, 16.6 inches of rain fell downtown over 15 days - a record 15-day total eclipsing the previous high-water mark set in 1875, Mork said. But the biggest inch-count during the most recent storm was experienced in Opids Camp in Los Angeles County. A total of 30.31 inches of rain was measured between last Friday and Wednesday, he said.

"The only record we know of was the 15-day total for downtown Los Angeles," Mork said.
Southern California storms that were actually worse than this month's occurred in 1969, 1980 and 1993, he added.

For climatologists and water providers in California, a heavy, cold snowfall bodes well for the coming dry season, with reservoirs in position to hold much of the snowmelt for agricultural, domestic and environmental uses. There is also the promise of increased power generation at dams.

"Up north, it's hard to make a case for any records," Mork said, pointing out that the last storm brought about 2 inches of rain to Sacramento. "There were no records in the Tahoe area but it's off to a good start and that's good news because last year came up a little short."

The National Weather Service's Sacramento office issued a forecast Wednesday that's as much a reprieve for the snowbound as it is a call to the slopes to skiers. The forecast came a day after a North Lake Tahoe Resort Association said the area has the most snow of any resort area in the world.

"There's not a whole lot of weather for the foreseeable future," forecaster Karl Swanberg said.

Other than a weak system bringing a slight chance of rain Saturday, sunny weather is projected through early next week in Auburn and the high country, while fog will envelop the valley floor.
Temperatures are expected to hover between the low 50s during the day and into the low 30s at night, Swanberg said.

The Journal's Gus Thomson can be reached at gust@goldcountrymedia.com.
Warm weather gets bears confused
January 12, 2005

Vienna: Bears in Slovakia are awakening early from hibernation. So are barmaids in Bavaria, unseasonably busy in outdoor beer gardens. Bushes are blooming in Austria, and skiers at snowless Bosnian resorts are chilling out in hotel pools.

Forgoing a white Christmas was one thing, but the utter absence of snow for weeks on end has many Europeans pining for what seems - so far, anyway - like the winter that wasn't.

"Hope springs eternal," was the headline in Austria's Kleine Zeitung newspaper yesterday over a photograph of a lone snowflake. The country's alpine ski slopes have plenty of white stuff, but Vienna and much of eastern Austria have not had more than a dusting since early December.

Although temperatures have been dropping to near freezing overnight, warm air pumped up from the Azores has produced a string of sunny, balmy days in the 10C-12C range across much of the continent.

Belgium had its warmest January 10 on record, when the mercury peaked at 14C in Brussels, breaking the previous record of 12.2C set in 1993.

But while the springlike weather was fine for humans, it was bad for brown bears in parts of the Czech Republic and neighbouring Slovakia, some of which awoke from hibernation as grumpy as anyone roused early from a deep sleep.

Naturalists warned that the testy animals were unlikely to fall back asleep and could be dangerous to people later in the season.

Even corners of southern Europe, where winter is just a state of mind, have been affected by the unusual temperatures. Months of mostly dry, sunny weather have brought drought conditions to parts of Portugal, parching farmland and leaving some reservoirs at 15% of capacity, officials warned. - Sapa-AP

Death toll at 28, rescue efforts continue after record SoCal rain

LOS ANGELES -- Nearly a week of record-setting rainfall has given way to clear skies and typically mild Southern California temperatures, though it is likely to be weeks before the region digs out from a series of brutal storms that killed at least 28 people.

Five back-to-back days of torrential rains finally ended Tuesday, but not before triggering a deadly mudslide in the coastal hamlet of La Conchita. The storms also triggered fatal traffic accidents all across the state, knocked out power to hundreds of thousands, imperiled hillside homes and caused flash floods.
The devastation was most stunning at La Conchita, a small community of houses sandwiched between the Pacific Ocean and the hills south of Santa Barbara. At least 10 were killed and 10 injured when a rain-saturated hillside came crashing down on more than a dozen homes Monday afternoon.
Rescuers found the bodies of three children and an adult woman in the pile of mud and rubble before dawn Wednesday -- the wife and children of La Conchita resident who had dug alongside the crews since the slide. Crews using cameras, trained dogs and microphones continued to dig around the clock to find about a dozen others listed as missing.

"We have not given up hope on any of the people," said Ventura County Fire Chief Bob Roper.

Gov. Arnold Schwarzenegger surveyed the devastation Wednesday morning. After a tour by helicopter, he walked into the disaster zone, where he met with groups of weary rescuers and residents.

He said he came to see the magnitude of the damage. thank rescue workers and give his condolences to residents who lost family and friends.

"I am going to help them so they can come back here," he said of the evacuated residents. "We will do everything that we can to make it a safe area."

National Weather Service forecaster Stuart Seto said clear skies were expected to remain through at least the weekend following days of almost continuous rainfall. High temperatures in many areas were expected to be back into the 70s by the end of the week.

The rain had turned Southern California, usually mild this time of year, into a giant flood zone.

The 28 victims included an unidentified man found wedged in a tree in Topanga Canyon; an 18-year-old woman whose car hit a fallen tree in San Diego; a 35-year-old woman swept away by raging waters in San Bernardino County; and a 79-year-old Los Angeles woman run over by her husband, who couldn't see her in the downpour.

Still others included a 2-year-old girl who slipped from her mother's arms as rescuers were plucking them from the roof of a car floating down a wash in Palmdale and a homeless man crushed by a mudslide near Los Angeles' Dodger Stadium.

Power to more than 800,000 homes and businesses across the state had been knocked out by the storms.

Despite the clearing skies, authorities warned that flooding was still possible throughout the region as runoff spilled from dams and rain-swollen creeks.

In the Los Angeles suburb of Glendale, Cesar and Diane Trinidad were ordered to evacuate after their home was hit by a mudslide and a mansion on a hill above it was left teetering precariously.

"We really don't know what to do," Diane Trinidad said. "We're not even allowed in without permission."

Associated Press writers Greg Risling and Jeremiah Marquez contributed to this report.
---
1/12/2005 10:24:00 AM
4 More Bodies Found After Calif. Mudslide

By GREG RISLING, Associated Press Writer
LA CONCHITA, Calif. - Rescuers searching with shovels, their bare hands and tiny video cameras dropped into holes found the bodies of a woman and three of her children before dawn Wednesday, bringing the death toll from a mudslide in this seaside hamlet to 10, officials said.

Ventura County Fire Capt. Danny Rodriguez said the bodies were found as crews worked around the clock for a second straight night, swarming over the debris pile under a clear sky and powerful lights.

Officials said 13 people remained missing after Monday's 30-foot-deep mudslide, which was triggered by five days of nearly nonstop rain. It was not immediately known if that number included the four people found Tuesday. With the 10 known dead at La Conchita, the storm's toll in California has risen to 25 since Friday.

The four dead were the wife and three daughters of La Conchita resident Jimmie Wallet, Ventura County sheriff's chaplain Ron Matthews told The Associated Press.

Wallet had been among the most visible of the town's residents since the slide as he frantically searched alongside firefighters for his 37-year-old wife, Mechelle, and daughters Hannah, 10, Raven, 6, and Paloma, 2.

After the bodies were found, friends took him out of town with his 16-year-old daughter, who was in Ventura when the slide hit.

"I'm very pleased with the hard work and all the effort in finding my family," Wallet said in a statement relayed by Matthews.

Gov. Arnold Schwarzenegger planned to visit the area Wednesday.

The days of torrential rain also triggered fatal traffic accidents all across the state, knocked out power to hundreds of thousands, imperiled hillside homes and caused flash floods.

In La Conchita, firefighters remained hopeful they might still find at least some people alive, while acknowledging that any survivors would have to be found quickly.

"The rescuers are continuing to find some voids between the collapsed structures," Ventura County Fire Chief Bob Roper said Wednesday on NBC's "Today" show.

Ten people were injured in the slide, which came down like a curving, rolling waterfall onto the tiny town between Highway 101 and a coastal bluff.

Fifteen homes were destroyed and 16 were damaged. Roper said the slide rolled homes over and intermixed debris, hindering efforts to identify the rubble of specific houses.

The painstaking search through layer upon layer of muck was made more difficult by the jumble of building wreckage mixed with the mud. Rescuers tried to carefully scoop out parts of the pile to make sure they checked sections of trapped air where a survivor might be able to breathe. The tiny video cameras were inserted into voids.

The searchers were using dogs trained to search for live victims and others that can locate cadavers. If rescuers believed they had located an air pocket, both types of dogs would be called over to determine if anyone was nearby, said Capt. Bill Monahan, head of the Los Angeles County Fire Department canine unit.

Monahan said he had been up for four days straight working on rescue efforts elsewhere during Southern California's record downpours, before he was called to La Conchita.

"It's been four days of death and destruction," he said.

Rescuers got a break Tuesday when the rain finally stopped. National Weather Service forecaster Stuart Seto said clear weather was expected to continue through at least the weekend.

The storms' effect was also felt outside California.

Muddy rivers roared through towns along the Nevada-Arizona-Utah lines on Tuesday, flooding homes in the Nevada resort town of Mesquite and forcing the evacuation of about 100 people in nearby Overton.

Seven of Arizona's 15 counties have declared states of emergency to qualify for cleanup funding and aid, with the hardest hit in the northwestern tip of the state and central regions.

Fourteen houses were destroyed or washed away at the northwest Arizona community of Beaver Dam. "Beaver Dam as we know it is gone," said Tim Stejskal, 53. No deaths or serious injuries were reported.

National Guard helicopters were sent to airlift residents of two areas of southern Utah's Washington County who were stranded by washed-out bridges and roads. The county was declared a state disaster area.

"It's a situation that one must see to believe," Utah Gov. Jon Huntsman said. "Property has been lost, homes have been lost, families have been relocated."

'); // -->

Archives
Three dead, one missing after tugboat and barges swept over spillway of Ohio River dam
By: North County Times -
INDUSTRY, Pa. (AP) -- A tugboat and three barges sank Sunday after being swept over a dam spillway on the Ohio River by currents made stronger by heavy rains, killing three crew members. One person was missing and believed to be aboard the sunken boat.

Three people were rescued by crews of other tugs and taken to a hospital. Fire crews arriving on the scene determined the swift water was too dangerous to enter, said Chuck Ward, assistant fire chief in Industry.
"The worst thing was, you could see two people in the boat screaming for help" over the rush of the water, Ward said.
Two of the rescued crew members were treated and released; information was not available for the third. Officials said they would attempt to reach the missing crew member Monday, provided the water levels have receded.

The tug, named the Elizabeth M, was pushing six coal barges north on the river when it went through the lock at the Montgomery Island Dam about 2:30 a.m. After it emerged on the other side, strong currents pushed the boat back against the dam, Industry Fire Chief Thomas Llewellyn said.

Officials believe the barges were then pushed by the currents into the tug, forcing it through a gate in the dam, said Richard Lockwood, chief of operations of the Pittsburgh District of the U.S. Army Corps of Engineers.

The tug sank in the churning water below the dam. Officials believe three of the barges sank downriver, while the other three barges sank above the dam.

Crews from two other tugs pulled four people from the water who had been aboard the barges and two from the boat, Llewellyn said. The two pulled from the boat and one pulled from a barge survived.

The deceased crew members were identified as Scott Stewart, 36, of Wheeling, W.Va.; Tom Fisher, 25, of Latrobe, Pa.; and Edward Crevda, 22, of West Brownsville, Pa.

The river normally flows at about 3 to 4 mph, but the current was about 10 to 15 mph Sunday because of recent rains and flooding, said John Anderson, the lockmaster.

The Coast Guard has restricted traffic along five miles of the Ohio River near the dam. There had been no restrictions when the accident occurred.

Beaver County chief deputy coroner Renea Esoldo identified the survivors as Toby Zappone, John Thomas and Jacobs Wilds, but she didn't have ages or addresses. The name of the missing crew member had not been released Sunday night.

Industry is about 25 miles northwest of Pittsburgh near the Ohio state line.


2005-01-08 16:10 * RUSSIA * CAPITAL * WEATHER * RECORD *


RECORD HIGH TEMPERATURES FOR MOSCOW

MOSCOW, January 8 (RIA Novosti) - Russian capital registered a new temperature record for January 8, announced head of Meteobureau of Moscow and Moscow region Alexei Lyakhov in an interview with the Echo Moskvy.

"The absolute record for January 8 was previously registered in 1932. It was 3.7 degrees above zero," he pointed out. "Today, this record was beaten. We registered the temperature of 4.5 degrees above zero."

"Such a warm weather is caused by the peculiarities in the circulation of air masses," Mr. Lyakhov explained. "There is a strong cyclone over the north of Europe. Warm air comes to Moscow from Western Europe, where the temperatures reach 10-15 degrees. Although, the air masses cool down a bit on the way to Russia."
Tropical Season Breaks Weather Sunday January 02, 2005 11:40pm Posted By: Sara Wallace

South Carolina - South Carolina's record-breaking tropical season is directly responsible for breaking another weather record. The State Climatology Office and the National Weather Service say a total of 84 tornadoes touched down in the state in 2004 - shattering the old record of 54 twisters in 1995.

South Carolina averages 12 tornadoes a year. All but eight of last year's tornadoes came in less than seven weeks as an unprecedented six tropical systems affected the state. A record 41 came in one day - September Seventh - when what once was Hurricane Frances spawned twisters from Jasper to York counties and from Anderson to Dillon counties.

The previous record for a day was 23 twisters from Tropical Storm Beryl in 1994.
Will We Break a Weather Record to Start the New Year?
(New York -WABC, December 30, 2004)

—

It's a cloudy, mild Thursday with temps in the forties, but what is coming next could be record breaking.

Some of the warmest weather we've ever seen for the end of the year is headed in. Friday will see temps in the 50's.

Saturday is the day the warmest weather is coming: We could see temps in the low 60's, and if we do we could break the all time recorded high for January 1st.

There are clouds and the chance for rain along with that warm forecast. We'll keep you updated on Eyewitness News as the holiday approaches
---
Jan 6, 2005
Sandbagging in the city
By Laura Easter - Register News Editor

Oak Street between 3rd and 9th streets has been closed, the latest in the city's battle against moving waters in Mt. Carmel's Flood of 2005.

Greathouse Creek's rising level - which had already forced residents out of some 15 homes in a trailer park on West 3rd Street - prompted some sandbagging efforts and, finally, the closing of Oak Street, as water filled a low portion of the roadway between the Snap-on plant location and West 3rd Street.

Volunteer students from Mt. Carmel High School helped others sandbag an apartment complex situated across the street from Wabash Area Vocational Enterprises (WAVE) and next door to the flooded trailer park on Wednesday.

They also sandbagged around a location on West 6th Street, where water was reportedly climbing toward a citizen's home.

Mark Weirich, Mt. Carmel city water plant superintendent, said the water flow on West 6th came as a result of a backed-up drainage ditch that, under normal circumstances, fed into Greathouse Creek.

Sandbagging also occurred at Mt. Carmel Public Utility's South Division Street substation, as well the utility's south Mulberry operations.
Water Department Personnel on Wednesday installed a tractor-powered pump on Ficklin Street, to manage water collected during last night's .78-inch rainfall. Weirich said Robert Cusick provided the tractor used to power the pump.

Flooding rivers are causing damage elsewhere in the region. National Guard troops and volunteers were out early this morning in Hazleton, Ind., keeping a close eye the town's already heavily-sandbagged levee that separates them from the White River.

Reports indicated they were concerned water was working its way along storm sewer lines and through the earthen barricade.

And at Grayville, the west end of an abandoned Illinois Central Railroad bridge, which sits just upstream of the Interstate 64 bridge, succumbed to floodwaters and collapsed into the Wabash River. According to the Carmi Times, the structure is privately owned, and Illinois Department of Transportation officials say the incident shouldn't create any problems for the Interstate crossing.

At 7 a.m. today, the Wabash River at Mt. Carmel measured 33.95 feet. The National Weather Service's forecasted crest of 34 feet was unchanged.

With all of the rain and flooding Illinois has endured already this year, the state's chief climatologist calls January's first 12 days the wettest weather in half a century.

"The wettest January in Illinois history occurred in 1950," said Chief Climatologist Jim Angel Wednesday. "If rains continued to fall at this same rate, we would break those records."

According to a news statement from the Illinois Department of Natural Resources, Angel indicated flooding problems are party to the result of an extremely wet November, which left the ground saturated.

Based on forecasts by the National Weather Service, Angel predicts colder temperatures and dryer air should be in Illinois by the weekend.

"The standing water will take a few days to freeze," Angel said. "Look for the pools of water to turn into patches of ice by this time next week."
Record cold hits 40 below in N.D.
Associated Press,The Forum

Published Thursday, January 06, 2005

JAMESTOWN, N.D. -- Tony Moch has battled cold weather for 11 years as a letter carrier, and he has a pat formula for keeping warm.

"I just keep adding layers," he said.

When the temperature dips below zero, Moch wears long johns, a T-shirt, shirt, a hooded sweat shirt, vest, parka, gloves and a cap.

"It's very important to keep your head warm," Moch said. "If your hands are cold, put a cap on."

Moch said inexpensive hand warmers inside his gloves help keep his hands warm all day. Keeping his feet warm is not a problem as long as he's walking, which he does about half of his route, from 9:30 a.m. to 3:30 p.m. six days a week, he said.

In the worst weather, Moch pulls down a face mask for more protection.

"If the wind comes up, that's the worst," he said. "It could be 20 below, and if it's not windy, it's OK."

Wind was not as much of a problem as cold air in North Dakota on Wednesday. The mercury plunged to a record 39 degrees below zero at the Grand Forks airport at 6:30 a.m.

The National Weather Service said the reading was 6 degrees colder than on the same date in 1968.

"The winds are pretty calm. There's a high pressure sitting almost right overhead, so we've got a cold Arctic outbreak down here," said Vince Godon, a meteorologist with the weather service in Grand Forks.

The city of Grand Forks reported 29 below at 6:30 a.m. Godon said the difference between that reading and the airport reading was due to clouds and urban heat.

Weather observers in the communities of Powers Lake and Towner reported 40 below zero early Wednesday.

Other cities around the state also were well below zero, with early morning temperatures ranging from around 25 below in the middle of the state to 37 below in Williston, in the northwest.

At midmorning, Godon said, "We're actually warming up. We may see zero again."

Another cold night was expected Wednesday, with clear skies and light winds.

"But later, we should see the beginning of a warming trend," said meteorologist Todd Hamilton, at the National Weather Service office.

in Bismarck. Highs Wednesday were expected to reach around 20 degrees above zero.
AUSTRALIA

Last Updated 06/01/2005, 14:54:45


The year, 2004 has been ranked the 10th hottest year in Australia since official records began in 1910.

According to the Annual Climate Survey, the mean temperature last year was 0.45 degrees above the long term average.

Rainfall was also above average, but most of it fell in sparsely-populated areas.

Dr David Jones from the Weather Bureau says the trends are in line with global warming.

Posted on Sun, Jan. 02, 2005
Tropical systems help shatter S.C.'s annual tornado record
Associated Press
COLUMBIA, S.C. - South Carolina's record-breaking tropical season is directly responsible for breaking another weather record.
A total of 84 tornadoes touched down in the state in 2004, shattering the old record of 54 twisters in 1995, according to the State Climatology Office and the National Weather Service. South Carolina averages 12 tornadoes a year.
All but eight of the tornadoes came in less than seven weeks as an unprecedented six tropical systems affected the state.
"It was an abnormal number of tornadoes. But we just happened to be in the favored quadrant for the storms too often," said Jerry Harrison, a meteorologist with the National Weather Service in Charleston.
The state ended up in the right front part of the storm several times, where the most tornadoes are formed.
Winds were just right, too, with ground-level winds blowing in from the southeast, while winds higher up were blowing from the southwest. Converging at right angles, they get a column of air spinning, and if it reaches the ground, it forms a tornado.
No storm caused more havoc than the remnants of what was once Hurricane Frances in September. "We almost broke the annual record in one day," State Climatologist Hope Mizzell said.
On Sept. 7, Frances spawned 41 tornadoes from Jasper to York counties and from Anderson to Dillon counties.The previous record for a day was 23 twisters from Tropical Storm Beryl in 1994.
Frances was blamed for 46 tornadoes in all, with twisters touching down in 28 of the state's 46 counties.
Other tropical storms weren't as prolific tornado makers. The remnants of Hurricane Jeanne caused 17 tornadoes on Sept. 27. What was once Hurricane Ivan spun off seven twisters on Sept. 16 and the remnants of Tropical Storm Bonnie caused three tornadoes Aug. 12. All of those storms moved into South Carolina after coming ashore in the Gulf of Mexico, a prime setup for tornadoes.
The two hurricanes that struck the state directly spawned very few twisters. Two tornadoes touched down during Charley on Aug. 14 and one twister touched down during Gaston on Aug. 29.
Most of the twisters were weak, with 77 of the 84 ranking as F0 or F1 on the Fujita Scale, which ranks tornadoes from F0 to F5 based on storm damage.
An F0 or F1 tornado has estimated winds less than 112 mph and stay on the ground for minutes at most, knocking down a few trees and mobile homes before quickly disappearing back into the clouds.
"It's not that unusual. Most tornadoes from tropical storms tend to be weaker and don't stay on the ground for long," Harrison said.
Two of the tornadoes reached F3 strength with winds that can top 200 mph. One not related to a tropical system destroyed a church near Jamison in Orangeburg on Dec. 9 and the other spawned from the remnants of Hurricane Frances on Sept. 7 demolished several brick homes near Cassatt in Kershaw County.
Remarkably, all the tornadoes caused just one death that came when an F2 tornado caused by Hurricane Jeanne destroyed seven mobile homes in Fairfield County near Ridgeway on Sept. 27.
"It was a pleasant surprise," Harrison said. "We would hope the message we get out about knowing what to do in these storms helped. But some of it was luck, too."
Big storm shatters weather records for area

---
By James R. Carroll
jcarroll@courier-journal.com
The Courier-Journal
December, 23, 2004

Weather records fell in Louisville yesterday, along with the snow.

Louisville set a record for annual precipitation last night — 64.3 inches, according to Rick Lasher, a meteorologist for the National Weather Service.
SETTING A RECORD

With yesterday's snow, Louisville broke a yearly precipitation record. As of 10 p.m. yesterday, the 2004 total was 64.3 inches. The previous record, set in 1996, was 63.76 inches. About 10 inches of snow equals an inch of rain, according to the National Weather Service.

SNOW FACTS

As of 10 o'clock last night, 4.9 inches of snow had fallen in Louisville, a record for the date.

Here are some other snowfall records:

Louisville area

Dec. 22 (previous record): 1929 — 2.3 inches

December 24-hour: Dec. 7-8, 1917 — 15 inches

December monthly: 1917 — 24.6 inches

Winter 24-hour: Jan. 16-17, 1994 — 15.9 inches

Winter maximum: 1917-18 — 50.2 inches

Winter minimum: 1988-89 — 0.9 inches

Source: National Weather Service, Louisville office

The previous record, 63.76 inches, was set in 1996.

The city broke the record by receiving 1.87 inches of precipitation by 10 o'clock last night.

To translate snow into rain, figure that about 10 inches of snow equals about an inch of rain.

Louisville also set a record for snowfall for Dec. 22, with 4.9 inches falling by 10 p.m.

The previous record was 2.3 inches in 1929, the first year of Herbert Hoover's administration.

The ingredients for the storm were out of the winter-weather textbook.

Warm, moist air moving north from the Gulf of Mexico slammed into an intensely cold blanket of arctic air dropping southeast out of Canada.

Snow fell yesterday from Western and Central Kentucky and Southern Indiana into southern Illinois, northwest and central Ohio, southern Michigan and New York state.

"It's a pretty expansive event," said Peter Manousos, meteorologist with the National Weather Service's Hydrometeorological Prediction Center in Camp Springs, Md., which looks at the big weather picture and how it tracks with longer-term forecasts.

Besides the snow, the system produced freezing rain and sleet as far south as Texas and Alabama, and by tomorrow may spread into northern Florida.

Despite the size of the storm, "it's not unusual to see an event like this in December," Manousos said.

The long-term outlook has been for a drier than normal winter in the Ohio Valley.

Manousos said that forecasters will have to "wait for three months and see if it pans out."

Weather service meteorologist Norm Reitmeyer said the storm may make history.

"If we end up with over 10 inches of snow in Louisville, it will end up as one of the top 15 storms in over 132 years of keeping records," Reitmeyer said.

The Louisville area normally sees a total of 16 to 18 inches of snow between November and April.

With this storm, "we're talking about getting more than half a season's worth of snow all at once," Reitmeyer said.

Unrelenting Rain Saturates Southern California
Five Deaths Blamed on Powerful Storms
By DAISY NGUYEN, AP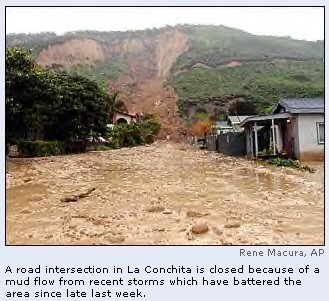 LOS ANGELES (Feb. 22, 2005) - A deadly series of storms across California spawned tornadoes, landslides and avalanches as persistent rain flooded freeways and sent mud roaring into homes.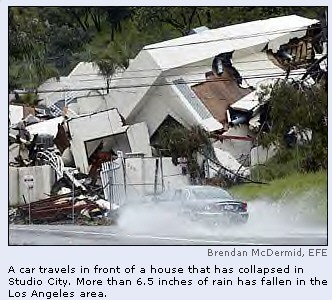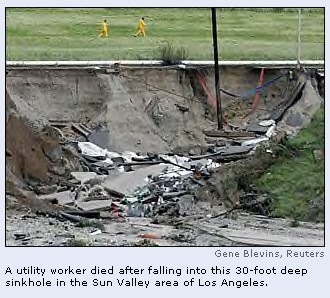 At least five people were killed, including a Nevada woman caught in an avalanche north of Lake Tahoe and a 24-year-old man who lost control of his car in San Bernardino.
Forecasters said Tuesday that the strong storm system would bring at least another inch of rain to Southern California but was losing strength and could move out of the region by Wednesday afternoon. A flash flood watch remained in effect Tuesday for much of Southern California.
"I think we've probably seen the worst of the storm," said Ted MacKenchnie, a National Weather Service meteorologist. "We should start seeing a decrease in the activity."
Dozens of homes were evacuated or red-tagged because they threatened to collapse from sliding hillsides, authorities said.
A teenage girl and 61-year-old man were killed in separate landslides and three women were temporarily trapped in about 10 feet of mud that spilled into a town house in the Los Angeles suburb of Hacienda Heights. A Los Angeles civil engineer, Rory Shaw, 47, died after being swept into a 30-foot sinkhole he was assessing.
"If you saw the damage up there, it almost looks like the houses exploded, the way it went completely through the homes," said Capt. Stephen Miller of the Orange County Fire Authority.
In San Bernardino, a traffic accident killed Richard Ceballos, a father of four who told his family he hoped to marry his girlfriend next weekend in Las Vegas. Ceballos' car hit another vehicle Monday morning, skidded off a highway and down an embankment into a tree.
In Northern California, 45-year-old Gerilyn Marie Ewing, of Reno, Nev., died in an avalanche Sunday while skiing between the Sugar Bowl and Squaw Valley ski resorts north of Lake Tahoe.
Two other skiers with her were trapped but either escaped or were rescued, Placer County sheriff's Sgt. Dave Wells said. Up to 20 inches of snow fell in the area since Thursday.
Northern California also was hit by severe thunderstorms, hail and at least two afternoon tornadoes that caused minor damage in the Sacramento area. Trees were uprooted and roofs and fences damaged in the tornadoes, while residents reported seeing other funnel clouds in the area.
The California Highway Patrol reported more than 300 crashes in a 14-hour period, compared with 50 to 75 accidents on a normal, dry day.
In Los Angeles, a section of the Hollywood Freeway was shut down for several hours late Monday when lanes were flooded in as much as five feet of water. Crews pumped the water out of the highway.
The wild weather came from a series of storms that began battering the state on Thursday, dumping 6.5 inches of rain in downtown Los Angeles.
A total of 31.40 inches of rain has fallen since the rainy season began July 1, making it the fifth wettest season on record. The record, 38.18 inches, was set in 1883-84.
The consecutive days of rain proved too much for saturated hillsides in Southern California.
Early Monday, a mudslide ripped into the bedroom of a home in the San Fernando Valley, burying Robert Wickham, 61, under four feet of mud. And in the rural Silverado Canyon area east of Irvine, large boulders crashed into an apartment bedroom and crushed 16-year-old Caitlin Oto. Boulders also crashed into a local country store.
In Glendale, a foothill community north of Los Angeles, about 30 people in 11 homes were evacuated early Monday because of mudslides and flooding.
A spokesman for the Ventura County Fire Department said there were no major slides or reports of significant flooding in the county, where a landslide killed 10 people last month in the coastal community of La Conchita.
The rain was causing problems for pro golfers. Adam Scott won the Nissan Open in Los Angeles but won't get an official victory on the record books because the third round was called off when the wet Riviera Country Club was deemed unfit for play.
In Carlsbad, the La Costa Country Club was full of standing water, threatening the scheduled Wednesday start of a World Golf Championships match play tournament.
02/22/05 05:53 EST
Copyright 2005 The Associated Press.
... Last year was also the hottest on record. While no single weather event or year proves humans are warming the planet, a powerful scientific case is building. ...
www.greatdreams.com/weather.htm - 88k - Cached - Similar pages
... Since Dec. 1, San Juan has had 11.37 inches of rain, breaking the record for the month set in 1962, the National Weather Service (news - web sites) said. ...
www.greatdreams.com/winter_2001.htm - 101k - Cached - Similar pages
... MAUNA LOA OBSERVATORY. WEATHER CAMS. ... WASHINGTON/OREGON SIESMOGRAPHS. SEISMOLOGY RECORD - 29 STATIONS WORLDWIDE UPDATED EVERY 30 MINUTES. GEE! ...
www.greatdreams.com/earth.htm - 59k - Cached - Similar pages
... Bad weather news: The system that has brought record cool weather for August is about to dissipate also. August is about to become August again. ...
www.greatdreams.com/weather/hurricane-earl-2004.htm - 15k - Cached - Similar pages
... gales and increased humidity. The 1990s have registered some of the most violent weather on record. Several recent winters have ...
www.greatdreams.com/mr_splash.htm - 13k - Cached - Similar pages
... In Baltimore, Maryland, the weather service recorded 26.6 inches of snow. Although the city's record snowfall was 26.5 inches, recorded January 27 to 29, 1922 ...
www.greatdreams.com/winter-2003.htm - 22k - Cached - Similar pages
... The US has sustained 49 weather-related disasters over the past 22 years in ... Seven occurred during 1998 alone—the most for any year on record, though other ...
www.greatdreams.com/superstorm.htm - 41k - Cached - Similar pages
... above 30 degrees centigrade (86 degrees Fahrenheit) for most of the past five weeks and June was the hottest month on record since weather observations began ...
www.greatdreams.com/warming.htm - 101k - Cached - Similar pages
... It is the highest one-week toll on record for any Indian heat wave, meteorologists said. Weather officials said past heat waves have never killed many more ...
www.greatdreams.com/drought_2002.htm - 31k - Cached - Similar pages
... The blustery weather interrupted an unseasonably warm winter, with several states reaching record highs just days earlier. "Winter ...
www.greatdreams.com/winter2.htm
... National Weather Service figures show that Allison dumped 35.7 inches of rain at Greens ... inches of rain in Morgan City, Louisiana, and set a record for rainfall ...
www.greatdreams.com/weather/hurricane_2001.htm - 11k - Cached - Similar pages
... USATODAY.com - Record high tornadoes for September, August ... ... www.usatoday. com/weather/ news/2004-10-07-tornado-record_x.htm. FLOODS. ...
www.greatdreams.com/red_warning.htm - 101k - Cached - Similar pages
... Physical clues about ancient weather, such as tree rings and lake sediment cores ... The historical record also reveals a "mega-drought," longer and more severe ...
www.greatdreams.com/drought_and_heat.htm - 60k - Cached - Similar pages
... clear evidence of the consequences of non-uniform solar cycles on space weather. ... lichens in parts of the Canadian Arctic (Baffin Island) may record an interval ...
www.greatdreams.com/iceage_and_tree.htm - 19k - Cached - Similar pages
... Record temperatures were recorded in most of the major cities of Europe last summer ... excess heat, making the heat wave one of the deadliest weather phenomena in ...
www.greatdreams.com/warming3.htm - 68k - Cached - Similar pages
... Comet - Historical Record 1886-1911 three masted coastal lumber schooner. Cuba - 1897-1923 Cargo Passenger Liner. ... Marine Weather. ...
www.greatdreams.com/ships.htm - 73k - Cached - Similar pages
... Plant Fossil Record Maps (International Organization of Palaeobotany); Interactive Selection of Global Geophysical Data ... Blue-Skies For Java Weather Maps (Univ. ...
www.greatdreams.com/maps.htm - 101k - Cached - Similar pages
... It would be a difficult task to deny the "record breaking" weather we are now experiencing on a almost weekly basis. The largest tornado ever recorded. ...
www.greatdreams.com/jan99.htm - 101k - Cached - Similar pages
... for the entire Pacific basin by the United States National Weather Service, based ... A record eight typhoons have hit Japan this year, claiming at least 107 lives ...
www.greatdreams.com/weather/tsunami_in_our_future.htm

... New York Weather Updates Includes Traffic Cams New York Crossroads. ... scientist at NCAR, looked at the most destructive US hurricanes on record and predicted the ...
www.greatdreams.com/ny/hurricane-storm-new-york.htm - 46k - Cached - Similar pages

... volcanic and seismic activity. Since 1996, the weather has changed drastically, breaking records regularly. The increase of earthquakes ...
www.greatdreams.com/alignment.htm - 101k - Cached - Similar pages

CONCENTRATION CAMPS IN THE US?

... at Mount Weather that anyone entering is subject to searches for such contraband as cameras, note pads, or any other item capable of recording information such ...
www.greatdreams.com/concentration.htm - 101k - Cached - Similar pages

... Since Monday, a record-breaking 25 inches of rain have fallen on southern counties ... Weather officials said it had already dumped more than 12 inches of rain on ...
www.greatdreams.com/floods_2002.htm - 67k - Cached - Similar pages

FLIGHT 261 - PLANE CRASH - CALIFORNIA - 1-31-2000

... An airline spokesman said the investigation focused on record keeping, not the safety ... The rough terrain and weather in Alaska prompted the company to become an ...
www.greatdreams.com/plane261.htm - 71k - Cached - Similar pages

THE YEAR OF THE BIRDS AND THE BEES

... officials have considered diseases, food supply, water quality, weather, predators and ... A record 35,466 breeding pelicans and 17,733 nests were tallied in 2000 ...
www.greatdreams.com/eeyore/birds-and-bees.htm - 61k - Cached - Similar pages

... then applied themselves Sunday to assessing the impact of the worst weather in the ... harm to homes and other facilities inundated by the storm's record rains. ...
www.greatdreams.com/irene99.htm - 45k - Cached - Similar pages

DEES DREAMS AND VISIONS - MAY, 1995

... The following weekend, the same thing happened. The weather pattern continued that way. At ... open. Inside the box was a record player. ...
www.greatdreams.com/may95.htm
Recorded Weather Extremes
weatherWeather Recorded Weather Extremes. ... (4.14 cm). Bagdad, Calif., holds the US record for the longest period with no measurable rain, 767 days, from Oct. ...
www.infoplease.com/ipa/A0001431.html
Historical Weather Database Temperature and precipitation data for 2,000 cities worldwide is available in our historical database. ... Record High Temp. ...
www.washingtonpost.com/wp-srv/ weather/historical/historical.htm
World Weather Records (decadal statistics)
WORLD WEATHER RECORDS. The current series of World Weather Records is primarily concerned with data for 1981-90. The six volumes ...
www.wmo.ch/web/wcp/wcdmp/wwr/html/introwwr.html
POLAR AXIS SPIN - The Current Location Of The Spin Axis
... of 16 degrees) This would not only change the magnetism but will change weather, animal behavior ... Tornadoes, earthquakes, and volcanoes are all at record levels. ...
www.greatdreams.com/spinaxis.htm - 101k - Cached - Similar pages
WHY ARE WE SO AFRAID OF THE SUN?
... Taken in conjunction with an examination of the geological record of previous ... or comet arriving in our solar system, and expected earth weather and earth ...
www.greatdreams.com/sun.htm - 101k - Cached - Similar pages
Washington State Meteor Footage
... The Skinny On Meteors/Meteorites By: Scott Sistek, KOMO Weather Producer. ... the brothers´ chunk of the Red Planet is one of only 31 confirmed martians on record. ...
www.greatdreams.com/meteor-showers.htm - 101k - Cached - Similar pages
ECLIPSE EXPERIENCES ON 8-11-99
... Note that for most of the two weeks before the eclipse the weather was hot and very sunny (record temperatures) leading to 4 days of cooler very wet weather ...
www.greatdreams.com/hudon.htm - 62k - Cached - Similar pages
... When you look at the miliary track record concerning environmental sciences and the testing of weapons ... The effect on weather is another issue that concerns us. ...
www.greatdreams.com/haarp-sun.htm

THE TUNING AND OUR PART IN IT
... be a factor in the severe storms, floods, and weather of recent ... cyclical Shifts are associated with reversals, Earth's geological record indicating magnetic ...
www.greatdreams.com/tuning.htm
DEES DREAMS AND VISIONS - JUNE, 1993
... I couldn't write the words down fast enough to keep up with him, so I knew I had to buy the record and write the ... She said that even worse weather was coming. ...
www.greatdreams.com/jun93.htm - 18k - Cached - Similar pages
... added that the number of people on the street, 277, was also the highest on record. ... High demand intensified by cold weather has contributed to the problem. ...
www.greatdreams.com/homeless.htm
FIRESTORM - THE DREAM AND THE REALITY
... Weather Service's summer drought forecast issued last month, the state should see ``monsoon'' rains in July. After one of the warmest winters on record, ...
www.greatdreams.com/firstorm.htm - 101k - Cached - Similar pages
FREQUENCY SICKNESS - WHAT ARE THE CAUSES AND THE SYMPTOMS?
... bombarded the US Embassy in Moscow with microwave radiation to record conversations. ... KUSA Channel 9 tower for a weather radar device to sweep the residential ...
www.greatdreams.com/antenna.htm -

MAGELLAN - THE WORLD TRAVELER - THE DREAM AND THE REALITY
... released. Extreme Weather A Prophecy by Edgar Cayce. ... warming. The worst storms on record in the North Sea occurred during this time. ...
www.greatdreams.com/magellan/magellan.htm
DEES DREAMS AND VISIONS - FEBRUARY, 1999
... Each time she'd describe a boxing punch and compare it to a type of weather, she'd swing wildly and miss. ... However, we moved quickly on to a record keeping room ...
www.greatdreams.com/feb99.htm - 101k - Cached - Similar pages
DEES DREAMS AND VISIONS - FEBRUARY, 1993
... National Weather Services predicts below normal precipitation for the summer: "but above average rainfall could mean ... The river at Quincy crests at a record 32 ...
www.greatdreams.com/feb93.htm - 27k - Cached - Similar pages
... Rain fell at a rate of almost 3 inches an hour along the North Carolina coast and the weather service said ... They gained much-needed rain after a record drought. ...
www.greatdreams.com/dennis99.htm - 101k - Cached - Similar pages
NEW PROPHECIES FROM JUST REGULAR PEOPLE
... However, if it does happen, I wanted a public record of this made to show that ... with details of the hundreds of SMALL LAKES that, in temperate weather, would be ...
www.greatdreams.com/regular_prophecy.htm - 99k - Cached - Similar pages
PROPHECY OF NEW YORK CITY NUCLEAR BOMB TERRORIST ATTACK
... for no other reason than that the economy, collapsed by the weather disturbances, will ... able to convince a non – metaphysical guy I know to record his dreams. ...
www.greatdreams.com/nynuke.htm - 34k - Cached - Similar pages
... During the Korean War, I held the record for the most consecutive days of front line ... Arriving, we found the weather too windy to get on the water, so we went ...
www.greatdreams.com/political/picnic.htm - 101k - Cached - Similar pages
NATIONWIDE CHEMTRAILS - VIRULENT BIO-TOXIN SOUP
... HAARP, GWEN towers, the ionosphere, the magnetosphere, weather control, mind control ... This microscope has a camera that can record the enlarged images on video ...
www.greatdreams.com/chems.htm
... use SOHO images and data to help them predict 'space weather' events affecting ... 1997 of Comet Hale-Bopp previously were the only successful studies on record. ...
www.greatdreams.com/comets-incoming.htm - 101k - Cached - Similar pages
POTENTIALLY HAZARDOUS NEAR EARTH OBJECTS COMING TO YOUR ...
... In the short term, erosion by wind and weather and, in the long term, tectonic ... There is also very important British work on the impact record on Earth and the ...
www.greatdreams.com/near.htm - 101k - Cached - Similar pages
FLIGHT 111 - PLANE CRASH - NOVA SCOTIA
... It's not a nice scene.'' Weather cleared during the day, and the sea settled into rolling swells. ... SwissAir has the best track record since the war. ...
www.greatdreams.com/crash.htm - 101k - Cached - Similar pages
DEES DREAMS AND VISIONS - DECEMBER, 2000
... When the young man arrived the insides of the record player had disappeared and only the outer ... When I went outside, the weather was perfect, warm and breezy. ...
www.greatdreams.com/dec2000.htm - 101k - Cached - Similar pages
DEES DREAMS AND VISIONS - JULY, 2002
... Two men from the fire department came to inspect the records for the community. ... The kids were dressed appropriately for the weather. ...
www.greatdreams.com/jul2002.htm
Getting Ready for Impact with 1998 OX4? - Now also 2001PM9
... Isn't it curious that the weather here in Plano, Texas had been cloudy all week, and the sky cleared that Friday morning. ... Playing the cratering record. ...
www.greatdreams.com/1998ox4.htm - 101k - Cached - Similar pages
... China is running a record 320 billion yuan ($39 billion) deficit this year. ... 10 and 17 and will carry two men. Weather is a factor in setting the date. ...
www.greatdreams.com/china/china-astronauts.htm - 90k - Cached - Similar pages
COINCIDENCE AND 11:11 - PART IV
... Some said it was Jesus coming back through a portal, some said it was angels coming through, some said the weather was going to ... You are a record keeper like me ...
www.greatdreams.com/11coin4.htm - 101k - Cached - Similar pages
EARTH DISASTERS DREAMS AND VISIONS - 1989 - 2003
... Channel 4 came on with the weather and the woman said it was 78 degrees. ... 4-19-95 - VOICE - "We are going to give you a series of events for you to record.". ...
www.greatdreams.com/disaster-dreams.htm - 101k - Cached - Similar pages
... a grain crop of 11 to 14 million tonnes, following last year's record harvest of ... 10 tonnes of grain a day and travel 500km a night if weather conditions are ...
www.greatdreams.com/locusts.htm - 80k - Cached - Similar pages
... That should be done in two weeks, if the mild weather holds. ... The quake may have set a record for offset -- some of the earth separated as far as 10 meters ...
www.greatdreams.com/alaska.htm - 53k - Cached - Similar pages
STS -107 SHUTTLE TRAGEDY OF FEBRUARY 1, 2003 AND DREAM PROPHECY
... The company already has impounded records pertaining to the tank's production, a ... Heat-detecting weather radar showed a bright red streak moving across the wide ...
www.greatdreams.com/shuttle-STS107.htm - 101k - Cached - Similar pages
DEES DREAMS AND VISIONS - JULY, 2001
... per hour and we were all hollering excitedly to beat the record and then we ... starwatching' and didn't dress their children well enough for the weather and their ...
www.greatdreams.com/july2001.htm - 100k - Cached - Similar pages
... Yet scientists know from the geological record that very big quakes rocked New Madrid in the years 500, 900, 1530 and 1811-12 ... weather map and wondered at them. ...
www.greatdreams.com/madrid.htm - 49k - Cached - Similar pages
NATIONAL SECURITY - HOLIDAY TERRORISM
... 2,755 attacks were registered and their number increased to a record high of ... Gulf Oil Building in Pittsburgh in June, 1974 the Weather Underground explained ...
www.greatdreams.com/wacovst.htm -
... wobble, thus affecting the world's weather system, causing erratic changes in weather, disrupting the ... legend myths stories, there is placed of record the above ...
www.greatdreams.com/twosuns.htm - 98k - Cached - Similar pages
DEES DREAMS AND VISIONS - OCTOBER, 2001
... Weather conditions are predicted to remain calm. ... is transitory, this drop in demand comes at a time when the cruise lines are bringing record capacity online. ...
www.greatdreams.com/oct2001.htm - 92k - Cached - Similar pages
DEES DREAMS AND VISIONS - MARCH, 2002
... The voice said to note that there was no center hole like a record. ... radio stations, from am, fm, short wave bands, airliner bands, tv bands, weather bands, etc ...
www.greatdreams.com/mar2002.htm - 101k - Cached - Similar pages
DEES DREAMS AND VISIONS - NOV. 2001
... around the edges like they fit in a machine which would play them like a record. ... it was just like old ladies hanging out, kibitzing about the nice weather, etc ...
www.greatdreams.com/nov2001.htm - 85k - Cached - Similar pages
DEES DREAMS AND VISIONS - JANUARY, 2004
... It turned out to be Au Claire de lune - the music Abstract records publishes it. ... The weather was quite warm and it seemed this was in the southern part of the ...
www.greatdreams.com/jan2004.htm - 84k - Cached - Similar pages
DEES DREAMS AND VISIONS - JULY, 2000
... I obviously had a bad working record in the past but at this point I had been ... I had had to put heavy work clothes on to do this job and the weather had gotten ...
www.greatdreams.com/jul2000.htm - 101k - Cached - Similar pages
The Changing of the Guard: Part V: The Oracle
... this might set off major rioting…White House officials, speaking off the record, say that ... The Laci Peterson case and the bad weather in the mid-west (tornados ...
www.greatdreams.com/political/media05.html
THE FLOOD - AN END TIME PROPHECY
... Hemisphere will see problems-- wars, diseases, natural disasters, weather changes, giant ... turning the 21st century into the fieriest on record, according to a ...
www.greatdreams.com/end_time_flood.htm - 101k - Cached - Similar pages
... Weather) Alternative Three - to build a "transfer station" on the backside of the ... Project, an organized effort by amateur astronomers to record and document ...
www.greatdreams.com/moon/darkmoon.htm - 101k - Cached - Similar pages
COINCIDENCES ON THE TOPIC OF WATER - 6-30-2001
... Cherrapunji has been known to record more than 1,000 inches of rain in one 12 month period, whereas the Atacama desert in northern Chile ... EXTREME WEATHER - 2000. ...
www.greatdreams.com/coincidence/water_coincidences.htm - 90k - Cached - Similar pages
BOMBING OF THE WORLD TRADE CENTER 9-11-2001 - PAGE 6
... last political considerations, that could broaden this "New War," and weather conditions affecting ... of assistance to Afghans, and has a long record of providing ...
www.greatdreams.com/trade_day6.htm - 101k - Cached - Similar pages
PROPHECIES BY REGULAR PEOPLE LIKE YOU AND ME
... It's getting very strange in our weather. It was 91 degrees a few days ago. ... High snow amounts, bitter cold, one of the coldest winters on record. ...
www.greatdreams.com/regular_prophecy2.htm - 88k - Cached - Similar pages
ANOTHER PEARL HARBOR IN OUR FUTURE?
... United States in recent months: It has a bad track record, is very ... Bridgeport, California, prepares Marine units for both mountain and cold-weather operations. ...
www.greatdreams.com/land_forces.htm - 101k - Cached - Similar pages
... manifesting as the Earth's violent upheavals through self-purging weather patterns through ... I do not recall all names exactly since I did not record the dream ...
www.greatdreams.com/aliens.htm - 101k - Cached - Similar pages
... The television was on and the weather show was showing a tornado cloud that looked ... I love office supplies so I picked it up and it was a record keeping book. ...
www.greatdreams.com/disaster-dreams2.htm - 101k - Cached - Similar pages
THE WAY GOD CREATES - A CROP CIRCLE - AND ELECTRICITY DREAMS
... Channel 4 came on with the weather and the woman said it was 78 degrees. ... I saw a couple more sentences one of which said, "DOLORES' RECORD". ...
www.greatdreams.com/godway.htm - 101k - Cached - Similar pages
DEES DREAMS AND VISIONS - AUGUST, 1998
... and hanging down from the ceiling of all types, some of which needed warm weather and some ... I saw a couple more sentences one of which said, "DOLORES' RECORD". ...
www.greatdreams.com/aug98.htm
THE MOON IS TOO TOO BRIGHT - BACTERIA ON THE MOON
... even more interesting possibility that this new data presents and it must be said that in the event record, it is common ... Looks like we're in for nasty weather. ...
www.greatdreams.com/moon/bacteria.htm - 92k - Cached - Similar pages
COLIN ANDREWS SAYS!!! CROP CIRCLE RESEARCHERS RESPOND!!!
... Explanations have ranged from freak weather conditions to alien visitors. ... included $5 million for his script, broke the script auction record previously held ...
www.greatdreams.com/crop/andrews.htm - 101k - Cached - Similar pages
DEES DREAMS AND VISIONS -MARCH, 1999
... assuming this was an indoor walkway for the elderly to get exercise in inclement weather. ... white copy and told them I'd keep the pink copy for record and walked ...
www.greatdreams.com/mar99.htm - 101k - Cached - Similar pages
PROTOCOL STANDARDS FOR AERIAL CROP-CIRCLE PHOTOGRAPHY
... O: Note weather conditions ... If you have access to any report numbers on this incident like Law Enforcement involvement, news media record numerics, etc., by all ...
www.greatdreams.com/buzz/check-list.htm
Floods of '04 & '05